As the U.S. death toll tops 66,000, the strain the coronavirus pandemic is placing on ordinary Americans has started to emerge. Aging grandparents are being robbed of spending precious time with their families while millions of people are forced to adjust to life without a stable income for the foreseeable future.
As the number of confirmed U.S. cases hit 1.1 million, stores, restaurants and movie theaters began to reopen in Texas, despite a rise in cases, while in New York police dispatched 1,000 officers this weekend to enforce social distancing and a ban on congregating in public spaces. Beaches were also closed in California.
Meanwhile, as scientists work to find a vaccine for the virus, British scientists said Sunday that the potential vaccine they're developing could yield evidence to its efficacy by June.
Here's what to know about the coronavirus, plus a timeline of the most critical moments:
Download the NBC News app for latest updates on the coronavirus outbreak.
This live coverage has now ended. Continue reading May 4 coronavirus news.
Italy reaches lowest coronavirus death toll since March 10
ROME — Deaths from the COVID-19 epidemic in Italy climbed by 174 on Sunday, from 474 the day before, the Civil Protection Agency said, posting the smallest daily toll of fatalities since March 10.
The daily number of new cases also declined sharply Sunday to 1,389 from 1,900.
In recent weeks of the epidemic that emerged in Italy on Feb. 21, the daily death count has tended to fall on Sundays only to rise again the following day.
Nonetheless, the latest data still offers encouragement to the country as it prepares to gradually ease its eight-week-old lockdown — the longest in Europe — from Monday.
Italy's total death toll since the outbreak came to light on Feb. 21 now stands at 28,884, the Civil Protection Agency said, the second highest in the world after the United States.
Can dogs sniff out COVID-19? Researchers to study possibility
Dogs have been trained to detect a range of illnesses, from ovarian cancer to bacterial infections, and now scientists are hoping they can be used to sniff out COVID-19. 
Using a process called odor imprinting, the University of Pennsylvania School of Veterinary Medicine is aiming to train dogs to discern the differences between COVID-19 positive and COVID-19 negative patients, the school said in a news release.
"The potential impact of these dogs and their capacity to detect COVID-19 could be substantial," Dr. Cynthia Otto, a professor of Working Dog Sciences and Sports Medicine who is leading the study, said.
Over a three-week period, which researchers hope to begin as early as July, eight dogs will be exposed to COVID-19 positive saliva and urine samples in a laboratory setting. Once they become familiar with the odor, scientists will see if the dogs can distinguish between COVID-19 positive and negative samples in the laboratory setting. If the dogs are able to differentiate between the samples, researchers hope that means the dogs will be able to identify COVID-19 infected people.
VA patient COVID-19 deaths top 500, testing numbers double in past two weeks
The number of veterans receiving care at VA medical centers who have died has now passed 500, with the VA reporting a total of 513 deaths as of Friday.
Facilities in New York City had the highest number of deaths, with 115.  VA facilities in New Jersey were second, with 54, and those in New Orleans were third with 35.  
The number of patients who have testified positive as of Friday was 9,139, for a death rate of 5.6 percent.
VA press secretary Christina Noel said 23 VA employees working in its healthcare system have died of COVID-19 and that 2,259 VA employees working in its healthcare system have tested positive.
As of Friday, the VA had administered at least 107,178 COVID-19 tests, more than double its reported total two weeks ago.
'I don't want to die': A mother and daughter battle together
Glenda Johnson sat on her mother's hospital bed, took her hand and told her it was OK to go.
But Linda Hopkins, her face tensed against the smothering pain of coronavirus-related pneumonia, was not ready.
"I don't want to die," Linda, 83, replied, her daughter later recalled.
The two of them had a wonderful life in Detroit: They lived together, traveled together, shopped together, worshipped together, partied together. When they both fell ill in late March, they drove together to Beaumont Hospital in nearby Royal Oak, where they tested positive for COVID-19.
Then they ended up in the same room, where they battled the disease together.
Photo: Showers of thanks in India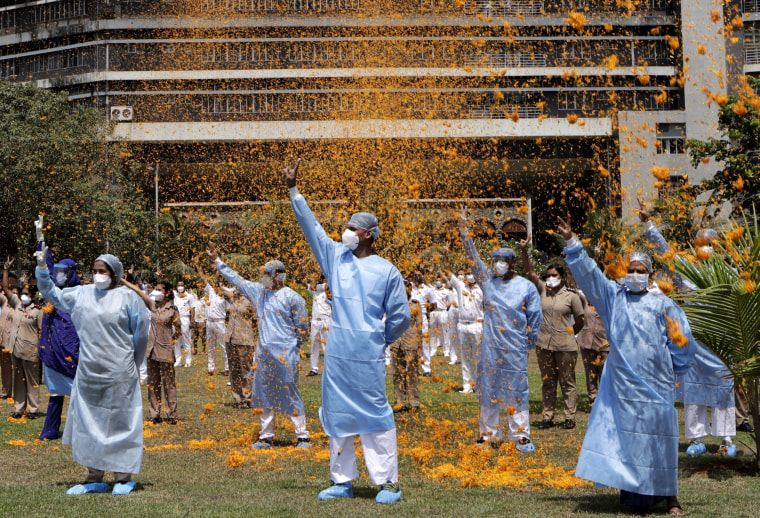 For LGBTQ youth, home might not be a safe place to self-isolate
For Fabliha Anbar, 20, her LGBTQ identity is an important part of her social and academic life. She's out to friends, on social media and at her progressive university, where she founded the South Asian Queer and Trans Collective.
But last month, when her campus closed due to the coronavirus pandemic, Anbar returned home — and back to the proverbial closet.
Since schools across the U.S. started to close in mid-March to help stem the spread of the coronavirus, LGBTQ advocates say a number of queer youth and young adults have lost crucial support systems and have been forced to self-isolate with unsupportive family members.
Vienna Airport to offer virus tests to avoid quarantine
Vienna Airport will offer onsite coronavirus testing starting Monday to enable passengers entering Austria to avoid having to be quarantined for 14 days, according to a news release Sunday.
Passengers arriving at the airport in the country's capital have been required to present a health certificate showing a negative COVID-19 result which is no older than four days, or go into quarantine. Beginning Monday, passengers can have a molecular biological COVID-19 test at the airport, and get the result in about three hours, the airport said.
The airport tests — which cost 190 euros, or $209 — can also be taken by passengers leaving Vienna to demonstrate their virus-free status at their destination. Austria has reported more than 15,000 cases of COVID-19 as of Sunday. 
Pope says vaccine must be shared worldwide
Pope Francis called for international scientific cooperation to discover a vaccine for the coronavirus on Sunday and said any successful vaccine should be made available around the world.
In his address from the papal library, the pontiff encouraged international cooperation to deal with the crisis and combat the virus. "In fact, it is important to unite scientific capabilities, in a transparent and impartial way to find vaccines and treatments," he said.
Francis said it was also important to "guarantee universal access to essential technologies that allow each infected person, in every part of the world, to receive the necessary medical treatment."
World leaders pledged in April to accelerate work on tests, drugs and vaccines against COVID-19 and to share them around the globe, but the United States did not take part in the launch of the World Health Organization initiative.
As people get back to work, cities look for social-distancing solutions for the busy commute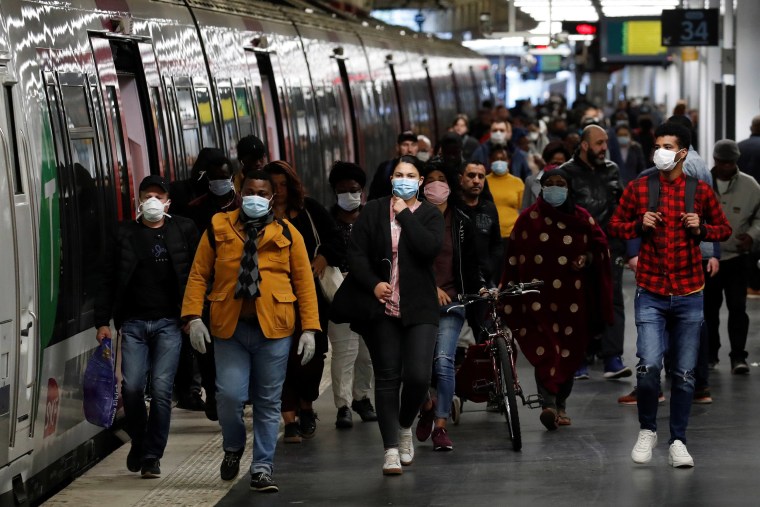 As coronavirus lockdowns ease and people around the world begin to escape from their homes, a new challenge emerges. How do you socially distance on the commute?
Stay two meters (6.5ft) apart on a bus in Berlin? Or on the subway in Seoul? Likely to be challenging.
While many may choose to continue working from home, others will face no choice but to travel to work.
And with transit systems in major cities notoriously overcrowded, a nervous public may look for alternatives in which social distancing can be maintained.
Nearly half of British doctors forced to find their own PPE, survey shows
Almost half of doctors in the U.K. have relied upon donated or self-bought personal protective equipment and two-thirds still don't feel fully protected from coronavirus, a new survey by the British Medical Association showed on Sunday.  
More than 16,000 doctors answered the poll from the labor union which represents doctors in the U.K. It is believed to be the largest review of frontline National Health Service workers since the crisis began. As of Jan. 2020 there are a total of 125,308 doctors working for the country's National Health Service, according to its latest workforce statistics.  
"On the one-hand it shows how resourceful they have been and how much support there has been from the general public in providing kit; but far more importantly, it is a damning indictment of the government's abject failure to make sure healthcare workers across the country are being supplied with the life-saving kit they should be," Dr. Chaand Nagpaul, the BMA council chair said as the data was released.  
The U.K. government has faced continued criticism from health workers over a lack of sufficient protective gear, as well as complaints surrounding low levels of virus testing. Britain has so far reported more than 180,000 cases.
Spain reports lowest daily death toll in nearly seven weeks
Spain has reported its lowest number of deaths in almost seven weeks, with 164 recorded on Sunday by the country's Health Ministry. While it was the lowest single-day increase since March 18, it nonetheless brought the total number to 25,264. 
The ministry also reported 838 new cases on Sunday, marking the first time the daily figure has dipped below 1,000. Spain has a total of 217,466 cases, the highest number in Europe and second only in the world to the United States.
"Experts say a vaccine for coronavirus could be available by the end of the year. We know that towards the end of 2020, we'll have a very low transmission rate. But we could have a COVID-19 resurgence in October," Fernando Simon, the head of Spain's Emergency Coordination Centre, said in a press briefing Sunday.
The declining death rate is an encouraging sign for Spain, which on Saturday took a large step towards loosening its lockdown by allowing adults to exercise outdoors for the first time in seven weeks.
U.K.'s Boris Johnson says doctors prepared to announce his death as he fought COVID-19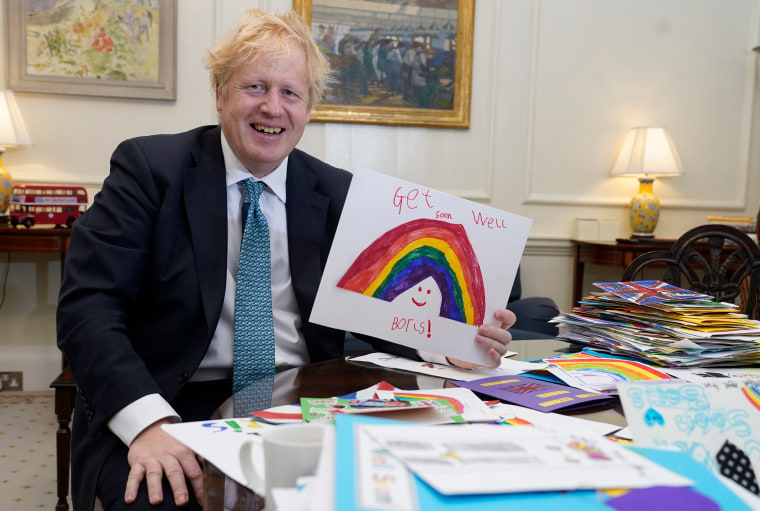 U.K. Prime Minister Boris Johnson has revealed that doctors prepared to announce his death as he battled coronavirus, ending up in intensive care, last month.
Johnson said that he was given "litres and litres of oxygen" to keep him alive as he recounted his life-or-death experience with the virus.
"It was a tough old moment, I won't deny it," the prime minister, who only days ago announced the birth of his son with partner Carrie Symonds, said in an emotional interview to Britain's The Sun on Sunday newspaper. "They had a strategy."
Travel in China surges as residents flock to tourist sites during 5-day holiday
Chinese people are flocking to tourist sites — many of which have recently reopened — during a five-day holiday that runs through Tuesday. 
Nearly 1.7 million people visited Beijing parks on the first two days of the holiday that began on May 1, and Shanghai's main tourist spots welcomed more than a million visitors, according to Chinese media reports.
The surge comes after a relaxation of domestic travel restrictions as the outbreak slows in mainland China and the government tries to reboot the economy. The country reported just two new cases as of Sunday and no new deaths. The number of confirmed cases stands at 82,877. Most of the patients have recovered and been discharged from hospitals.
The number of people traveling and visiting sites remains lower than an average year. Many sites are requiring advance reservations and limiting the number of daily visitors to 30 percent of capacity or less. Popular destinations such as the Forbidden City, the ancient imperial palace in Beijing, are sold out.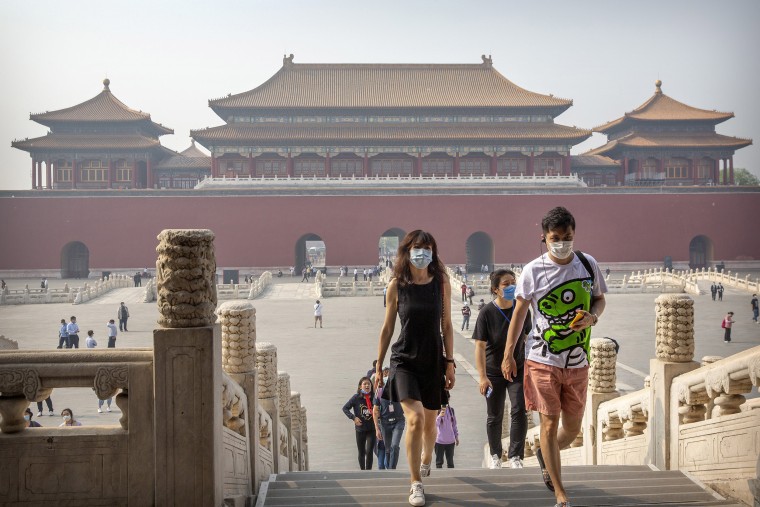 South Korea reports no new deaths as social distancing rules to be relaxed
South Korea reported no new deaths for the first time since February on Sunday.
The Korea Centers for Disease Control and Prevention said the death toll remained at 250. It also reported just 13 new cases on Sunday, bringing the total 10,793. In total, 9,183 of those cases have recovered, the KCDC said. 
As infections continue to wane, South Korea will further relax social distancing rules starting on May 6, allowing a phased reopening of businesses, Prime Minister Chung Sye-kyun confirmed Sunday.
The government "will allow businesses to resume at facilities in phases that had remained closed up until now, and also allow gatherings and events to take place assuming they follow disinfection guidelines," he told a televised meeting of government officials.
Indian Air Force showers flower petals to thank health workers
The Indian Air Force showered flower petals on hospitals across different cities including the national capital of New Delhi in a series of flypasts on Sunday, as part of the Armed Forces' efforts to thank doctors, nurses and police who have been at the forefront of the country's battle against the pandemic.
Almost 40,000 cases have been recorded in the the country of 1.3 billion as it enters the 40th day of a nationwide lockdown to contain the virus. The country's official death toll has reached 1,301.
The almost six-week lockdown, which was scheduled to end Monday, has been extended another two weeks with a few relaxations. The lockdown has slowed the spread of the virus, but has come at the enormous cost of upending lives and millions of lost jobs across the country.
Russia reports record daily rise of more than 10,000 cases
Russia recorded 10,633 new cases on Sunday — its highest ever daily rise in confirmed virus infections —bringing the total to 134,686, according to government authorities. This topped Saturday's record daily rise of 9,623.
More than half of the new cases were reported in the country's capital, Moscow. The mortality rate has slowed in recent days, however, and the country has so far recorded far fewer deaths than many of the most hard-hit countries. The nationwide death toll rose by 58 to 1,280 on Sunday. 
It comes after Russian Prime Minister Mikhail Mishustin said he tested positive for virus last week.
Eurostar train passengers could be refused services if they do not wear face masks
Passengers traveling on the Eurostar train could be refused service unless they wear face masks, the company said in a statement Saturday.  
The high-speed train international rail service is operating at significantly reduced times between London, Paris and Brussels, with only four trains per day because of the pandemic. 
In line with rules from the French and Belgian governments, the company said passengers would be required to wear "a face mask or face covering" that "effectively covers your nose and mouth. If passengers don't wear masks, they may be refused service or fined in their destination countries.
Warren Buffett's Berkshire Hathaway reports nearly $50 billion loss
OMAHA, Neb. — Warren Buffett's company reported a nearly $50 billion loss on Saturday because of a huge drop in the paper value of its investments, though it is still sitting on a big pile of cash.
The biggest factor in the loss was a $54.5 billion loss on the value of Berkshire's investment portfolio as the stock market declined sharply after the coronavirus outbreak began. The year before, Berkshire's investments added $15.5 billion to the company's profits.
Woman holds sign with Nazi slogan at reopen rally in Chicago
An unidentified woman at a reopen Chicago rally held a sign emblazoned with an infamous Nazi slogan linked to the Auschwitz-Birkenau concentration camp.
Dennis Kosuth, a 43-year-old registered nurse in Chicago, snapped a photo of the disturbing sign Friday and said the woman and her companions confronted him.
"They were not respecting our space," he said. "They would come up to us and get in our faces." 
The sign read "Arbeit macht frei," which translates to "work sets you free." It appeared over the gates of Auschwitz and other concentration camps where millions of people were killed by the Third Reich. 
"'Arbeit macht frei' was a false, cynical illusion the SS gave to prisoners of #Auschwitz. Those words became one of the icons of human hatred. It's painful to see this symbol instrumentalized & used again to spread hate. It's a symptom of moral & intellectual degeneration," the Auschwitz-Birkenau State Museum tweeted.
Here's how Americans rationed meat in 1942
As fears of meat shortages rise amid processing plant shutdowns and work slowdowns caused by the coronavirus outbreak, the differences between then and now are striking. In 1942, President Franklin Roosevelt ordered Americans to make do with less. In 2020, President Donald Trump has promised to keep the country's meat supply humming.
Trump signed an executive order this week compelling processing plants to remain open and giving them liability protections even as unions say the shutdowns are intended to save workers' lives.
Still, with a precipitous dive in meat production over the last month, as well as a drop in frozen pork storage, Americans may soon face a sliver of what an earlier generation grappled with not for months but for years.