President Donald Trump's coronavirus task force is in the early stages of winding down, according to two people familiar with the matter.
Drs. Deborah Birx and Anthony Fauci are still expected to be at the White House on a daily basis, but other members of the task force may be less physically present.
Speculation about the task force's ongoing presence emerged as Trump was traveling outside the D.C. area for the first time in more than a month to visit a Honeywell mask manufacturing facility in Phoenix, Arizona.
The U.S. coronavirus death toll passed 70,000 Tuesday, with at least 70,972 deaths linked to the illness across the country, according to an NBC News count of reports. Globally, there have been more than 257,000 deaths according to Johns Hopkins University.
Meanwhile, businesses in several states including Florida and California, have reopened their doors, hopeful to bring back customers while managing expectations and safety. But fears continue to mount about America's food supply chain. At a Tyson meat factory in Iowa, 58 percent of workers tested positive for COVID-19.
Here's what to know about the coronavirus, plus a timeline of the most critical moments:
Download the NBC News app for latest updates on the coronavirus outbreak.
This live coverage has now ended. Continue reading May 6 coronavirus news.
Robots to stand in for students at virtual graduation ceremony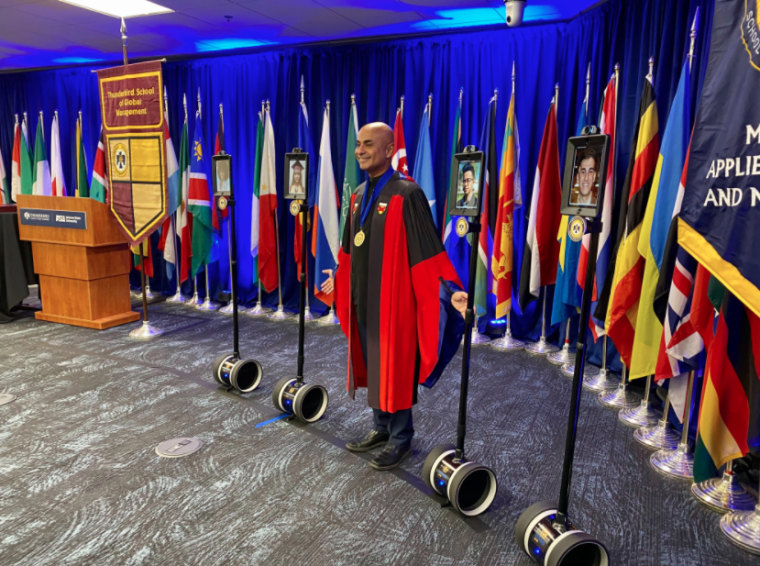 As graduation season approaches, students around the world face missing the opportunity to attend ceremonies that celebrate years of hard work. However, the Thunderbird School of Global Management at Arizona State University has come up with an innovative solution to allow graduates to virtually walk during a public ceremony with the dean on May 11.
The school, located in Glendale, Arizona, is using mobile robots to stand in students' places. The remote controlled machines then use tablets to provide live audio and video to allow the students to not only see and hear the ceremony remotely, but walk in too. 
"We are awed by the flexibility and resilience this year's graduates have shown as our university community adapted to the realities of COVID-19," a Thunderbird spokesperson said. "The virtual commencement is our way of honoring them and their accomplishments."
Russia now second-fastest growing outbreak in the world
For three days in a row, Russia has reported over 10,000 new cases of the coronavirus — making it the world's second-fastest growing outbreak behind the U.S.
However, compared to the U.S., Russia's total case number is relatively low, with 155,370 cases reported since the start of the outbreak. So, too, are Russia's officially confirmed fatalities, which stand at just 1,451. Russia is experiencing the world's seventh-largest outbreak as measured by raw confirmed case numbers. If current dynamics hold, it will likely overtake France and Germany this week to enter the top five.
Last week, President Vladimir Putin extended a nationwide stay at home order from April 30 to May 11, as officials predicted the peak of the outbreak could arrive by May 12.
Empty stadium marks baseball opening day in South Korea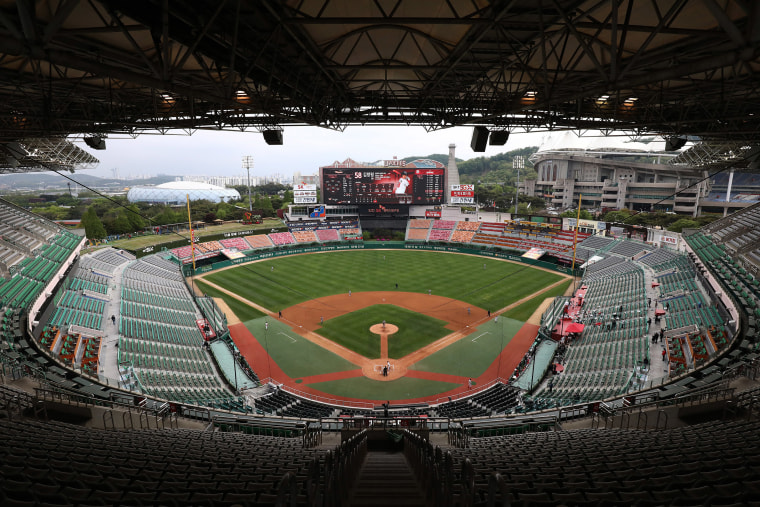 Spanish soccer league to begin training this week
The Spanish soccer league, La Liga, will begin training this week, with the objective to restart matches in June.
Players will have to go through a medical exam by the club prior to training, and they will initially train on their own before group practices are reintroduced. The health minister approved the decision to restart training, and guidelines for how to train safely were drawn up and approved by medical professionals, the organization said in a statement.
Soccer teams in Spain have not been able to train in nearly two months since the country's lockdown was initially put in place. The president of La Liga, Javier Tebas, said that the aim is to finish the 2019-2020 season this year.
Miami Beach park closed after nearly 7,500 warned about masks
A popular park in Miami Beach was closed Monday after authorities issued thousands of warnings over the weekend to people who weren't following coronavirus prevention rules, authorities said.
The city of Miami Beach tweeted that South Pointe Park was closed until further notice. Between Friday and Sunday, park rangers gave 7,329 verbal warnings to people in the city, most of them at the park, according to the city.
"Friendly reminder that you MUST wear a face cover when enjoying any one of our" parks, the city tweeted.
Florida's statewide stay-at-home order expired Thursday, and many businesses, beaches and parks have reopened with social distancing and other rules in place.
Mississippi relaxes some orders days after governor delayed idea
Mississippi Gov. Tate Reeves on Monday said he is allowing in-room and outdoor dining at restaurants and relaxing rules about outside gatherings put in place to limit the spread of the coronavirus illness COVID-19.
The announcement comes days after Reeves said he was delaying further steps after the state saw its highest single-day reporting of cases and deaths, although at the time he noted some of the newly reported deaths happened previously but were newly classified as related to the disease.
Outdoor and in-room dining will be allowed at restaurants, with restrictions like social distancing and 50 percent capacity. Outdoor gatherings of up to 20 people will be allowed.
"It is not a dive into the deep end," the governor said.
The state health department on Monday reported 327 new cases and seven deaths. On Friday when the state saw its highest single-day reported increase there were 397 new cases and 20 deaths, which included 11 people who had previously died.
South Korea readying for second wave by setting up 1,000 clinics
South Korea's government will set up 1,000 clinics to treat potential coronavirus patients in the coming months in preparation for a possible second wave of COVID-19 this fall and winter, the vice health minister said.
"Clinics dedicated to treating COVID-19 patients will open so that we can detect and treat the patients early on," Kim Gang-lip, the vice health minister in charge of the government response to the COVID-19 crisis, said in a briefing. "Five hundred clinics using the public healthcare centers will open first, then private clinics will join them."
There have been more than 10,800 confirmed cases in the country with 252 deaths, according to the Korea Centers for Disease Control and Prevention website. More than 9,200 of people with confirmed cases have been discharged from isolation.
South Korea on Monday announced plans to reopen schools starting next week, the Yonhap news agency reported. The education minister warned that the school reopening should not be considered as "the end of the coronavirus," and that teachers, parents and students should closely follow guidelines.