Three members of the White House coronavirus task force will quarantine for two weeks after coming in contact with someone who tested positive for COVID-19.
Dr. Robert Redfield, director of the Centers for Disease Control and Prevention, is expected to self-quarantine for 14 days following exposure to an unidentified White House aide who tested positive for coronavirus. Food and Drug Administration Director Stephen Hahn is already self-quarantining, he told staff Friday.
And Dr. Anthony Fauci, director of the National Institute of Allergy and Infectious Diseases, said he will follow a "modified" quarantine for the next two weeks after a "low-risk" exposure at the White House.
The news comes after two other people with access to the White House tested positive for COVID-19, including Vice President Mike Pence's press secretary, Katie Miller.
Meanwhile, Tesla CEO Elon Musk filed a federal lawsuit Saturday against Alameda County in California challenging its precautionary shutdown of the company's main factory. The suit seeks to overturn the county's health orders, which continue to keep businesses like Tesla's plant closed despite the governor's gradual reopening of the state.
Here's what to know about the coronavirus, plus a timeline of the most critical moments:
Download the NBC News app for latest updates on the coronavirus outbreak.
This live coverage has now ended. Continue reading May 10 coronavirus news.
Churches to help New York with coronavirus testing for communities of color
New York state is partnering with churches to ramp up coronavirus testing for communities of color, who have been hit hardest by the pandemic.
"We must address the racial disparities of this pandemic, and meet the need where it is," Gov. Andrew Cuomo said at a news conference Saturday morning.
The state is working with nonprofit health care network Northwell Health to open more than 20 temporary testing sites in churches located in predominantly low-income areas as well as in communities of color starting on May 12.
While the overall number of coronavirus hospitalizations and intubations continue to decline in New York, the majority of new cases have been reported in minority communities, Cuomo said.
Black people make up 28 percent of new coronavirus hospitalizations in New York City, although they are 23 percent of the population, the governor said.
"Of the 21 zip codes with the most new COVID-19 hospitalizations, 20 have greater-than-average black and/or Latino populations," he said.
Face mask rules lead to violent confrontations
They became parents during the pandemic — but can't show their new babies the world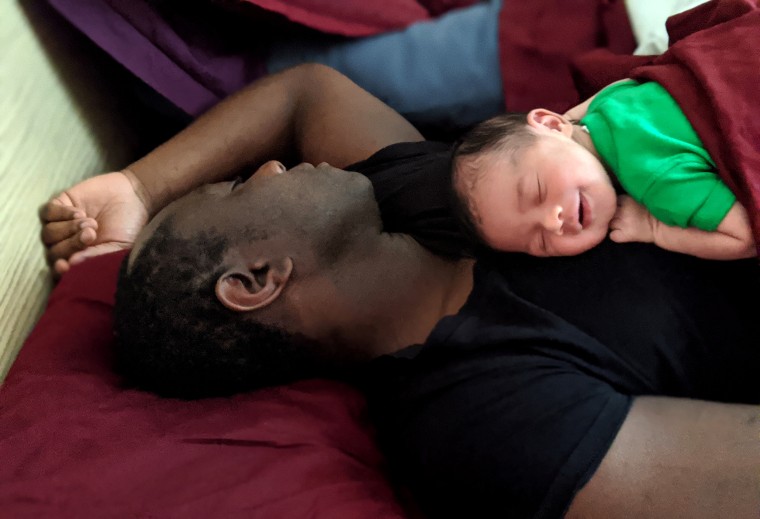 When Emily LaCosse gave birth to twins, she knew her world had changed. What she didn't expect was that at the same time, the coronavirus pandemic would alter everyone else's, too.
LaCosse, of Grand Rapids, Michigan, had her babies March 9. When she went to the hospital to deliver them, the coronavirus still felt like a vague threat: A nurse downplayed the health risks of it, and her hospital had no restrictions on visitors.
But during the five days that LaCosse and her newborns were in the hospital, President Donald Trump declared a national emergency to fight the growing outbreak. Schools shuttered and grocery stores began running low on essentials.
Soon, there was a statewide lockdown, too.
Hospitals move to let families visit people dying of the coronavirus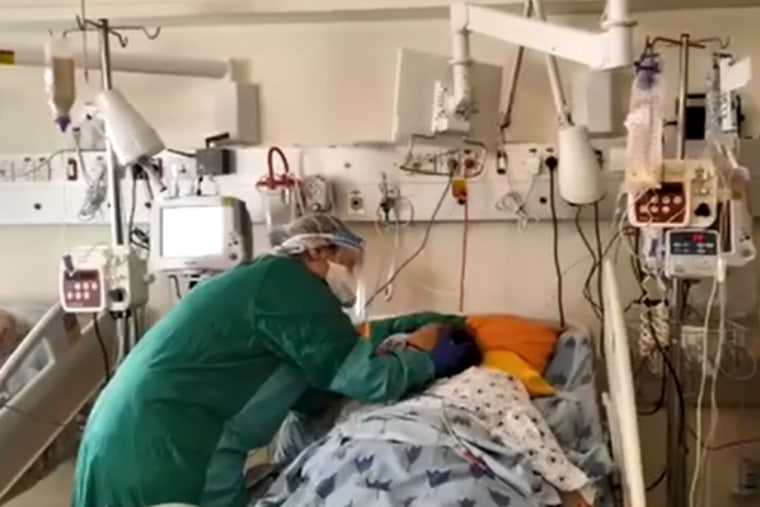 More than a quarter of a million people around the world have died from the coronavirus — many without a loved one by their side due to hospitals' precautions against the spread of the deadly infection.
Now some hospitals are reconsidering such policies in order to allow the dying and their family members the comfort of spending some final moments together.
"We can't change the fact that people will die from this virus, but at least we can give these moments of compassion to family members and their loved ones," said Avi Shushan, spokesman for the Tel Aviv Sourasky Medical Center in Israel.
More than 1,000 line up for food in Switzerland amid shutdown
More than 1,000 people lined up on Saturday to get free food parcels in Geneva, underscoring the impact of the coronavirus epidemic on the working poor and undocumented immigrants even in wealthy Switzerland.
The line of people stretched for more than 1 km (half a mile) outside an ice rink where volunteers were handing out around 1,500 parcels to people who started lining up as early as 5 a.m.
"At the end of the month, my pockets are empty. We have to pay the bills," said Ingrid Berala, a Geneva resident from Nicaragua who works part-time. "This is great, because there is food for a week, a week of relief...I don't know for next week."
Swiss bank UBS has calculated that Geneva is the second-most expensive global city for a family of three to live in, behind only Zurich. While average incomes are also high, that helps little for people struggling to make ends meet.
Coronavirus cases have been relatively low in Switzerland but mostly attributed to poor and overcrowded housing in cities.
Slovenian cyclists stage anti-government coronavirus protest
Thousands of cyclists took over streets in the center of the Slovenian capital, Ljubljana, on Friday evening to protest coronavirus restrictions put in place by Prime Minister Janez Jansa's government. 
The cyclists sounded horns and carried banners reading: "Raise workers' wages," "Careful, the government is falling," and "Stronger together." 
The protest, organized by civil society groups, was the largest in recent weeks. Police fenced off parliament while a police helicopter flew above the protesters.
Slovenia imposed a wide-ranging lockdown in mid-March, but the government began lifting restrictions on April 20 when car service centers and some shops reopened, while bars and restaurants have been allowed to serve food outdoors since Monday.
So far Slovenia has confirmed 100 deaths.
Russia records more than 10,000 new cases for seventh consecutive day
Russia recorded 10,817 new virus cases on Saturday, according to health officials, topping 10,000 cases for the seventh day in a row. 
The new cases pushed the nationwide tally to nearly 200,000. The country also recorded 104 deaths, bringing the national total to 1,827.
The country's capital Moscow and other regions have observed lockdowns since late March to try to stem the spread of the virus. The number of cases overtook French and German infections this week to become the fifth-highest in the world.
Food bank lines grow across the U.S. as unemployment soars
Pakistan begins lifting weeks-long lockdown despite another big jump in cases
Pakistan has begun lifting the weeks-long lockdown that was enforced to curb the spread of the coronavirus, as authorities reported another big jump of 1,637 cases on Saturday, bringing the total to 27,474.
Army soldiers who manned roadside checkpoints along with police since late March when the lockdown was enforced, left for their barracks in the capital, Islamabad and elsewhere in the country on Saturday.
The latest development comes two days after Pakistani Prime Minister Imran Khan said he was ending the lockdown in phases because his government was unable to financially help those millions of people who rely on their daily earnings to survive and feed their families.
Khan says he tried to financially help the country's poor amid the pandemic, but he was unable to support all those who lost their jobs due to the lockdown. So far, Khan has bowed to pressure from the country's powerful clerical establishment by allowing mosques to remain open, even as the number of new cases has recently increased. Pakistan warned, however, that it will reimpose the lockdown if people do not adhere to social distancing guidelines.
South Korea reports 18 new cases, connected to nightclub transmissions
South Korea reported 18 new cases on Saturday, a revert to confirmed cases in two-digits figures, as health workers scramble to trace contacts after detecting a slew of transmissions on Friday linked to nightclub-goers.
While the country marked a third day in a row where no new deaths were recorded, according to South Korea's Centers for Disease Control and Prevention, a local cluster in the capital's Itaewon nightclub district were linked to a man who visited three bars last week. Some 1,500 people were in the three bars, government officials said. 
The South Korean government has advised on Saturday that all clubs and bars to shut down for a month in Seoul, where the relaxation of social distancing began on May 6. The new cases bring the total to 10,840 on Saturday, and the death toll remains at 256.
China says it's willing to help North Korea in fight against virus
China is willing to offer support to North Korea in its fight against the coronavirus epidemic, Chinese state television reported Saturday, quoting a letter from President Xi Jinping to his counterpart Kim Jong Un.
"I am also very concerned about the prevention and control of the epidemic in North Korea and the health of the North Korean people," Xi said in the letter. "China is willing to strengthen anti-epidemic cooperation with North Korea and provide support within its capabilities according to North Korea's needs."
Xi also said he was pleased that the country's prevention measures to control the respiratory illness had achieved positive results, state television reported. 
"I believe that with the joint efforts of China, North Korea and the international community, we will surely win the final victory in the fight against the pandemic," he said. 
India's fuel demand nearly halves in April amid lockdown
India's fuel demand dipped 45.8 percent in April from a year earlier, as a nationwide lockdown and travel curbs to combat the spread of coronavirus eroded economic activity in the country.
Consumption of fuel, a proxy for oil demand, totaled 9.93 million tonnes — its lowest since 2007, government data showed on Saturday. State fuel retailers in India sold 50 percent less refined fuel in the first two weeks of April than the same time a year earlier, as the country came to a standstill due to the lockdown that was put in place on March 24.
The government last week extended the lockdown until May 17, with some relaxations in lower-risk areas, although travel by air, rail and metro and inter-state movement of people by road was still banned. India has reported nearly 60,000 cases as of Saturday, according to Johns Hopkins University data.
IMF warns of further drop in global growth due to virus
Economic data for many countries is coming in below the International Monetary Fund's "already pessimistic assessment" for 2020, its managing director Kristalina Georgieva, told an online event hosted by the European University Institute on Friday.
"With no immediate medical solutions, more adverse scenarios might unfortunately materialize for some economies," Georgieva said. "It is the unknown about the behavior of this virus that is clouding the horizon for projections."
The IMF's April projection for a 3 percent contraction the global economy would mark the steepest downturn since the Great Depression of the 1930s, according to Reuters. The IMF forecast a partial rebound would follow in 2021 assuming vaccines and treatments are available, but warned that outcomes could be far worse, depending on the course of the pandemic.
Spain's biggest cities will not move to next stage of lockdown exit
Madrid and Barcelona will not progress to the next phase of Spain's exit from one of Europe's strictest lockdowns, allowing bars, restaurants and places of worship to reopen in some areas starting Monday, government officials have said. 
Spain's two biggest cities do not currently meet the government's criteria for easing measures, Health Emergency Chief Fernando Simon told a news conference on Friday. However, Simon said 51 percent of the population would move onto the next phase of easing lockdown restrictions.
Speaking at the same news conference, Health Minister Salvador Illa said: "I want to insist that this is not a race, decisions must be based on cooperation and caution." 
Madrid and Catalonia — whose capital is Barcelona — account for nearly half of Spain's overall cases of infection. The number of diagnosed cases rose to 222,857 from 221,447 the day before, the ministry said on Friday. Half of the new cases in Spain in the past 24 hours were in Catalonia.
U.S. tightens visa rules for Chinese journalists amid virus tensions
The United States issued a new rule tightening visa guidelines for Chinese journalists on Friday, saying it was in response to the treatment of U.S. journalists in China, a shift that comes amid tensions between the two nations over the coronavirus pandemic.
The United States and China have been engaged in a series of retaliatory actions involving journalists in recent months.
In March, China expelled American journalists from three U.S. newspapers following the publication of an opinion column that China denounced as racist. This came a month after the United States said it would begin to treat five Chinese state-run media entities with U.S. operations the same as foreign embassies.
In issuing the new regulation which will take effect on Monday, the Department of Homeland Security cited what it called China's "suppression of independent journalism." The regulation will limit visas for Chinese reporters to a 90-day period, with the option for extension.
A drive-by quinceañera? Latino families get creative, maintain a tradition
Kristie Rodriguez and her daughter Xochitl spent a lot of time planning the teen's quinceañera celebration to mark her 15th birthday.
"Every little Hispanic girl dreams about her quinceañera and her wedding. Those are your two big days in your life," Rodriguez, 45, from San Antonio, Texas, told NBC News.
Then coronavirus hit—and stay-at-home orders left Rodriguez having to reimagine the venerated Latino tradition in a very different way.
It took some creativity and work, but Rodriguez and her husband Jimmy surprised Xochitl with a low-key but unforgettable version of her big day, surprising her with a a 'drive-by' quinceañera on April 21st. Xochitl was able to share with her closest family and friends—at a safe social distance.
Across the country, families have found ways to celebrate.
Photo: Healthcare workers place a nasal swab from a patient into a tube for testing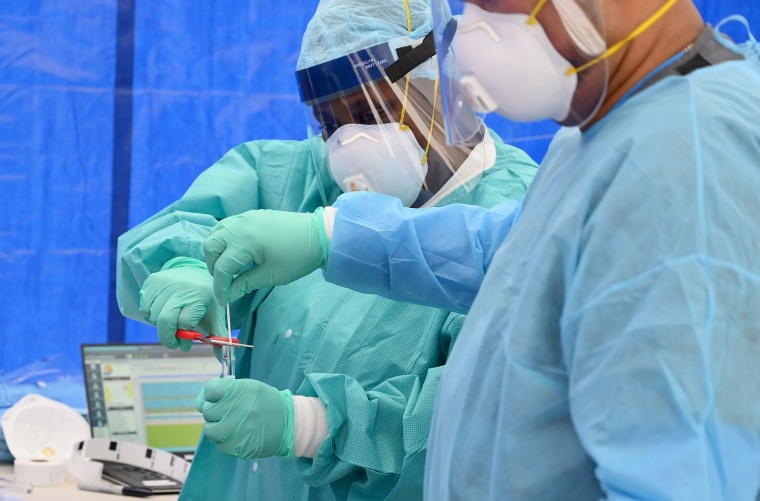 Court halts ban on mass gatherings at Kentucky churches
FRANKFORT, Ky. — A federal court halted the Kentucky governor's temporary ban on mass gatherings from applying to in-person religious services, clearing the way for Sunday church services.
U.S. District Judge Gregory F. Van Tatenhove on Friday issued a temporary restraining order enjoining Gov. Andy Beshear's administration from enforcing the ban on mass gatherings at "any in-person religious service which adheres to applicable social distancing and hygiene guidelines."
The ruling from the Eastern District of Kentucky sided with the Tabernacle Baptist Church in Nicholasville, but applies to all places of worship around the commonwealth. Two other federal judges, including U.S. District Judge David Hale, had previously ruled the ban was constitutional. But also on Friday, Hale, of Kentucky's western district, granted Maryville Baptist Church an injunction allowing in-person services at that specific church to proceed, provided the church abide by public health requirements.
Exceptions to the Democratic governor's shutdown order include trips to the grocery store, bank, pharmacy and hardware store. Beshear had previously announced that places of worship in Kentucky will be able to once again hold in-person services starting May 20, as part of a broader plan to gradually reopen the state's economy. 
Sen. Ted Cruz gets hair cut at Dallas salon whose owner was jailed
Sen. Ted Cruz, the conservative Republican of Texas, got his hair cut Friday at the Dallas salon owned by a woman jailed for violating orders aimed at limiting the spread of the coronavirus.
Barbershops and hair salons were allowed to reopen Friday in Texas, although with six feet between work stations.
Cruz flew from Houston to get a cut at Salon à la Mode. Owner Shelley Luther was sentenced Tuesday to seven days in jail for staying open despite public health orders but was freed Thursday after Texas Gov. Greg Abbott eliminated jail for violating an order related to the coronavirus.
Luther's situation has been championed by some on the political right. Cruz, leaving the salon wearing a mask, said of his haircut "I think it's terrific," video from NBC Dallas-Fort Worth showed.
"I'm proud to stand with Shelley Luther and I'll tell you, what happened to her was wrong," Cruz said. "It was ridiculous to see somebody sentenced to seven days in jail for cutting hair. That's not right, that's not justice, that's not Texas."
Luther, also wearing a mask, said a visit by Cruz was "something that I would have never dreamed of" and "overwhelming in a great way."