The global coronavirus death toll passed 300,000, with more than 4.4 million confirmed cases around the world, according to data from Johns Hopkins University. The U.S. remains the world's worst-hit country, with more than 86,600 deaths.
Friday evening the House passed a $3 trillion coronavirus relief package that would include another round of stimulus payments of up to $1,200 per person. President Donald Trump has suggested he won't support the bill.
Critics Friday said U.S. Immigration and Customs Enforcement is presenting families detained at the border with the choice of allowing children to be released without them or staying together and facing possible virus exposure in detention.
Additionally, the CDC issued a health alert to physicians on a rare but potentially deadly condition linked to COVID-19 in children that has now been reported in at least 19 states and Washington, D.C.
Here's what to know about the coronavirus, plus a timeline of the most critical moments:
Download the NBC News app for latest updates on the coronavirus outbreak.
This live coverage has now ended. Continue reading May 16 coronavirus news.
April retail sales fell by 16.4 percent, the lowest level on record
April retail sales sank by 16.4 percent to their lowest level on record, as stores and restaurants felt the full weight of a month of coronavirus closures.
The monthly sales data, which measures spending at places such as gas stations, restaurants, bars, and stores, was released Friday by the U.S. Bureau of the Census.
The number was worse than economists had been anticipating, with most having forecast a 12 percent drop.
By comparison, March sales were down by 8.3 percent, which was at that time the worst decline since records began in 1992.
Consumer spending drives around three-quarters of the U.S. economy, but social distancing measures have restricted business operations, limited driving, and forced the closure of most retail stores and food service locations.
Amal Clooney: Coronavirus exacerbates 'existing human rights crisis'
Catholic churches gradually reopen in Pittsburgh
Catholic churches in the Diocese of Pittsburgh will gradually reopen on Friday in most areas, with private prayers, baptisms and confession allowed, the diocese announced.
Worshipers will be required to follow social distancing rules and wear masks. Daily masses are scheduled to resume on June 1, with a goal of restarting weekend masses over the weekend of June 6 and 7. 
"It fills my heart with so much joy to think of the doors of our Churches opening once again," said Pittsburgh Bishop David Zubik. "I've heard from so many who have missed praying in their parishes, I've missed it too."
Moscow announces massive antibody testing program
Moscow health officials launched an ambitious antibody screening program Friday to evaluate the population's immunity levels as coronavirus cases continue to grow across Russia, with more than 260,00 cases reported nationwide.
In a blog post explaining how the effort will work, Moscow Mayor Sergei Sobyanin said that every several days 70,000 residents will be selected and invited into one of 30 state clinics across the city to be given an enzyme test for Immunoglobulin M antibodies. Sobyanin said the effort was necessary to provide an informed answer to the question of when Moscow can begin lifting a strict lockdown that has been in place for the past six weeks, and is currently not scheduled to end before May 31.
Sobyanin's decision would seem to be a subtle rebuke to President Vladimir Putin, who earlier this week lifted a federal stay at home order and declared Russia was now ready to begin a gradual easing of restrictions — despite growing case numbers that surpassed a quarter of a million by mid-week, propelling Russia's outbreak to be the second largest in the world.
Germany begins to loosen quarantine requirement for some travelers
German states have begun to loosen requirements on travelers entering the country in the coming days, with North-Rhine Westphalia now allowing travelers from other E.U. states, as well as the U.K., Iceland, Liechtenstein, Switzerland and Norway, to forego a 14-day quarantine following arrival.
Other Germans states are expected to lift the quarantine restrictions in the next few days. However, restrictions around who is allowed to enter the country still remain in place. That means only those with a valid reason to enter the country, such as family ties or medical personnel, will be allowed in. 
The goal is to restore free travel by June 15, however, a resurgence of the pandemic in these nations could lead to a reinstatement of the stricter measures, officials have said.
Trump says he lost five people to the coronavirus
President Donald Trump said Thursday that he has personally lost five people who contracted COVID-19, the disease caused by the coronavirus.
"It's a very tough disease. I lost five people that I know. A couple of very good friends, too, out of it," he said in an interview with The Washington Examiner.
Trump added that he's never lost anyone because of the flu. The president did not identify any of the five people and did not elaborate further on who they were. 
Last month, Trump's personal friend and New York real estate mogul Stanley Chera died on from complications of coronavirus.
Masks become fashion accessory in the Ivory Coast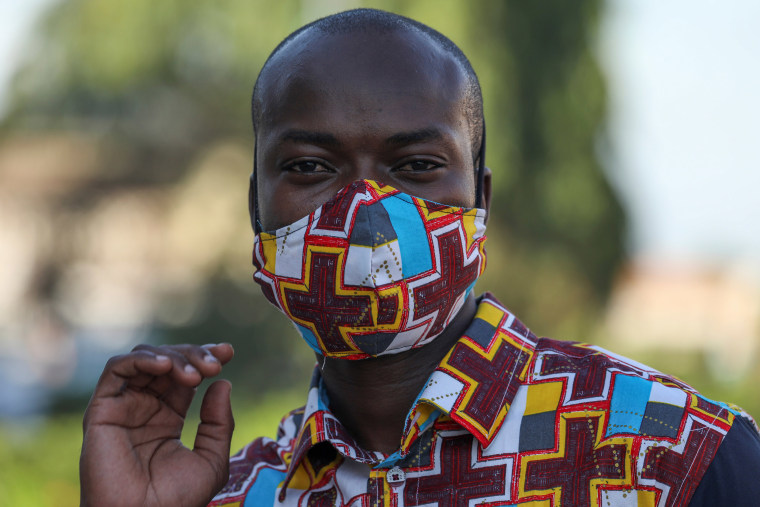 Italy to test 150,000 people to better understand coronavirus epidemic
Italy will begin testing 150,000 people next week across 2,000 areas in an attempt to better understand the extent of its COVID-19 epidemic. The testing, which is due to begin Monday and conclude on May 31, will cover a representative sample of the population and be carried out by 550 Red Cross volunteers.  
"This testing program will involve a significant sample of citizens and will allow us to understand the extent of the national spread of the virus," Agostino Miozzo, head of the government's scientific committee told Parliament on Thursday.
Italy was one of Europe's hardest hit countries by the coronavirus with more than 31,600 deaths. It has now slowly started lifting its strict lockdown.
Apple supplier Foxconn sees quarterly profit hit two-decade low
The world's largest contract electronics manufacturer, Foxconn, saw its first-quarter profit plunge to its lowest in two decades, all but wiped out, after the coronavirus pandemic forced the Taiwanese firm to suspend manufacturing operations in China and knocked demand from customers including Apple Inc.
Net profit for January-March slumped 90 percent from a year earlier — the lowest level since the first quarter of 2000. But Foxconn said the worst of the virus outbreak for the company was over and its main factories in China have resumed normal operation. New growth was to be found in the work-from-home lifestyles being adopted around the world even if the outlook for smartphone and other consumer electronics demand remained bleak, it said.
Its consumer electronics division, much of which is smartphones, is forecast to post a 15 percent yearly decline in sales as the virus is set to have "an enormous" impact on demand. In the first quarter, the division accounted for 42% of revenue.
Just 24 new cases of coronavirus a day in London, new research shows
London could now have as few as 24 new coronavirus infections a day, according to analysis from a team of Cambridge University researchers. Working with Public Health England, the researchers analysed current data up to May 10 to plot the progress of the virus.
Their model shows that the British capital — England's worst impacted region — is estimated to have had 1.8 million infections since the outbreak began. However, the "R rate" in that area is now the lowest in the country at just 0.4, meaning that 10 infected people will only pass on the virus to four others. In contrast, there are still over 4,000 new cases a day in the Northeast and Yorkshire region of the country where the R is twice as high at 0.8.
England made its first tentative steps toward easing its seven week lockdown Wednesday, with people who can't work from home urged to return to work. Residents were also given permission to go outside as often as they would like, and to meet one other person from a separate household in a public outdoor space. 
Lockdown protesters shout 'be like Sweden' — but Swedes say they are missing the point
Known for its socialized health care, progressive tax system and liberal social policies, Sweden rarely finds cheerleaders among conservative commentators and activists in the United States. But on homemade placards at anti-lockdown protests in the last month, an unusual slogan has been spotted: "Be more like Sweden."
Prominent Republican Party figures and GOP-supporting commentators have praised Sweden for its light-touch approach to the coronavirus pandemic— it is almost unique among nations in not ordering citizens to stay indoors, while cafes and restaurants have stayed open.
According to the Swedes, however, American admirers of their approach are confusing their own beliefs with what is a prudent and carefully planned public health policy.
Africa faces nearly a quarter of a billion cases, WHO model predicts
Approximately 22 percent of Africa's one billion population — or around 220 million people — will be infected in the first year of the coronavirus epidemic, new research predicts. 
A model by the World Health Organization's regional office for Africa published in the British Medical Journal showed that while there would be a comparatively low rate of transmission across the continent due to a generally younger population, a rise in hospitalizations and other care needs would significantly overwhelm healthcare services. Also, many cases may pass undetected in primary care facilities, "due to weak diagnostic capacity and non-specific symptoms," the research showed.
The model predicted that the first year of transmissions could result in about 150,000 deaths on the continent. The researchers urged that "effective containment measures should be promoted in all countries" to best manage the outbreak. Africa has reported 75,000 cases and more than 2,500 deaths as of Friday, according to the Africa Center for Disease Control.
Arkansas venue postpones concert 'against our will'
A Fort Smith, Arkansas, concert venue grudgingly said it would delay a country music show that it had scheduled for Friday, days before coronavirus restrictions in the state would allow it.
TempleLive will instead seek to have the Travis McCready show moved to Monday, when some indoor events can begin to be held. The move came after the governor said a cease-and-desist letter would be issued and after a venue official said the state alcohol commission "ripped our permits and licenses off the wall."
"It doesn't feel like America to me," Mike Brown of TempleLive said at a news conference. He said the venue will apply to move the show to Monday "against our will."
Gov. Asa Hutchinson noted that the show was scheduled for three days before indoor events would be permitted. "You can't just arbitrarily determine when the restrictions are lifted," he said. 
The Arkansas Department of Health directive requires a plan to be approved for indoor events with 50 people or more. 
The event had been announced in late April. Brown said that churches had been allowed to open and they wanted to be treated the same as other places now permitted. "At the end of the day we fought the law and the laws won," he said.
China passes 1-month mark for no new virus deaths
BEIJING — China has gone a month without announcing any new deaths from the coronavirus.
The National Health Commission reported four new cases of the virus Friday, all local cross-infections in the northeastern province of Jilin where a cluster of uncertain origin has been detected in recent days. The last time the commission reported a death was on April 14.
Just 91 people remain in treatment for COVID-19 and 623 others are under isolation and monitoring for being suspected cases or for having tested positive without showing symptoms, including 11 newly detected.
In total, China has reported 4,633 deaths among 82,933 cases since the virus was first detected late last year in the central city of Wuhan.
China has maintained social distancing and bans on foreigners entering the country, but has increasingly opened up the world's second-largest economy to allow both large factories and small businesses to resume production and dealings with customers. The government plans to hold the ceremonial parliament's annual session later this month, but with highly limited access for journalists and others.
Minnesota's Mall of America to begin reopening June 1
The massive Mall of America in Minnesota announced Thursday that it will begin reopening June 1 after being closed because the coronavirus epidemic.
Not all stores in the mall, which is in Bloomington south of Minneapolis, will reopen on that date, the mall said in a statement. Dining and attractions will remain closed pending further guidance from state officials.
Gov. Tim Walz this week announced that his stay-at-home order expires Monday and that he would replace it with an order allowing retail as long as stores enforce social distancing and stay at 50 percent capacity or less. 
The June 1 date will allow companies to rehire staff and prepare cleaning and other safety measures, the mall said. The mall covers 5.6 million square feet. Under normal circumstances, the mall says that it has around 40 million visitors each year.
Minnesota has seen more than 13,400 confirmed cases of COVID-19, the illness caused by the coronavirus, with at least 663 deaths, according to the state health department.
Convalescent plasma is safe to treat COVID-19, study finds
The most comprehensive national study to date has found that convalescent plasma appears to be safe to use on COVID-19 patients, a promising development in the race to find a treatment for the deadly virus. But the study didn't determine whether the treatment works.
A team of more than 5,000 doctors from over 2,000 hospitals and laboratories have been testing the experimental therapy, which involves transfusing the antibody-rich blood serum of recovered COVID-19 patients into people who are battling the illness.
Of the 5,000 seriously ill patients who received blood plasma transfusions for the study, fewer than 1 percent experienced serious adverse events. The mortality rate seven days after treatment was 14.9 percent, but the researchers noted the infusion patients were already gravely ill and the rate "does not appear excessive."