Ongoing stay-at-home orders prompted President Donald Trump on Friday to deem houses of worship essential. He threatened to override governors who have ordered churches, synagogues and mosques not to reopen in the coming days.
With the coronavirus threat looming, the long Memorial Day weekend won't look anything like years past.
Meanwhile, the nation's most populous county is getting ready to reopen by the next big summer holiday - July 4.
Here's what to know about the coronavirus, plus a timeline of the most critical moments:
Download the NBC News app for latest updates on the coronavirus outbreak.
This live coverage has now ended. Continue reading May 23 coronavirus news.
Another large study finds no benefit to hydroxychloroquine for COVID-19
Hydroxychloroquine does not help COVID-19 patients, and indeed may increase deaths, according to a large, international study published Friday in The Lancet.
The research is the latest to show the drug — which President Donald Trump this week said he was taking as a preventive strategy — can lead to potentially deadly heart problems.
This might be the best weekend ever to buy a new car
Memorial Day weekend is typically one of the busiest times of the year for car dealerships — and this year's deals are expected to be some of the best ever.
Automakers have been offering incentives averaging about $5,000 on the typical new vehicle, with the givebacks on full-size pickups running well above $7,000, whether in the form of rebates, zero-interest loans or other deals.
With consumers locked down at home and auto plants shuttered, sales of new cars plunged last month to barely half what they were last April. But with most states easing up on lockdowns, "Dealers in most of the country will be open again," whether online or in their showrooms, "and we expect to see the (big sales) carried forward," said Nick Woolard, director of analytics with online auto site TrueCar.com.
"We're seeing far more generous incentives and deals out there than we typically would for Memorial Day weekend, and since more consumers might be looking at vehicles for summer road trips instead of airline travel, things might look up a bit for the industry," said Jessica Caldwell, Edmunds' executive director of insights.
New York's hospitalizations, new cases and deaths are declining, governor says
New York Gov. Andrew Cuomo said that the number of new hospitalizations in the state is down as well as the number of new cases and deaths. 
The governor said at a news briefing on Friday that the state had 109 deaths from the coronavirus, down from 105 on May 20. 
Cuomo said that if the number of deaths in the Long Island and mid-Hudson regions of the state continue to decline and if those areas get their contact tracing for the virus online, they could reopen next week.
The Week in Pictures: Tentative reopenings and a world behind masks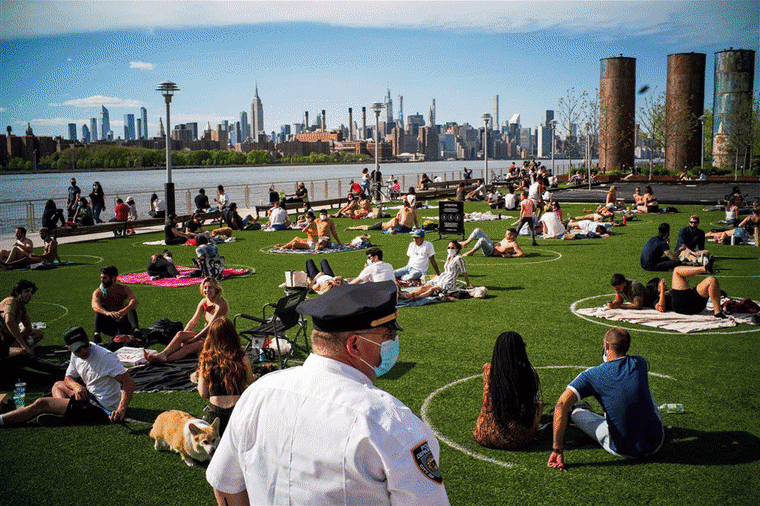 See more photos as all 50 states begin to reopen. 
Trump administration to start distributing $4.9 billion to nursing homes
The U.S. Department of Health and Human Services will begin distributing $4.9 billion in CARES Act funding to nursing homes in an effort to help the hard-hit facilities curb the spread of the coronavirus, officials said Friday.
Each nursing home will receive "a fixed distribution of $50,000, plus a distribution of $2,500 per bed," according to HHS.
Nursing home providers and industry associations have been asking for $100 billion, but several groups said Friday they were still grateful for the government funding.  
"We are working around the clock to protect the people who are most vulnerable to COVID-19," Mark Parkinson, CEO of American Health Care Association, the industry group for for-profit nursing homes. "That work makes this funding more important than ever."
LeadingAge CEO Katie Smith Sloan, who represents 5,000 non-profit senior living facilities, said they were "especially pleased. "
As of May 11, 27,333 nursing home residents have died from COVID-19, according to an NBC News tally.
This young elected official draws political heat for her tough coronavirus stance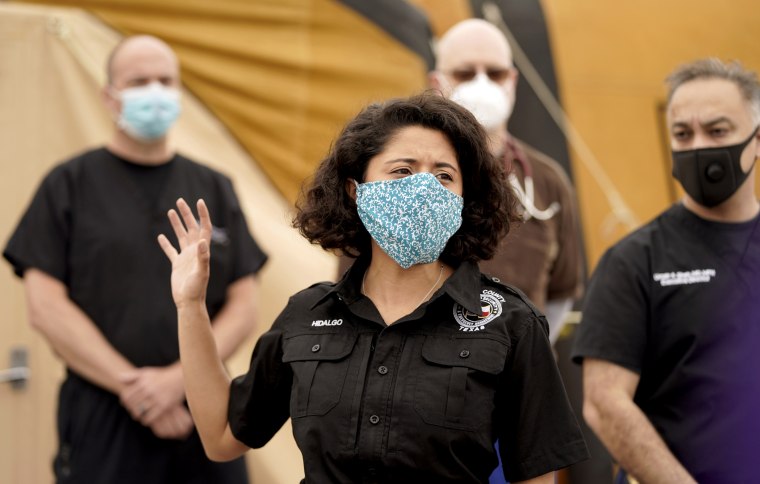 After being tested by massive chemical fires and a rash of destructive floods, Lina Hidalgo, the 29-year-old top government executive of Harris County, Texas, is now facing a killer virus and the protests of how she's tried to contain it.
Hidalgo, the surprise victor in a 2018 election, has been the inspiration for fellow Democrats hoping to turn Texas blue. Her victory, coupled with her youth and immigrant background, made her a constant target of criticism that intensified as she moved aggressively against COVID-19 in Harris County, which includes Houston.
"It's understandable that, it's an election year, folks want to pull this apart ... but there's a time and place for that," Hidalgo said in an interview. "When I'm running for re-election, all bets are off. They'll comment on why I did that, and criticize and complain and I'm sure say things that aren't true and I'll correct the record. But right now, to politicize things for the sake of it, is not good."
Anti-violence groups, not police, will enforce social distancing in NYC
New York City Mayor Bill de Blasio announced Friday that members of the city's "Cure Violence movement," not police officers, would focus on the "day-to-day work" of ensuring that people are following social distancing guidelines.
Eighteen organizations with the Cure Violence movement, which is also called the crisis management system, will be dispersed across 21 neighborhoods to "use the trust that they have built in communities ... to educate people about the coronavirus," de Blasio said. The effort will be "of and by and for each community," he added. 
The mayor said last week that the New York City Police Department would no longer enforce mask-wearing by the public unless there is "serious danger."
He made that announcement amid outrage over a video showing officers handcuffing and pinning down a 22-year old mother who was not wearing a mask properly. The department had also drawn scrutiny over its enforcement of social distancing guidelines after police data showed the vast majority of those receiving summonses were people of color.
The NYPD will now focus on breaking up gatherings, particularly over Memorial Day weekend, and concentrate on neighborhoods that have seen congregations at restaurants.
Georgia logs 1,783 coronavirus deaths, surpassing more than 41,000 cases
The Department of Public Health in Georgia logged a total of 41,427 confirmed cases and 1,783 deaths as of Friday morning.
That's an increase of 464 new cases and 8 deaths in the past 24 hours.
Georgia also reported 7,294 hospitalizations and 1,655 ICU admissions, administering a total of 427,249 tests statewide.
Secretary of Defense says coronavirus vaccine 'absolutely' possible by end of year
Secretary of Defense Mark Esper said on TODAY Friday that a coronavirus vaccine to treat Americans is "absolutely" possible by the end of the year.
Esper expanded on his comments from a White House press conference in which he said the Department of Defense "will deliver" a vaccine by the end of the year for an illness that has so far infected more than 1.5 million Americans and caused 94,729 deaths in the U.S., according to Johns Hopkins University.
"Absolutely it's possible, and I've spoken to our medical experts about this," Esper told Savannah Guthrie. "We are completely confident that we can get this done.
Photo: 'Cyber-graduation' in Manila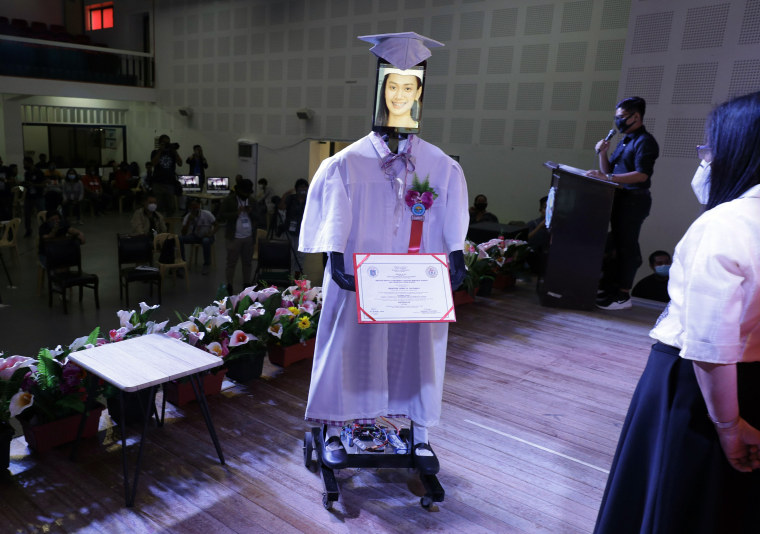 Experimental virus vaccine reaches advanced trial stages
An experimental vaccine for COVID-19 under development at Oxford University hit a milestone Friday with researchers announcing it will be progressing to advanced stages of human trials.
It will be tested in 10,260 volunteers across the United Kingdom to determine how effective it is at preventing infection, the university said in a statement. If successful, it could be on the market as early as September, according to British-Swedish drugmaker AstraZeneca, which partnered with the university in April to manufacture and distribute the vaccine.
"We're thrilled," Adrian Hill, one of the researchers leading the project, told NBC News.
AstraZeneca received more than $1 billion from the U.S. Department of Health's Biomedical Advanced Research and Development Authority on Thursday.
Tanzania says virus defeated through prayer, but fears grow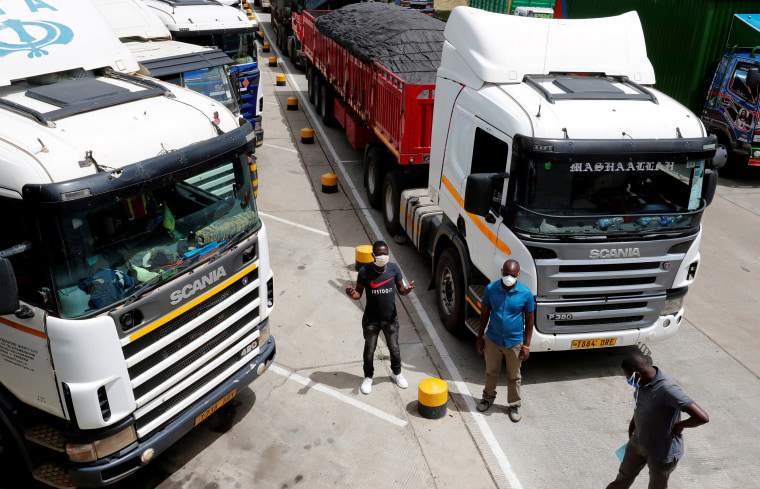 On just one day this month, 50 Tanzanian truck drivers tested positive for the coronavirus after crossing into neighboring Kenya. Back home, their president insists that Tanzania has defeated the disease through prayer.
All the while, Tanzanian President John Magufuli has led a crackdown on anyone who dares raise concerns about the virus' spread in his East African country or the government's response to it. Critics have been arrested, and opposition politicians and rights activists say their phones are being tapped.
The country's number of confirmed virus cases hasn't changed for three weeks, and the international community is openly worrying that Tanzania's government is hiding the true scale of the pandemic. Just over 500 cases have been reported in a country of nearly 60 million people.
While many African countries have been praised for their response to the coronavirus, Tanzania is the most dramatic exception, run by a president who questions — or fires — his own health experts and has refused to limit people's movements, saying the economy is the priority.
Biological diversity key to preventing pandemics, U.N. says
The COVID-19 pandemic has shown how human health is intimately connected to the natural world, the United Nations said on its International Day of Biological Diversity on Friday.
"Our solutions are in nature," said U.N. Secretary-General António Guterres in a video statement. Preserving and sustainably managing biodiversity is not only necessary for mitigating climate disruption and guaranteeing water and food security, but is also crucial in preventing pandemics, he said. 
Biological diversity — meaning a wide variety of plants, animals and microorganisms — "are the pillars upon which we build civilizations," the U.N. said in a statement. It has been proven that biodiversity loss could expand zoonoses — diseases transmitted from animals to humans — while, on the other hand, "if we keep biodiversity intact, it offers excellent tools to fight against pandemics like those caused by coronaviruses," the U.N. said.
DJs play to a socially distant crowd at German club
Party goers longing to escape to the dance floor in the midst of the coronavirus pandemic got an insight into socially distant raving on Thursday night, when DJs at a German venue played to a socially distant, face mask-wearing audience that was limited to 100 people. 
The organizers of the TakaTuka event, held at the CoconutBeach club in Münster, said that to make up for the loss of revenue  caused by limited attendees, they would have had to increase the cover charge of the event 20 fold, but realized that this would have excluded many music fans. Instead, they sold packages to the event for €70 ($76.26), which included vouchers for drinks and hot food from the venue's grill.
Attendees were told to bring their own masks to the event, and that a vendor would be selling masks branded with club logos and imagery on site. DJ Steve Stix shared images of the socially distant event on his Instagram story, with clubbers limited to moving inside individual circles spaced out on the dance floor. The loosening of restrictions in Germany has seen some parts of life resume, but many precautions have been kept in place.
Moscow to expand antibody testing program to all residents next week
Moscow will offer free antibody testing to anyone who wants it as early as next week, Mayor Sergei Sobyanin said on state television. Currently, the city is offering free antibody testing to randomly selected residents. The program launched a week ago and is designed to help inform decisions on lifting lockdown restrictions, according to the mayor.
Russia on Friday surpassed 325,000 confirmed cases, and though the daily case growth is down from last week, the rate appears to have settled around 9,000 confirmed cases per day. Meanwhile, a record 150 fatalities were reported Friday.
Sobyanin also said Thursday that Moscow will resume government services and will allow car sharing starting on May 25. It will also ease entry and exit from the city. However, he said passes will still be required for movement around Moscow, suggesting the lockdown may continue past May 31, when it is currently scheduled to be lifted.
European aviation agency recommends face masks and physical distancing
As countries across Europe begin to ease travel restrictions, the European Union Aviation Safety Agency updated their recommendations for airports and airlines following the severe disruption of the industry from the coronavirus. 
New guidelines recommend that access to airport terminals should be limited to only passengers, crew members and staff, and that physical distancing should be in place.
The wearing of face masks was recommended for all passengers "from the moment they enter the terminal building at the departure airport until they exit the terminal building at the destination airport," according to the guidelines. Airport and airline operators should also provide personal protective equipment to staff members, it said.
Brazil records another new record in daily death toll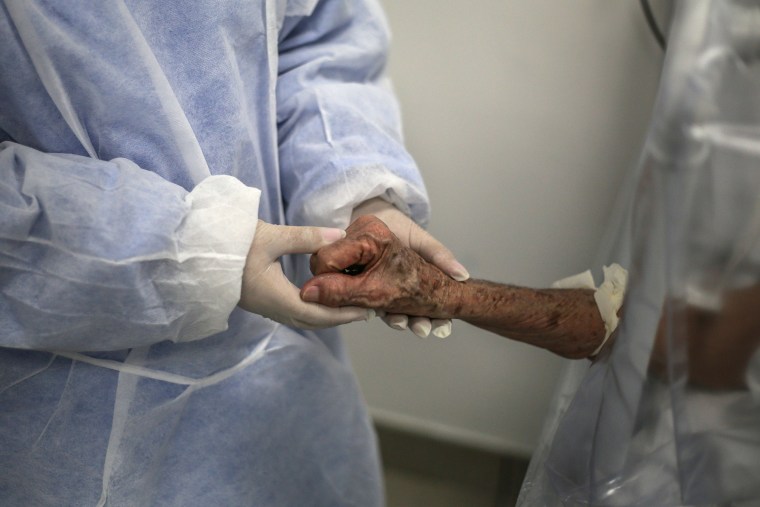 Brazil suffered a record of 1,188 daily coronavirus deaths on Thursday and is fast approaching Russia to become the world's No. 2 COVID-19 hot spot behind the United States.
Brazil also passed 20,000 deaths on Thursday and has 310,087 confirmed cases, up over 18,500 in a single day, according to Health Ministry data. The true numbers are likely higher but Brazil has not carried out widespread testing, the ministry said.
President Jair Bolsonaro is under growing pressure for his handling of the outbreak, which looks set to destroy the Brazilian economy and threatens his re-election hopes. He strongly opposes social distancing measures and has repeatedly pushed for greater usage of chloroquine as a remedy for the virus, despite health experts' warnings about risks.
Female boxers in Gaza train on the beach after gym closure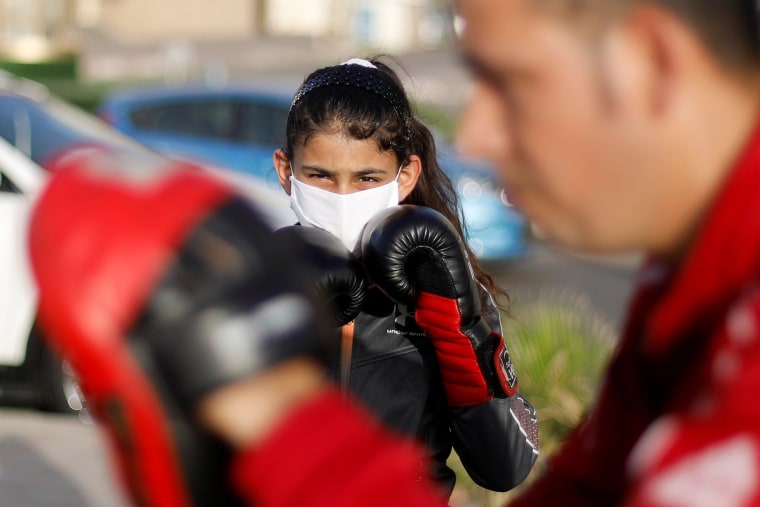 A team of young female boxers — some as young as four — trained on the beach in Gaza this week after their club was closed due to COVID-19. Gaza has reported 55 coronavirus cases, all of them in quarantine centers, and no deaths.
The sight of over a dozen girls boxing on the beach while wearing face masks caught the eye of passersby in the Mediterranean coastal enclave, where the sport is mostly popular with men. The girls' coach, Osama Ayob, said the public training sessions could help get more girls involved in the sport. Women make up half of the strip's two million people.
"Some families walking by us liked the idea and they asked if they could send their girls so I can train them," said Ayob, 34. One of the boxers, 15-year-old Malah Mesleh, said she would rather train in public than miss out on sessions — or, worse yet, risk contagion by practicing in the team's gym.
Mississippi governor outraged after church fighting virus rules burned to ground
Mississippi Gov. Tate Reeves said he's "heartbroken and furious" after a fire this week at a church that has challenged coronavirus restrictions. The fire is being investigated as arson.
The fire Wednesday in Holly Springs destroyed the First Pentecostal Church, and investigators found graffiti in the church parking lot that reads, "Bet you stay home now you hypokrits," NBC affiliate WMC of Memphis reported.
The church was "burned to the ground" and had been trying to open services, Reeves tweeted Thursday.
First Pentecostal filed a lawsuit last month against the city over its public health order on in-person worship services, the station reported.
"This is not who we are," the governor said at a daily news conference on the coronavirus epidemic and the state's response.
Minorities, older workers hit hard by layoffs, pay cuts
Pentagon starts planning for military's post-COVID-19 future
WASHINGTON — The Pentagon's Joint Staff has launched a planning group focused on the U.S. military's long-term plans for operating during and after the COVID-19 pandemic, taking into account the likelihood that the defense budget may be cut and that troops may come home, according to three defense officials.
The group is examining how the military is postured around the world, whether it needs to focus more personnel or assets domestically, and where it needs to invest personnel and money to operate during and after COVID-19.
The group will look at possible vulnerabilities the U.S. may face during the pandemic and where adversaries could try to take advantage of the U.S. focus on COVID-19. At the same time, the group will determine what strategic advantages the U.S. can leverage as adversaries are also focused on the outbreak.
Small businesses struggle as many big retailers see revenue surge, online sales grow