The U.S. State Department on Thursday warned Americans to no longer travel abroad, and urged those already abroad to return, for fear they may become stranded as other countries increasingly lock down in the coronavirus pandemic.
Italy has surpassed China in total deaths connected to the coronavirus, with the country reporting 3,405 fatalities as of Thursday afternoon Eastern Time.
For the first time since the global coronavirus outbreak began, China has reported no new domestic cases of the illness.
Only eight deaths were reported for Wednesday, all of which occurred in Hubei province, which includes the city of Wuhan where the pandemic started. Globally, the number of coronavirus cases has topped 200,000, according to Johns Hopkins University.
Efforts to contain the spread of the virus in the U.S. and Europe have brought life in many major cities to a standstill, and governments are launching a variety of aid packages meant to alleviate the worst of the economic impact.
Markets were calmer on Thursday with the Dow Jones Industrial Average closing slightly up by around 200 points.
Full coverage of the coronavirus outbreak
Download the NBC News app for latest updates on the coronavirus outbreak.
This live coverage has ended. Continue reading March 20 Coronavirus news.
Christmas lights 'spread happiness' during pandemic
It may be March but some people are turning their holiday lights back on to help spread some cheer during the coronavirus outbreak.
Rob Makowsky posted a photograph of his lit-up house on twitter, noting that he "figured the world could use a bit more brightness."
Others have taken similar actions to "spread happiness" during the outbreak. One Delaware man noted that the effort was easy — he hadn't yet taken his lights and decorations down.
Amazon closes NYC warehouse after employee diagnosed with coronavirus
Amazon closed one of its facilities in New York City after a worker there was diagnosed with coronavirus, a spokesperson for the company told NBC News. 
Employees at the Queens warehouse were sent home with full pay, and "we are supporting the individual who is now in quarantine," the spokesperson said. It is unclear when Amazon plans to reopen the site, in Woodside.
The Queens worker is the first known U.S. Amazon employee to be diagnosed with the virus, according to CNBC. Amazon confirmed on Monday that at least five workers at warehouses in Spain and Italy had tested positive. 
Australia and New Zealand close borders to foreigners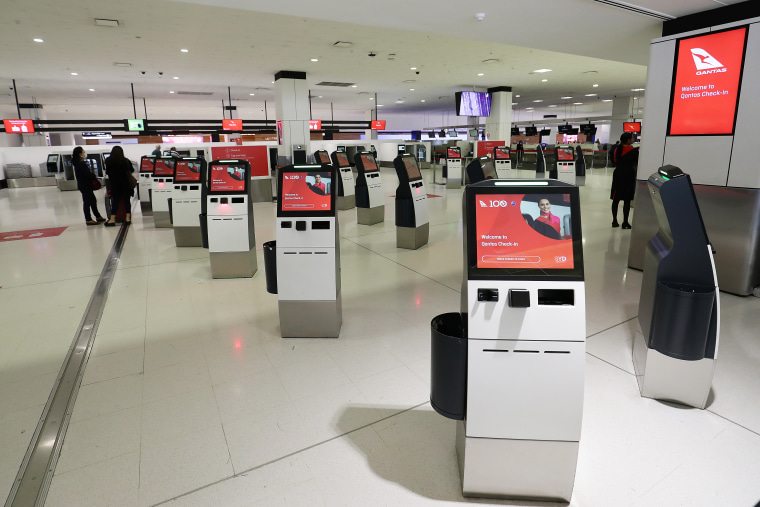 Both New Zealand and Australia closed their borders to all foreigners starting Friday, as they stepped up efforts to contain the spread of the coronavirus.
New Zealand Prime Minister Jacinda Ardern told a press conference that citizens and permanent residents can still return, but their options are running out as many commercial airlines are cancelling flights.
"I'm not willing to tolerate risk at our borders," Ardern told the media conference. New Zealand so far has 28 cases of coronavirus, but no deaths.
The announcement came shortly after neighboring Australia announced the same measure. Australia has recorded around 600 confirmed coronavirus cases and six deaths as of Thursday — a relatively small number compared to other countries. However, officials are growing increasingly concerned about the prospect of an exponential rise in cases.
Biden and Sanders campaigns 'in regular contact' to discuss coronavirus
Former Vice President Joe Biden's campaign said late Wednesday that it's been in touch with Sen. Bernie Sanders' campaign since last week and have been exchanging ideas about how the U.S. should respond to the coronavirus outbreak. 
Biden's deputy campaign manager Kate Bedingfield told NBC News that they've been in "regular contact at a senior level," talking about how the outbreak is affecting their campaigns and how to adjust their activities in the 2020 presidential race. 
Bedingfield said the two campaigns have their differences, but they are collaborating to promote the health and safety of their staff. Sanders returned to Vermont late Wednesday after being in Washington Wednesday to vote for the coronavirus aid bill.
Olympic flame handed over to Japan for 2020 Summer Olympics in Tokyo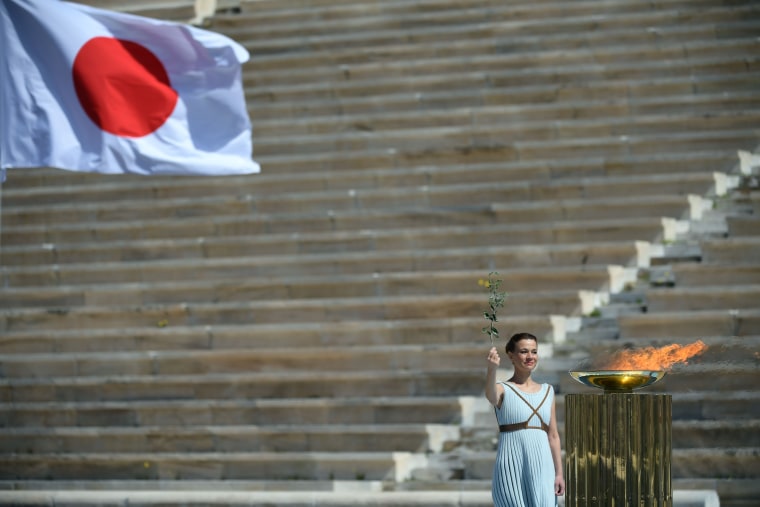 European Central Bank announces $810 billion emergency plan
The European Central Bank announced a 750 billion euro, or $810 billion, plan late Wednesday to calm markets and help the economy in the "euro area" — the monetary union of 19 of the 27 European Union member states.
The central bank said it would use the fund, named the "Pandemic Emergency Purchase Program," to buy government debt and well as private sector securities before the end of 2020. 
The announcement comes as markets and local economies around the world are increasingly unstable, and confirmed coronavirus case numbers are rising significantly across Europe and the U.K.
Italy to extend lockdown as death toll surges
Italy will remain under lockdown beyond the deadline that was due to expire in early April, Italian Prime Minister Giuseppe Conte said Thursday.
In comments to the Corriere della Sera newspaper, Conte said measures taken to close schools and universities, as well as restrictions on movement would have to be prolonged past the previously set date of April 3.
"We have to use our common sense, and act with the greatest caution. Sanctions for those who do not respect the rules will be strictly implemented," he said.
Under current measures, Italy's 60 million people are only allowed to travel for work, medical reasons or emergencies. Currently the worst hit country in Europe, Italy reported a surge in deaths and the toll now stands at 2,978. The country reported 475 deaths in 24 hours on Wednesday, its largest single day increase since the pandemic began.
Up to 20,000 U.K. military personnel to go on standby
The U.K.'s Ministry of Defense will double the size of the military's civil contingency unit to create a 20,000-strong "COVID Support Force," the defense secretary announced on Wednesday.
An additional 10,000 troops will be added to the already 10,000 held at "higher readiness" in case of a civil emergency, Defence Secretary Ben Wallace said. Reserves are also on standby to support public services.
The U.K. will also close schools until further notice starting Friday, and new measures were introduced Thursday across London's transport network in an attempt to contain the spread.
"People should not be traveling, by any means, unless they really, really have to," London Mayor Sadiq Khan said. There were more than 2,600 confirmed cases in the U.K. as of Thursday.
San Francisco, ordered to shelter in place, faces uneasy life in lockdown
San Francisco's tourism industry has ground to a halt and some restaurants closed as residents wondered about the future amid orders to "shelter in place." 
"Everything is out of our control," Trish Tracey said in her shuttered restaurant in San Francisco's Mission District. She does not know when it will reopen.
San Francisco and surrounding counties are days into the restrictions, which involve millions of people being told to stay home and stay put except for essential needs such as shopping for groceries, getting medications, caring for others and exercising.
San Francisco is an early test of what the rest of the U.S. may see in the coming days as mayors and governors curtail daily life to try to slow the spread of the virus.
Las Vegas airport tower closed after controller tests positive
The air traffic control tower at Las Vegas' McCarran International Airport has been temporarily closed after a controller tested presumptively positive for the coronavirus, a Federal Aviation Administration spokesman said.
The Las Vegas Terminal Radar Approach Control assumed control of the airspace and the airport remains open, but operations will continue at a reduced rate until the situation is resolved. 
The air traffic controller tested presumptively positive for the virus, which causes the illness COVID-19, on Wednesday. Presumptively positive is a term often used when a local test comes back positive but before that result is confirmed by the CDC.
The presumptive positive at McCarran comes a day after the air traffic control tower at Chicago's Midway International Airport was closed after several technicians tested positive. That airport remained open but at reduced operations.
Critical care nurse: Lack of supplies causing 'fear and insecurity'
Playboy, citing coronavirus, says next issue last for print this year
Playboy magazine says that due to supply challenges because of the coronavirus pandemic, its spring issue will be the last to hit newsstands this year.
"Last week, as the disruption of the coronavirus pandemic to content production and the supply chain became clearer and clearer, we were forced to accelerate a conversation we've been having internally: the question of how to transform our U.S. print product to better suit what consumers want today," Playboy Enterprises CEO Ben Kohn said in an open letter posted online Wednesday.
The Spring 2020 Issue, which is set to hit newsstands this week, will be its last printed publication for the year in the United States, Kohn wrote.
Kohn said the company will move to a "digital-first publishing schedule" for all of its content. It will publish print materials next year but those were described as new forms like "special editions, partnerships with the most provocative creators, timely collections and much more."