Wall Street took another dive Friday as the Dow Jones Industrial Average sunk by 916 points and saw 18 percent of its value disappear over the course of the week.
The Dow saw all the gains made since President Donald Trump took office erased.
Also in New York City, the suspended presidential campaign of former Mayor Michael Bloomberg told staffers Friday there was a confirmed case of COVID-19 at its Times Square headquarters, a campaign official confirmed to NBC News.
New York Mayor Bill de Blasio said Friday evening the city has 5,151 coronavirus cases and 29 deaths associated with the virus. "We are now the epicenter of this crisis" in the United States, he said.
In California the number of cases, more than 1,000, has doubled in three days. Los Angeles County, the nation's most populous, reported it now has a total of 292 cases.
There are now more than 250,000 confirmed cases of the coronavirus around the world, according to Johns Hopkins University.
Full coverage of the coronavirus outbreak
Download the NBC News app for latest updates on the coronavirus outbreak.
This live coverage has ended. Continue reading March 21 Coronavirus news.
Fauci: Americans will likely need to stay home for at least several weeks
Dr. Anthony Fauci, director of the National Institute of Allergy and Infectious Diseases, said Friday that Americans will likely have to continue staying at home and practice social distancing for "at least several weeks."
"If you look at the trajectory of the curves of outbreaks and other areas, at least going to be several weeks,"Fauci said in an interview with Savannah Guthrie on the "TODAY" show when asked how long he thinks Americans will have to practice social distancing. 
"I cannot see that all of a sudden, next week or two weeks from now it's going to be over. I don't think there's a chance of that. I think it's going to be several weeks."
When speaking about whether it's time for President Donald Trump to use the Defense Production Act to produce critical supplies, Fauci suggested that the U.S. should be doing everything in its power to slow the outbreak.
"I think we should do everything we possibly can do. I mean, in all sectors, because obviously as I've said so many times, when you think you're maybe overreacting, you probably are not acting as forcefully as you should. So as we've always said, we've got to try very much to stay ahead of the curve."
China urges U.S. to 'stop slandering' and 'play a constructive role'
China responded to President Trump's use of the term "Chinese virus," with a spokesperson for the Ministry of Foreign Affairs saying that the U.S. should play a "constructive role" to safeguard international public health. 
"We hope that the United States will respect objective facts, respect international public opinion, do its own thing, stop constantly shifting its attitude, stop slandering other countries, and shifting responsibilities," Geng Shuang, a spokesperson for China's Ministry of Foreign Affairs said on Friday. 
The president has defended his use of term, saying in a press conference, "it's not racist at all, no. It comes from China." He was photographed on reading from notes on Thursday at a coronavirus press conference with the word "corona" crossed out and replaced with "Chinese."
Coronavirus is a 'personal nightmare' for people with OCD and anxiety disorders
Sarah Mergens showed signs of obsessive-compulsive disorder long before she was diagnosed with it as an adult. It initially took the shape of harmless quirks, like organizing dinosaur toys by shape and color. 
As an adult, Mergens, 27, held her OCD symptoms at bay through exposure and response prevention therapy, supportive friends and family and internal pep talks. Then COVID-19, the disease caused by the coronavirus, began to spread and threatened to set her back on the progress she's made in convincing herself that her fear of circulating an illness is overblown. The virus, she said, is her "personal nightmare."
Over 2 million Americans are estimated to be affected by OCD, according to the Anxiety and Depression Association of America. Nearly 7 million people in the U.S. are affected by generalized anxiety disorder and about 6 million by panic disorder. While the concern about the COVID-19 pandemic has upended the lives of Americans from all walks of life, interviews with people with mental health issues, as well as counselors who are treating them, reflect a particular chaos the virus has caused.
Pittsburgh mayor announces self-quarantine
Pittsburgh Mayor Bill Peduto said Thursday night that he's going to self-quarantine for 14 days after coming into contact with at least two people in Washington, D.C. who have tested positive for coronavirus. 
"I have absolutely no symptoms. I feel great," Peduto said in the video that was posted on social media.
Greta Thunberg strikes for the climate online
Climate activist Greta Thunberg urged her followers and supporters on Friday to strike for the climate online for the second week in a row, in order to "act in full solidarity with those at risk" of coronavirus.
In a post last week, Thunberg advocated for a #DigitalStrike because, "in a crisis we change our behavior and adapt to the new circumstances."
Delayed by sanctions, first medical aid trickles into North Korea
The first shipments of international medical aid are due to arrive at North Korea's borders this week to shore up its defenses against the coronavirus, but strict border controls could mean the stream of supplies remains a trickle.
Some aid organizations had to get emergency sanction exemptions from the United Nations to clear the way for the shipments and are now navigating North Korea's border controls imposed in a bid to shut out the virus.
North Korea has not reported any confirmed cases of the virus, though a top U.S. military official said last week he is "fairly certain" there were infections in North Korea.
North Korea is especially vulnerable to an outbreak as its health system lacks resources, in part because of international sanctions imposed over its nuclear weapons programs, ,say aid organizations.
Colorado National Guard pitches in at drive-up testing station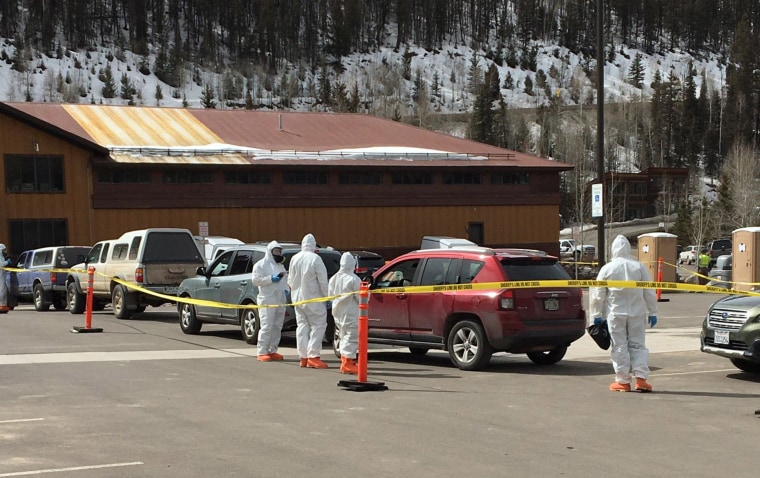 Uncertainty bites as London pubs, restaurants consider shutting
The Northcote Arms has been a pub since 1890, surviving two world wars, several global financial crises and even the flu of 1918, which killed tens of millions of people.
Now this traditional watering hole in the east London neighborhood of Leyton is one of countless businesses around the world facing the prospect of being crushed by the spiraling pandemic.
"It's just like quicksand," said Tuesday Roberts, 39, who runs the pub. "Every time I come up with a plan, I have to scrap it two days later. The situation just gets worse and worse."
As well as attacking physical health, the virus is also threatening to trigger a huge wave of unemployment in the U.S. and across Europe as governments urge or force people to stay away from public spaces, such as bars, restaurants, theaters, sports venues and airports.
Animated map shows drop in emissions over China
Data from the European Space Agency shows a drop in nitrogen dioxide emissions over China between December and March.
As strict measures were implemented to stem the outbreak, factories closed and streets were cleared. This led to a dramatic reduction in nitrogen dioxide emissions — those released by power plants, industrial facilities and vehicles — in all major Chinese cities between late-January and February.
Similar data has also shown a decline over northern Italy coinciding with its nationwide lockdown to prevent the spread of coronavirus.
Wembley Stadium in London lights up to thank health workers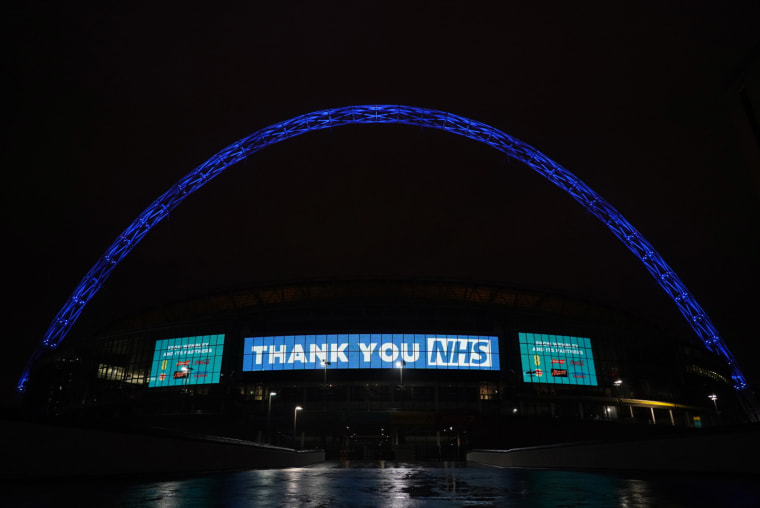 No new domestic cases in China for second day in row
China's National Health Commission on Friday reported no new local coronavirus cases, which marked the second time it has done so since the epidemic began.
There were 39 new cases reported on the mainland Thursday, but all were called "new imported confirmed cases." Deaths on the mainland rose by three, bringing the total dead to 3,248, according to the health commission's numbers. 
There have been 80,967 cases reported on the mainland in all, the national health commission said.
Italy has surpassed China in total deaths connected to the coronavirus, with the country reporting 3,405 fatalities as of Thursday afternoon Eastern Time.
The coronavirus outbreak began in China, but the World Health Organization said last week that Europe has become the new epicenter of the pandemic.
When should someone get tested for coronavirus?
Invictus Games postpones, looks ahead to 2021
The Invictus Games scheduled for May 9-16 in The Hague have been postponed until next year because of coronavirus pandemic, organizers of the international competition for veterans announced Thursday.
"We are now investigating all options to reschedule the Invictus Games, subject to the availability of key facilities and resources, to May or June 2021," organizers said in a statement.
Prince Harry, patron of the Invictus Games Foundation, said in a video that "this was an incredibly difficult decision for all of us to have to make." 
Olympic flame lands in Japan as doubts grow over Tokyo games
MATSUSHIMA AIR BASE, Japan — The Olympic flame arrived in Japan on Friday from Greece in a scaled-down ceremony at an air base in northern Japan.
The flame, carried in a special canister, touched down amid growing doubts if the Tokyo Games can open as scheduled on July 24 because of the coronavirus pandemic.
Organizers and the International Olympic Committee say it will, but postponement or cancellation is viewed increasingly as a possible option.