The United States and European nations are stepping up measures to tackle the spread of coronavirus and counteract its economic impact, as the numbers of deaths and infections continue to grow.
The U.S. death toll surpassed 100 on Tuesday as all 50 states have now reported cases, and the E.U. announced sweeping restrictions on most travel within the 27-country bloc.
The White House announced Tuesday that it is looking to send checks directly to Americans in order to soften the economic fallout from the coronavirus outbreak.
The announcement comes as many parts of the U.S. have taken extraordinary measures to health the spread of the coronavirus. California officials announced a complete lockdown of the Bay Area, including San Francisco, that requires people to stay home except for essential needs.
Full coverage of the coronavirus outbreak
Download the NBC News app for latest updates on the coronavirus outbreak.
This live coverage has ended. Continue reading March 18 Coronavirus news.
China reacts to Trump's tweet referring to coronavirus as 'Chinese virus'
China had harsh words for President Donald Trump Tuesday after he referred to the coronavirus as "Chinese virus" in a tweet. 
State media CGTN quoted China's foreign ministry spokesperson saying Beijing strongly opposes Trump's use of those words.
Geng Shuang said the World Health Organization (WHO) and the international community are clearly against linking the virus to specific countries and regions, according to CGTN. 
The disease the coronavirus causes was dubbed indiscriminate COVID-19 by the WHO earlier this year to avoid names that can be stigmatizing, singling out a country or a group of people. 
On Weibo, Chinese equivalent of Twitter, hashtag #trumpcallingCOVID19Chinesevirus was mentioned 24 million times Tuesday as social media users voiced their discontent with the U.S. president's tweet. 
The comments also prompted massive backlash in the U.S., including New York Mayor Bill de Blasio, who said the tweet was misplacing blame and could put more Asian Americans in danger.
All but one new confirmed cases in China are imported: health officials
Health officials at China's National Health Commission said Tuesday there were 21 new confirmed cases in mainland China, of which 20 were imported cases. The only new domestic case was recorded in Wuhan, the city where the coronavirus outbreak is believed to have originated. 
It's a huge change of pace for China, where officials are now focusing on stopping people bringing new cases from abroad. 
On Tuesday, Wuhan officials said they will now require overseas arrivals to undergo 14-day quarantine at a central location at the people's own cost, emulating Beijing.
Other cities in Hubei province, of which Wuhan is the capital, are doing the same, as is Anhui province.
The rate of new infections has slowed down considerably in China, according to officials figures released by the state, since a surge in number of cases in January. Nearly 81,000 people have been confirmed to have the virus so far, with 3,226 deaths recorded. 
Israel's security forces to track coronavirus patients and people in self-isolation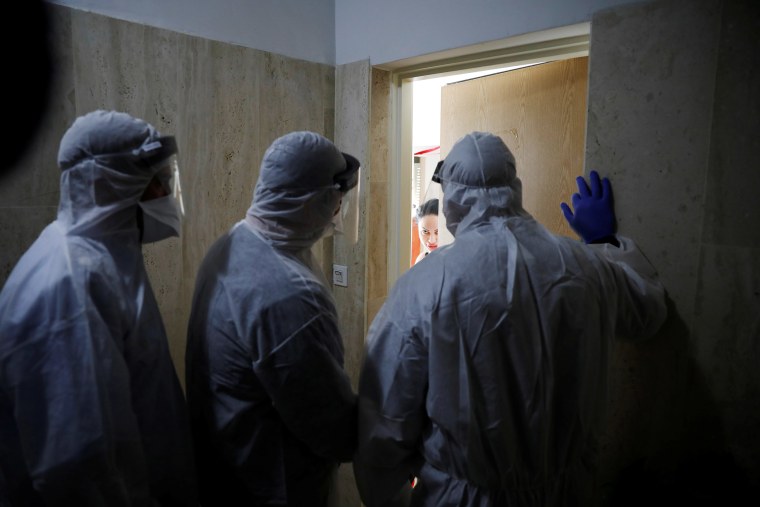 Israeli's security forces will track coronavirus patients and people in self-isolation using technology used to locate terrorists to make sure they stay isolated, officials said Tuesday.
They will also use this information to track people who were in proximity to the coronavirus patients and notify them of the need to self-isolate themselves. 
Israel has so far recorded more than 300 cases of the coronavirus, with no recorded deaths. 
Israel's military force, IDF, also confirmed to NBC News Tuesday that it's taking over two hotels - each able to hold 500 people - and transforming them into facilities to house patients with mild symptoms.
Qatar stops prayer in mosques indefinitely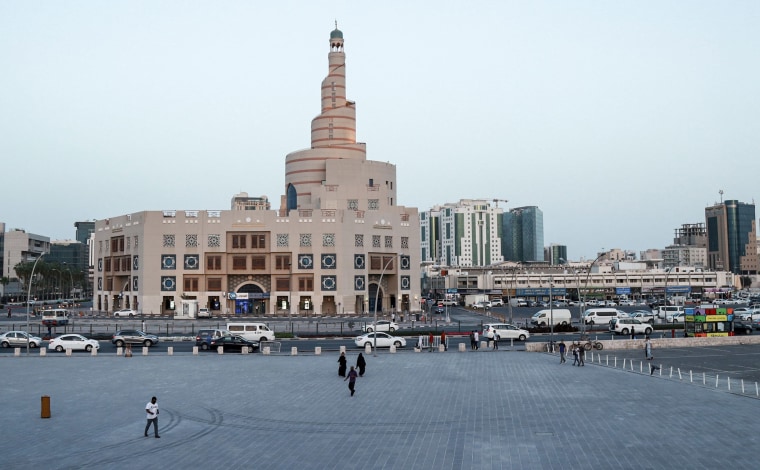 Qatar has stopped prayers in mosques indefinitely amid the growing coronavirus epidemic.
The Qatar News Agency reported Tuesday that government officials directed the closure of mosques and suspension of all congressional prayers, including the obligatory five prayers and Friday prayers as part of measures to prevent and contain coronavirus. 
The country has so far recorded 439 coronavirus cases, but no deaths.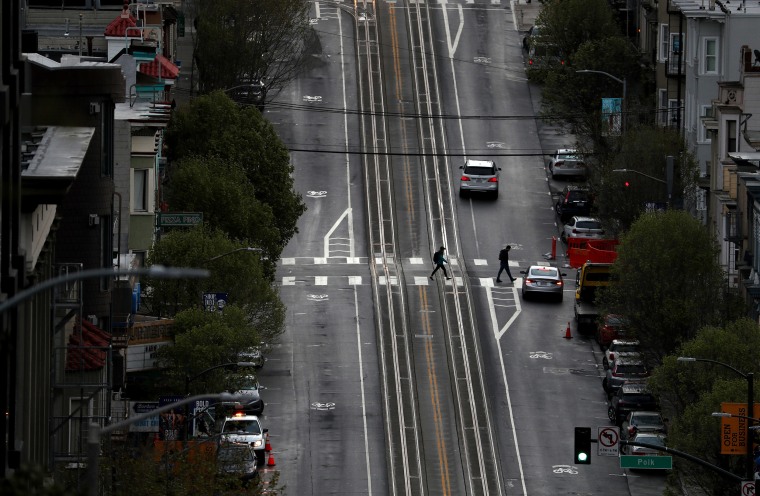 San Francisco police ready to enforce health orders
Beverly Hills' iconic Rodeo Drive closed to shoppers
Beverly Hill's iconic Rodeo Drive and the rest of the city's "non-essential" retail stores are being ordered closed for most business to help prevent the spread of the coronavirus.
The City Council approved an ordinance that says non-essential retail businesses "shall be closed except for pick up, delivery and certain transactions by appointment."
Also closed are bars and nightclubs that don't serve food, and restaurants are restricted from serving food to be eaten on premises. Gyms and movies theaters are closed. 
Nordstrom to temporarily close all stores
Nordstrom will close all of its stores for two weeks starting Tuesday for the health and safety of customers and employees, the retailer said Monday.
Its websites will remain open for business. Employees will receive pay and benefits. "We realize the impact a closure can have on our store employees, and this is not a decision we made lightly," Nordstrom said.
Nordstrom has 117 full-line stores in the U.S. and Canada, and also has 250 Nordstrom Rack stores among other businesses, according to its website.
Several other companies, including Apple, have also announced temporary closures. Cosmetics and beauty chain Sephora also on Monday announced it would close all stores in the United States and Canada starting at 5 p.m. Tuesday and lasting until April 3.
Companies offer help with missed payments, disconnections
Some of the largest companies are waiving late fees, forgiving missed payments and expanding services as the threat of economic hardship looms along with the coronavirus outbreak in the United States.
More than 100 municipal water and utility companies across 34 states said they won't shut off water service for late payments, and utility companies from Duke Energy in North Carolina to regional utility companies in California have all suspended shut-offs for nonpayment as the virus continues to disrupt daily life.
Credit card companies said they are offering relief programs, and a group of broadband and telecommunications companies has pledged to postpone termination of services for the next 60 days for customers unable to pay their bills.
New York Times staffer tests positive
An employee at The New York Times has tested positive for the coronavirus illness COVID-19, the newspaper's publisher and executive editor said in a note to staff.
"The staff member has not been hospitalized and is in self-quarantine, recovering at home. The individual was last in the office on Thursday, March 5," publisher A.G. Sulzberger and executive editor Dean Baquet wrote in the note.
The employee was not identified. "We have informed all the individuals who were in close proximity to this colleague. We've been in contact with each and asked them to monitor their health and self-quarantine," they wrote, adding that having the vast majority of staff work from home is in everyone's best interest.
Asian shares bounce after Wall Street dive
BANGKOK — Shares reversed early losses in Asia on Tuesday after the U.S. stock market plunged to its worst day in more than three decades and huge swaths of many economies came to a standstill as businesses and travel shut down due to the virus outbreak.
Tokyo's Nikkei 225 reversed early losses to gain 0.7 percent while the Hang Seng in Hong Kong jumped 0.9 percent. Shares also rose in Thailand and Australia, but fell in other regional markets.
Monday's 12 percent drop for the S&P 500, its worst day in more than 30 years, came as voices from Wall Street to the White House said the coronavirus may be dragging the economy into a recession.
The rebound in Asia followed news that the Trump administration plans strong support for airlines stricken by the outbreak and is pushing the Senate to enact a massive stimulus package to alleviate losses for businesses and individuals affected by the outbreak, which has infected more than 182,000 people worldwide, 4,600 in the United States.
Miami mayor with coronavirus shares video diary to reduce fear
California governor halts evictions and foreclosures
California Gov. Gavin Newsom halted evictions and foreclosures statewide Monday in an executive order aimed at protecting businesses and residents from the coronavirus' economic impact.
The order also protects Californians from utility shutoffs. Newsom tasked the state's utility regulator with making sure electric, gas, water, internet and phone service remain functional if a customer's payment is late.
"People shouldn't lose or be forced out of their home because of the spread of COVID-19," Newsom said in a statement.
The protections will remain in effect through May 31.
In a briefing, Newsom said that 392 people in the state have tested positive for the disease — an increase of 57 people from Sunday. Six people have died, he said.
Los Angeles sheriff releasing inmates, urging fewer arrests
The Los Angeles County sheriff said Monday that his department had reduced the number of inmates in his custody by about 600, in part by granting early release, amid the coronavirus outbreak.
Police departments are also being asked to cite and release offenders when possible, and that average daily arrests have dropped by around 300 a day to 60 a day.
Sheriff Alex Villanueva said that inmate populations are vulnerable and the moves are designed to help protect them. There have been no confirmed cases among inmates, but 35 are in isolation housing or quarantine, he said.