Americans are racing to cut vacations short and re-book flights home this weekend as Europe continues to lock down towns and cities amid the spread of coronavirus.
The CDC said Sunday that all events of 50 people or more should be canceled for the next eight weeks, guidance that advocates for people to engage in "social distancing" through early May.
New York City announced it would close public schools, and many cities around the country ordered bars and restaurants closed, with some even issuing curfews, to encourage social distancing. Meantime, brick-and-mortar retailers began shutting down stores.
Stock futures plunged Sunday night, despite unprecedented emergency action from the Federal Reserve, which announced a rate cut.
The United States has surpassed 3,000 confirmed cases of the coronavirus, and the death toll climbed to at least 61, with 25 of the deaths associated with the Life Care Center in Kirkland, Washington.
Full coverage of the coronavirus outbreak
Download the NBC News app for latest updates on the coronavirus outbreak.
This live coverage has ended. Continue reading March 16 Coronavirus news.
Coronavirus cases in the U.S. surpasses 3,000
The U.S. now has more than 3,000 reported cases of coronavirus, according to NBC News tallies.
As of Sunday afternoon, there have been at least 61 deaths in the U.S. due to coronavirus and 3204 reported cases. 
The numbers in the U.S. are rising as people around the country are increasingly practicing social distancing in an effort to stop the virus' spread. Currently Washington state and New York have the highest concentration of cases, each with more than 600.
Gov. Andrew Cuomo asks businesses to voluntarily close, announces third New York death
New York Gov. Andrew Cuomo urged businesses to consider density control measures in an effort to slow the spread of coronavirus before confirmed cases overwhelm the state's hospital system. He also announced the third coronoavirus death in New York.
"I want private businesses to aggressively consider work from home and voluntary closings," Cuomo told reporters Sunday. "Depending on what businesses do on a voluntary basis, we could consider mandatory actions later on." 
The governor said that the state is working to expand capacity of beds and ventilators in the state but is concerned that the system might be overwhelmed in the coming weeks if measures aren't taken to prevent disease spread, including social distancing. Cuomo urged the federal government to step in to create nationwide policies and offer its resources to states that need the support.
New York has the highest number of confirmed cases, with 729 patients who have tested positive of 5,272 total tests, according to Cuomo. He said the new death was a 78-year-old woman with underlying health issues.
National Institutes of Health employee tests positive for COVID-19
An employee at the National Institutes of Health (NIH) has tested positive for COVID-19, the agency announced in a Sunday press release.
The employee is not involved in patient care and works for the National Institute of Arthritis and Musculoskeletal and Skin Diseases.
The NIH, the nation's medical research agency, said its Occupational Medical Service tested the employee and the result was positive.
"While this is an unfortunate development, it is not surprising, and NIH expects that there will be more cases of infection among NIH staff," the agency said in a press release.
Puerto Rico enacts curfew, business closures as coronavirus fears rise on the island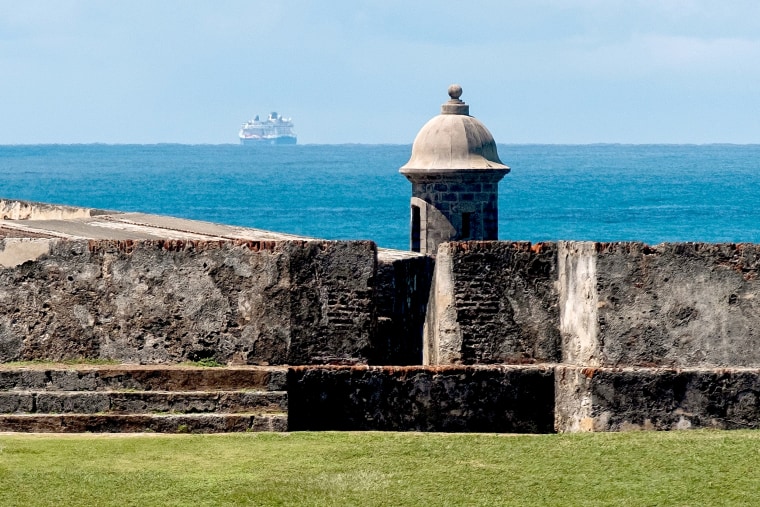 In an effort to stem the spread of coronavirus, Puerto Rico is enacting a curfew and closing non-essential businesses. 
Governor Wanda Vazquez ordered residents to stay home between 9 p.m. and 5 a.m. in a Sunday address, and said only stores that sell groceries and medical equipment should stay open. 
Puerto Rico announced the island's first three cases on Friday. Gov. Vasquez said on Saturday the public school system on the island will close for two weeks and that no cruise ships will be allowed to dock in San Juan.
Germany tries to stop Trump from luring away firm working on coronavirus vaccine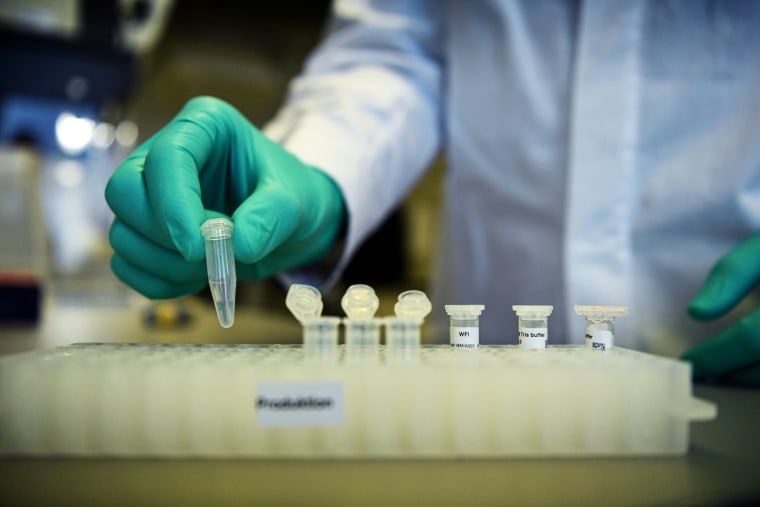 BERLIN — Berlin is trying to stop Washington from persuading a German company seeking a coronavirus vaccine to move its research to the United States, prompting German politicians to insist no country should have a monopoly on any future vaccine.
German government sources told Reuters on Sunday that the U.S. administration was looking into how it could gain access to a potential vaccine being developed by a German firm, CureVac.
Earlier, the Welt am Sonntag German newspaper reported that U.S. President Donald Trump had offered funds to lure CureVac to the United States, and the German government was making counter-offers to tempt it to stay.
Fauci: Americans are 'going to have to hunker down significantly more' to fight coronavirus
Dr. Anthony Fauci, director of the National Institute of Allergy and Infectious Diseases, told NBC's "Meet the Press" Sunday that Americans "should be prepared that they're going to have to hunker down significantly more than we as a country are doing" to fight the growing COVID-19 outbreak.
Asked if the U.S. should consider a 14-day national shutdown similar to those in Europe, he said, "I would prefer as much as we possibly could ... I think we should really be overly aggressive and get criticized for over-reacting."
Fauci said that the goal now is to "blunt" the curve of confirmed cases, keeping the number of those infected low enough so as to not overwhelm the U.S. hospital system.
"If you let the curve get up there, then the entire society is going to be hit," he said.
Second coronavirus death reported in Louisiana
A 53-year-old Orleans Parish resident with underlying medical conditions died on Sunday, becoming Louisiana's second COVID-19 death.
New Orleans Mayor LaToya Cantrell mourned the man's loss in a Sunday morning statement, saying he was her friend. 
"The news this morning of a second death in Orleans Parish is deeply heartbreaking to me, personally — and is additional tragic news for the people of our City," Mayor Cantrell said. "The patient in this instance was a friend of mine, but every one of those impacted by this outbreak is someone's friend, someone's father, someone's loved one. 
As of Sunday morning, Louisiana had 78 reported coronavirus cases.
'Thanks to the Helpers': Tom Hanks posts coronavirus update to Instagram
Actor Tom Hanks posted a short update to his Instagram account early Sunday morning days after he and wife Rita Wilson tested positive for coronavirus in Australia.
First coronavirus death reported in Oregon
Oregon officials announced the state's first official death due to coronavirus.
A 70-year-old man in Multnomah County, which includes Portland, died from COVID-19 on Saturday, the Oregon Health Authority announced.
The individual had underlying health conditions and tested positive for COVID-19 on March 10. He had not traveled internationally and had no known contact with a confirmed case. 
There were 36 confirmed cases of coronavirus in Oregon as of Sunday morning. Its neighbor to the north, Washington, has seen 646 cases and 40 deaths. The national death toll from coronavirus now stands at 60.
Dueling U.S., U.K. travel restrictions and advisories strain transatlantic relations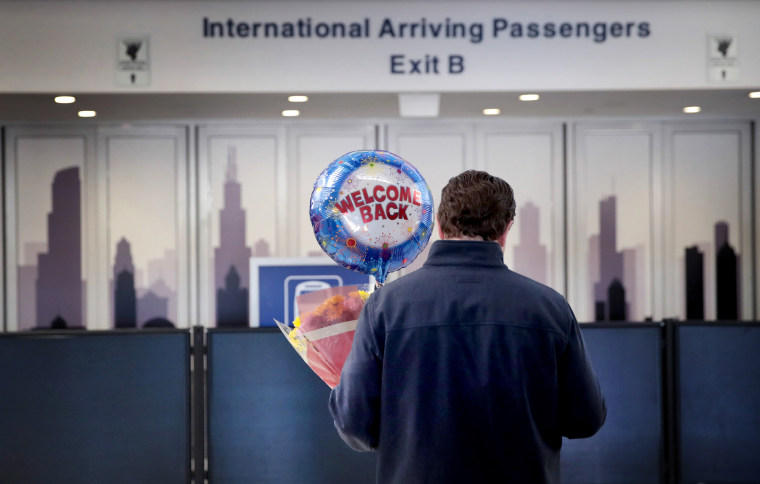 LONDON — Amid a worsening coronavirus epidemic, the U.S. and the U.K. engaged in a political tit for tat Sunday after Britain advised its citizens against all but essential travel to the U.S. hours after the White House announced it would expand a European travel ban to include the United Kingdom and Ireland.
With 1,140 people testing positive for the virus, 21 dead and up to 10,000 suspected cases, the British government has called for a national effort to fight the spread of the epidemic similar to the one which helped the country through the Second World War.
"Our generation has never been tested like this," health minister Matt Hancock wrote in right-leaning newspaper The Sunday Telegraph, calling the coronavirus "the biggest public health emergency in a generation."
But travel restrictions imposed by the U.S. are adding more strain to the so-called "special relationship" between the United States and Britain.
The scene in California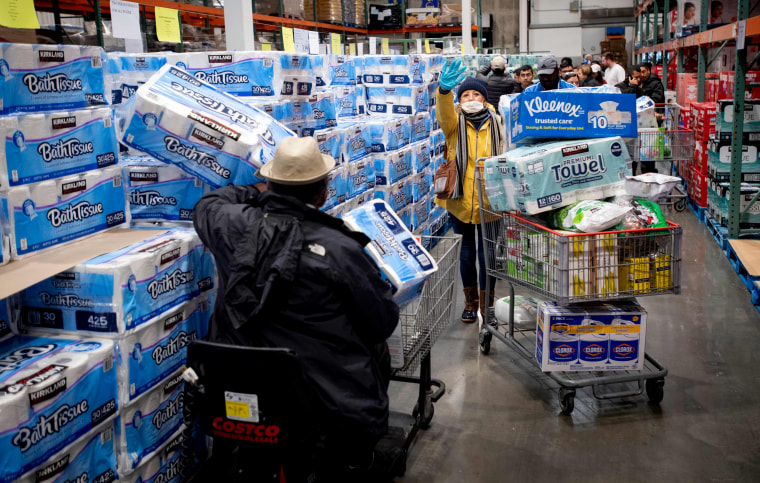 Danish government to cover 75 percent of workers' wages
The Danish government announced a new agreement on Sunday that would cover up to 75 percent of workers' wages for those whose jobs are threatened by the virus outbreak.
At a press conference, Danish Prime Minister Mette Frederiksen said the initiative will initially stretch retroactively from March 9 and will last until June 9. 
Frederiksen also called on companies to send home staff, but to avoid firing people as a reduction measure. 
Stuck in their apartments, Spaniards applaud health care workers
Despite the announcement of the lockdown of Spain "people have not forgotten to applaud medical staff from their balconies," according to Twitter user @GiedreP who filmed a round of applause for health care workers in Madrid on Saturday night.
Bursts of applause are appearing on social media across Spain and also in other European countries, such as Italy, as housebound people look for ways to show their appreciation.
In a TV address Saturday, Spanish Prime Minister Pedro Sanchez detailed the lockdown measures — similar to those imposed in Italy — as part of a two-week state of emergency to fight the sharp rise in infections. Sanchez's wife Begona Gomez tested positive for the virus on Saturday.
Hundreds of scientists warn U.K. government's response is 'risking lives'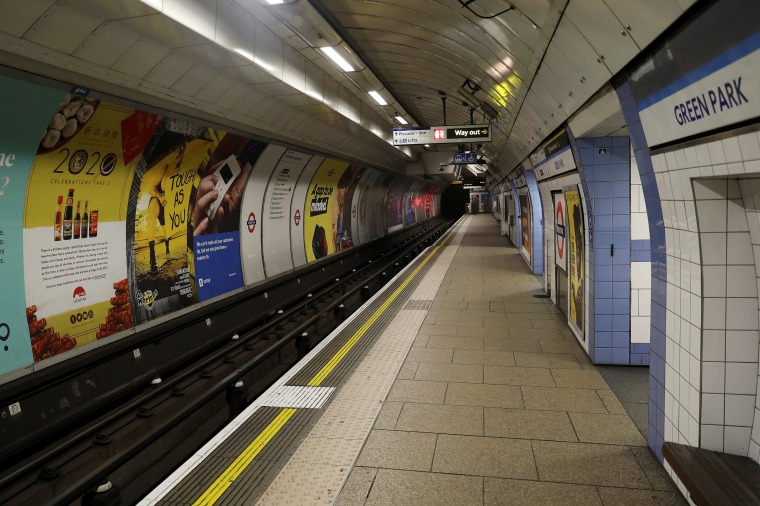 Hundreds of scientists have warned the U.K. government that its response to the coronavirus epidemic is "risking many more lives than necessary," in an open letter on Saturday night.
More than 300 academics living and working in the U.K. called for immediate measures to restrict the spread of Covid-19, criticizing the U.K.'s strategy of delaying widespread restrictions, as seen in other European countries, in a bid to achieve "herd immunity." They argued that this would put the National Health Service under even more stress as the number of infections grows throughout Europe.
Health Secretary Matt Hancock however told the BBC's Andrew Marr Show on Sunday morning that herd immunity was not part of the government's strategy and that the immediate priority was the preservation of life.
Coronavirus fears leave ski slopes empty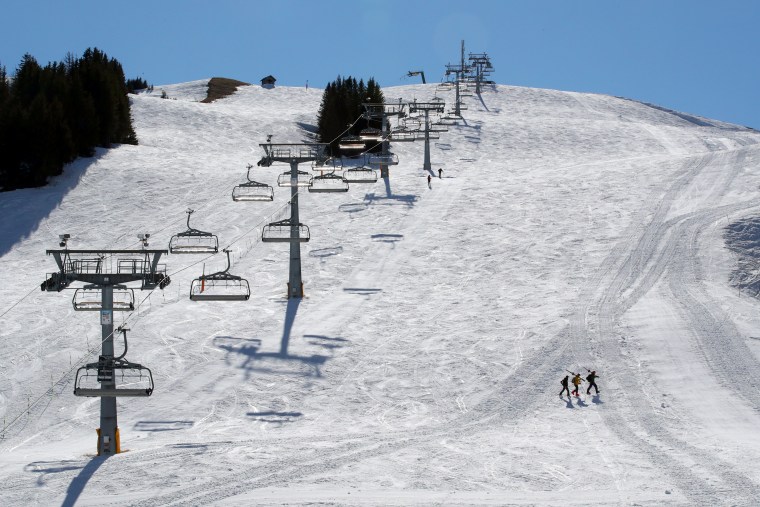 American Airlines to suspend nearly all international flights
American Airlines said it will start a phased suspension of nearly all long-haul international flights starting Monday, due to reduced demand and travel restrictions from the outbreak.
Between March 16 and May 6, the company will reduce its international capacity by 75 percent on a "year over year basis," it said in a statement Saturday.
The airline also anticipates its domestic capacity in April will be reduced by 20 percent compared to last year. It also projected it will be reduced by 30 percent in May.
Mexico braces for outbreak lasting 'all year'
Mexico has warned that the coronavirus outbreak could last all year as it rolled out tougher measures to contain the spread.
The education ministry said it would extend the Easter break for some 33 million students, doubling the length of their vacation. Meanwhile, the health ministry recommended canceling gatherings with 5,000 people or more.
"We're preparing for an epidemic that could last all year," Deputy Health Minister Hugo Lopez-Gatell told a news conference Saturday.
Mexico's confirmed coronavirus infections had risen to 41 on Saturday up from 26 a day earlier, the government said. It has not reported any fatalities from the virus.
South Korea declares Daegu a special disaster zone
The president of South Korea declared the city of Daegu a special disaster zone on Sunday, according to a presidential spokesperson.
While South Korea has recently reported a downward trend in new cases, Daegu accounts for a majority of cases in the country due to an outbreak in a church.
South Korea reported 76 new coronavirus cases on Sunday, bringing the country's total to 8,162 with 75 total deaths, the Korea Centers for Disease Control and Prevention said. Sunday's numbers are in line trend of falling cases, which are down from the 107 recorded on Saturday.
China tightens airport checks as imported cases tick up
China tightened checks on international travelers arriving at Beijing airport on Sunday, after the number of imported new coronavirus infections surpassed locally transmitted cases for a second day in a row.
The government announced that all international arrivals at will be sent to special facilities for 14 days of monitoring. People with certain special needs will be allowed to return to their homes for self-quarantine  only after strict evaluation, they said.
Mainland China reported 20 new cases of infections on March 14 — up from 11 cases a day earlier — data from by the National Health Commission showed on Sunday. Of those, 16 were internationally imported, it said.
Vatican Easter services to be held without audiences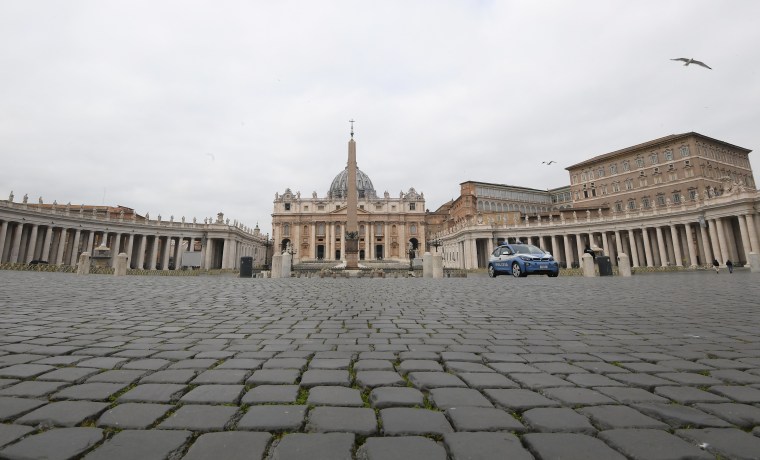 The Vatican said on Sunday that all papal Easter services will be held "without the physical presence of the faithful," due to the public health emergency.
Also, Sunday blessings will be held via internet live streaming on the official Vatican News website until April 12.
"In this Sunday of Lent, we pray all together for the sick and the people who are suffering. Today, I would like to say a special prayer for all the people who are ensuring the functioning of the society: pharmacies, supermarkets, transports, police officers," Pope Francis said during Sunday's mass. 
Outbreak delays start of Netanyahu corruption trial
Israeli Prime Minister Benjamin Netanyahu's corruption trial was delayed on Sunday due to the coronavirus pandemic.
Israel's Justice Ministry said the trial against Israel's longest serving leader — due to have opened on March 17 — would begin on May 24.
Netanyahu — who is spearheading Israel's measures against the outbreak — has denied any wrongdoing in the investigations. Charges against him include bribery, breach of trust and fraud.
Spain, France join countries announcing more virus restrictions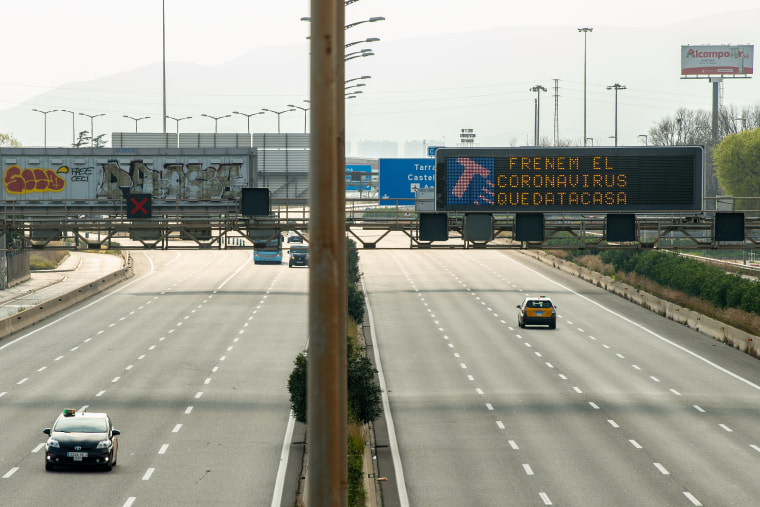 BARCELONA, Spain — Authorities around the world turned to increasingly drastic measures to try to slow the spread of the new coronavirus Sunday, with lockdowns, curfews and travel restrictions spreading.
Soldiers and police sealed the densely populated Philippine capital from most domestic travelers in one of Southeast Asia's most drastic containment moves. The move mirrored a lockdown Spain announced just hours earlier for its 46 million citizens.
France ordered the closing of just about everything the rest of the world loves about it — the Eiffel Tower, the Louvre, the cafes and restaurants — as governments took increasingly desperate measures to put more space between people and contain the virus.
President Donald Trump announced that the U.S., which days ago barred travelers from most of Europe, will extend the ban to Britain and Ireland. And more cities in the U.S. put in place curbs on gatherings of more than a few hundred people, with one New Jersey city even announcing an overnight curfew.
In a nationally televised address Saturday, Spanish Prime Minister Pedro Sánchez detailed the battery of exceptional measures put in place as part of a two-week state of emergency to fight the sharp rise in infections.
In a lockdown similar to the one already imposed in Italy, people will be allowed to leave their homes only to buy food and medicine, commute to work, go to hospitals and banks, or take trips related to the care of the young and the elderly. All schools and universities were closed, along with restaurants, bars, hotels and other non-essential retail businesses.
DHS says it's aware of long lines at airports
International travelers to Australia ordered to 'self isolate'
Australia's prime minister, Scott Morrison, announced Sunday that international travelers to the nation will be required to "self isolate" in an attempt to ensure they're virus-free.
"All people coming to Australia will be required — will be required, I stress — to self-isolate for 14 days," he said at a news conference. "This is very important. What we've seen in recent weeks is more countries having issues with the virus."
The measure, effective at midnight, was part of a package of new restrictions that included a ban on foreign-flag cruise ships and a general prohibition of "static" gatherings of 500 or more people, the prime minister said.
The moves were designed to ensure that the nation's hospitals are not overwhelmed, Morrison said. "Slowing the spread you free up the bed," he said.
This is what we're reading elsewhere about the coronavirus
Here are some articles from other outlets.
President Trump's Florida residence and resort has brush with virus carriers
The New York Times found a casual attitude — buffets have been canceled but most festivities carry on — at President Donald Trump's West Palm Beach resort, Mar-a-Lago, despite multiple cases of coronavirus among recent visitors. 
The Palm Beach Post counts four coronavirus patients who have been to Mar-a-Lago recently
The local publication of the so-called Winter White House says Trump's "club on Palm Beach is earning a reputation as a coronavirus hotspot after four recent visitors have tested positive."
Newt Gingrich has a change of heart
In February, former house speaker and current Trump supporter Newt Gingrich argued Democrats were using coronavirus to take down the president. This week, after seeing Italy's extraordinary battle with the virus, he wrote, "We should be planning for a worst-case pandemic."
Manila, Philippines, prepares for lockdown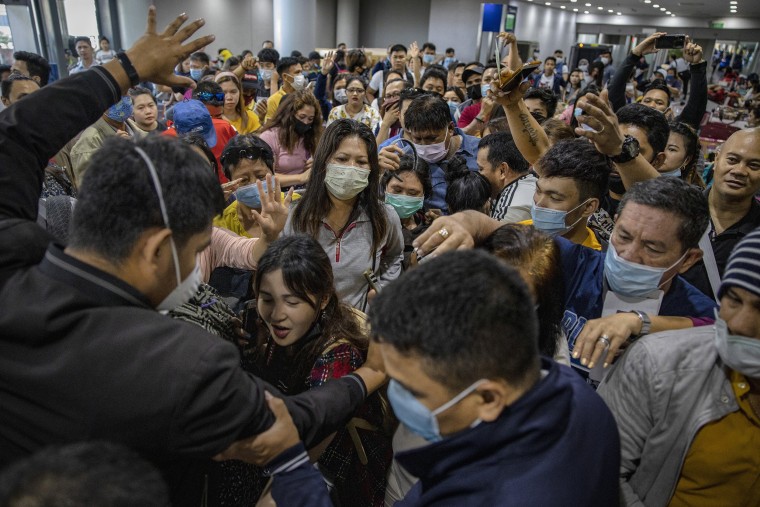 Washington governor says no plans to seal off any part of state
Mayor orders curfew in Hoboken, New Jersey
The mayor of Hoboken, New Jersey, on Saturday ordered a 10 p.m. to 5 a.m. curfew for his city to encourage social distancing and prevent large gatherings.
"During this curfew, all residents will be required to remain in their homes, except for emergencies, or if you are required to work by your employer," Mayor Ravi Bhalla said in a statement.
The curfew is scheduled to start Monday night and continue "until further notice," Bhalla said. The city is also banning dining, but not takeout, and will shut down bars that don't have food service, he said.
In closing down bars, he cited a fight at one downtown Saturday that ended with a victim who had to wait 30 minutes for medical attention because paramedics were "inundated" with calls for help.