World stocks tumbled with investors bracing for the economic fallout of the epidemic, with a shocking all-out oil price war adding to anxiety.
Wall Street suffered its worst day since the financial crisis of 2008 as the Dow plummeted more than 2,000 points by Monday's closing bell, and London's FTSE 100 plunged to a three-year low after oil prices cratered by 30 percent overnight.
Meanwhile, Italian Prime Minister Guiseppe Conte announced Monday that the containment measures introduced Sunday for the Lombardy region in the country's north would be applied to the whole nation. More than 9,000 people have been confirmed to have the virus in Italy so far while Germany and Spain also saw spikes in the number of cases Monday.
The number of confirmed U.S. cases of coronavirus has risen to more than 650 on Monday, including 26 deaths.
Full coverage of the coronavirus outbreak
Download the NBC News app for latest updates on the coronavirus outbreak.
This live coverage has ended. Continue reading March 10 Coronavirus news.
Trump compares coronavirus to flu
President Donald Trump on Monday morning continued to downplay concern around the outbreak of the new coronavirus in the U.S.
In a tweet, Trump compared coronavirus outbreak numbers to annual flu deaths. Health experts have warned such comparisons can be problematic because the flu is reasonably predictable while much is still unknown about the new coronavirus and COVID-19, the disease it causes.
Scientists are still working to get a more complete picture of the virus including its mortality rate.
Just before Trump's tweet, health secretary Alex Azar appeared on Fox News and said "nobody is trying to minimize" the threat of the new coronavirus.
Public interest in coronavirus spikes, according to Google Trends
Public interest in coronavirus is reaching levels that dwarf other major events of the past decade, according to data from Google Trends.
Google is able to see what people on its search engine are looking for, making it a useful indication of public interest. And according to its data, coronavirus searches have spiked considerably — and could make even the amount of searches for major figures such as Barack Obama and Donald Trump look small in comparison. 
"I've said this before, but the amount of interest in the coronavirus is just unreal," Washington Post data reporter Christopher Ingraham said on Twitter. "I've never seen anything like it. Shaping up to be the biggest story in Google trends history."
Six die in Italian prison riot over anti-coronavirus measures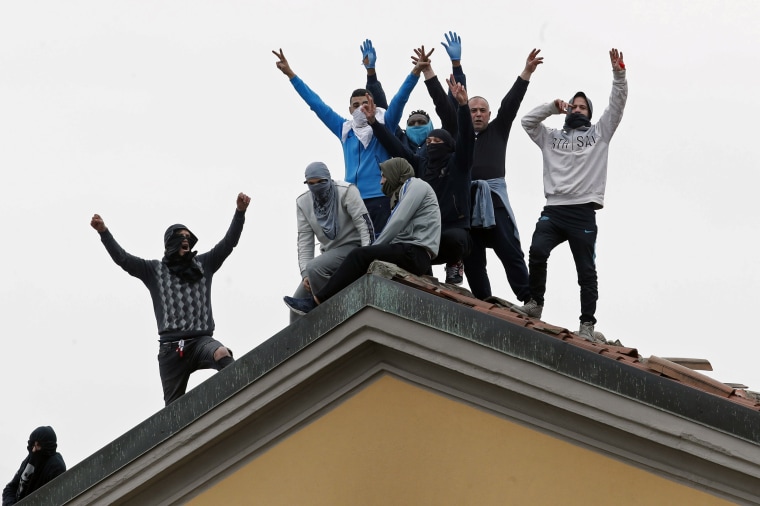 Six inmates were killed in a prison riot in Italy and guards were taken hostage at another jail, as unrest spread in prisons across the country over measures to contain the coronavirus, including restrictions on visits.
Italy's government has imposed a lockdown across much of the northern regions that have been hit by the contagion, in an effort to contain a virus which as of Sunday had killed 366 people in Italy.
In a TV interview, the head of Italy's prison administration, Francesco Basentini, said three inmates had died inside a jail in the northern town of Modena, and three others had died after being transferred away from the prison.
'Operations are our lifeblood': Delta tries to allay customer fears
In an email, Delta Air Lines attempted to reassure anxious travelers and outline how it planned to respond to the outbreak.
Delta said it has "doubled-down" on cleaning, adding a fogging process to disinfect many of its longer-haul aircraft. The company said it would more consistently clean check-in kiosks, too.
The carrier is making sure customers have easy access to hand sanitizer, and it is outfitting employees with supplies. Masks will be available for sick customers (and staff in close contact with them), and the company says its Atlanta command center is prepared to answer customer questions and concerns.
"For more than a decade, Delta has been preparing for such a scenario," the company said in the email. "Operations are our lifeblood."
Princeton University doing online-only classes after spring break
Trump campaign 'proceeding normally,' but no rallies scheduled
There are few things President Trump says he enjoys more than a large-scale rally with thousands of cheering supporters. And while he has pledged to keep up the pace amid concerns about large gathering as the coronavirus outbreak intensifies, his re-election campaign has not announced any upcoming rallies for the weeks ahead, marking the first time without one on the calendar this year.
Trading halted on stock market as crude oil price plunge pulls down major averages
Trading on Wall Street's major averages was halted for 15 minutes Monday morning after the S&P 500 plunged by 7 percent, triggering a "circuit breaker."
The Dow Jones Industrial Average plummeted at the opening bell, sinking by more than 1,800 points as a fight over crude oil production created heightened pressure on a global economy already suffering the effects of the coronavirus epidemic.
Traders had anticipated a bloodbath on Monday, after oil prices cratered overnight by 30 percent when ongoing talks between OPEC members did not produce an agreement on output cuts.
Amazon changes warehouse worker policy for March
Amazon has told its warehouse employees that they can take sick days in March without counting toward their unpaid time off, according to CNBC.
The change comes as labor experts have warned that hourly workers and those without sick leave could be at higher risk of both catching the coronavirus and suffering severe financial repercussions as a result.
"We continue to work closely with public and private medical experts to ensure we are taking the right precautions and have implemented a series of preventative health measures for employees, delivery and transportation partners at our sites around the world," an Amazon spokesperson said in a statement.
South Korea could be regarded as 'a model case' for COVID-19 containment: president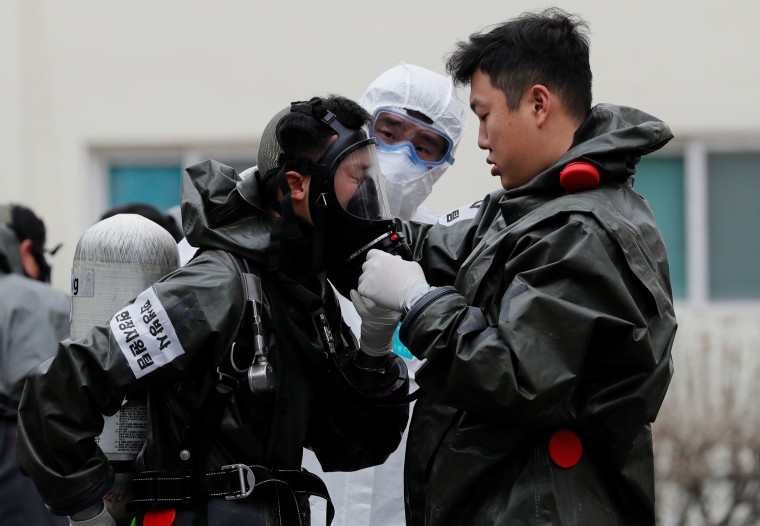 South Korea's president said Monday his nation could become "a model case" for dealing with the novel coronavirus if the number of new confirmed cases continued to decrease, but cautioned against being too optimistic about the progress being made. 
"The number of new coronavirus confirmed cases peaked to 916 on Feb. 28 and has since been steadily decreasing to 248 on [Sunday]. This trend must continue," President Moon Jae-In said at a presidential staff meeting. "As the number of new cases continues to grow in many countries around the world, if we continue with a decrease in the curve, South Korea can be regarded as a model case for good practice for COVID-19 protection."
But Moon said small group infections are still occurring in areas including Daegu and North of Gyeongsang province. 
"The continued small-scale infections can mean that infections can occur on a larger scale as well," he added. "We should not be relieved by the situation."
South Korea reported 7,478 confirmed cases and 53 virus-related deaths Monday. 
NATO staffer in Brussels tests positive for COVID-19
A NATO staff member working at the Brussels headquarters has tested positive for coronavirus, the alliance said Monday. 
The staff member came back from a holiday in northern Italy, felt unwell at the end of last week and was tested after getting fever-like symptoms, according to a statement from NATO. 
"Within minutes of receiving the result, all the immediate work colleagues were informed," the statement added.
The staff member, who wasn't named, is currently working from home, where they are in self-isolation.
NATO said it has already taken preventative measures at its headquarters to reduce the risk of virus spread, including temporary suspension of travel for some staff and group visits to NATO headquarters in Brussels.
Iran sees a spike of nearly 600 new coronavirus cases
Health officials in Iran reported nearly 600 new coronavirus cases, increasing the total to 7,161 as the country struggled to contain the outbreak.
Health ministry spokesman Kianoush Jahanpour said a total of 237 people have died from the virus since the epidemic began, with 43 new deaths reported Monday. 
Dow set to open with a decline of 1,300 points as oil war adds to coronavirus stresses
Wall Street is preparing for a bloodbath on Monday, after oil prices cratered by 30 percent overnight, pushing all three major averages to declines of around 5 percent and adding stress to an economy already feeling intense pressure from the coronavirus epidemic.
The Dow Jones Industrial Average looked set to open down by 1,300 points on Monday morning, with trading on the S&P 500 halted overnight after hitting critical levels that triggered a "circuit-breaker," which prevents further losses.
Investors took shelter in safe havens, pushing gold to a seven-year high and pushing the 10-year Treasury yield to an all-time historic low of 0.3 percent by early morning.
Conditions worsened after the world's oil-producing countries failed to strike a deal at a meeting between cartel members in Vienna last week. The stalemate continued over the weekend, with Saudi Arabia and Russia reportedly planning to ramp up production on their own terms after the current deal expires at the end of the month.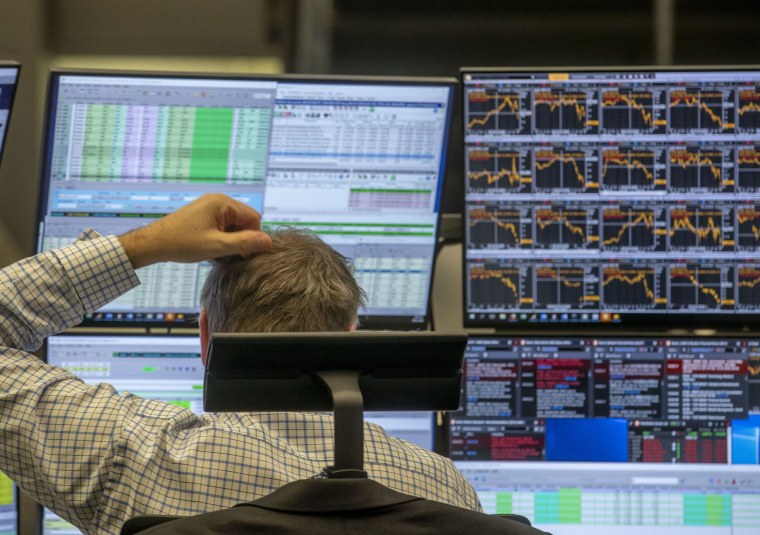 Italian celebrities encourage fellow citizens to stay home
Italian celebrities reacted to the country's partial coronavirus lockdown by posting messages on social media encouraging their followers to stay home and follow government advice.
Musicians, comedians and TV personalities showed themselves lounging at home while reminding their fellow citizens of the fun to be had indoors using the hashtag #iostoacasa or "I'm staying home." 
"It's been hours, long hours, waiting for someone to say that this damned story will come to an end and that finally tomorrow we'll be able to go outside," sang pop group Negramaro's frontman Giuliano Sangiorgi in a tongue-in-cheek video posted to Twitter. 
Some posts showed celebrities cuddling with cats or picking up new instruments for the first time, but their tone was also serious. 
"Let's stay home as long as it takes for this to be resolved," said Italian singer-songwriter Lorenzo "Jovanotti" Cherubini while strumming a traditional Middle Eastern oud. "Follow the government guidance and listen to the experts ... It's not vacation: it's an emergency."
Many celebrities were voluntarily self-isolating despite not living in the so-called red zone — areas mainly located in northern Italy where the government is currently restricting up to 16 million citizens' movements.
Stock markets around the world plunge as oil price war adds to coronavirus fears
Stocks across the world tumbled early Monday after a shocking all-out oil price war added to anxiety around the economic fallout from the spreading coronavirus.
Futures on the Dow Jones Industrial Average indicated an opening drop of more than 1,300 points. The S&P 500 futures indicated a 5 percent drop at Monday's open. The S&P futures trading was briefly halted overnight. The sharp declines in the futures market signaled more turbulence ahead after a roller-coaster week that saw the S&P 500 swing up or down more than 2.5 percent for four days straight.
The massive sell-off could trigger key market circuit breakers during regular trading hours.
7 Trinity College students in self-quarantine for possible coronavirus exposure
Seven Trinity College students in Connecticut are in self-quarantine for possible coronavirus exposure.
The students at the Hartford, Connecticut, college are not displaying symptoms and their possible exposure did not occur on or near campus, Joe DiChristina, vice president of student affairs and dean of campus life, said in a  statement on Sunday. They have left campus and the school said it is checking in regularly with the students who are following Centers for Disease Control and Prevention guidelines, it added. 
"We ask for your assistance in not engaging in rumors or speculation, which may stigmatize individuals and spread fear and misinformation," DiChristina added.
As of Sunday, there was one reported case of coronavirus in Connecticut. 
Rep. Gosar's use of 'Wuhan virus' sparks anger
When Rep. Paul Gosar, R-Ariz., said he will self-quarantine for 14 days on Sunday after he came into "extended" contact with a person who since been hospitalized for coronavirus, he set off a debate by referring to the disease as "Wuhan virus."
Rep. Gosar called the disease COVID-19 in an official statement, but on his personal Twitter account he wrote that he had "sustained contact...with a person who has since been hospitalized with the Wuhan Virus."
Rep. Ted Lieu, D-Calif., said in a tweet that Gosar's use of "Wuhan virus" is "an example of the myopia that allowed it to spread," adding the virus is "not constrained by country or race."
Many on social media said Gosar's reference was racist, including NARAL president Ilyse Hogue, as anti-Asian bias and xenophobia have been rising as the virus spreads.
Others, particularly figures in conservative media, defended Gosar, saying it is commonplace to refer to diseases by the place from where they originated, citing Lyme, Connecticut as the namesake of Lyme's Disease and Zika Virus, named after the Zika Forest of Uganda.
Gosar himself responded to the criticism on Twitter late Sunday, saying it is "just astoundingly ignorant to have all major media refer to it as #WuhanVirus for months but somehow, today, you've decided that's #racist."
When coronavirus first appeared, many people, including those in the media, referred to it as "Wuhan virus." But in mid-February, the Asian American Journalists Association (AAJA) put out guidelines for reporting responsibly on the outbreak, and cautioned against saying "Wuhan virus." AAJA cited 2015 guidelines from the World Health Organization which discourage naming illnesses after geographic locations to avoid stigmatizing those who live there.
Japan's professional baseball season postponed by outbreak
Japan's professional baseball league decided to postpone the season opening due to the coronavirus outbreak.
The league's commissioner, Atsushi Saito, announced that the season opening matches slated for March 20 will be postponed during a meeting with Japan's twelve professional baseball teams Monday. 
"While continuing to seek advice from experts, we will aim to start the season some time during April," Saito said. 
Japan has so far recorded 488 cases of the virus and 15 deaths. 
Milan turns into a ghost town amid coronavirus lockdown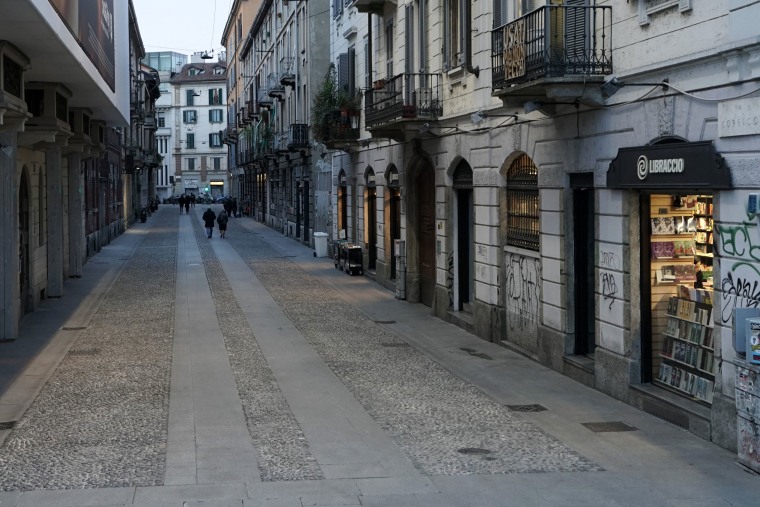 Saudi Arabia locks down province as coronavirus cases rise
Saudi Arabia has imposed a temporary lockdown on the eastern Qatif province, an oil-producing region and home to a large Shiite Muslim population, to prevent the spread of coronavirus after 11 people there were infected.
Four new cases, including an American arrival who visited Italy and the Philippines, took the tally to 15 on Monday, as the kingdom suspended travel with nine nations, from neighboring United Arab Emirates to Bahrain, Kuwait and Egypt.
The Saudi interior ministry said in a statement Sunday that no one would be allowed to enter or exit Qatif and that work at all public and private sectors in the province had been suspended with the exception of institutions providing necessary services.
London's FTSE 100 plunges to three-year low amid coronavirus, oil price war fears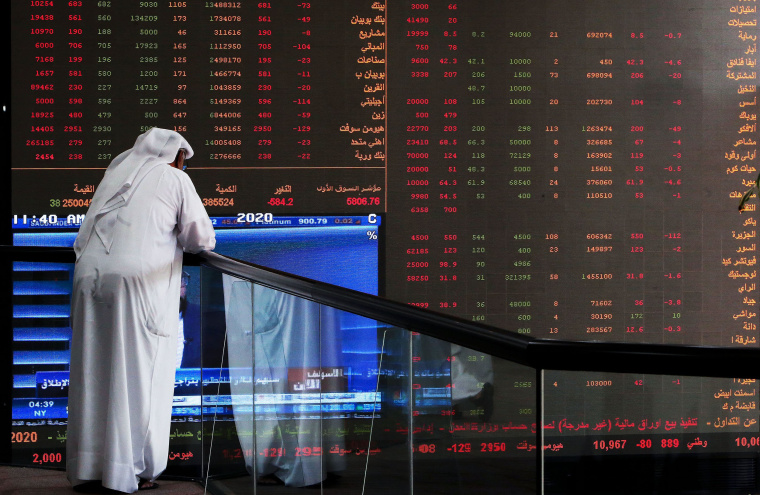 Stock tumbled early Monday morning as markets in Europe and Asia tanked after a shocking all-out oil price war added to anxiety around the economic fallout from the spreading coronavirus.
London's FTSE 100 plunged to a three-year low, down eight percent, after a sharp drop in oil stocks, as a move by Saudi Arabia to raise crude output sent prices of the commodity crashing.
That came as investors were still alarmed about the financial impact of the coronavirus outbreak.
Germany tops 1,000 cases
Germany has recorded more than 1,000 cases of the novel coronavirus, becoming the third country in Europe to reach the mark after Italy and France. 
German health officials reported 210 new confirmed cases of the coronavirus, raising the total to 1,112, up from 902 reported on Sunday.
The largest number of cases, 484, were in the western region of North Rhine-Westphalia, Germany's most populous state.
South Korea introduces three-layered airport fever check
Health officials in South Korea were on Monday rolling out a three-step process to check the temperature of people departing from the country's largest airport in response to widening entry restrictions on South Korean citizens by other countries. 
The procedure, which South Korean officials are calling "a water-tight containment system," came into effect at the Incheon International Airport. 
The first step involves checking the temperature of passengers when they get to the airport with thermal cameras. Then, once they move into a departure area, more thermal camera checks will be conducted before passengers can proceed to the security check. Finally, a non-contact thermometer will be used to measure their temperatures at the boarding gate. 
Dozens of countries have limited arrivals of people from South Korea as it struggles to contain the coronavirus outbreak. It reported 344 new cases of COVID-19, the disease that the coronavirus causes, Monday, increasing the total to 7478 confirmed cases. Fifty people have died from the virus so far.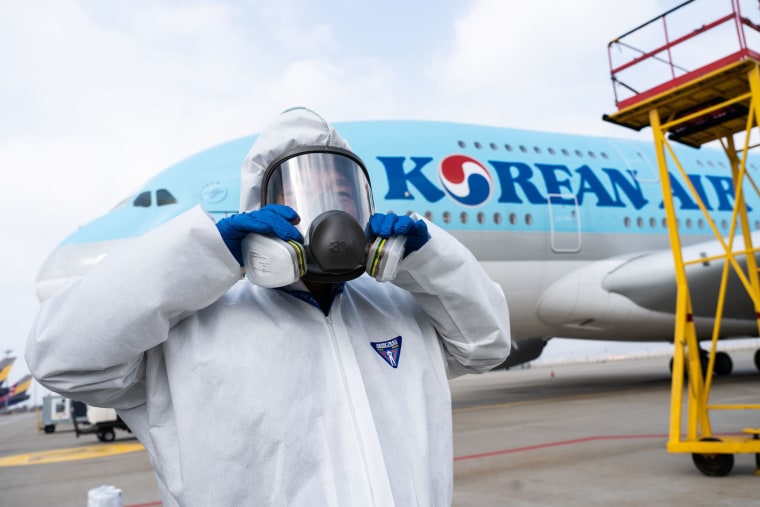 Shanghai Disneyland resumes some resort operations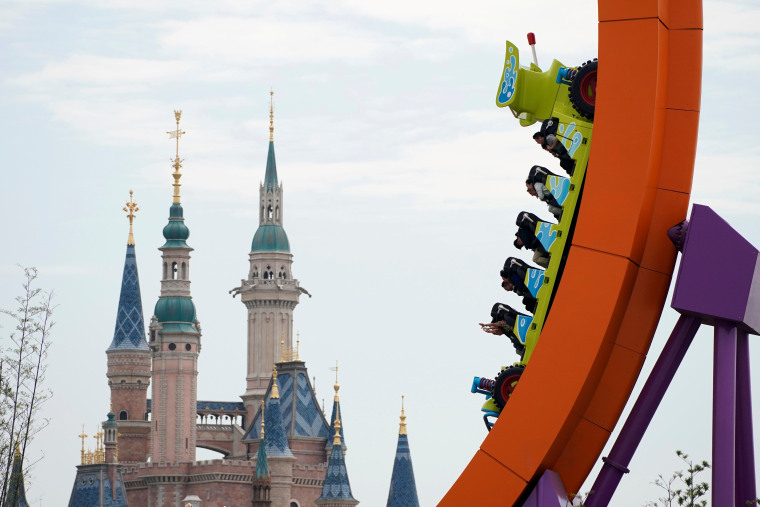 SHANGHAI — Walt Disney Co.'s Shanghai Disneyland said on Monday it will resume a limited number of resort operations as the first step of a phased reopening, although the main theme park will remain shut amid worries about the coronavirus outbreak.
Some shopping, dining, and recreational activities will reopen in Disneytown, Wishing Star Park and Shanghai Disneyland Hotel with limited capacity and reduced hours of operation. All guests will be required to have their temperature taken on arrival and to wear a mask for the duration of their visit.
"Guests will also be reminded to maintain respectful social distances at all times while in stores, queues and restaurants," Shanghai Disneyland said in a statement on its website.
Shanghai Disneyland was closed on Jan. 25 to prevent the spread of the coronavirus. Hong Kong Disneyland and Tokyo Disneyland were shut in subsequent days.
North Korea flies out foreign diplomats
SEOUL, South Korea — A special North Korean flight carrying presumably dozens of diplomats and other foreigners arrived in Russia's Far East on Monday as the country tightens its lockdown intended to fend off the coronavirus.
North Korea has not publicly confirmed a single case of the COVID-19 illness, but its state media have reported thousands of people have been quarantined as part of strict prevention measures.
Seemingly dozens of passengers, most of them masked and some accompanied by children, lined up at Pyongyang International Airport. North Korean health workers wearing white protective suits scanned them for fevers.
It wasn't immediately clear how many were flown out to Vladivostok. The North lifted a monthlong quarantine on foreign diplomats based in Pyongyang on March 2, allowing them to leave the country if needed.
Anxiety in an aging Congress as coronavirus spreads across U.S.
WASHINGTON — Members of Congress are becoming increasingly anxious about coronavirus, and there is growing pressure on leadership to take steps to protect lawmakers — even potentially recessing for a period of weeks — two Democratic congressional sources said Sunday.
Rep. Paul Gosar, R-Ariz., said he will close his office in Washington and will self-quarantine at home in Arizona for 14 days after he came into "extended" contact with a person who is hospitalized with COVID-19, the disease caused by the virus. They came into contact at the recent Conservative Political Action Conference in National Harbor, Maryland, Gosar said.
Sen. Ted Cruz, R-Texas, announced late Sunday that he will stay home in Texas this week because he had a brief interaction with a person attending CPAC who has tested positive. Gosar and Cruz said they were experiencing no symptoms but were acting out of caution.
"Members are very nervous," a senior Democratic leadership aide said. "There's a lot of concern that members could bring it home."
But some members were urging Congress to stay the course to "show leadership in a time of great anxiety" and conduct oversight of the Trump administration's response.
Read the full story here.
Rep. Paul Gosar, R-Ariz., self-quarantining for 14 days after 'sustained' coronavirus exposure at CPAC