For the first time, the World Health Organization called the disease caused by the novel coronavirus, COVID-19, a pandemic. Meanwhile, the United States now has more than 1,000 people infected with the coronavirus — but testing in the country is still ramping up, meaning that number could continue to climb.
WHO defines a pandemic as the worldwide spread of a new disease for which most people do not have immunity.
On Wednesday, the governor of New York questioned the number of people who have been tested for the virus in the U.S.
"When they do the retrospective on this one, they are going to say, 'Why did it take the Unites States so long to bring up the testing capacity?'" Gov. Andrew Cuomo said on "TODAY." On Tuesday, Cuomo announced that he was implementing a "containment area" around a one-mile radius in the city of New Rochelle, home to one of the largest clusters of coronavirus cases in the country.
The Centers for Disease Control and Prevention have said that more than 8,500 specimens have been tested for the coronavirus across the U.S. Because multiple specimens are required from each individual, the number of actual patients who have been tested is likely far lower.
Full coverage of the coronavirus outbreak
Download the NBC News app for latest updates on the coronavirus outbreak.
This live coverage has ended. Continue reading March 12 Coronavirus news.
Doctor tweets his experience of having Coronavirus
A doctor in Spain is tweeting daily updates of life under quarantine with coronavirus, even sharing ultrasounds of his lungs. 
Yale Tung Chen, 35, said over the phone that he contracted coronavirus while treating patients in his work as an emergency physician at Hospital Universitario La Paz in Madrid. 
He was diagnosed on Sunday and has been in quarantine in his home in Madrid ever since. 
Chen said he wanted his experience to be educational, but wasn't expecting the compassionate response he received from social media users. "It meant the whole world to me to receive support from people all around the world," he said. 
Uber may suspend accounts of riders, drivers who test positive for coronavirus
Uber notified riders and drivers that it may temporarily suspend the accounts of anyone who has tested positive for the coronavirus or have been exposed to it, the ride-hailing company said on Wednesday.
The company, which has already taken action in some affected markets, said it had a team working around-the-clock to support public health authorities in their response to the epidemic.
Uber last month suspended 240 accounts of users in Mexico who may recently have come in contact with someone possibly infected with the new coronavirus.
Man rescued after being trapped 69 hours in collapsed coronavirus hotel
Lufthansa cancels 23,000 flights due to 'exceptional circumstances'
German air carrier Lufthansa announced Wednesday it will have to cancel a total of 23,000 short-, medium- and long-haul flights due to "exceptional circumstances" caused by the spread of the coronavirus.
The airline published a reduced flight schedule for the period from March 29 to April 24, with adjustments mainly affecting routes in Europe, Asia and the Middle East.
It said further cancellations are expected in coming weeks.
Airlines have been hit hard by the growing coronavirus epidemic, with many having to cancel or cut back flights as demand for flying falls amid fears of a possible pandemic. 
Coronavirus casts shadow over tsunami, Fukushima disaster anniversary ceremonies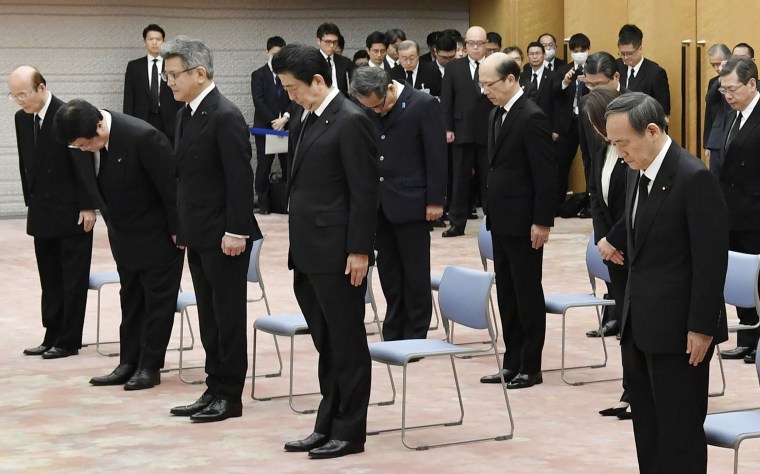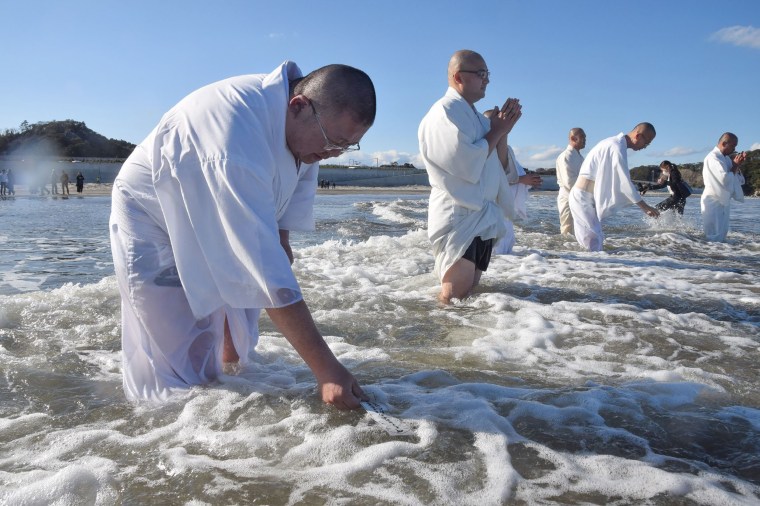 Flight diverted after passengers caused disruption in response to sneezes
Growing public concern about the coronavirus is beginning to manifest in problematic ways. 
A United Airlines flight was diverted Sunday after several passengers became disruptive because they were seated next to someone they thought was sick. 
The flight, scheduled to go from Colorado ski country to Newark, New Jersey, landed in Denver. Denver police said three people were upset about sick person on their flight.
The diversion adds to other examples of people acting out due to fear of coronavirus, including numerous instances of racism directed at Asian people.
New York biotech company works on antibody treatment for coronavirus
As the new coronavirus continues to envelop much of the globe, a lab outside New York City is racing to find a antibody treatment that could temporarily protect from the illness — or even treat it.
The biotech company Regeneron is in early development of a treatment that could guard against catching the coronavirus for several months using antibodies from mice that have been genetically modified with immune systems to mimic those of humans.
The process involves exposing the mice to a "pseudo coronavirus" — the virus without its ability to replicate — which was created by Regeneron scientists who hope the mice will then develop the right transferable antibodies to fight the virus in humans.
"We are optimistic, because we've done this approach to treat many human diseases," CEO Leonard Schleifer said.
Here are details of House Democrats' bill to provide coronovirus relief
House Democrats are expected to vote on an economic funding package to help people affected by the coronavirus on Thursday, House Majority Leader Steny Hoyer, D-Md., said Wednesday.
The bill, which has not been released yet, is geared toward helping people who will be most affected economically and does not include the president's top priority, a payroll tax cut, according to several congressional sources.
The measure's provisions, which could shift before the details of the bill are released, include paid sick days for those who are quarantined and who contracted the virus — proposals the Democrats have publicly prioritized. The bill would provide workers with seven days of paid sick leave and provide an additional 14 days for workers during a public health crisis.
In addition, the measure includes an extension of unemployment insurance, expanded food stamps and food for children who receive free and reduced lunch at school but are out of school because of school closures. 
It's unclear if the White House would sign off on any of the provisions. Treasury Secretary Steven Mnuchin met with House Speaker Nancy Pelosi, D-Calif., on Tuesday to start negotiations. Pelosi also met with her committee chairs Monday night to start hashing out the details.
Other factors that could result in changes to the proposal include a Congressional Budget Office estimate on its cost.
Gov. Cuomo questions low rate of coronavirus testing in U.S.
New York Gov. Andrew Cuomo questioned on Wednesday why so few people have been tested for coronavirus in the U.S.
"When they do the retrospective on this one, they are going to say, 'Why did it take the Unites States so long to bring up the testing capacity?'" said the governor on TODAY. "China did something like 200,000 tests per day. South Korea did about 15,000 tests per day. The United States has only done about 5,000 tests to date."
On Tuesday, Cuomo announced that he was implementing a "containment area" around a one-mile radius in the city of New Rochelle, a New York City suburb that is home to the largest cluster of cases in the country. 
Westchester County, where New Rochelle is located, had 108 cases of the virus on Tuesday. New York state has 173 cases. Cuomo also urged the federal government to "just take the handcuffs off me and let New York State do what New York State can do."
The Centers for Disease Control and Prevention said Tuesday that more than 8,500 specimens have been tested for the coronavirus across the U.S. Because multiple specimens are required from each individual, the number of actual patients who have been tested is likely far lower.
Bank of England announces emergency interest rate cut over coronavirus
The Bank of England slashed its key interest rate by half a percentage point to 0.25 percent on Wednesday, in an emergency response to the "economic shock" of the coronavirus outbreak.
"The Bank of England's role is to help UK businesses and households manage through an economic shock that could prove large and sharp but should be temporary," Bank of England governor Mark Carney said at a press conference on Wednesday.
The cut takes the main rate to the record low that it stood at in the aftermath of Britain's vote in June 2016 to leave the European Union.
The cut follows similar reductions from the U.S. Federal Reserve and the Bank of Canada. The European Central Bank is also expected to announce a package of stimulus measures on Thursday.
German chancellor: Up to 70 percent of people will get the coronavirus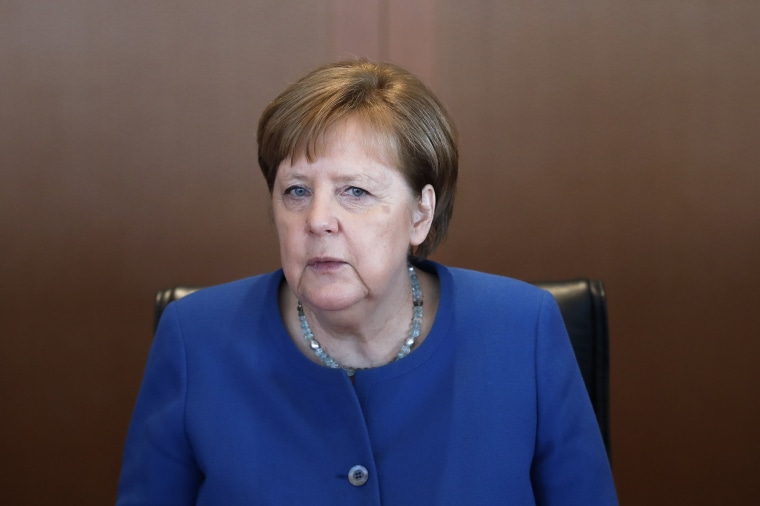 German Chancellor Angela Merkel said on Wednesday that up to 70 percent of the population is likely to be infected with the coronavirus.
In a briefing with reporters in Berlin, Merkel said since there is currently no cure, the focus has to be on slowing the virus' spread.
"When the virus is here and the population has no immunity, no immunizations exist and no therapy possibilities, then a high percentage - experts say, 60 to 70 percent - of the population will be infected," she said. "The course of action has to be focused on not overburdening the health system, but the possibilities of the health system that have to be used to slow the spread of the virus."
Germany has recorded 1,296 coronavirus cases so far. It confirmed its first two deaths Wednesday. 
It's official: Don't shake hands, World Health Organization says
You can greet people with a wave, a nod or a bow — just don't make it a handshake. 
That's the advice the World Health Organization (WHO) issued Wednesday as it reiterated that respiratory viruses like the new coronavirus can be passed by shaking hands and touching one's eyes, nose and mouth.
While alternative greetings have been gaining popularity as the coronavirus spreads around the world, it's the first time WHO has advised to avoid handshakes.
U.K. lawmaker and health minister tests positive for coronavirus
British lawmaker, junior health minister and former nurse Nadine Dorries has tested positive for coronavirus, she announced on Tuesday.
"It's been pretty rubbish but I hope I'm over the worst of it now," tweeted Dorries, a Conservative lawmaker in Prime Minister Boris Johnson's government. 
"More worried about my 84yo mum who is staying with me and began with the cough today," she added.
Dorries, who is now self-isolating, said in a statement that Public Health England has started "detailed contact tracing."
There are currently 373 people in the U.K. diagnosed with coronavirus and six people have died.
The Times newspaper reported that Dorries met hundreds of people in Parliament in the past week and attended a reception with Prime Minister Boris Johnson. NBC News was not able to confirm this reporting. 
Manchester City, Arsenal postpone game after coronavirus contact
Two of the world's most prominent soccer clubs have postponed their game because players on one of the teams were in contact with someone who had contracted coronavirus. 
The Wednesday game between Manchester City and Arsenal was pushed back because Arsenal players met with Evangelos Marinakis, the owner of Greek club Olympiakos Piraeus, following their meeting last month. 
Marinakis tested positive for the virus on Tuesday. 
In a statement, Arsenal said the risk to these players of developing COVID-19, the diseases the virus causes, was "extremely low," adding that they will self-isolate in their homes for two weeks. 
It's the first fixture in Premier League, the top-tier soccer league in England, to be affected by the virus. 
The league said it had no alternative but to postpone the game to complete a proper risk assessment.
It added that there were currently no plans to postpone other games.
Police break up crowd of University of Dayton students after housing closure news
Police at the University of Dayton in Ohio fired "pepper balls" and cleared a street early Wednesday after a disorderly crowd or around 1,000 gathered after learning that the college would be shutting down student housing over fears of the novel coronavirus.
University officials said in a statement that one person was injured by a thrown bottle. University and Dayton police moved to clear the street around 2:15 a.m.
The university's student-run newspaper, the Flyer News, reported that the crowds gathered in reaction to news that the university housing would close Wednesday.
The university announced Tuesday that it would suspend in-person classes and ask students to return home and do online learning.  "Students will remain off campus for at least two weeks following spring break," the university said.
"There were some social media reports and rumors that this was a protest against our coronavirus measures — those reports are inaccurate. Indications are that the students wanted one last large gathering before spring break and the size and behavior of the crowd required police to take action," the university said in a statement to NBC News early Wednesday.
South Dakota has 5 presumptive cases, including one person who has died
Five presumptive cases of COVID-19 have been identified in South Dakota, the governor said Tuesday. That count includes one person who died, but it is unclear what killed that patient, she said.
"We have one person that has passed away that had underlying medical conditions, and we will continue to wait for a medical examination to see if the virus had anything to do with that —  although we do not have confirmation that that is the reason that the patient is deceased," Gov. Kristi Noem said at a news conference. The person who died was a man in his 60s.
The five cases, which are not in any single community, are the first presumptive cases for South Dakota. Cases are called presumptive when local tests come back positive but when CDC testing has not yet confirmed that result.
If the death was caused by COVID-19, the death would mark the 31st in the United States, according to a count of reported cases by NBC News. The four other people with presumptive positive cases are at home and contact tracing is being done, the governor said.
22 more deaths in mainland China, bringing total to 3,158
China's National Health Commission reported 22 new deaths, all of them in Hubei Province, bringing the total across the mainland to 3,158 as of Wednesday morning.
The coronavirus outbreak began in Hubei Province, which is where the city of Wuhan is located. There have been more than 80,700 confirmed cases reported in mainland China, according to the health commission.
There are outbreaks in other countries, with some of the highest number of cases outside mainland China being reported in South Korea, Italy and Iran. The United States has more than 1,000 confirmed or presumptive cases, according to a count of reports by NBC News. Thirty people have died in the U.S.
Person at New Orleans journalism conference tests positive
Someone who attended a journalism conference in New Orleans this month has tested positive for the novel coronavirus, organizers said Tuesday.
The attendee at the NICAR20 conference last week has mild symptoms and is expected to make a full recovery, the nonprofit organization Investigative Reporters and Editors said in a statement.
The person is self-quarantining at home for 14 days. The case is being considered a presumptive positive because it has not been confirmed by the Centers for Disease Control and Prevention.
"Based on the onset of the limited symptoms, they could have contracted the virus either before, during or after the conference," IRE said. The organization said the person as well as the organization is notifying anyone who had close contact or who attended a class with that person.  
Three TSA officers at San Jose airport test positive
Three security officers at the international airport in San Jose, California, have tested positive for the novel coronavirus that causes the COVID-19 illness, the TSA said Tuesday.
"The officers are receiving medical care and all TSA employees they have come in contact with over the past 14 days are quarantined at home," The Transportation Security Administration said in a statement to NBC Bay Area.
The officers worked at Mineta San Jose International Airport, which is in Santa Clara County.
"Screening checkpoints remain open and the agency is working with the CDC, as well as the California Department of Public Health and the Santa Clara County Public Health Department to monitor the situation as well as the health and safety of our employees and the traveling public," the TSA said.
Santa Clara County has seen 45 positive tests, and the increase in cases that could be instances of community spread prompted health officials there to ban mass gatherings of 1,000 or more people for three weeks. One person died in Santa Clara County Monday morning, the health department said.
More than 1,400 have disembarked from Grand Princess cruise ship
More than 1,400 people have disembarked from the Grand Princess cruise ship, the vessel that was delayed off the coast of California after it was linked to the coronavirus illness COVID-19, the cruise company said Tuesday evening.
There were 3,533 people aboard the ship — including 2,422 guests and 1,111 employees — when it returned from Hawaii to California last week, the cruise company has said. Princess Cruises said that as of 7 p.m. Tuesday, 1,406 people had disembarked.
The ship was delayed for testing after several people from a voyage in mid-February tested positive for COVID-19, including one who died last week in Placer County. On Friday, tests that were flown to the ship came back positive for 21 people aboard, which included 19 crew and two passengers.
On Monday people began disembarking, and California officials have said that 407 people disembarked then.
Officials have said that those disembarking would be subject to a 14-day quarantine, many of them at military bases. Disembarking all of the passengers "will be a multiple day process," Princess Cruises said.