The Dow Jones plunged nearly 3,000 points as U.S. states and major cities are following European nations and capitals in shutting down schools, bars and theaters to try and delay the spread of coronavirus.
California officials announced a complete lockdown of the Bay Area, including San Francisco, that requires people to stay home except for essential needs, and the governor of Ohio is recommending postponing the state's primary elections originally scheduled for Tuesday.
New York, Los Angeles and Washington state have all announced public buildings will be shut temporarily, amid fears that the number of cases will continue to grow beyond the confirmed 4,000. The National Security Council stressed Sunday night that there is no U.S.-wide shutdown or national quarantine.
A long list of European nations that have enacted severe countrywide lockdowns, including France, Spain, Denmark, Netherlands and the Republic of Ireland. Italy, the worst affected European country, has recorded more than 1,800 coronavirus-related deaths so far and expects some 90,000 infections by the end of April.
The U.S. death toll climbed to at least 85, with 25 of those deaths associated with the Life Care Center in Kirkland, Washington.
Full coverage of the coronavirus outbreak
Download the NBC News app for latest updates on the coronavirus outbreak.
This live coverage has ended. Continue reading March 17 Coronavirus news.
Another prominent political figure dies of coronavirus in Iran: state media
Iran's state media reported Monday another senior political figure has died of coronavirus.
Isna news agency said Grand Ayatollah Hashem Bathaie Golpayegani has died of COVID-19, the disease the virus causes, Sunday night. He was a member of the Assembly of Experts, a body tasked with choosing the country's supreme leader.
Iran has been one of the global hotspots of the coronavirus pandemic, with nearly 15,000 cases and 853 deaths. The virus has sickened and killed several members of the country's political elite.
Paris is quiet as France shuts down to curb coronavirus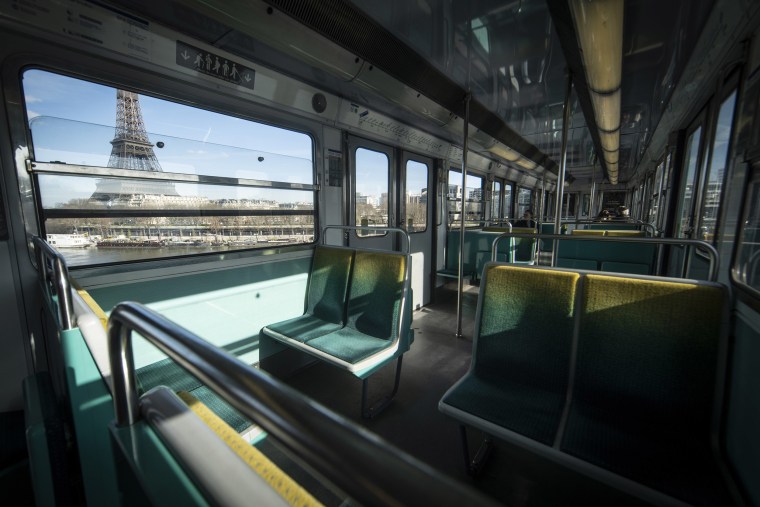 Arnold Schwarzenegger encourages people to stay at home 'as much as possible'
Brothers donate 17,700 hoarded bottles of hand sanitizer after officials open probe
Matt and Noah Colvin went viral after a New York Times article detailed a 1,300 mile trip they took around their home state of Tennessee and neighboring Kentucky to buy 17,700 bottles of hand sanitizer and thousands of packages of antibacterial wipes to sell them on Amazon for between $8 and $70.
The brothers were dragged on social media for hoarding the products necessary to fight the coronavirus, and the Tennessee Attorney General's Office opened a price gouging investigation.
Colvin stopped selling the in-demand antibacterial supplies at a markup after Amazon got wise to COVID-19-related price gouging and moved to stop it. Over the weekend, he wrote on his seller's page that he would be donating his remaining stock "to a local church and first responders."
A reporter with NBC affiliate WRCB was on the scene of one of the Colvins' at least three storage areas filled with the crucial goods as they were collected Sunday. 
'TODAY' staffer tests positive for coronavirus
A "TODAY" employee working at 30 Rockefeller Plaza has tested positive for COVID-19, the disease caused by the coronavirus, NBC News announced Monday.
"Last night we learned a colleague of ours on the Third Hour of 'TODAY' has tested positive for COVID-19, the novel coronavirus," Savannah Guthrie, an anchor of the show, said. "So, out of an abundance of caution, Craig [Melvin] and Al [Roker] have taken the morning off."
The employee is experiencing mild symptoms and receiving medical care, according to an email sent from NBC News President Noah Oppenheim.
"As you know, we have been preparing for this possibility and are taking all necessary steps to ensure the health and safety of our teams," Oppenheim wrote in the email.
NBC News has identified employees in close contact with the affected employee and has asked them to self-isolate. The entire staff of the 9 a.m. editorial team was asked to work from home on Monday, according to Oppenheim's note.
"We are just trying to play exactly by the rules," Hoda Kotb, another anchor of the show, said on air. "We hope and wish they come back soon."
'Very frustrating': Impeachment attorney Daniel Goldman explains coronavirus testing ordeal
Attorney Daniel Goldman, who was counsel to House Democrats during the impeachment inquiry of President Donald Trump, said Monday that it was "very difficult" and "very frustrating" to try to get tested for the coronavirus. 
Goldman revealed Sunday on Twitter that his test returned positive and said in an interview on MSNBC's "Morning Joe" that he had what felt like a "medium-strength flu" for three days. He went to both urgent care and a New York hospital, both of which said they couldn't do anything for him. 
"I had not been in contact with anyone who I knew to be positive for coronavirus, and now, basically, that meant I could not get tested," said Goldman, a former MSNBC legal analyst.
Other tests, for the flu and a full viral panel, came back negative, Goldman said, and he decided to drive from New York to Connecticut last Friday to get tested for the coronavirus at a curbside clinic. After he tested positive, his wife and children had to get tested over the weekend and are awaiting the results.
Goldman said he suspected that he contracted the virus during a trip to London the previous weekend and said he did not take the threat of the illness seriously.
"I didn't take it seriously enough, but everybody really needs to take this seriously," he said. "Anybody can get it anywhere. Whatever we hear about the limited number of cases, we just don't know. There's way insufficient testing to know how many people have it."
Petition demands U.K. schools and colleges closure
An online petition to close public schools and colleges in the U.K. to help stop the spread of the coronavirus epidemic gained nearly 600,000 signatures as of Monday morning.
The petition calls on the British government close schools and colleges in the coming weeks or as soon as possible to prevent further spread.
Unlike other European nations that have already entered nationwide lockdowns, shutting down places of mass gatherings to curb the spread of the virus, the U.K. government has yet to shut down educational institutions, bars, restaurants and shops.
It's expected to provide an update on its next steps Monday afternoon. So far, 1,391 cases of coronavirus have been identified in the U.K., including 35 deaths. 
Moscow builds temporary hospital for coronavirus patients
A temporary hospital to be used for coronavirus patients is being constructed near Moscow.
In a post on messenger app Telegram, officials with Moscow's Coronavirus Crisis Response Center shared a video showing the construction of the hospital that the post says will have room for 500 patients. 
The video published on March 16 claims to have been taken during the second day of construction.
The hospital is being constructed along a highway leading out of the city to supplement two existing facilities that have been designated to treat coronavirus cases in Moscow.
Russia has recorded 63 coronavirus cases as of Sunday.
Wuhan doctors warn Western counterparts over COVID-19
European airline Ryanair to ground majority of fleet
Ryanair, the massive Irish budget airline, announced on Monday it will ground the majority of its fleet across Europe over the next seven to 10 days due to coronavirus.
The airline said in a stock market announcement Monday it expects to reduce its seat capacity by up to 80 percent in April and May, and a "full grounding" of its fleet is possible.
"At the Ryanair Group Airlines, we are doing everything we can to meet the challenge posed by the Covid-19 outbreak, which has over the last week caused extraordinary and unprecedented travel restrictions to be imposed by National Governments, in many cases with minimal or zero notice," CEO Michael O'Leary said in a statement.
The company cited flight bans of varying degrees enacted in the past week in Italy, France, Morocco, Spain, Denmark, and other countries as part of the reason for its decision. Poland and Norway banned all international flights over the weekend, while others have banned flights from highly infected countries.
Italy expects more than 90,000 people to get sick with coronavirus by end of April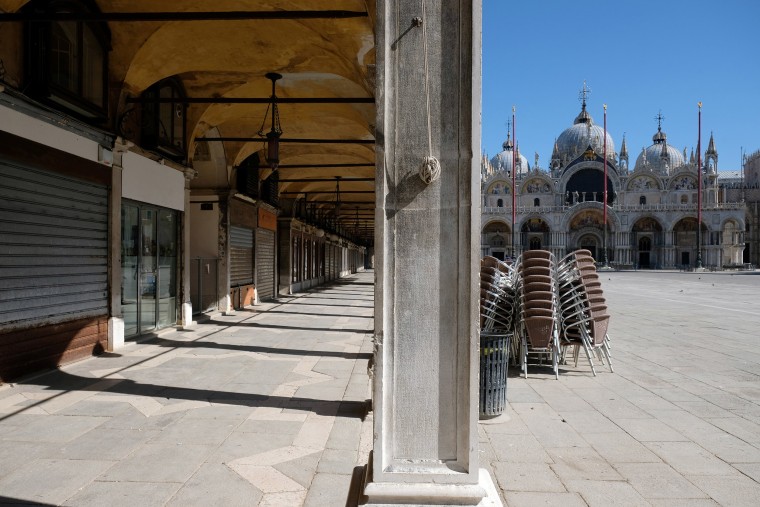 The Italian government anticipates more than 90,000 people to get sick with coronavirus by the end of April.
It estimates 360,000 will be quarantined, adding that March 18 could be the peak of the contagion.
"We are facing a never known emergency since the end of Second World War," Prime Minister Giuseppe Conte said in an interview to Italian newspaper Corriere della Sera Monday.
"Scientists are telling us that we have not peaked yet, these weeks are the most important and we need  to urge caution. We must never lower our guard," Conte added. 
As of Sunday, Italy, the hardest-hit country in Europe, has confirmed 24,747 cases of coronavirus.
More than 1,800 people have died of the virus, the most outside mainland China, where the virus is believed to have originated. 
Germany imposes border controls over coronavirus
Germany has reintroduced border controls with France, Austria, Switzerland, Luxembourg and Denmark Monday, only allowing goods and cross-border commuters through, to curb the spread of coronavirus. 
The country is facing an aggressive progression of the illness, Interior Minister Horst Seehofer said Sunday, adding that the virus was progressing "rapidly and aggressively" and that "we must assume that the peak of this development has not yet been reached."
Germany has confirmed more than 4,800 cases and 12 deaths. 
Australian casinos turn off half of poker machines in "social distancing" measure
Australia's two biggest casino companies said they would shut off half their poker machines to force gamblers to engage in "social distancing" and slow the spread of the coronavirus as concerns about their future revenue sent shares tumbling.
The measures show the pressure on the tourism sector to keep operating amid a widespread shutdown of entertainment and sporting events as authorities limit public gatherings to curtail the spread of the illness.
Melbourne-based Crown Resorts and Sydney rival Star Entertainment Group said they would keep gamblers apart by switching off every second electronic machine, and restrict the number of players at gambling tables.
Crown said its "social distancing policy" was approved by the chief health officer of Victoria state, while Star said its measures were in line with Federal Government policy.
Pope Francis walks through empty Rome, prays for pandemic to end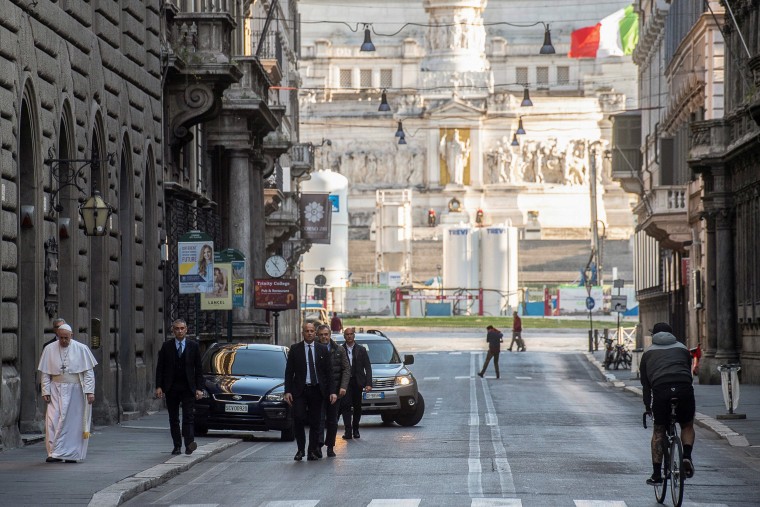 Pope Francis left the Vatican to walk over to the Basilica of Saint Mary Major in Rome on Sunday through empty streets as Italy remained under strict quarantine to ward off a growing coronavirus outbreak. 
The Holy See said the Pope prayed for the Virgin Mary, then walked along one of Rome's main streets to the Church of San Marcello al Corso, near the Spanish Steps, where he prayed for the pandemic to end. 
The church contains a crucifix which was carried around Rome during a procession to invoke the end of the great plague in 1522, the Holy See said. 
A Vatican picture showed the pope and a small security detail walking on an empty Via del Corso, which is usually packed with shoppers and people taking strolls on Sunday.
All Papal Easter services in April will be held without the faithful attending due to coronavirus. 
National Security Council says 'no national lockdown'
Peace Corps suspends global operations
L.A. mayor on restaurants, bars and gyms
Washington governor orders restaurants takeout, delivery only
Washington State Gov. Jay Inslee said Sunday that he will temporarily limit restaurants to take-out and delivery services and close entertainment venues and recreational facilities across the state.
The emergency proclamation, which aims to stem the spread of coronavirus, will go into effect Monday, he said.
Inslee also prohibited gatherings with more than 50 people unless they've met social distancing and public health guidelines.
"These are very difficult decisions, but hours count here and very strong measures are necessary to slow the spread of the disease," Inslee said. "I know there will be significant economic impacts to all our communities and we are looking at steps to help address those challenges."
NYC mayor Bill de Blasio to close theaters, limit restaurants to takeout
New York City Mayor Bill de Blasio on Sunday ordered the temporary closing of movie theaters, nightclubs and concert venues.
In an executive order that will go into effect on Tuesday morning, de Blasio also said restaurants, bars and cafes will be limited to takeout orders and deliveries.
"The virus can spread rapidly through the close interactions New Yorkers have in restaurants, bars and places where we sit close together," de Blasio said. "We have to break that cycle."