The United States on Thursday surpassed 1,600 confirmed or presumptive cases of the coronavirus, and the death toll climbed to 41. Kansas reported its first death Thursday.
Wall Street recorded historic losses as fears intensified over the economic fallout from the pandemic, with the Dow Jones Industrial Average falling by 10 percent, and the Nasdaq and the S&P 500 both down by 9 percent.
It was the worst point drop ever for the Dow and its worst performance since the market crash in 1987.
Disruptions in the sports world continued, with March Madness canceled, the suspension of MLB's spring training and a pause on the National Hockey League season.
Health and government officials continue to call for the end of large gatherings, and the Church of Jesus Christ of Latter-day Saints suspended public gatherings worldwide, the Smithsonian announced it will close indefinitely all museums in Washington, D.C. and New York City and Broadway theaters canceled performances through April 12.
Full coverage of the coronavirus outbreak
Download the NBC News app for latest updates on the coronavirus outbreak.
This live coverage has ended. Continue reading March 13 Coronavirus news.
European Union says it was not consulted on Trump's coronavirus travel ban
European Union leaders on Thursday criticized President Donald Trump's decision to restrict travel from 26 European nations, and said that they were not consulted beforehand.
"The coronavirus is a global crisis, not limited to any continent and it requires cooperation rather than unilateral action," said a joint statement from Ursula von der Leyen and Charles Michel, presidents of the European Commission and European Council respectively.
"The European Union disapproves of the fact that the U.S. decision to impose a travel ban was taken unilaterally and without consultation," they added. "The European Union is taking strong action to limit the spread of the virus."
Staff at Tel Aviv's branch of U.S. Embassy self-isolate
Staff at the branch of the U.S. Embassy in the Israeli city of Tel Aviv are self-isolating after an individual who tested positive for COVID-19 visited it last week. 
While everyone affected was quarantined, the embassy said in a statement that the visa department would remain open, while taking recommendations from Israel's Ministry of Health.   
The announcement came as the ministry revealed that 100 people had contracted the respiratory illness in the country.  
Coronavirus: A glimpse at global market reaction to spreading virus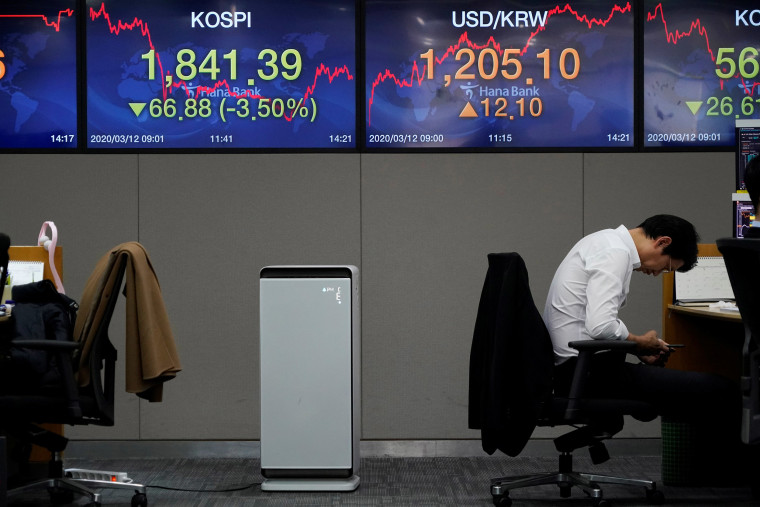 California bans mass gatherings to slow spread of COVID-19
Health officials in California have announced that mass gatherings of 250 people or more should be postponed or canceled across the state until at least the end of March in response to the growing coronavirus outbreak.
Governor Gavin Newsom announced the measure late Wednesday, saying non-essential gatherings must be limited to no more than 250 people, while smaller events can proceed only if the organizers can implement social distancing of six feet per person.
Gatherings of individuals who are at higher risk for severe illness from COVID-19, the disease the virus causes, should be limited to no more than 10 people, while also following social distancing guidelines, his office added. 
"Each of us has extraordinary power to slow the spread of this disease," Newsom said in a release. "Not holding that concert or community event can have cascading effects — saving dozens of lives and preserving critical health care resources that your family may need a month from now."
More than 170 coronavirus cases and four deaths have been reported in California so far. 
Plane writes 'wash hands' message in sky above Sydney
An airplane scrawled the words "wash hands" above the International Convention Center in Sydney, Australia on Thursday.
The video shot and posted on Twitter by Chris Dugan shows advice recommend around the world to slow the spread of the global virus.
The WHO recommends hand-washing with soap as a basic yet highly protective measure against the disease. 
Australia had 126 confirmed cases of COVID-19, including three deaths, as of Thursday.
TV show 'Riverdale' suspends production over coronavirius
"Riverdale" has suspended production after a team member on the television show recently came into contact with someone who has tested positive for the coronavirus illness and is "currently receiving medical evaluation," COVID-19, Warner Bros. said Wednesday.
The show is produced in Vancouver.  "We are working closely with the appropriate authorities and health agencies in Vancouver to identify and contact all individuals who may have come into direct contact with our team member," the company said.
"Riverdale" is a drama based on the characters from Archie Comics. 
Fears of the spread of the coronavirus has prompted several shows to no longer record in front of live studio audiences for the time being.
Beauty retailer Sephora suspends in-store makeup services
Beauty retailer Sephora said Wednesday it is suspending all paid and free in-store services, makeup and skincare applications until further notice to reduce the spread of COVID-19, the disease from coronavirus.
Its enhanced safety measures include disinfecting all high-touch areas, work stations, product displays and hygiene stations with hospital-grade disinfectant and cleaning all display testers with disinfectant multiple times a day, as well as increasing weekly deep cleanings of its stores and distribution centers, the company said in a statement.
Las Vegas movie exhibition CinemaCon canceled
LOS ANGELES — The annual movie exhibition and trade show CinemaCon has been canceled in Las Vegas due to coronavirus, scuttling one of Hollywood's premier hype machines.
The week-long conference, which brings together everyone from Hollywood studio executives and celebrities to movie theater owners and equipment and concession manufacturers, had been scheduled to begin March 30 at Caesar's Palace.
The cancellation was announced Wednesday in a joint statement by John Fithian, president of the National Association of Theater Owners, and CinemaCon's managing director, Mitch Neuhauser.
"While local outbreaks vary widely in severity, the global circumstances make it impossible for us to mount the show that our attendees have come to expect," they said. "After consultation with our attendees, trade show exhibitors, sponsors, and studio presenters, NATO has decided therefore to cancel CinemaCon 2020."
Senate staffer tests positive
A staff member in the Washington, D.C., office of Sen. Maria Cantwell, D-Wash., has tested positive for COVID-19, the disease from coronavirus, her office said Wednesday.
The person has been in isolation since starting to have symptoms, and on the advice of an attending physician, Cantwell has closed the office this week for deep cleaning, the office said in a statement. Staff will be teleworking, and her offices in Seattle and Washington, D.C., will continue to serve constituents remotely, it said.
The person who tested positive has had no known contact with Cantwell or other members of Congress, the statement said.