The United Kingdom went into lockdown Monday as British Prime Minister Boris Johnson tried to stem the spread of coronavirus, which has infected more than 5,000 people and killed hundreds in his country.
More American states did the same, too. Officials in Louisiana, New Mexico, Washington and West Virginia issued stay-at-home orders. "Right now, every time you leave your house, you are putting yourself, your family and your community at risk," New Mexico Gov. Lujan Grisham said.
Team USA's Olympic and Paralympic Committee called for the International Olympic Committee Summer Games in Tokyo.
Full coverage of the coronavirus outbreak
Download the NBC News app for latest updates on the coronavirus outbreak.
This live coverage has ended. Continue reading March 24 Coronavirus news.
Spain's coronavirus death toll tops 2,000
Spain's death toll from the growing coronavirus pandemic has now topped 2,000, only three days after its number of deaths hit 1,000. 
The country's health ministry said Monday there are now 33,090 confirmed coronavirus cases and 2,182 deaths in the country. 
Spain, the second hardest-hit country in Europe after Italy, sought to extend its state of emergency Sunday by another two weeks until April 11. Announced on March 14, it was intended to last 15 days, and bars people from all but essential outings. The extension would need to be approved by Parliament. 
"We are at war," the country's Prime Minister Pedro Sanchez told a news briefing.
Iran records more than 1,400 new cases in 24 hours
Iran confirmed more than 1,400 new coronavirus cases in the past 24 hours on Monday as the country struggles to contain its coronavirus epidemic. 
Health officials also announced 127 new deaths, bringing the death toll to 1,812.
There are now a total of 23,049 confirmed cases in Iran, one of the global hot spots of the coronavirus pandemic.
On Sunday, Iran's Supreme Leader Ayatollah Ali Khamenei rejected the U.S. offer to help in its fight against the virus, accusing U.S. leaders of being "charlatans and liars."
Rep. Ben McAdams hospitalized after coronavirus positive test
WASHINGTON — Rep. Ben McAdams, D-Utah, who tested positive last week for the disease caused by the coronavirus, said Sunday night that he has been hospitalized since Friday because of "severe shortness of breath."
McAdams said in a statement that he experienced worsening symptoms Friday evening and he called the hotline for COVID-19, the disease caused by the coronavirus. He said he was told to go to the hospital.
"I was admitted and have been receiving oxygen as I struggled to maintain my blood oxygen at appropriate levels. I am now off oxygen and feeling relatively better and expect to be released as soon as the doctor determines it is appropriate," he said in a statement posted on his Twitter account.
McAdams said his experience has shown him "how critical it is to follow the advice of the CDC and the Utah Department of Health in order to stop the spread of this virus."
Florida closes all state parks
All state parks in Florida will close Monday for the foreseeable future as the state tries to stop the spread of coronavirus.
The decision, made by Gov. Ron DeSantis, was announced late Sunday evening. Florida State Parks said on Twitter that while "many measures" had been taken to attempt to safely provide access to the parks, "this has not resulted in the reductions needed to best protect public health."
Florida's announcement comes after the state fell under intense national scrutiny for keeping its beaches open for too long. Local officials in Florida towns and cities ended up taking it upon themselves to close beaches last week after the governor's initial refusal.
Florida had 768 confirmed cases of coronavirus and 12 deaths as of Sunday, according to NBC News tallies.
Cuban health workers arrive in Italy to staff field hospital
A delegation of 52 Cuban health workers arrived in Lombardy, Italy on Sunday to work in a field hospital in the region at the heart of Italy's coronavirus outbreak. 
The team, which includes doctors and nurses specializing in pulmonology, intensive care, infectious diseases and emergency medicine, will work at a newly-built field hospital in Crema, Lombardy, according to regional officials. 
Lombardy has been Italy's most affected region in the pandemic, with 27,206 cases and 3,456 deaths reported. 
On Sunday, 651 people across Italy as a whole died from the virus, and 952 more people had officially recovered, Italy's Civil Protection Department confirmed in a press conference on Sunday.
Coronavirus may force Olympics to be postponed, Japan's Abe says
Japan's Prime Minister Shinzo Abe acknowledged for the first time on Monday that the Summer Olympic Games could be delayed due to the coronavirus as countries began threatening to keep their athletes at home.
"If it's difficult to proceed in its complete form, then we must think about the athletes first and consider postponing," Abe told Parliament.
Meanwhile, the Tokyo 2020 organizing committee told reporters it would not make a final decision for another four weeks.
"Cancellation would not solve any problem and would help nobody," the international committee's president, Thomas Bach, said Sunday. He added that canceling the games would "destroy" the dreams of 11,000 athletes from around the world.
Jerusalem's Al-Aqsa Mosque compound closed over coronavirus fears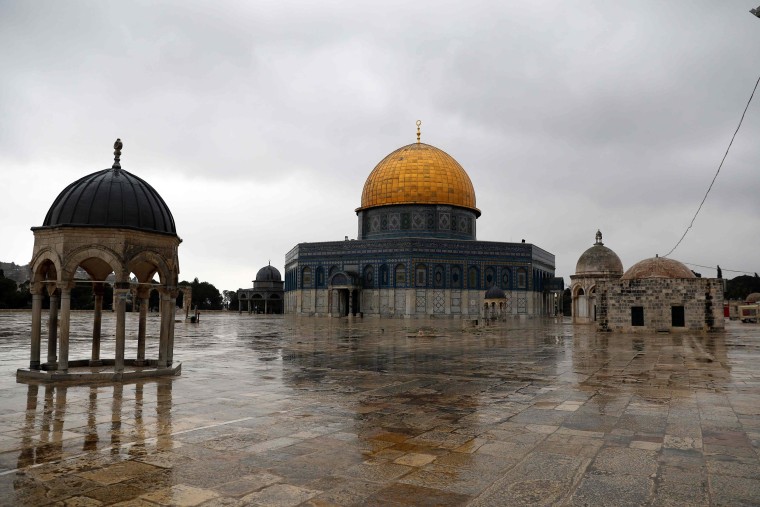 Jerusalem's Al-Aqsa Mosque compound was closed to worshipers on Monday to help stem the spread of coronavirus, the Ministry of Endowments and Islamic Affairs in Jordan, which acts as custodian of the site, announced.
Employees who work at the compound, also home to the Dome of the Rock shrine, will continue to be able to access the area, and the call to prayer will still take place.
The closure, which took effect at dawn on Monday, is in place until further notice. 
Israel has so far recorded 1,238 cases of coronavirus and one death. 
London Tube packed as government warns people to stay apart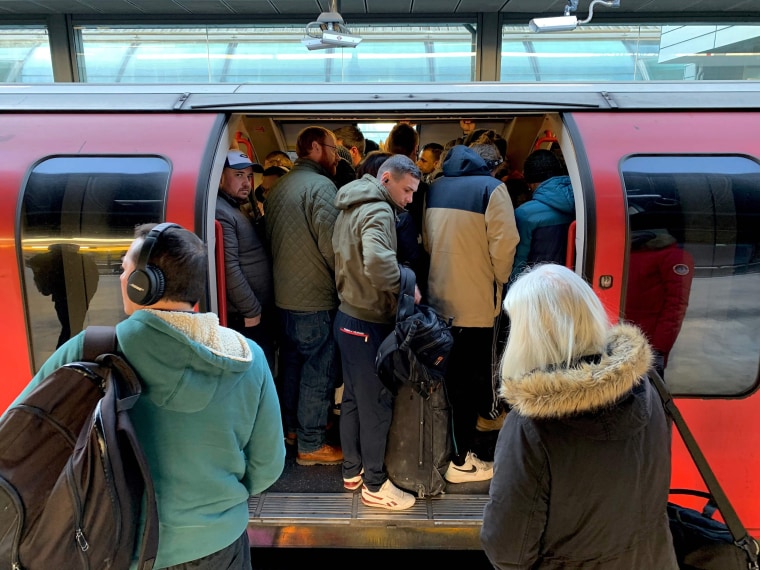 Hong Kong to ban tourist arrivals as coronavirus numbers rise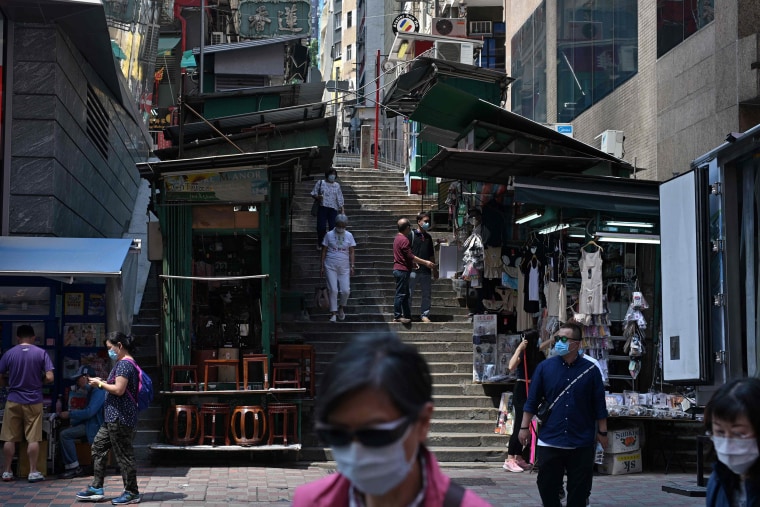 Hong Kong authorities said Monday they are banning tourist arrivals from the global financial hub as the city is facing a growing number of coronavirus cases. The city government announced 39 new cases of coronavirus on Monday, 30 of which had a recent travel history, bringing its total to 357 and four deaths.
The order kicks in on Wednesday. 
The semi-autonomous territory detected its first cases as early as January, but thanks to severe social distancing measures and a strong community response it has managed to avoid the scale of contagion seen in other countries and territories.
It is now faces the risk that visitors carrying the virus could spread it, undoing efforts to contain it.
500 U.S. tourists depart Peru after border closure
Hundreds of Americans have left Peru after getting stranded in the country amid travel chaos caused by the coronavirus pandemic. 
The U.S. Embassy in the country's capital Lima said they are working with the Peruvian government on all options for U.S. citizens to depart the country and are arranging charter aircraft.
It said approximately 500 American tourists departed Peru this weekend, including some of the most urgent medical cases. 
Earlier this month, Peru issued a state of emergency, closing all international borders and leaving many Americans stranded and unable to get out.
British public warned of 'tougher measures' after weekend of gatherings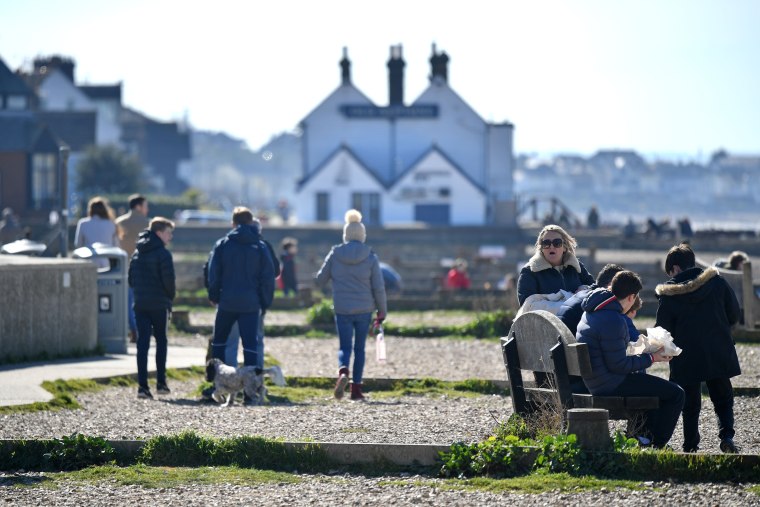 Saudi Arabia imposes nationwide curfew amid coronavirus epidemic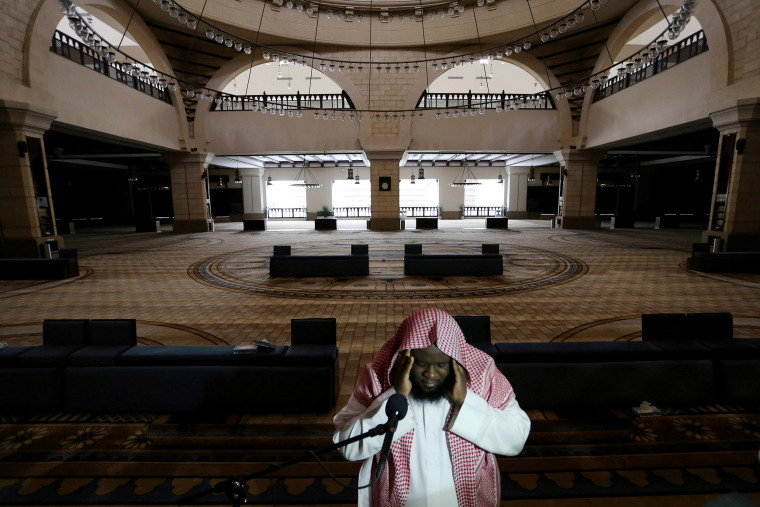 Saudi Arabia has imposed a nationwide curfew as it tries to stem the spread of coronavirus, the country's state news agency reported Monday. 
Saudi ruler King Salman issued an order for a curfew between 7 p.m. and 6 a.m. local time, Saudi Press Agency said. 
The curfew kicks in Monday evening and will be in effect for the next 21 days. 
Employees in the so-called vital sectors, whose work requires continued performance during the curfew, are exempt from the order. 
Saudi Arabia has taken some of the most drastic steps in the region, including halting international flights, suspending work at most institutions and closing public venues.
The country has recorded 119 new cases on Sunday, bringing the total to 511.
War-ravaged Syria records its first coronavirus case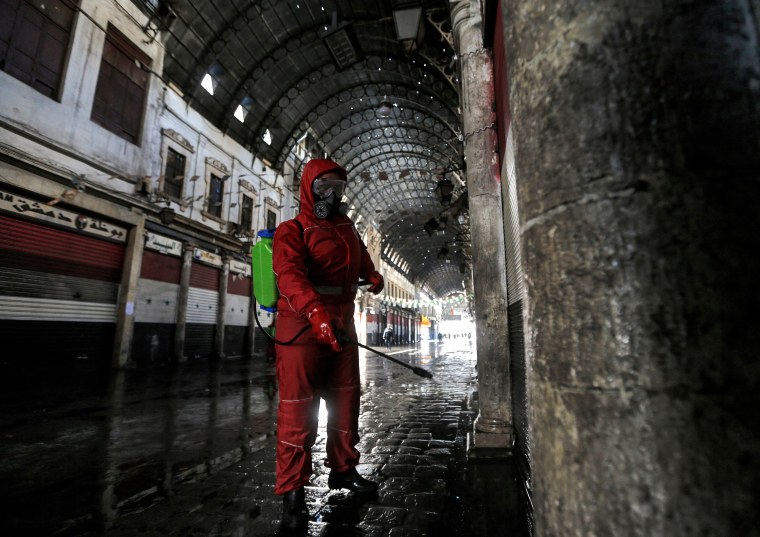 Syria registered its first case of coronavirus Sunday, the country's health officials said, according to Syrian state news agency SANA.
Health officials said the individual who tested positive came from abroad, without specifying a country, SANA reported. 
Health Minister Nizar al-Yaziji told state media "necessary measures" had been taken regarding the individual, who he said would be quarantined for 14 days and given medical checks.
Damascus announced a ban on public transport on Sunday as it stepped up a lockdown introduced in recent days, including the closure of schools, parks, restaurants and various public institutions, as well as calling off army conscription.
The country ravaged by nine years of civil war has a wrecked health care system that many fear would not be able to handle an epidemic, but government authorities have denied any outbreak or cover-up.
How are imposters imitating the World Health Organization?
The World Health Organization warned over the weekend of an uptick in criminals disguising themselves as WHO workers to steal money or personal identity information vulnerable people. 
The United Nations branch responsible for public health around the globe urged people to verify the authenticity of anyone claiming to be from WHO. It also issued a list of questions and information the organization will never ask for.  
The only request for financial support WHO has made, it said, was for people to give to the COVID-19 Solidarity Response Fund. "Any other appeal for funding or donations that appears to be from WHO is a scam," the organization said.  
The World Health Organization will:

never ask for your username or password to access safety information

never email attachments you didn't ask for

never ask you to visit a link outside of www.who.int

never charge money to apply for a job, register for a conference, or reserve a hotel

never conduct lotteries or offer prizes, grants, certificates or funding through email.

WHO
IOC says canceling Tokyo Olympics wouldn't solve anything and 'isn't on the agenda'
The International Olympic Committee said Sunday that canceling the Summer Olympic Games in Tokyo "is not on the agenda," even as Australia and Canada became the first two countries to pull out of the games because of the coronavirus pandemic.
The Olympic committees of both countries issued statements late Sunday (midday Monday in Australia) saying they wouldn't send teams unless the games are postponed for a year. The games are scheduled to open in just four months.
In a long statement, the International Olympic Committee, or IOC, said the spread of the coronavirus and COVID-19, the disease it causes, had led the organization's executive board to conclude that "the IOC needs to take the next step in its scenario-planning."
But it said "a cancellation of the Olympic Games Tokyo 2020 would not solve any of the problems or help anybody."
"Therefore, cancellation is not on the agenda," it said.
Parks, trails closed in Los Angeles area
More than 75,000 acres of parks and trails were closed indefinitely in and around the Los Angeles region Sunday because of the coronavirus pandemic, authorities said.
The announcement, by the Mountains Recreation and Conservation Authority, expands on an order Los Angeles Mayor Eric Garcetti issued earlier Sunday closing sports and recreation at city parks and parking at city beaches as images of packed trails and beaches sparked an outcry while California is under a statewide stay-at-home order.
"This is serious. Stay home and save lives," Garcetti tweeted.
The two orders effectively close all parks and restrict access to many beaches across tens of thousands of acres from Los Angeles north across the San Fernando Valley, including the popular Santa Monica Mountains Conservancy.
Canada, Australia pull out of Olympics
Canada and Australia will not send athletes to the Olympics later this year if the games are not delayed because of the coronavirus pandemic, officials said Sunday.
In a statement, the Canadian Olympic Committee said it was "urgently" calling on the groups that organize the games to postpone the event for one year. "This is not solely about athlete health — this is about public health," the group said.
In a similar statement announced Monday in Australia, that nation's organizing committee said its board had "unanimously agreed that an Australian Team could not be assembled in the changing circumstances at home and abroad."