The global death toll from COVID-19 has surpassed 30,000, according to John Hopkins University, as the Center for Disease Control and Prevention issued a travel advisory for New York, New Jersey and Connecticut, where the coronavirus outbreak has hit the U.S. hardest.
Elsewhere, U.K. Prime Minister Boris Johnson wrote residents urging them to stay home during the country's weeks-long lockdown. Johnson, who recently tested positive for coronavirus, said "things will get worse before they get better." The U.K. has surpassed 1,000 known deaths.
Full coverage of the coronavirus outbreak
Download the NBC News app for latest updates on the coronavirus outbreak.
This live coverage has ended. Continue reading March 30 Coronavirus news.
Italy's churches filling up with coffins
China claims domestic spread basically blocked, but warns of imported cases
China's National Health Commission spokesperson Mi Feng said in a briefing that on March 28 the number of confirmed cases had dropped to less than 3,000, and the spread of the local coronavirus cases had been basically blocked.
A total of 693 overseas imported confirmed cases from 42 countries have been reported, of which seven countries have a larger number of cases than China, accounted for 83.4% of the total. Officials warned these imported cases are still likely to cause a new round of spread within China.
Officials previously claimed on March 23 to have mostly halted domestic cases. The National Health Commission reiterated this on March 29 as China's existing confirmed cases dropped to a new low, but warned the country should stay on high alert.
Coronavirus could kill over 100,000 Americans, White House expert warns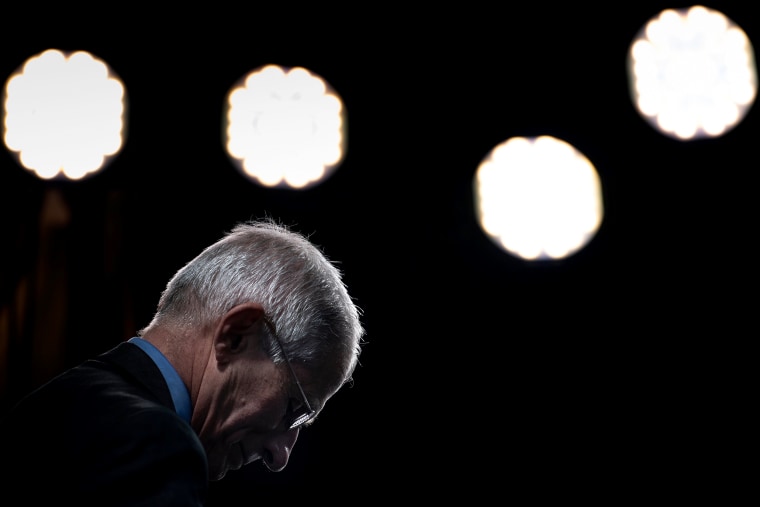 Dr. Anthony Fauci said Sunday that he anticipates the coronavirus could kill between 100,000 and 200,000 Americans while infecting "millions."
Speaking with CNN's "State of the Union," the director of the National Institute of Allergy and Infectious Diseases said however he does not want to be "held" to that prediction because the COVID-19 outbreak is "such a moving target."
'Like sitting ducks': Amid coronavirus, families, attorney sound alarm over ICE detainees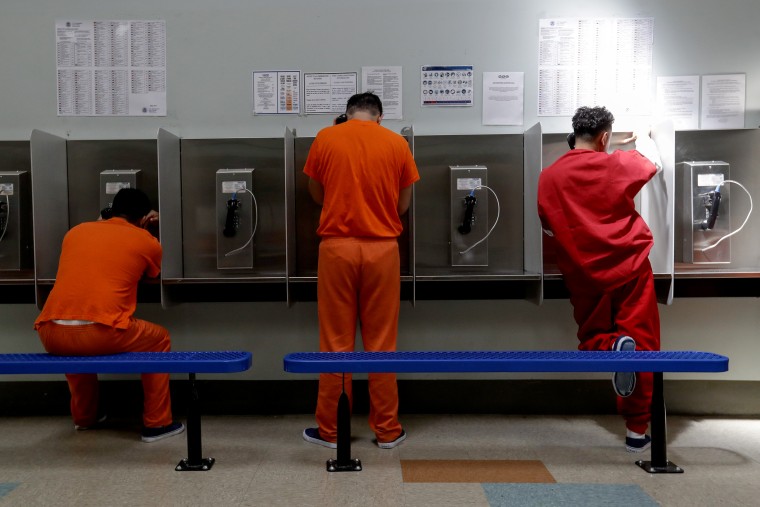 Americans with family members in immigration detention facilities, as well as their lawyers, are sounding the alarm and urging the release of non-violent detainees with underlying health conditions amid the COVID-19 pandemic.
On March 24, Immigration and Customs Enforcement announced the first confirmed case of COVID-19 in a person held in an immigrant detention center.
"This is what public health experts have assured us would happen: People in detention centers are sitting ducks for the spread of this virus. The same experts have also predicted that once outbreaks in detention centers begin, they will spread rapidly," Andrea Flores, deputy director of policy at the ACLU said in a statement.
VA opens its hospital beds to non-veterans to assist New York City
The Department of Veterans Affairs said Sunday that it would be opening up 50 beds in two of its hospitals to help New York City in its efforts to combat the coronavirus. 
Non-veteran patients who need treatment for ailments other than COVID-19, the disease associated with the virus, will be eligible for 35 acute care and 15 intensive care unit hospital beds. The transfer of five non-COVID patients from community hospitals to VA campuses in Manhattan and Brooklyn is already underway, the department said. 
"VA is proud to assist the City of New York while continuing its primary mission of caring for our Nation's Veterans," VA Secretary Robert Wilkie said in the Sunday press release.
Governors warn shortages will put their states in 'dire straits' as early as this week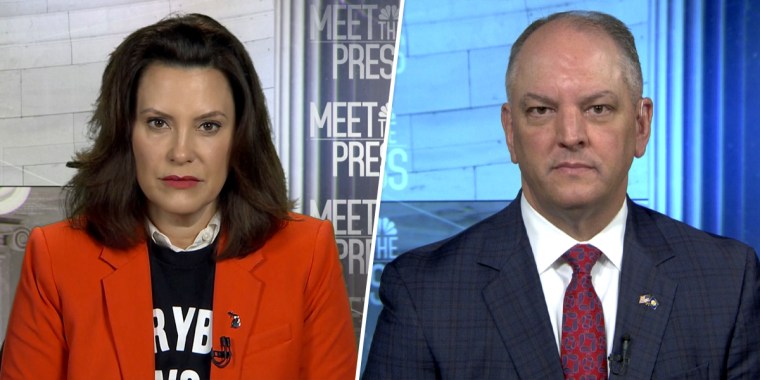 WASHINGTON — Two governors of states seeing a surge in coronavirus cases sounded the alarm Sunday about the lack of resources to respond to the crisis and warned that shortages of ventilators and protective equipment could overwhelm hospitals as soon as this week.
Appearing on NBC's "Meet the Press," Michigan Democratic Gov. Gretchen Whitmer said that some hospitals in her state are "already at capacity," and that even despite receiving new shipments of protective equipment as recently as Saturday, her state is "going to be in dire straits again in a matter of days."
Photo: Shopping in Madrid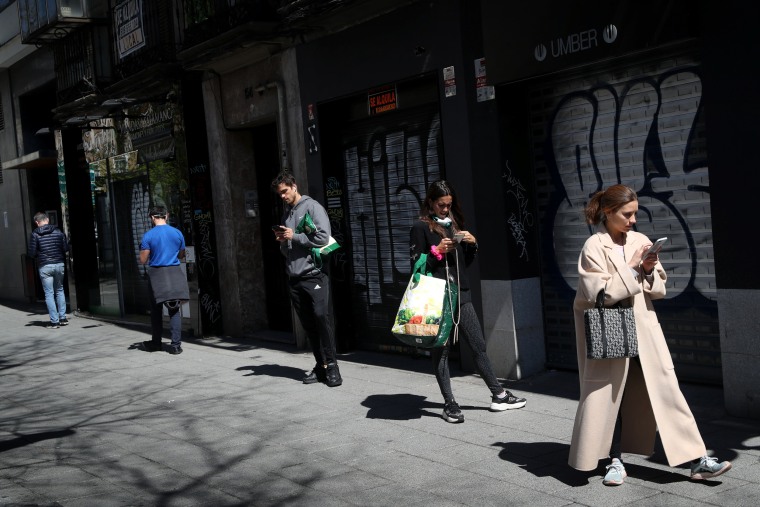 Owner of the New York Knicks and Rangers tests positive
Madison Square Garden Company Executive Chairman and CEO Jim Dolan has tested positive for coronavirus.
Dolan is the owner both the New York Knicks and New York Rangers sports teams. He also operates the famed Manhattan arena, Madison Square Garden.
The 64-year-old has been in self-isolation and is experiencing little to no symptoms, according to a tweet from the Knicks Saturday night.
Social distancing halved rate of spread in Australia, PM says as lockdown measures increase
The rate of spread of the novel coronavirus in Australia has halved in recent days, Australian Prime Minister Scott Morrison said on Sunday as he announced an additional 1.1 billion Australian dollars (about $680 million) to expand telemedicine care and other health services.
The daily increase in cases in recent days was at about 13 percent-15 percent, down from 25 percent-30 percent seen a week ago, showing social distancing measures were working, Morrison said. He acknowledged, however, that these were still strong rates of increase.
As such, Morrison said that public gatherings should not exceed two people, and stressed Australians should go out only when necessary. There are nearly 4,000 confirmed cases in Australia on Sunday and 16 deaths, health officials said.
Also on Sunday, neighboring New Zealand saw its first death related to the virus, with cases rising to 514 confirmed infections.
Spain reports record daily death toll as lockdown is extended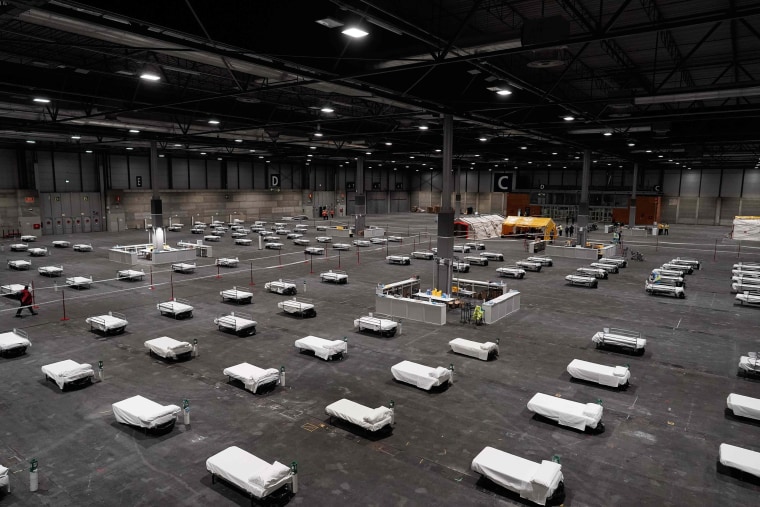 Spain has reached a daily record for virus deaths with 838 fatalities in the last 24 hours, according to the country's Ministry of Health. This brings the total number to 6,528, the world's second-highest country behind Italy.
Sunday's number is slightly up from Saturday when 832 people were reported to have died from the virus. The number of confirmed infections rose by more than 6,500 from Saturday to 78,797 cases on Sunday, the Ministry of Health said.  
Spain's Prime Minister Pedro Sánchez said in a press conference on Saturday that all non-essential workers in Spain are ordered to stay home for two additional weeks of lockdown from Monday until April 9. He added that workers will receive their usual salaries but would have to make up lost hours at a later date.
Sánchez also said the Spanish Ministry of Health has bought healthcare supplies from China, including 659 million face masks. He called the outbreak, "the worst crisis in Europe since World War II."
Reporter's notebook: The virus renders Rome silent
ROME — "Chiuso." Italy is closed.
Usually a trip to Rome is a dream assignment. But not when your flight lands and you learn that the prime minister has just declared all of Italy a "Zona Rosa," or a red zone.
The minute we touched down last week, camera operator Angela Neil and I received alerts on our phones announcing that the rules that had been in place for northern Italy were now the law of the entire land: Only leave your house for essential business; restaurants must close at 6 p.m.; all public gatherings are canceled.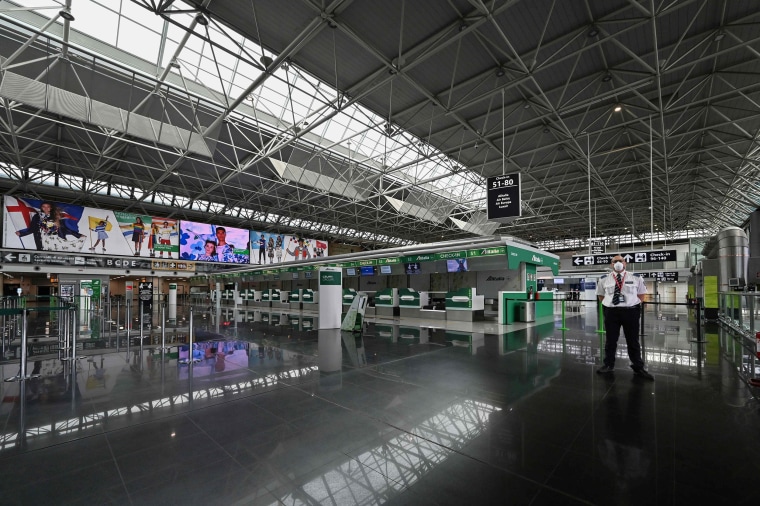 The first sign that things were going to be different on this trip came when we passed through a completely empty customs hall after having our body temperatures checked by security staff wearing masks and gloves.
India's prime minister apologizes as lockdown criticism mounts
Indian Prime Minister Narendra Modi asked the nation's poor for forgiveness on Sunday, as the economic and human toll from his 21-day nationwide lockdown deepens and criticism mounts about a lack of adequate planning ahead of the decision.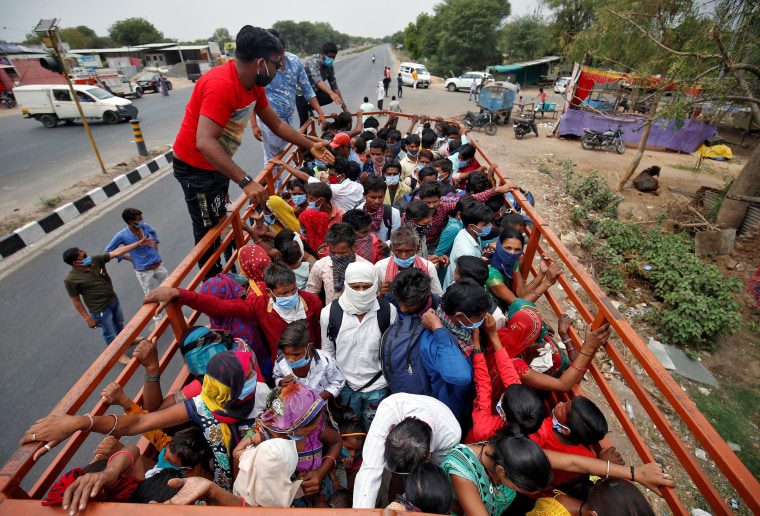 Modi on Tuesday announced a three week-lockdown to curb the spread of the virus that has particularly stung millions of India's poor, leaving many hungry and forcing tens of thousands of jobless migrant laborers to walk hundreds of kilometers from cities back to their native villages.
"I would firstly like to seek forgiveness from all my countrymen," Modi said in a nationwide radio address.
While he acknowledged the poor "would definitely be thinking what kind of prime minister is this, who has put us into so much trouble," he urged people to understand there was no other option. 
Modi — whose government on Thursday announced a $22.6 billion economic stimulus plan to provide direct cash transfers and food handouts to India's poor — however, did not offer any clarity on future plans.
Scottish city-dwellers fleeing to remote areas are told to go home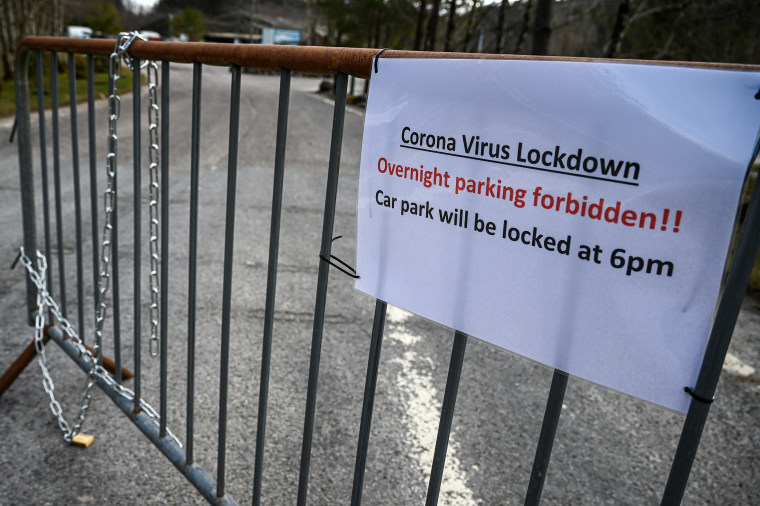 In the Outer Hebrides, a remote island chain off the west coast of Scotland, there has yet to be a confirmed case of the coronavirus. But local leaders are worried.
An image shared by lawmaker Angus MacNeil paints a bleak picture of preparedness there: a primitive row of camp beds, each with a thin red blanket and blue pillow, sitting empty in a village hall. No ventilators, no testing kits.
MacNeil's message, and that of officials across Scotland's typically tourist-friendly Highlands and Islands region, is clear: Do not come.
But people have not been listening. Last weekend saw a spike in arrivals at northern Scotland's world-renowned sites of natural beauty. Mountain trails were bustling, campsites full, and mobile-home parks at capacity.
U.K.'s Boris Johnson warns 'things will get worse before they get better'
British Prime Minister Boris Johnson has written to every household in Britain urging people to stay indoors and save lives during the outbreak. 
Sent out to around 30 million households in the country in the coming days — the letter implores citizens follow the new set of rules and affirms that the government will work to mitigate the coming financial impact, saying it will "do whatever it takes to help you...put food on the table."
News of the letter being sent to U.K. households comes as the country surpassed 1,000 confirmed deaths. On Saturday, the national medical director of the NHS said that the U.K. will have done well "if it comes through the coronavirus crisis with fewer than 20,000 deaths."
"We know things will get worse before they get better," Johnson's letter said. The prime minister himself has recently tested positive for the virus. On Sunday, senior minister Michael Gove told the BBC that Britons should be prepared for a significant period in lockdown.
Train services reopened in Wuhan, China
The Chinese city where coronavirus originated has reopened subways and long-distance train service in another step toward ending restrictions that confined millions of people to their homes.
Subway passengers were still required to wear masks and be checked for fever after service resumed Saturday, the official Xinhua News Agency reported. It said signs posted in subway cars tell passengers to sit with empty seats between them.
While most access to Wuhan — a city of 11 million people — was suspended Jan. 23, restrictions have gradually been relaxed. The last controls that block residents of Wuhan from leaving Hubei are due to be lifted April 8.
As of Sunday, China reported five new deaths and 45 new confirmed virus cases. While all the deaths were in Hubei province, all but one of the new cases were people who were infected abroad, according to the National Health Commission.
Global deaths surpass 30,000, John Hopkins University reports
The global death toll from the coronavirus surpassed 30,000 deaths on Sunday, according to John Hopkins University. More than 10,000 of those occurred in Italy.  
The disease has now infected over 660,000 people around the world, according to statistics compiled by the university.
The United States has more confirmed cases than anywhere in the world with more than 124,000 cases confirmed as of Sunday. Italy has the second most with 92,472 and China follows with 82,061 cases.
Number of positive tests doubling every three to four days, French PM says
The number of positive coronavirus tests are doubling every three to four days in France, the country's Prime Minister Edouard Philippe said in televised address on Saturday.  
"We are in the midst of a combat that is going to last long," Edouard Philippe said, adding that the nation which has recorded 37,575 confirmed cases and 2,314 deaths needed to adapt quickly. 
Philippe said Friday he had decided to extend the country's coronavirus lockdown by two weeks until April 15.
Meanwhile, health minister Olivier Veran said that every respirator in France has been requisitioned for use and one billion masks has been ordered from abroad. 
Tokyo records biggest single day spike in coronavirus cases: Report
Tokyo recorded 68 new coronavirus cases in 24 hours, Japan's national broadcaster NHK reported Sunday. It was the largest single-day spike in the Japanese capital.
Three cases were in people who returned from the U.S. and Europe, city officials said. Another 23 cases are of unknown origin, NHK reported. 
Japan's Prime Minister Shinzo Abe on Saturday promised an unprecedented package of steps to cushion the world's third-biggest economy from the pandemic, saying the country was close to a national emergency as infections surged.
Nearly 1,700 coronavirus cases have been registered in Japan so far, with a death toll of 52, excluding those from a cruise ship quarantined last month. 
Washington state warns COVID-19 patients to self-isolate or risk detention
The public health officer for King County in Washington warned residents with COVID-19 symptoms or pending tests that they could be detained if they don't self-isolate or check into a hospital.
"To protect the public, if an individual with active COVID-19 is not voluntarily remaining isolated, or if an individual who has COVID-19 symptoms (fever, cough, and/or difficulty breathing) with a test pending is not remaining self-quarantined, they may be subject to enforcement actions, which could include legal actions for involuntary detention," said Dr. Jeff Duchin, public health officer for Seattle and King County, in a statement.
Residents are allowed to leave isolation only after three days have passed since recovery and at least seven days after first experiencing symptoms, according to the directive. King County has been one of the hardest-hit areas in the U.S.
More than 10,000 dead in Italy
Italy's coronavirus death toll topped 10,000 on Saturday, despite a national lockdown that has been in place for three weeks. The news follows a grim 919 deaths related to COVID-19 on Friday, the most in a single day of any country.   
Italian officials are considering whether to extend that lockdown into mid-April. In an effort to prevent people from leaving their homes, fines have increased from about $200 to more than $3,000.