The number of coronavirus cases continued to accelerate in the United States on Tuesday, and early Wednesday Senate leaders announced they had reached a deal on a massive $2 trillion spending bill aimed at alleviating the economic impact of the outbreak.
The White House coronavirus coordinator asked people who have recently been in New York, where the death toll continues to climb, to quarantine themselves for 14 days, because they may have been exposed before leaving.
President Donald Trump is pushing for the country to get back to business by April 12, Easter Sunday, when he said he would like to see churches full of people.
And after growing international pressure, Japan and the International Olympic Committee agreed to postpone the 2020 Tokyo games until next year but said they would happen no later than summer 2021.
Full coverage of the coronavirus outbreak
Download the NBC News app for latest updates on the coronavirus outbreak.
This live coverage has ended. Continue reading March 25 Coronavirus news.
Commuters squeeze into London Tube, despite lockdown measures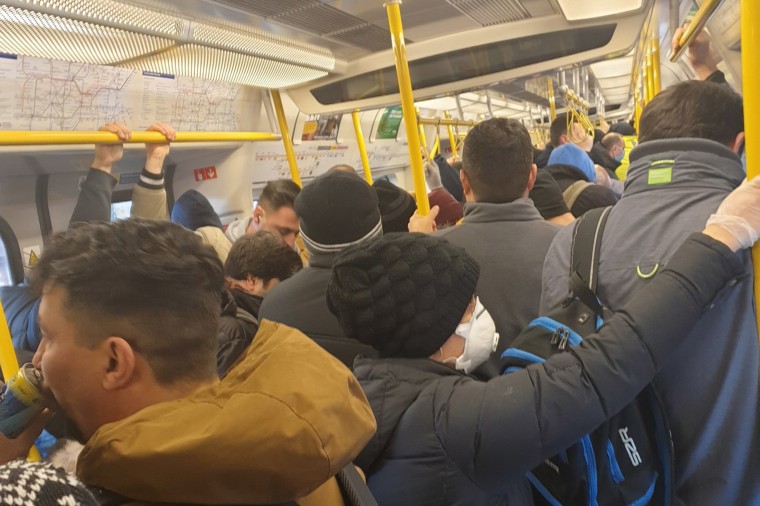 The morning after the U.K. government announced a three-week lockdown and asked the British public to limit their movements to curb the spread of coronavirus, London's Underground was still full. 
Videos shared by commuters on social media show train cars and platforms rammed with people standing in close proximity to each other. 
London Mayor Sadiq Khan implored city residents to stop all non-essential use of public transport.
"Ignoring these rules means more lives lost," Khan said in a tweet. 
He also warned that a growing number of public transport staff are off work sick or self-isolating, limiting the city's capacity to run more services.
Wuhan travel restrictions set to end on April 8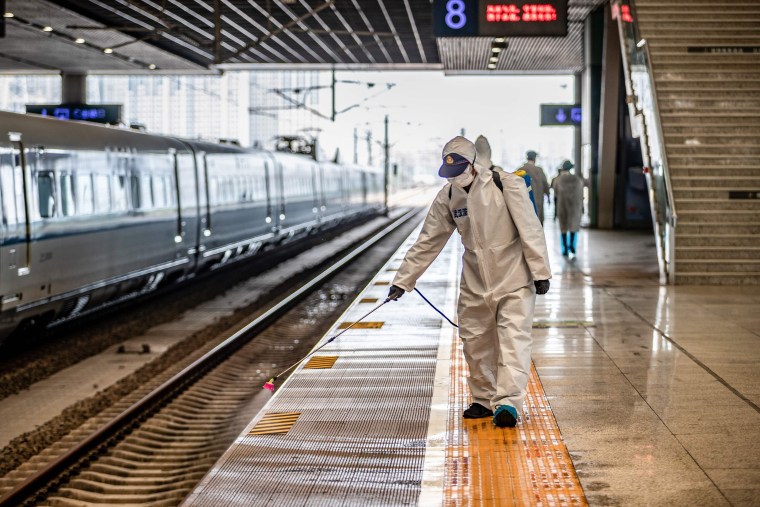 Travel restrictions in and out of Wuhan, the city in central China where the coronavirus is believed to have originated, will lift on April 8, local authorities announced Tuesday.
Life in Wuhan ground to a standstill in January after the Chinese government moved to completely shutter public transportation, highways, airports and businesses as the number of coronavirus infections rose. The city's 11 million residents were told to stay at home and leave only in cases of emergency.
Dozens of countries, including the United States, evacuated their nationals from Wuhan after the outbreak began. In recent weeks, China has seen a steep drop in the number of new infections in Wuhan and across the country, and officials are now shifting their attention to battling cases of the virus that are coming in from abroad.
Hospitals limiting visitors in delivery rooms
Mothers-to-be spend months perfecting their birth plans. And while births often don't go according to those plans, most women find comfort in knowing they have support — and at least one person advocating for their wishes. Yet thanks to the coronavirus outbreak, this may not be the case for women delivering babies in the next few months.
Hospitals across the country are limiting visitors and the number of people who can be in a room with a woman while she gives birth.
One hospital in New York City has enacted the strictest policy yet: Banning partners from delivery rooms.
Department of Homeland Security delays 'Remain in Mexico' hearings
The federal government on Monday delayed upcoming hearings for asylum-seekers who have been detained and are awaiting U.S. court proceedings in Mexico.
In a statement, the Department of Homeland Security said that detainees who have hearings within the next month under the Migrant Protection Protocol program — also known as "Remain in Mexico" — will be rescheduled.
The department said that migrants should present themselves to border agents on their previously scheduled dates to get a new court hearing.
A coalition of lawyers and judges called on the government last week to shutter immigration courts and delay hearings for migrants in response to the coronavirus pandemic. 
More inmates released from Rikers Island
Hawaii, Alaska close businesses, tell residents to stay home
Hawaii and Alaska ordered businesses shuttered and told residents to stay home on Monday, becoming the latest states to implement sweeping measures in an attempt to limit the spread of coronavirus.
In Hawaii, where 77 cases have been confirmed, Gov. David Ige said that beginning Wednesday, people should leave their homes only to go to the grocery store, bank or another "essential" business. He said outdoor exercise is allowed as long people remain six feet apart from each other.
"The threat of COVID-19 is unprecedented, and it requires even more actions," he said.
In Alaska, officials closed hair salons, barbershops and other businesses where people gather. Visitors from out of state will also be required to self-quarantine for two weeks. The orders go into effect Tuesday and Wednesday, Alaska Department of Health Commissioner Adam Crum told reporters.