A controversial rule change that allowed a young Pennsylvania girl to get a life-saving lung transplant is now permanent, paving the way for other children to receive expanded access to the organs in short supply.
The board of directors of the Organ Procurement and Transplantation Network, or OPTN, a federal contractor that oversees organ allocation, voted Monday to finalize the policy put in place last year after a high-profile fight over the fate of Sarah Murnaghan.
Sign up for health news direct to your inbox.
Sarah, 11, who has severe cystic fibrosis, was weeks away from death in June 2013, when her parents went to federal court to force OPTN to allow her to be considered for lungs from adolescent and adult donors, not just children younger than 12, as existing rules required. They argued that the severity of illness, not age, should determine whether children get access to organs.
A judge granted the demand over the objections of then-Health and Human Services Secretary Kathleen Sebelius and criticism from many in the transplant field. OPTN officials drafted a temporary policy that allowed transplant patients younger than 12 to request exceptions to the rule, but set an expiration date of July 1.
"Any allocation must weigh the unique needs and circumstances of transplant candidates with the benefit a transplant can provide them," OPTN's board secretary Dr. Stuart Sweet, said in a statement, adding that there are few candidates in the age group and they have very different needs than youngsters even a few years older. "This exception is meant to provide an appropriate balance for a specific group of candidates."
Monday's vote marks a hard-won victory, said Sarah's parents, Janet and Fran Murnaghan of Newtown Square, Pennsylvania, who insisted they sought the change not only for their own daughter but also others like her.
"We didn't know if the rule would become permanent, but are thrilled that it appears that it will for two reasons: more children will be fortunate enough to receive life-saving lung transplants, and the medical community has decided that this is the right step to take," Janet Murnaghan wrote in an email to NBC News.
"There was a lot of criticism of us using the legal system to get lungs for Sarah, but that was the absolute last resort after we followed every other process and had been unsuccessful," she added.
"More children will be fortunate enough to receive life-saving lung transplants, and the medical community has decided that this is the right step to take."
Today, Sarah is breathing on her own, without mechanical aid, for the first time in three years, her mother said. She still requires physical rehabilitation, but she is getting stronger and healthier with plans to return to school as a sixth-grader this year.
As of Monday, there were 1,680 people in the U.S. waiting for lung transplants, including 16 aged 10 and younger and 25 aged 11 to 17, according to OPTN.
At least 11 children in addition to Sarah sought the exception to the rule during the past year, according to records from the United Network for Organ Sharing.
Sarah actually received two sets of adult lungs, including a first set that failed. Seven patients, including Sarah, received transplants. One received lungs from an adolescent donor and five received lungs from pediatric donors age 11 and younger. One patient was removed from the waiting list because he or she was too ill to transplant and another was removed for an undisclosed reason.
Three patients granted exceptions died while waiting for transplants, UNOS records show.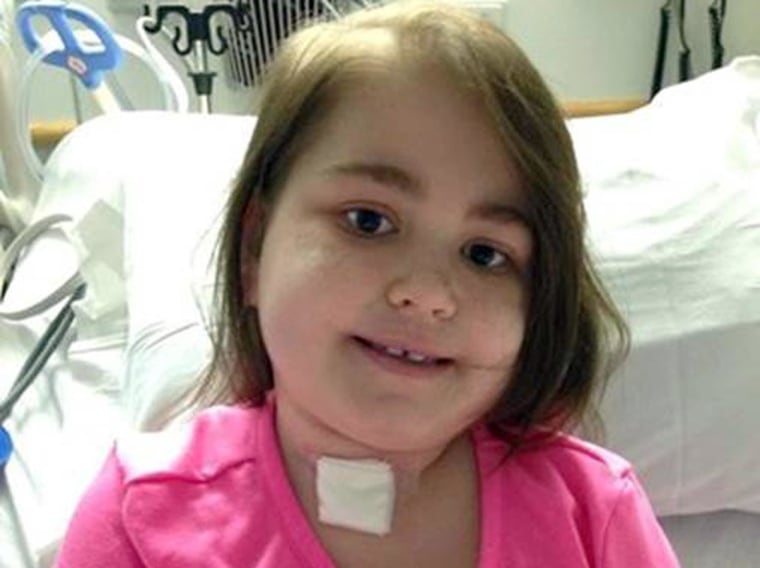 Javier Acosta, a second cystic fibrosis patient who also went to court to force OPTN to add him to the expanded list, turned 12 while waiting and received a lung transplant in October, according to a statement from his mother, Milagros Martinez.
"We are deeply grateful to the donor, the donor family and the wonderful doctors and staff," Martinez wrote in a letter shared by her lawyer in December. "We offer our sincere thanks to those who helped us and supported us and prayed for us."
Such positive outcomes are evidence that the previous policy needed to be changed — even though there was considerable friction in the transplant field over being forced into doing it, said Sweet, who is also director of the pediatric lung transplant program at Washington University in St. Louis.
"On day one of this story, I think I said it's a zero sum game and we have a policy and we shouldn't change it," he said.
But he said he now believes that children deserve the benefit of the doubt when being considered for lung transplants — and he doesn't fault the Murnaghans for advocating so forcefully for their daughter.
"You know what? I'm never going to challenge a family for trying to care for their kid," he said. "I think the system wouldn't have changed as fast if the Murnaghans hadn't gotten involved."
It would take further action by the OPTN board to change or reverse the policy, Sweet noted.
In fact, he said he would like to see the lung allocation system overhauled even further, so that all lungs donated by children and adolescents would go to the youngest recipients first. As it stands now, more than 90 percent of lungs from donors ages 12 to 17 go to adults instead of children.
"At the end of the day, the game is not to reward the person who yells the loudest, but to have the best allocation of scarce organs."
Still, the question of changing an established policy based on a judge's order instead of a doctor's judgment continues to trouble critics like Art Caplan, director of the division of medical ethics at New York Langone Medical Center.
"For me, it's been a pleasant surprise that Sarah's done well," he said. "But if she lives only a few years and dies, we won't think that's the best use of scarce — and very expensive — resources."
He said he's pleased that the committee has made the policy permanent through established mechanisms instead of public pressure.
"At the end of the day, the game is not to reward the person who yells the loudest, but to have the best allocation of scarce organs," he said.
Sarah's parents brush off such criticsm. Janet Murnaghan said she's heard from many other families of critically ill children who share their concerns. "We feel honored to be in this position," she said. "We have met so many heroic families."
Meanwhile, the Murnaghan family is expanding again. Janet Murnaghan, 39, is expecting the family's fifth child later this year. Tests show this baby is healthy, she said.