A new gene therapy to treat progressive blindness will cost $850,000, the company that makes it said Wednesday.
But the company has laid groundwork for innovative ways to pay for the drug though deals with an insurance company, a pharmacy benefit manager and negotiating with the federal government. The company hopes its $425,000-per-eye treatment may eventually lead to new ways to pay for extremely expensive new therapies.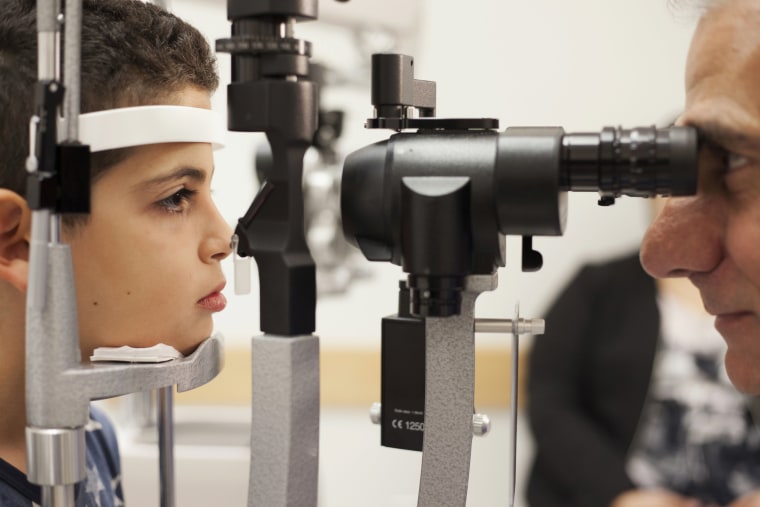 Luxturna was just approved by the Food and Drug Administration last month after a dramatic hearing where teenagers spoke of seeing the stars in the night sky for the first time in years and at which eye doctors with no links to the company or the drug pleaded for its approval.
It's the first true gene therapy approved in the U.S. for an inherited genetic disease — vision loss caused by mutations in a gene called RPE65. It's very rare, affecting only a few thousand people in the U.S.
Related: FDA panel says approve gene therapy for blindness
The mutation causes the gradual disruption of the cells located in the back of the eye that form the retina. Patients gradually lose their vision and go blind. There's no cure now.
The treatment involves injecting a modified cold virus — one called an adeno-associated virus — directly into the eye to deliver corrected genes to the retina.
Surprisingly, a single treatment helped most of the 21 volunteers who got it, reversing vision loss almost immediately.
Drug companies usually make money by selling drugs over and over again to the same patients and to new patients. For instance, cholesterol-lowering drugs must be taken daily for life and they are taken by millions of people.
Related: New group takes on higher drug prices
But how does a company make money on a one-time drug that costs so much to prepare?
Spark Therapeutics, which makes Luxturna, says it has a plan.
"We have been working with stakeholders across the health care sector to help ensure that appropriate patients have access to a product that challenges all of the current conventions of how patients are treated, how products are delivered and how payments are handled," said Jeffrey Marrazzo, chief executive officer of Spark Therapeutics.
Related: Could your health insurance company be costing you money?
"Over these past few months, we have been working with health insurers to create innovative pathways for access to Luxturna that may serve as models for other one-time administered gene therapies in the future," Marrazzo said in a statement.
"Our work is not done, but we believe that the offerings we are announcing today will help ensure that eligible U.S. patients have the coverage and financial support they need to gain access to both Luxturna and the specialized medical care required to deliver the product at treatment centers."
"It's wildly expensive but, to be very frank, I think they've priced it what I'll call responsibly."
For instance, it's negotiated an agreement to refund money to Harvard Pilgrim, a not-for-profit health services company, if patients don't get better vision long-term.
And it's in negotiations with the Centers for Medicare and Medicaid Services, the federal government health insurance agency, to come up with ways to let insurers pay by installments.
"We are also eager to work with CMS to enable more meaningful rebates as part of the pay-for-performance model," Marrazzo said.
Related: Congress may be to blame for higher drug prices
"It's wildly expensive but, to be very frank, I think they've priced it what I'll call responsibly," Dr. Steve Miller, chief medical officer of pharmacy benefits manager Express Scripts, told CNBC.
"The product is just phenomenally innovative, and we've been talking about gene therapy for over 20 years; we're now at the threshold of having gene therapy reaching patients."
Express Scripts has a deal with Spark to distribute Luxturna.
"We've got to figure this out, because — let's be frank — there are going to be more of these drugs coming to the marketplace for even bigger populations," Miller said.
Another company making pricey treatments has a plan to offer rebates if patients don't get better. Novartis announced in August that it had made a deal with CMS, that it would not charge for patients who did not respond within the first month to its cancer therapy Kymriah, which costs $475,000 per treatment.
But patient advocate groups aren't buying it.
"Spark Therapeutics is charging as much for Luxturna as they think they can get away with," said David Mitchell, a patient with incurable blood cancer and the president of Patients For Affordable Drugs.
"Luxturna offers hope to hundreds of patients. But the question that must be asked is this: what is a fair price that will maximize affordability and accessibility and provide a reasonable return for the drug? The answer to that is certainly not the $850,000 price tag announced today."
If insurance companies pay for patients to be treated, they'll pass along the costs to other patients in the form of higher premiums, Public Citizen's Peter Maybarduk said.
"Spark CEO Jeffrey Marrazzo's comments, implying that $850,000 represents something other than greed, are absurd and obscene," Maybarduk said.
"Our health care system is cracking under the strain. Congress and the Trump administration must establish basic disciplines for medicine affordability," he added.
Gene therapy can be especially risky and expensive to develop, but the company got tax breaks, Public Citizen noted.
"Spark must disclose its research and development costs for Luxturna so that analysts, payers and the public have a basis to assess Spark's decision. The public deserves to know what return we can expect on our taxpayer support for Luxturna," Maybarduk said.