Karly Fitzgerald is getting very good at giving vaccines.
The 22-year-old nursing student at the University of Massachusetts Amherst figures she has given about 60 vaccines already on a Friday in early December. She's one of many nursing students called in for duty as the school tries to vaccinate as many of its 30,000 students as possible against meningitis B.
"I definitely feel I am an expert at IM (intramuscular) injections now," said Fitzgerald, a senior from West Roxbury, Massachusetts.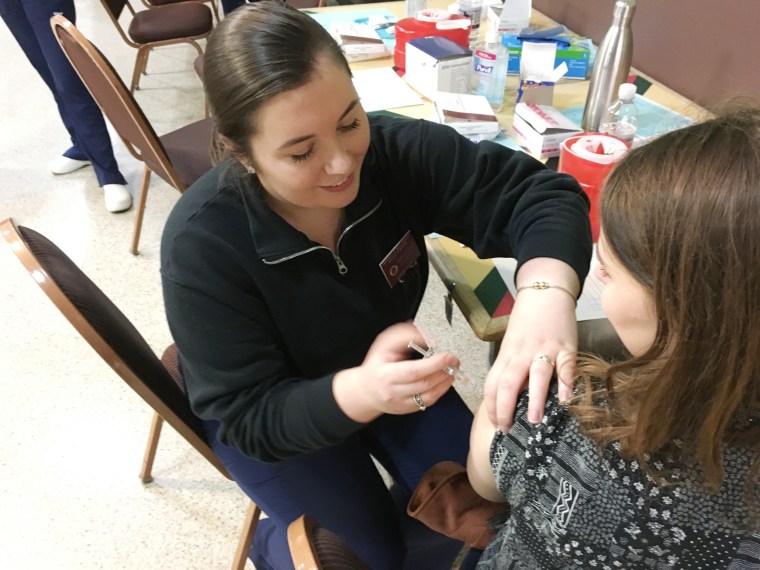 Meningitis B is caused by a bacterial infection and it can be deadly. There's a vaccine to protect against it, but because meningitis B is rare, it's not part of the usual vaccine schedule.
The Centers for Disease Control and Prevention recommends giving the vaccine to people at high risk, which includes college students when there is an outbreak.
Related: Moms urge parents to consider meningitis B vaccine
Last October, two students at UMass came down with meningitis B. Both recovered, but genetic tests showed they had the same strain of the infection.
"Because these two students were not in close contact with each other, these two cases raise our level of concern," the university said in a statement.
"This means that there may be an increased risk of meningococcal disease for other undergraduates on campus. We recommend that all undergraduate students get vaccinated to help prevent further cases."
Thus, the vaccine clinics.
The university estimates that as many as 3,000 students had been vaccinated by Friday morning, and Fitzgerald estimates another 800 more had been immunized by mid-afternoon Friday.
Several strains of meningococcal bacteria can cause meningitis, an inflammation of tissue surrounding the spinal cord.
Related: FDA approves new meningitis B vaccine
It can kill.
"Because the disease can be so serious, we have given antibiotics to people who had close contact with the two sick students," the university said.
"These antibiotics will temporarily prevent those close contacts from also getting sick."
The vaccine routinely given to teenagers only protects against types A, C, W and Y.
After an outbreak of meningitis B at Princeton University in 2013, the CDC and the U.S. Food and Drug Administration imported emergency doses of the meningitis B vaccine Bexsero — which at the time was not approved in the US. The FDA fast-tracked the approval of Trumenba in 2014, followed by Bexsero in 2015.
People need two doses at least 20 days apart to be fully protected and they need the same brand of vaccine for both doses.