Sen. John McCain's recovery from brain surgery may result in a longer-than-expected delay in the GOP's vote on the Republican health care bill. And the 80-year-old Republican senator should take as much time as he needs, doctors caution.
Because brain surgery is never minor.
On Friday, doctors removed a small blood clot above McCain's left eye, recommending that he rest at his Arizona home for a week thereafter.
The type of surgery performed on McCain is called a "keyhole" craniotomy via eyebrow incision, which is simply an opening of the skull along the eyebrow to remove a blood clot in or near the left frontal lobe of the brain. While there are no clear medical reports on the precise location of McCain's clot, the area is very important to memory, right-sided movement, behavior and our ability to produce language. The procedure was performed following a routine annual physical.
Did symptoms prompt a scan?
Why doctors performed a neurological evaluation on McCain is unclear. Details on the senator's official diagnosis and prognosis are still forthcoming, leaving medical experts to speculate why he received neurological imaging on routine examination in the first place.
"You wouldn't look for, nor could you find, a clot on routine examination," said Dr. Michael DeGeorgia, professor of neurology and director of the Neurocritical Care Center at University Hospitals Cleveland Medical Center.
"But if a patient presented with weakness of the arm or leg, speech problems, or suddenly couldn't understand words, that would prompt CT or MRI imaging," DeGeorgia said. "So it sounds like he either had symptoms that prompted a scan and then they saw the clot or he had a routine scan and they found it incidentally."
The senator has a long history of melanoma, an aggressive skin cancer that can spread to the brain and cause bleeding; his cancer history could have prompted doctors to scan his brain, even in the absence of symptoms. Pathology reports are still pending.
While it's not yet known what prompted the scan, the senator was quickly discharged and is now resting comfortably in his Arizona home, a positive sign of his recovery.
According to a statement issued by his office, "Senator McCain received excellent treatment at Mayo Clinic Hospital in Phoenix, and appreciates the tremendous professionalism and care by its doctors and staff."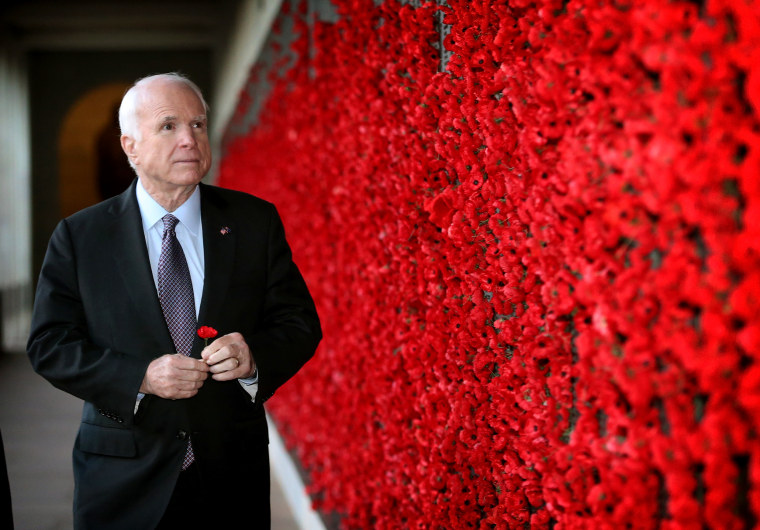 Experts reached by NBC News believe that the senator sustained a subdural hematoma (SDH), an accumulation of blood between the skull and the brain's outermost membrane. In older patients, this can occur after relatively minor injury to the brain. The brain loses volume with age, and as it retracts, the bridging veins from the brain to the dura — the outermost membrane surrounding the brain and the spinal cord — are put under increasing tension, causing them to ooze or leak.
Pressure from this blood accumulation can cause a mass effect, or the pushing of structures inside the brain, causing symptoms that range from incoherent speech and disorganized thoughts to a loss of memory and a change in behavior. Some neurologists even believe that subtle signs — such as frequently losing one's train of thought or disorganized speech — played a part in the decision to evaluate McCain earlier this month, given the senator's age and uncharacteristically incoherent line of questioning during congressional testimony by former FBI Director James Comey.
Related: Sen. John McCain's Questions at Comey Hearing Left Many Confused
No matter the case, surgical attention indicated that doctors believed this to be a serious matter.
A lengthy delay possible
Without knowing the extent of injury sustained, it's impossible to predict how long McCain's recovery will be — or whether a full recovery is even possible. But the senator's advanced age does increase the risk of slower recovery.
With this in mind, it is not surprising that the Senate Republican leader, Mitch McConnell of Kentucky, has already announced that voting on the controversial GOP health care bill will not begin until McCain's return.
Supporters of dismantling the Affordable Care Act may be wise to prepare for a lengthy delay.
CORRECTION (July 17, 9:30 p.m.): An earlier version of this article misstated the location of McCain's treatment on Friday. According to his Senate office, McCain was treated at Mayo Clinic Hospital in Phoenix, not at the Mayo Clinic in Rochester, Minnesota.