They baffle even the finest specialists: rare diseases that affect only a handful of people and that are often caused by extremely rare genetic mutations.
Now the National Institutes of Health is setting up a network of research centers where doctors will examine these unlucky patients, test their genetic codes and swap information on what they find. The hope is that by pooling information and patients, doctors can solve these medical mysteries and perhaps also shed light on more common diseases.
"The Undiagnosed Diseases Network that we are announcing today will focus on the rarest of disorders — often those that affect fewer than 50 people in the entire world," said Dr. Eric Green, director of the National Human Genome Research Institute, one of the NIH institutes. "They are so rare that they may never have been discovered or doctors may never have encountered them."
Sign up for top Health news direct to your inbox.
"They sent us through ever doctor imaginable."
One of the patients who finally got a diagnosis is Louise Benge, 59, from Brodhead, Kentucky. She's been suffering odd pain since she was 16. "By the time I was in my 20s, the pain in my legs was so bad I had trouble sleeping and lots of trouble walking," Benge told reporters. Her brothers and sister shared the mysterious affliction.
Not only did Benge go to her primary care physician, but she beat paths to the doors of vascular specialists, neurologists and other specialists, too. Then she got into NIH's early Undiagnosed Diseases Program.
"At NIH they sent us through every doctor imaginable," Benge said. They had CT scans, MRIs, genetic tests and electrocardiograms. Finally, genetic testing showed Benge and her siblings had ACDC, a rare calcification disorder.
It causes calcium to build up in the blood vessels of her hands, legs and feet but, luckily, not to the heart. Eventually the calcium completely blocks blood flow, causing pain and forcing the body to grow new vessels to bypass the blockage.
Benge and her family members are taking a drug called a bisphosphonate, usually used to treat osteoporosis or brittle bone disease. The hope is it can stop or even reverse the calcium buildup.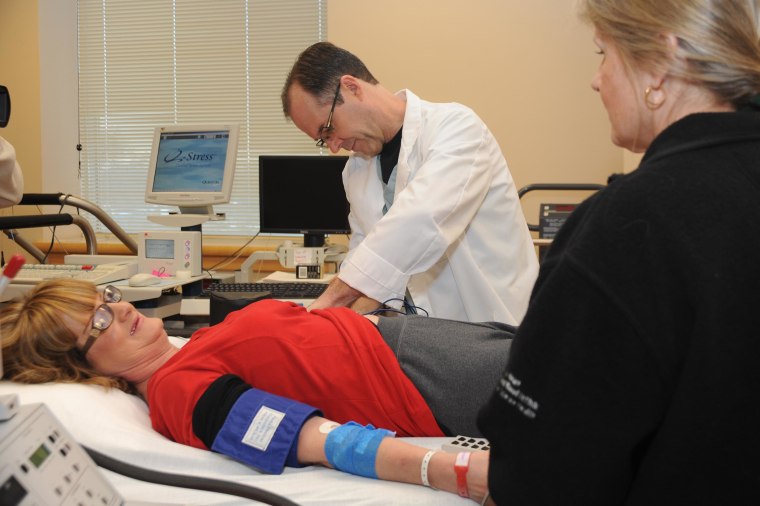 But even if it doesn't help, Benge may already have benefited, says Dr. William Gahl, who directs NIH's Undiagnosed Diseases Program. "We should not underestimate the value of hearing a diagnosis," Gahl said.
People with rare diseases have often lived under a veil of suspicion from loved ones, employers and sometimes even their doctors. "How difficult it is to go through life with that element of desperation,' he said.
"Even though it's a bad diagnosis, they are incredibly grateful and it changes their lives and the lives of their families. Cures and treatments are one thing but changing quality of life is another thing that this program has offered to a number of people."
Rare diseases may each only affect a few people, but collectively they affect about 10 percent of the population, said Dr. James Anderson, director of program coordination at NIH.
"Chances are that you or someone you know is living with a rare disease," Anderson said. "Rare diseases are defined by the 1983 Orphan Drug Act as medical conditions affecting fewer than 200,000 people. Individually, these may be rare conditions, but nearly 30 million Americans— almost one in 10 people—are dealing with the effects of such a condition."
Genome sequencing technology has finally made it possible to find out what's causing many of these conditions, said Green.
"Newly developed methods for genome sequencing now provide us amazingly powerful approaches for deciphering the causes of rare undiagnosed conditions," he said.
"To date, researchers have discovered the genomic bases of more than 5,000 rare genetic disorders, but we are still on the hunt for the cause of an additional 2,000-3,000 single-gene, also called Mendelian, disorders."
What the NIH announced Tuesday is a four-year, $43 million program. Six centers have been given four-year grants of about $7 million each:
Baylor College of Medicine, Houston
Boston Children's Hospital, Brigham and Women's Hospital, and Massachusetts General Hospital
Duke University, Durham, North Carolina
Stanford University, California
University of California, Los Angeles
Vanderbilt University Medical Center
The coordinating center is at Harvard Medical School in Boston. The NIH hopes that each center will be seeing 50 patients a year by 2017.
"If we find a second patient with that same variant then that pretty much nails it."
Up to now, all patients have had to be seen at NIH's clinical center in Bethesda, Maryland. Even so, the interest has been overwhelming. "We have had about 10,000 inquiries," Gahl said. About a third have completed applications to go through the program, which is free of charge. NIH has accepted just 750.
Getting into the program doesn't guarantee a diagnosis, much less a potential treatment. "We think we have got a decent diagnosis in about a quarter to 40 percent or so. It's rough," Gahl said. But the hope is that getting more people into the program will help.
"Patients have many mutations and not clear often which one is causing the symptoms," Gahl said. "If we find a second patient with that same variant then that pretty much nails it."