A mass vaccination campaign against meningitis in New Zealand had an unexpected side-effect — it helped protect people against gonorrhea, too.
The meningitis vaccine lowered the risk of gonorrhea by more than 30 percent, researchers reported in Tuesday's issue of the Lancet.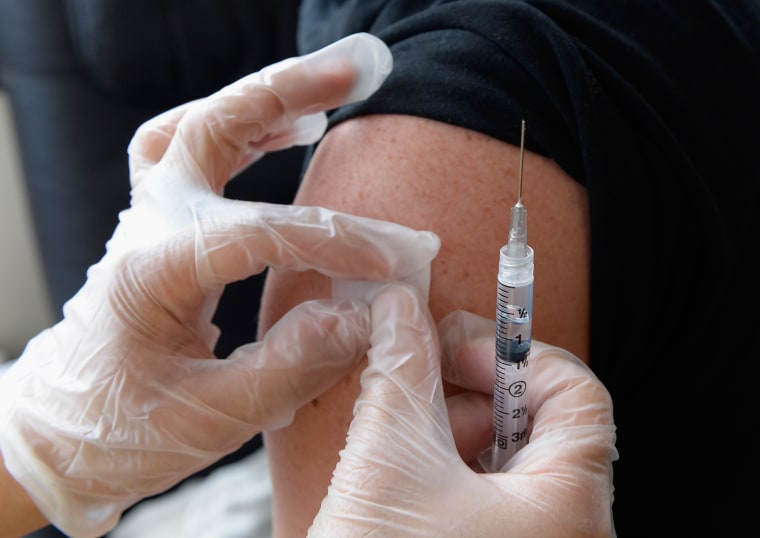 It's surprising news, even though the bacteria that cause gonorrhea and the bacteria that cause meningitis are related. That's because infection with gonorrhea doesn't make people immune to becoming infected again later. And most meningitis vaccines don't seem to have infected gonorrhea rates at all.
And the findings show yet another benefit of vaccinating teenagers — who get recommended vaccines at a much lower rate than younger children do.
Related: Drug-Resistant Gonorrhea is Spreading
"To our knowledge, ours is the first study to show an association between a vaccine and a reduction in the risk of gonorrhea," Dr. Helen Petousis-Harris of the University of Auckland in New Zealand and colleagues wrote in their report in the Lancet.
There had been some evidence that gonorrhea rates went down after use of a vaccine against one strain of meningitis, called meningitis B. This was a particularly tough strain to develop a vaccine against, and other meningitis vaccines don't protect against meningitis B.
The vaccine was used in a mass campaign of a million people in 2004 to 2006. The researchers looked for visitors to sexually transmitted disease clinics to see if having been vaccinated made a difference.
It did.
They found 14,000 people for their study, including 1,200 people who had gonorrhea and more than 12,000 who had chlamydia, another STD. The meningitis vaccine wouldn't be expected to protect against gonorrhea and it did not. But people who got the meningitis B vaccine were about 30 percent less likely to have gonorrhea than those who did not, the team reported.
"There is a disconnect between teenagers' belief that their health is important and their actions."
"MeNZB was developed to control an epidemic and is no longer available," the researchers said. But a new vaccine, called Bexsero, has a similar design and is available in the U.S. It's not clear if it offers any protection against gonorrhea, however.
"There is an 80-90 percent genetic match between the Neisseria gonorrhoeae and Neisseria meningitidis bacteria, providing a biologically plausible mechanism for cross-protection," the team added.
Gonorrhea is very common — there are more than 820,000 cases of gonorrhea every year in the United States, according to the Centers for Disease Control and Prevention. And the World Health Organization warned just last week that hard-to-treat, drug-resistant strains of gonorrhea are spreading globally.
Teens and pre-teens are advised to get vaccinated against meningitis in the U.S. There are two types of meningitis vaccines for preteens and teens: those that protect against the most common strains — A,C, W and Y — and group B vaccines. The CDC says all 11- to 12-year-olds should be vaccinated with a standard meningococcal conjugate vaccine, with a booster dose at 16. It says the meningitis B vaccine is optional.
Related: Meningitis B Vaccine Will be Imported to Fight Ivy League Outbreak
But only about a third of U.S. teens got both recommended doses of meningitis ACWY vaccine in 2015 and just 81 percent got at least one dose, which may not protect fully.
A new survey released Tuesday helps explain why.
It found about a quarter of parents think vaccines are less important for teenagers than they are for younger kids.
The survey by the pro-vaccine Unity Consortium found that 57 percent of parents and teens have safety concerns about vaccines, even though many studies have shown how safe immunization is.
And just 44 percent of doctors have reminders for teenagers and their parents about vaccines, although that's a common tactic for keeping younger children vaccinated on schedule.
The survey of 500 teens, 500 parents, 105 pharmacists and 400 physicians from September also found 23 percent of parents did not know which vaccines are recommended for their teenagers.
Related: Use New Meningitis Vaccines Sparingly, Panel Advises
"There is a disconnect between teenagers' belief that their health is important and their actions," said Dr. Paul Offit, director of the Vaccine Education Center at Children's Hospital of Philadelphia.
"They care about their health. And they trust their doctors and they believe that they should go to their doctors. And yet they don't go. And many parents don't think they need to," Offit told NBC News.
The CDC recommends that teens and pre-teens get four vaccines:
Meningococcal
Tdap (tetanus, diphtheria, and pertussis or whooping cough) and a Td Booster
HPV (human papillomavirus), which protects against the virus that causes cervical cancer, many cases of head and neck cancer and cancers of the penis and anus
Influenza