People traveling to New York City for Gay Pride events over the June 28-30 weekend are being told to seek advice about vaccination for invasive meningococcal disease, in a report released Monday in the Annals of Internal Medicine.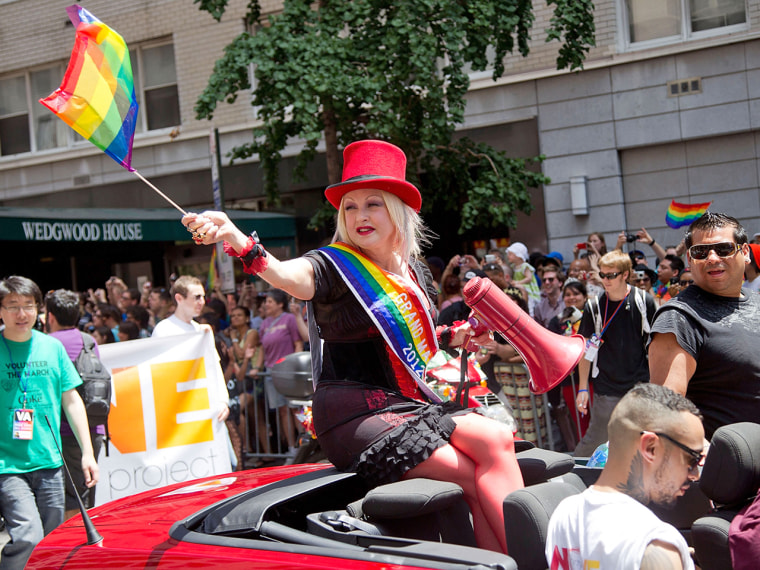 Doctors from Weill Cornell Medical College and the New York City Department of Health and Mental Hygiene are raising the alarm in the article due to a deadly bacterial meningitis outbreak affecting men who have sex with other men.
Since August of 2010, New York health authorities have received reports of 22 cases of the disease among gay men or men who have had intimate encounters with other men. Seven of these men have died, a rate of death significantly higher than that found in the general population where meningitis kills between 10 and 14 percent patients, according to the Centers for Disease Control and Prevention (CDC).
Among 12 men infected with HIV who also came down with meningococcal disease, five died.
Last year, "meningococcal incidence among NYC [men who have sex with men] was 50-fold greater than the age-adjusted rate for the general population," the paper stated.
Los Angeles has also seen cases among the gay community, four since last December. There have also been two previous outbreaks in Toronto and Chicago in 2001 and 2003 respectively. Out of 12 cases in those two cities, 42 percent died.
Many people carry the bacteria that causes meningitis, Neisseria meningitides, in their noses and throats. Among children, the rate of colonization with the bacteria can be as high as 37 percent.
But most don't suffer any consequences. The current rate of invasive disease is tiny, between 0.3 and 0.6 cases for every 100,000 people, according to the Annals report.
For those who do wind up sick, the consequences can be severe. The bacteria invades the linings of the brain and spinal cord, leading to disability, hearing loss or brain damage, or death. It can also enter the bloodstream and cause septicemia.
Fortunately, there's a vaccine – the CDC recommends that all 11 and 12 year olds be vaccinated -- which is why the doctors decided to issue their warning, now, just before Gay Pride weekend celebrations.
"It would be reasonable for people traveling to New York City and participating in the events to talk to their doctors about whether or not they might benefit from vaccinations," Dr. Jay Varma, deputy commissioner for disease control in the city's Department of Health and Mental Hygiene told NBCNews.com.
The city saw one case in 2010, 4 cases in 2011, and 13 in 2012. In October of last year, New York mounted a vaccine campaign targeting gay media, bars, and communities. The drive seems to have succeeded. Although four cases were reported to authorities earlier this year, there have been no cases in the last four months, Varma said.
Los Angeles, which has seen four cases among men who have sex with men, does not currently recommend a vaccine drive, but suggests that "concerned individuals consult their personal health care provider to discuss prevention options, including vaccination." Los Angeles is offering free vaccines at clinics around the county. Providers in San Diego have been advised to talk to their patients who are traveling to the Gay Pride events about the vaccine recommendation in NYC, according to Dr. Eric McDonald, deputy health officer for the county of San Diego .
Following the HIV epidemic that began in the early 1980s, social systems for alerting gay men to health issues became well established. But many men have sex with men "on the down low," Varma explained, and "in black and Hispanic communities, where there's a stigma around sexual identity, we face challenges getting the message out. These are groups that don't necessarily read gay media or websites."
That the outbreak has struck younger men between ages 20 and 40 is another problem since they may not often see a doctor.
Experts are puzzled by the bacteria's virulence and deadliness. The strain involved belongs to serogroup C (there are also A, B, Y, and W-135 strains), which is a typical strain for North America.
"The mortality rates from this strain is higher than is typically seen nationally," Weill Cornell's Dr. Matthew Simon, one of the article's authors, said. "We don't know for sure why."
Having a compromised immune system due to HIV infection is one obvious reason, but, Simon explained, "it's a high mortality rate without HIV, too. What are the underlying microbiological reasons for that? At this point there's not a good answer."
Brian Alexander (www.BrianRAlexander.com) is co-author, with Larry Young Ph.D., of "The Chemistry Between Us: Love, Sex and the Science of Attraction," (www.TheChemistryBetweenUs.com), now on sale.