A federal judge in Texas on Friday suspended the Food and Drug Administration's longtime approval of the drug mifepristone for use in medication abortions, a ruling that is set to go into effect on April 14 unless a higher court intervenes. That would leave only one abortion drug, misoprostol, available in the United States.
But how effective is misoprostol when used on its own for medication abortions?
Medication abortions using both mifepristone and misoprostol are the most common method for ending an early pregnancy, according to Guttmacher Institute, a research group that advocates for abortion rights. In 2020, more than half of abortions in the U.S. were medication abortions, according to the group. 
Mifepristone is given first, followed by misoprostol one to two days later. Mifepristone blocks a hormone called progesterone, which the body needs to support a pregnancy. Misoprostol causes the uterus to contract and empty. As a two-drug regimen, the medications successfully end a pregnancy nearly 100% of the time, according to a 2015 study published in the journal Obstetrics & Gynecology. 
Friday's ruling, issued by U.S. District Judge Matthew Kacsmaryk, would prevent health care providers from prescribing mifepristone for medication abortions. That would mean misoprostol will need to be used as a stand-alone treatment for women who want to end a pregnancy, experts say. 
"It could be very problematic for women seeking abortion in states where it's permitted," said Arthur Caplan, the head of the Division of Medical Ethics at NYU Langone Medical Center in New York City.
Does misoprostol work in medication abortions?
Using only misoprostol to end an early pregnancy is not unheard of. In some countries, mifepristone is not available, and misoprostol is the only option for medication abortion.
But misoprostol used alone for abortion is not as effective as mifepristone and misoprostol used together, according to Dr. Abigail Aiken, an abortion researcher at the LBJ School Of Public Affairs at the University of Texas in Austin.
Studies on the effectiveness of misoprostol alone for abortion vary, Aiken said, but typically range from 84% to 98%. 
Aiken co-authored a study published in February in the journal Perspectives on Sexual and Reproductive Health that looked at misoprostol as a stand-alone treatment for abortion in the U.S. That study found it was 88% effective.
"So it is a dip in effectiveness," Aiken said.
Dr. Rachel Blake, an obstetrician-gynecologist at Beth Israel Deaconess Medical Center in Boston, said that the lower effectiveness carries an increased risk of incomplete abortions.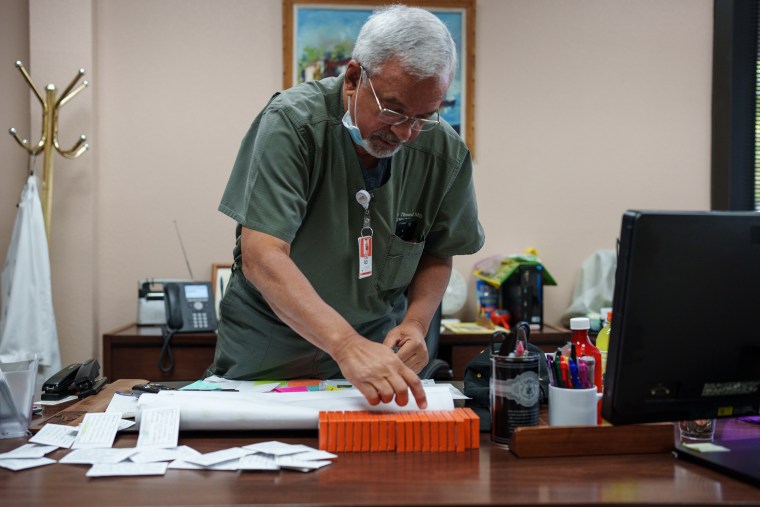 "That's the main thing we worry about," Blake said.
In those cases, patients may be at risk for vaginal bleeding, infection and damage to the uterus, she said. Sometimes patients may need to take an extra dose of the medication to empty the uterus entirely or need surgery to complete the abortion, she added.
It can be "emotionally traumatic" for patients, Blake said, "because they've chosen this method for abortion." 
Studies also suggest that misoprostol alone, compared to the two-drug regimen, can sometimes cause more severe side effects, possibly because people may end up taking more of the drug, said Dana Johnson, a researcher at the University of Texas in Austin who studies misoprostol use. 
Those side effects include fever, chills, nausea, diarrhea, and to a lesser extent, vomiting and cramping, she said. 
However, Johnson said that misoprostol is safe when used appropriately. 
She pointed to international studies, including by research and advocacy group Ibis Reproductive Health, which found more than 500 participants were able to use the medication safely and successfully from home. 
Changes in care
Dr. Kristyn Brandi, an abortion provider and fellow at the American College of Obstetricians and Gynecologists, said the change in drug regimen will pose a significant challenge to clinicians. 
"Clinicians are used to being able to prescribe this medicine because this is the standard of care for medication abortion," said Brandi, referring to the combination of mifepristone and misoprostol.
With access to only misoprostol, she said, clinicians may need to provide patients with an extra dose of misoprostol, schedule a follow-up with patients over the phone, or ask patients to come back to the office an additional day to make sure the medication worked as intended. 
Many clinicians are likely to have trouble reconciling with the fact that they would be "forced to prescribe a treatment that we know is not the best treatment," Brandi said.
"It will take time for clinicians to adjust," she said.
Blake said the ruling will also further exacerbate disparities in abortion care.
"The combination is very safe and effective for this indication, and so taking this off the market would essentially put people at risk of access to abortion medications, access to abortion care, especially for marginalized persons, Black and brown people, people living in poverty, people who don't have citizenship status in the United States," she said. 
People who are wealthy will likely be able to get surgical abortions, which are often more expensive than medication abortions and require people to visit an abortion clinic, she added.
"From my perspective, that's what I'm most concerned about," she said. 
Follow NBC HEALTH on Twitter & Facebook.