Most soldiers who attempt suicide haven't even been deployed yet, a new study finds.
The period of highest risk was just two months after starting military service, according to the study of more than 163,000 men and women in the Army. It found that 61 percent of those who tried to take their own lives had not yet been deployed.
The findings suggest it might be times of transition, rather than the ongoing strain of combat and long deployments, that stress veterans the most.
Two months into first joining the service, soldiers are usually just finishing basic training.
"They are transitioning out of training and into regular service," Dr. Robert Ursano of the Uniformed Services University of the Health Sciences in Bethesda, Maryland, who helped lead the study, told NBC News.
But the findings also don't line up precisely with data on actual completed suicides — something that military psychiatrists need to work harder to understand, especially since suicides hit record rates among U.S. servicemembers in recent years.
"We found the highest rates of suicide attempts were among never-deployed soldiers and those in their first years of service."
Ursano and colleagues looked at administrative records from 2004 through 2009, so their findings only reflect suicide attempts that were reported through the medical system. But the time period matches when suicide rates began to really skyrocket in the military.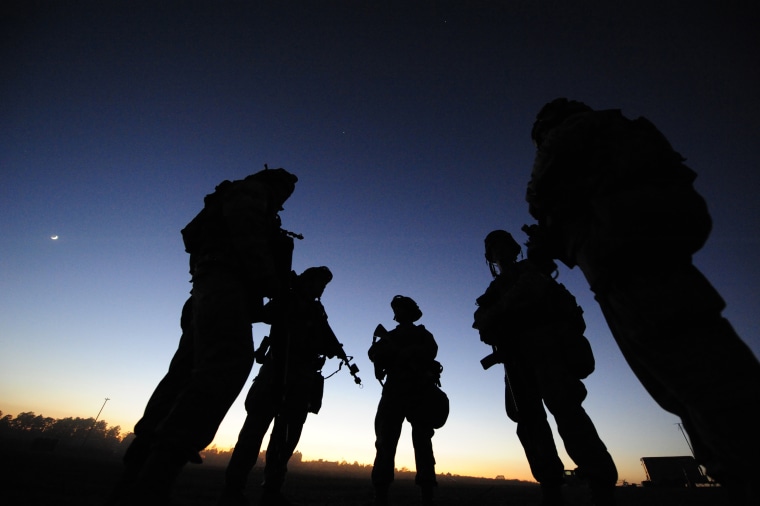 "We found the highest rates of suicide attempts were among never-deployed soldiers and those in their first years of service," Ursano's team wrote in their report, published in the Journal of the American Medical Association's JAMA Psychiatry.
Six months into a deployment is often when they get their first break.
"That six-month time is usually the time most soldiers are taking a visit home," Ursano said. "They are transitioning home and back again."
It's not precisely clear why suicide attempts — as opposed to completed suicides — go up at these times. Other research shows the risk for a completed suicide has little to do with whether someone has been in actual combat.
There are distinct psychological differences between thinking about suicide — called suicide ideation — attempted suicide, and completed suicide.
"Each of those has its own individual set of predictors and, perhaps, biological underpinnings," Ursano said.
Ursano said it could reflect different types of stress.
"The idea that transitions are stressful is well-documented," he said. "You're more vulnerable not only to mental illness, but to physical illness. You are more likely to get colds. You are more likely to get infections."
A second, unrelated study done on the Canadian military suggests that it just might be that more people are seeking help.
The U.S. and Canadian researchers reported in the Canadian Medical Association Journal that military staff in Canada were more likely to report suicide attempts or thoughts about suicide than civilians were, but they were also more likely to seek help.
The studies are being done to help doctors, therapists and military leadership understand what's going on among military personnel. The eventual hope is to come up with interventions to help prevent suicide attempts.
"The idea that transitions are stressful is well-documented."
It's hard to compare rates of suicide attempt, Ursano said. "Usually, in the civilian world, documentation of suicide attempts is very poor," he said.
There's more information on actual suicides, and rates of suicide have soared 24 percent in the U.S. since 1999.
Related: Military Suicide Rates Stay High
Suicide is the 10th leading cause of death overall. More than 41,000 people died by suicide in 2013.
And U.S. military suicides also rose, hitting a record in 2012 when more than 349 men and women took their own lives across the four branches. That's now fallen and last year the Department of Defense reported 265 suicides among active-duty personnel.
"Historically, suicide rates in the Army have been half that of the nation," Ursano said. "Actually, being in the Army was protective against suicide."
The Pentagon has been working to help. There's now a crisis line for active-duty servicemen and women or their family members to call: 1-800-273-8255. It's been playing public service ads and has tried to get high-profile officers to encourage people to seek help without fearing stigma.