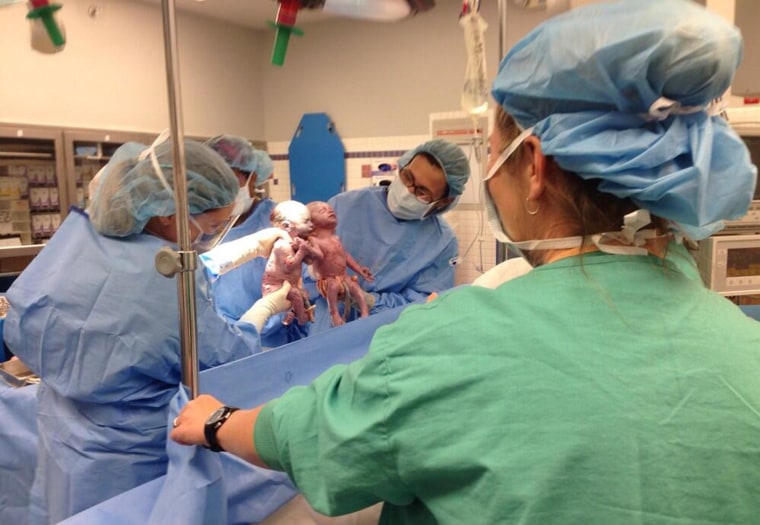 The parents of newborn twin girls who were photographed clutching each other's hands are stunned by all the attention — and grateful the girls are breathing on their own.
"I've been really, really surprised. I never thought that it would go viral like this and spread across the world and touch so many people," mom Sarah Thistlethwaite, 32, told TODAY on Wednesday.
The girls, who are rare "mono-mono" twins, survived the risky pregnancy and were born Friday at Akron General Hospital, 48 seconds apart. Baby Jenna, 4 pounds 2 ounces and 17 inches, was born first and followed closely by Jillian, 3 pounds 13 ounces and 17.5 inches.
Seeing them holding hands, Thistlethwaite said, was "the most heartfelt thing I've ever seen."
"At first, that moment, all we were waiting for, all I wanted to hear was some crying. And then as soon as we heard the crying, I just couldn't wait see them," dad Bill Thistlethwaite said. "So then the first thing you see is them holding hands, and it couldn't have been a more perfect moment to see your daughters being born, so it was amazing."
When doctors held the girls next to each other, one grasped the other's hand, making them look as if they are holding hands. While some interpret this as a sign of the girls' love for each other, it might be instinct; newborn babies have a natural reflex to grab and grasp.
"I don't know if it was a reflex [that they held hands]," says Dr. Melissa Mancuso, director of the fetal treatment center at Akron Children's Hospital, who was one of the doctors who delivered the girls. "I have never seen that before."
The girls are rare monoamniotic twins, more commonly known as mono-mono twins, which means that they shared one amniotic sac and placenta. This type of birth occurs in about 1 in every 10,000 births.
"It's a form of identical twinning. You have one embryo that splits [to create twins] … if the division occurs later after conception, if it occurs like day nine or 10, you end up with monoamniotic twins," says Dr. Jeff Chapa, head of maternal-fetal medicine in Cleveland Clinic Children's Hospital department of obstetrics and gynecology. Twins with embryos that separate after day 13 tend to be conjoined twins, he says.
"We don't fully understand what causes or determines the splitting," adds Mancuso.
When an embryo splits to create twins, they should get their own sac and placenta. With mono-mono twins, they share both, which causes an increased risk of one of the babies being strangled by the other's cord.
"The concern usually is they touch too much and grab some wrong things like the cord and entangle each other, and luckily that didn't happen," Dr. Anand Kantak, director of neonatology at Akron Children's Hospital, told TODAY.
To increase the chance of both babies survival, doctors deliver most mono-mono twins via C-section early, at about 33 or 34 weeks.
The Thistlethwaite twins were born at 33 weeks and transported to Akron Children's Hospital because they struggled to breathe on their own. On Sunday, they were taken off the ventilators and will likely spend three to four weeks in the hospital.
"We made it through. It's just an overwhelming feeling," Thistlethwaite told NBC News Channel WKYC, adding that the pregnancy took "a lot of faith and praying … unfortunately there is not much else you can do other than a strong faith in God and you know praying that he's gonna get us through it."