Most people who get measles in the U.S. have chosen not to be vaccinated, a new study finds.
The study, published in the Journal of the American Medical Association, answers a question that came up during the 2014-2015 measles outbreak linked to Disneyland: Do the effects of childhood vaccines wear off over time, making people more vulnerable?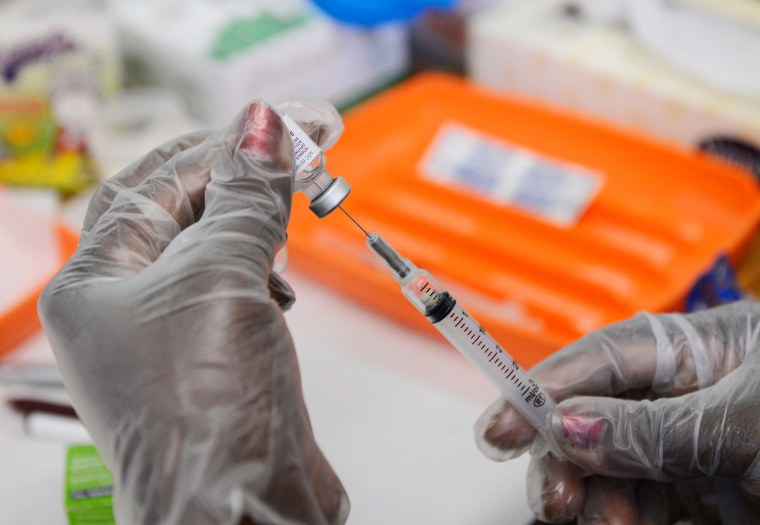 The answer: Not most of the time with measles, but some of the time for whooping cough.
Emory University's vaccine expert, Saad Omer, worked with his colleagues to dig up as much as they could on outbreaks of measles and whooping cough — known medically as pertussis — since 1977 in the U.S.
They found clear evidence that people who catch measles in the U.S. are likely to be intentionally unvaccinated.
"Of the 970 measles cases with detailed vaccination data, 574 cases were unvaccinated despite being vaccine eligible and 405 (70.6 percent) of these had nonmedical exemptions," they wrote.
Half the Disneyland-linked cases were in people who had not been vaccinated, Omer's team said, "most of whom were eligible for vaccination yet intentionally remained unvaccinated."
Measles was eliminated in the U.S. in 2000, but a few imported cases come in every year. These can spread if people are not fully immunized. Globally, there are around 20 million cases and more than 145,000 children die of measles every year.
Some states have been tightening their laws on who can opt out of getting vaccines and why. States control childhood vaccinations by requiring them for admission to public schools. Several studies have shown that the more leeway a state offers parents, the more likely they are to get an exemption for their kids.
Studies also showed that Mississippi, which only allow medical exemptions for vaccines, has higher vaccination rates than states with more lenient laws, such as Colorado.
Connecticut, Illinois, South Dakota, Vermont and West Virginia have all passed legislation in the past year tightening those requirements, according to the National Conference of State Legislatures.
"Parents hesitant to vaccinate their children may delay routine immunizations or seek exemptions from state vaccine mandates. Recent outbreaks of vaccine-preventable diseases in the United States have drawn attention to this phenomenon," Omer's team wrote.
Children are supposed to get two doses of the combined measles, mumps and rubella (MMR) vaccine. But nearly 9 million U.S. children are not fully vaccinated against measles and risk getting infected, according to some of the latest data.
Related: Doctors Debunk Vaccine Myths
The story's a little different with whooping cough, Omer's team found.
"Although pertussis resurgence has been attributed to waning immunity and other factors, vaccine refusal was still associated with an increased risk for pertussis in some populations," they wrote.
The pertussis vaccine was reformulated in the 1990s when people started to complain about their side-effects, which included painful swelling after a shot. It now includes just part of the whooping cough bacterium.
"Although these acellular vaccines cause fewer local (pain, swelling, and redness) and systemic fever and irritability) reactions, they are less effective than whole-cell vaccines for preventing pertussis," Omer's team wrote.
"More recently, waning immunity to pertussis has been increasingly recognized as an important factor in disease resurgence."
"Parents hesitant to vaccinate their children may delay routine immunizations or seek exemptions from state vaccine mandates."
The pertussis vaccine is combined with vaccines against diphtheria and tetanus. This triple vaccine is called Tdap or Dtap. "The Advisory Committee on Immunization Practices currently recommends five DTaP doses at age 2, 4, and 6 months, at 15 to 18 months, and again at 4 to 6 years, as well as a Tdap booster in adolescence (between age 11 and 18 years) and adulthood (19 years or older)," Omer's team wrote.
The stronger vaccine, made using a whole bacterium, caused cases of whooping cough to plummet, Omer's team said. In the 1940s there were as many as 260,000 cases a year. That fell to 1,000 in 1976. But they've been inching up since then.
"For the past 10 years, more than 10,000 cases have been reported annually," the team wrote.
Nonetheless, cases cannot entirely be blamed on a poor vaccine, they said.
"In at least seven statewide pertussis epidemics and multiple more geographically restricted outbreaks a substantial proportion of pertussis cases in certain age groups were unvaccinated or undervaccinated," they wrote.
"This review has broad implications for vaccine practice and policy," they concluded.
"For instance, fundamental to the strength and legitimacy of justifications to override parental decisions to refuse a vaccine for their child is a clear demonstration that the risks and harms to the child of remaining unimmunized are substantial."