Lindsey Ulin wasn't feeling great when she boarded her flight from Phoenix to Austin, Texas, in early March.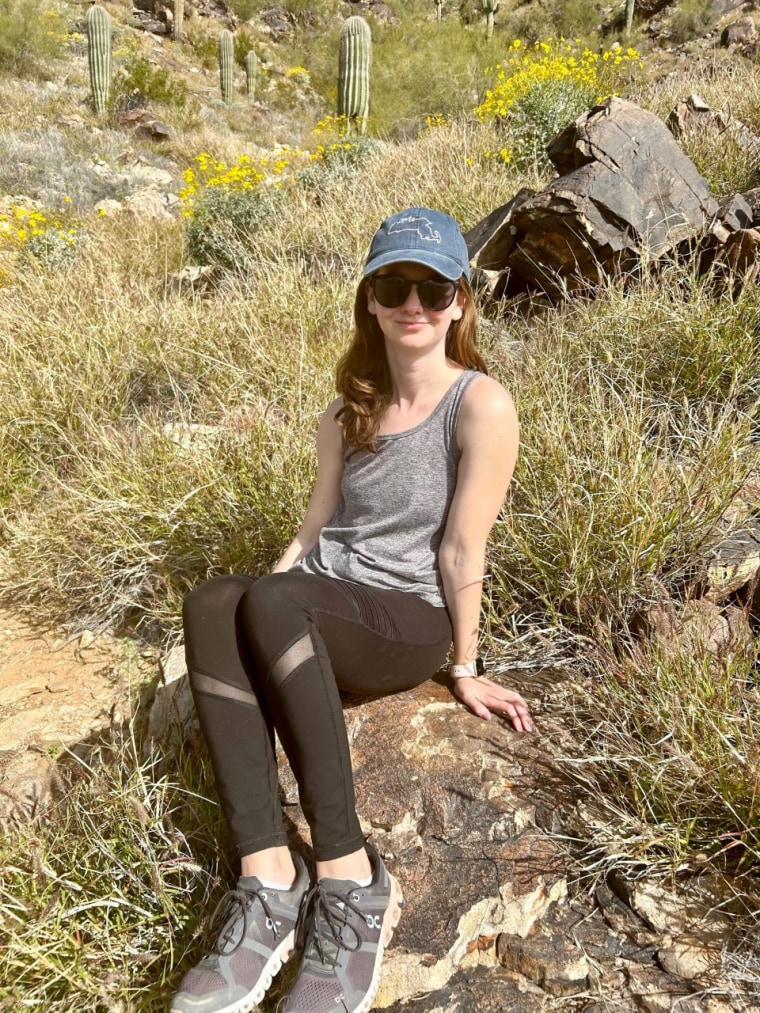 Ulin, 28, had just spent four days on vacation, hiking and enjoying the warm weather in Scottsdale, Arizona, with her mother and sister. Just before boarding their flight home, they had lunch at a little French restaurant at the airport. Ulin had a burger, fries and a side of Brussels sprouts — all food she'd eaten before without issue.
But nausea soon crept in.
"I really thought it was just indigestion from eating lunch, and that it would get better on its own," Ulin said.
The feeling did not go away once they were in the air. Hives popped up on her face and chest. She couldn't get enough air into her lungs.
Panic followed.
"We were still 30 minutes away from landing and my family was having to sit there and helplessly watch as I struggled to breathe," Ulin said. "Things were getting worse very quickly."
As a resident physician in internal medicine at Brigham & Women's Hospital in Boston, Ulin recognized that she was experiencing a severe allergic reaction called anaphylaxis.
The condition can be deadly unless the person is given an emergency injection of epinephrine. It works by increasing blood flow throughout the body and relaxing muscles that block airways.
The injection device, usually placed on the thigh, administers the medicine automatically and is designed to be user-friendly, even for children who have never used one. They come with clear instructions for use, often with audio help, and can be used immediately.
But there wasn't an epinephrine auto-injector on board during Ulin's flight. The airline didn't carry one. None of the passengers did, either. And Ulin had no idea what had caused her allergic reaction.
"I accepted that I was probably going to die," she said.
In-flight emergencies
Medical emergencies on flights are not uncommon. A 2013 study found that dozens of such events occur on commercial flights each day in the United States. Most are related to stomach aches, anxiety or a feeling that a person is about to pass out.
Some emergencies, however, are life-threatening.
Commercial airlines are required to carry a basic set of medical tools, including aspirin, a stethoscope and devices used to help with cardiopulmonary resuscitation, or CPR.
The Federal Aviation Administration, however, does not require EpiPens, or epinephrine auto-injectors, on commercial flights, a lapse that frustrates allergists.
"As someone who has frequently assisted in these emergency situations," airlines should "absolutely" carry the auto-injectors, Dr. Purvi Parikh, an allergist and immunologist at NYU Langone Health in New York City, wrote in an email. Parikh is also a member of the Allergy & Asthma Network, an advocacy and research group.
The airline emergency kits do carry epinephrine, but in vials that only trained medical professionals may be able to use in the event of a heart-related issue, for example.
There is a growing movement to add epinephrine auto-injectors to address allergies on commercial airlines.
"I strongly advocate for this," said Dr. Tyler Barrett, an emergency medicine physician with Vanderbilt University Medical Center in Nashville, Tennessee. We need something "that is designed for rapid, easy administration by a layperson."
Gasping for air
In Ulin's anaphylaxis case, the flight attendant simply handed her a vial as Ulin was struggling to breathe. Ulin tried to break open the vial against the tray table in front of her, unsure of what to do next.
A passenger walked up, identifying himself as a doctor who could administer the medicine with syringes he found in the airline's medical kit.
"I knew in that moment that this was going to be OK," Ulin said.
Ulin described her frightening allergic reaction in a series of tweets in late April.
She has not been able to figure out what caused her allergic reaction. Still, she now carries multiple epinephrine auto-injectors at all times.
The FAA's response
The Aerospace Medical Association recently advised the FAA that airlines should routinely carry epinephrine auto-injectors and other allergy medicines in doses for both adults and children. The agency is also considering updating the kits to include automated blood pressure cuffs and Narcan, which reverses the effects of opioid overdoses.
"The FAA is reviewing the emergency medical kit requirements," the agency said in a statement to NBC News.
Travelers, even those who have never had allergies before, can avoid risk during flights by wiping down seats, armrests and tray tables upon boarding, Jenna Riemenschneider, senior director of advocacy and policy at the Asthma and Allergy Foundation of America, said.
Follow NBC HEALTH on Twitter & Facebook.