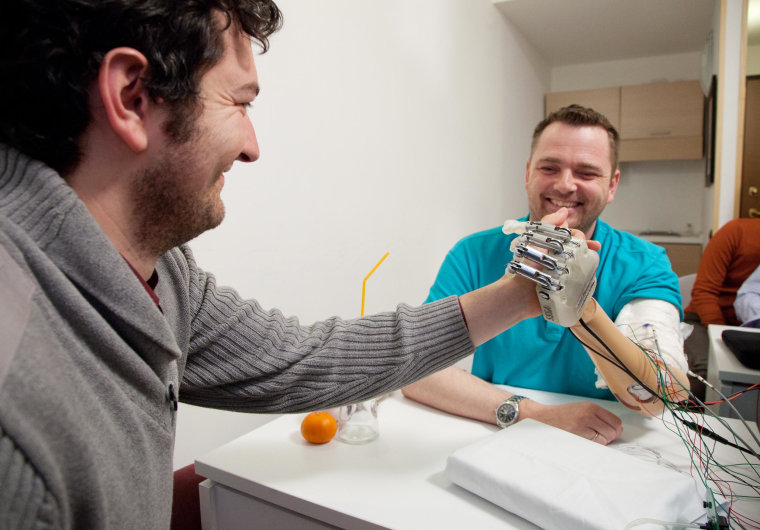 A new bionic hand has for the first time helped a man feel the objects he is holding and tell how big they are and whether they're hard or soft.
It's the first time anyone using a prosthetic has been able to really feel what he's picking up, and it's the latest development in field that has allowed people to control prosthetic devices with thought alone, and to manipulate objects with ever-increasing dexterity.
"It was quite amazing because suddenly I could feel something that I hadn't been feeling for nine years," said 36-year-old Dennis Aabo Sorensen of Aalborg in Denmark, who lost his hand and part of his arm in when a faulty fireworks rocket exploded as he lit it in on New Year's Eve 2004.
It's not quite ready for prime time. Sorensen had to undergo delicate surgery to have electrodes implanted in the nerves of his upper arm, and then months of training to use the device.
Silvestro Micera of the Ecole Polytechnique Federale de Lausanne in Switzerland and colleagues at the BioRobotics Institute at Scuola Superiore Sant'Anna in Pisa, Italy, developed the device, which is described in the journal Science Translational Medicine.
They had to equip the artificial hand with sensors to detect an object's pliability and shape and translate this into an electrical signal. They had to figure out how to translate this signal into something a human nerve could understand and conduct to the brain.
Implanting the electrodes alone took seven or eight hours of surgery, Sorensen said.
But once it was all up and working, it worked well.
Sorensen was blindfolded and given a hard piece of wood, a stack of plastic glasses and a cotton pack, and he could tell them apart. He was also able to tell when he was handling a bottle, a baseball or an orange.
"My kids thought it was cool," he said.
Sorensen's since had to give the arm back for more refinement, and all the testing was done a year ago.
"They have to make it even better," he said. Was he disappointed at having to go back to a more standard prosthetic? "Not really," said Sorensen. "Now that I know it is possible, that is the key thing."