Heart experts released new guidelines for blood pressure on Monday and that means millions more Americans will now be diagnosed with high blood pressure.
Anyone with blood pressure higher than 130/80 will be considered to have hypertension, or high blood pressure, the American Heart Association and American College of Cardiology said in releasing their new joint guidelines.
"It's very clear that lower is better," said Dr. Paul Whelton of Tulane University, who chaired the committee that wrote the guidelines.
Everyone, even people with normal blood pressure, should watch their diet and exercise to keep blood pressure from going up, the new guidelines stress. And smoking is a major blood pressure risk.
Blood pressure of 120/80 or above is considered elevated; 130/80 to 139/89 is now considered Stage 1 hypertension and anything 140/90 or above will be considered stage 2 hypertension. If blood pressure reaches 180/120 or higher — and either number in the blood pressure reading counts — people will be classified as in hypertensive crisis with need for immediate treatment or hospitalization.
Previously, people were not considered to have high blood pressure until the top reading hit 140. "Normal hasn't changed. We are still saying that it is great and it is normal to have a systolic blood pressure reading below 120 and a diastolic reading under 80," Whelton said.
Related: High Blood Pressure Diagnoses Increase Among Teens
"Rather than one in three U.S. adults having high blood pressure (32 percent) with the previous definition, the new guidelines will result in nearly half of the U.S. adult population (46 percent) having high blood pressure, or hypertension," the groups said in a joint statement.
Instead of recommending drug treatment right away, the organizations recommend that people with stage 1 hypertension try lifestyle changes first: exercising more, eating less salt, and eating more fruit, vegetables and whole grains.
"Lifestyle modification is the cornerstone for treatment of hypertension," said Dr. Robert Carey of the University of Virginia, who helped write the guidelines. Other research, including a new study released just this week, shows the American Heart Association's DASH diet lowers blood pressure and reduces people's risk of stroke and heart failure.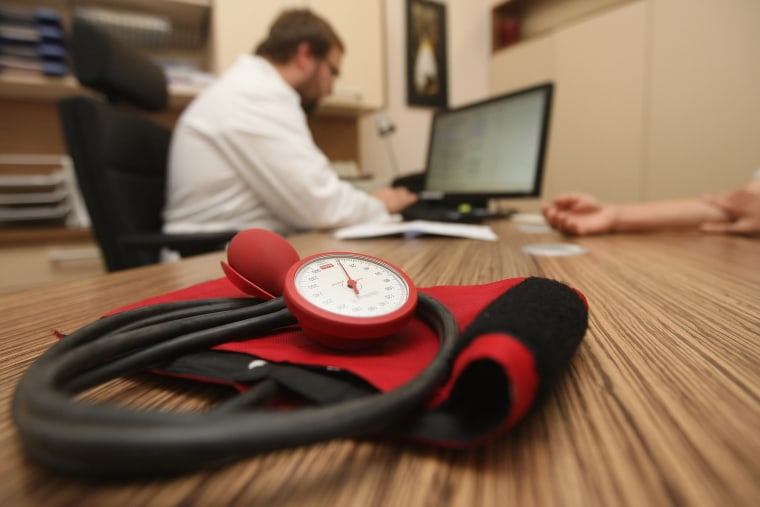 Related: Study Confirms Lower Blood Pressure is Better
Drinking fewer than two drinks a day for men and one drink a day for women also lowers heart risk, Carey said, as does getting enough potassium from foods such as bananas — not from supplements.
While people may be confused by the change, the heart experts said three years of reviewing the research showed that many fewer people die if high blood pressure is treated earlier.
"We are comfortable with the recommendations. They are based on strong evidence," Whelton said.
Carey said about 4.2 million more people would be diagnosed with high blood pressure under the new guidelines, but not all of them will be advised to take drugs — just 1.9 percent more, he said.
"We will have a big jump in prevalence but you'll notice only a small increase in the number of people we believe will benefit from hypertensive drugs," Carey said.
High blood pressure damages blood vessels and can lead to organ damage such as kidney and heart failure, as well as heart attacks and stroke. It's one of the leading killers around the world as well as across the United States.
Many drugs are used to treat high blood pressure. They include diuretics, beta-blockers and ACE inhibitors, which attack blood pressure from different directions. The groups agreed that even elderly and frail patients benefit from having high blood pressure treated.