The Food and Drug Administration approved a new drug to treat multiple sclerosis Tuesday.
The drug, called Ocrevus, is approved for use against the most common form of MS – the relapsing-remitting type. It's also the first drug specifically approved for primary progressive MS, a very aggressive form of the disease that affects 10 to 15 percent of MS patients.
There are no approved treatments now for primary progressive MS, which causes steadily worsening symptoms.
While it's not a cure, it's one more weapon to use to help some of the 400,000 people with MS. In trials of 1,600 volunteers, it cut relapses in patients with the most common form of MS by nearly half compared with an older drug called Rebif.
"There were times when I could not bathe myself. I had to ask my mother to wash my hair. I couldn't write."
Ocrevus, known generically as ocrelizumab, is a monoclonal antibody – an engineered immune system molecule. It won breakthrough designation from the FDA, which helped speed it through the approval process. Roche, which makes the drug, expects sales to top $4 billion a year.
It will be on the market within two weeks, and will cost $65,000 a year, the company said. That's similar to the cost of Rebif, a 14-year-old drug now widely used to treat MS, although costs vary widely on all MS drugs.
Genentech says it deliberately set the price 20 percent below the current market average for an MS treatment. "The continually escalating prices of MS disease-modifying therapies are creating barriers to people with MS getting these life-changing medications," the National MS Society said in a statement.
"Given every six months by IV infusion, Ocrevus represents a scientific advancement as a first-in-class therapy targeting B cells, a type of immune cell that plays a central role in the disease," Genentech, a subsidiary of drug giant Roche, said in a statement.
Related: Pricey New Drugs Help Send Up Health Spending
Christina Reyes, an elementary school teacher living in Converse, Texas, was diagnosed with MS in 1990 at the age of 15. Even as a young woman, she sometimes had to use a leg braces and a cane to walk. At times, she needed a wheelchair.
"I cried. It broke my heart," Reyes told NBC News. "There were times when I could not bathe myself. I had to ask my mother to wash my hair. I couldn't write. I felt drained all the time."
Reyes joined an experimental trial of Ocrevus. "I was tired and upset at what I had to go through every day. I wanted others to have some choices. I got it so young, I didn't have any," said Reyes, who is 42.
The drug helped her and now she says she does not need her braces or her wheelchair. "This is exactly what I wished and hoped and prayed for," she said.
While there are many drugs in the highly competitive MS market, Cyndi Zagieboylo, president and CEO, of National MS Society, says there is room for improvement. Many of the drug suppress the immune system, have dangerous side-effects and often do not change the course of the disease.
"We hope this is just the beginning of the development of the next generation of treatments for MS," Zagieboylo said.
Dr. Stephen Hauser, Chair of the UCSF Medical Center Department of Neurology and the lead researcher in the Ocrevus trials, described the results as "a really big deal for the MS community." He's been working to develop Ocrevus for 40 years.
"We hope this is just the beginning of the development of the next generation of treatments for MS."
By targeting B-cells, Ocrevus takes a new approach in fighting MS. B-cells are the "key policemen" of the immune system that are culprits in MS, Hauser said. "They are orchestrating brain inflammation."
Ocrevus can cause serious side-effects, such as an increased risk of infections and cancer, notably breast cancer. About one-half of one percent of the patients who took the drug developed cancer, which was twice the rate of those who did not take the drug.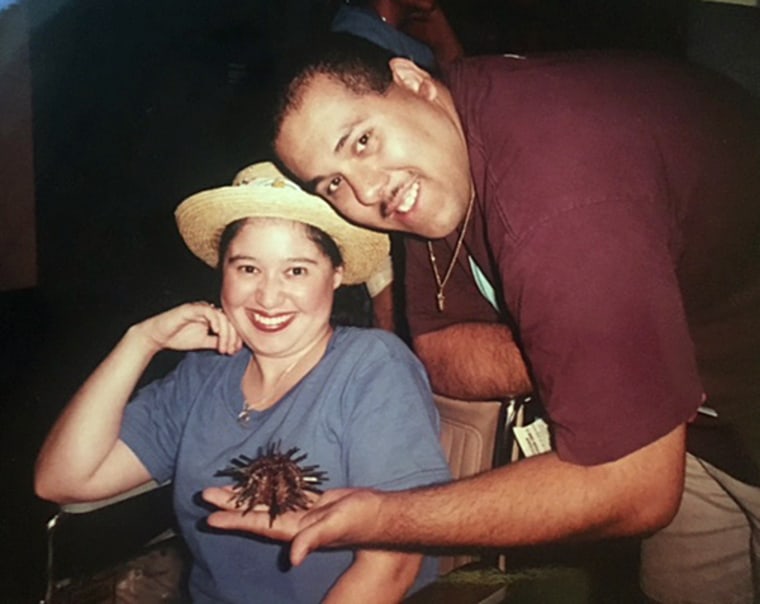 In 2010, Roche and Biogen suspended trials of the drug in patients with against rheumatoid arthritis after some died from infections that became serious because of the drug's immune-suppressing effects.
Roche says those problems did not come up in the MS trials. Hauser says doctors may need to wait for studies that Roche must conduct in larger populations of patients who take the drug after it's approved.
"I often think about people with MS whom I saw 40 years ago, when nothing could be done," Hauser said.
Reyes says she now asks her husband if he wants to go dancing. "It's my miracle drug," she said.