A new strain of the polio-like EV-D68 may be causing the rare and mystifying cases of muscle weakness that's affected more than 100 kids across the United States, researchers reported Monday.
They say they've found the strongest evidence yet that the virus caused the polio-like syndrome, but they also say it appears to be rare and might have to do with the genetic makeup of the patients.
No other germ appears to be responsible, the team reports in the journal Lancet Infectious Diseases. But because most kids were tested many days after they first got sick, it may be impossible to ever know for sure. The body will have cleared the virus itself by then, said Dr. Charles Chiu of the University of California San Francisco, who helped conduct the study.
"This is a virus that causes the common cold," Chiu told NBC News. "Parents don't bring their kids in until they are really sick. By that time, typically, the viral levels may be very, very low or undetectable."
"Every single virus that we found in the children corresponded to new strain of the virus, called B-1."
Enterovirus D68 (EV-D68) is one of about 100 different enteroviruses that infect people. They include polio but also a range of viruses that cause cold-like symptoms. Polio's the only one that is vaccinated against; before widespread vaccination it crippled 35,000 people a year in the United States.
Chiu and colleagues studied 25 children who had the acute flaccid myelitis that resembles some of the symptoms of polio. Nine were part of a group being studied in Colorado and 16 were from California.
"What we immediately noticed that we thought was remarkable was every single virus that we found in the children corresponded to new strain of the virus, called B-1," Chiu said. This B-1 strain has some small mutations that make EV-D68 resemble some of the other enteroviruses — including one called EV-D70, and polio.
Now the team is trying to understand if the mutations are what cause the paralysis. "We are planning to better understand the functional significance of this change," said Chiu.
Some doctors are beginning to suspect that the virus itself is not causing the nerve damage that causes the muscle weakness. The virus cannot be found in the spinal fluid of the children, for one thing. And Chiu's team tested a brother and sister who were both infected with precisely the same strain of the virus, but only one sibling got the myelitis.
This could mean it's an immune system reaction that causes the effects, experts say. "It may be a kind of hit-and-run reaction," Chiu said.
It could be what happened with Bailey Sheehan of Portland, Oregon. The 8-year-old was active before she caught EV-D68 last fall.
"The whole family was sick. The whole family," Bailey's mom, Mikell Sheehan, told NBC News.
But Bailey was the sickest of all. "They gave her steroids, breathing treatments, two different inhalers and said if she doesn't feel better come back," Mikell said.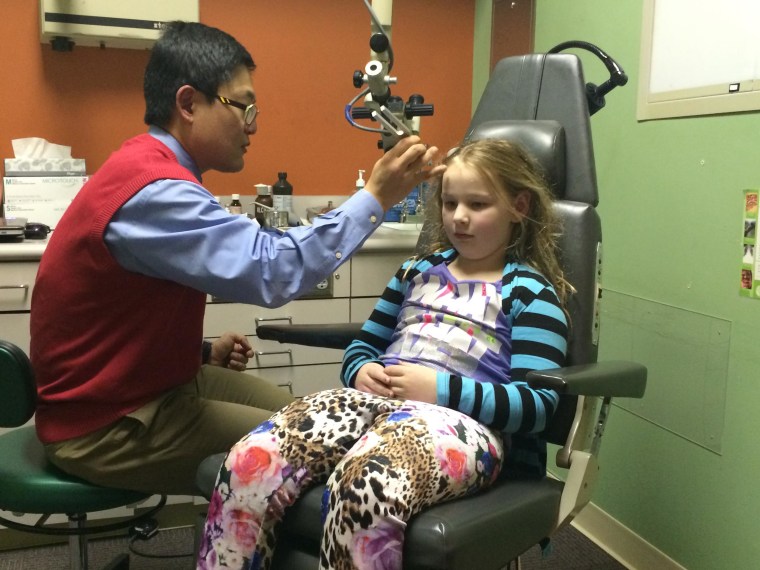 It's been a similar story with the other kids. Some have received an antibody treatment called gamma globulin, and a couple got an experimental polio drug called pocapavir. No treatment seems to help.
"Bailey's head was hurting so bad, she had a terrible, terrible headache — she said it felt like an apple was right above her left eye. Back pain, neck pain, and she said just everything hurt," Sheehan added.
Then came the first hints of the muscle weakness that would be diagnosed as acute flaccid myelitis. Bailey couldn't pick up her baby sister Andy.
"The next morning, she woke up and she could not lift up her arms or her neck."
"The next morning, she woke up and she could not lift up her arms or her neck," Mikell said. "I heard Bailey try and get up and fall to the ground and she yelled, 'Mama my leg is not working. It will not hold me. It's not working.'"
It was similar to the mysterious syndrome being seen in a very few children across the country. Meanwhile, the Centers for Disease Control and Prevention was logging cases of EV-D68, which causes sporadic outbreaks of disease. There were about 1,100 reported cases between August and January, but CDC says it's likely the virus infected millions who got nothing worse than common cold symptoms.
"We are only able to see the tip of the iceberg. Most kids were never tested," Chiu said.
Bailey is getting better, slowly, with daily physical therapy. But she is frequently in pain, Mikell says.
"By the end of December, she was kind of walking," Mikell said.
"February she was skipping, so therapy has been our biggest, biggest medicine. She still cannot feel her leg. She still has numbness in her arm, she has other things going on with her vision and her hearing," Mikell added.
"The doctors cannot tell us what it is or why it's happening."
"Given that none of the children have fully recovered, we urgently need to continue investigating this new strain of EV-D68 and its potential to cause acute flaccid myelitis," adds Chiu.