As the new coronavirus continues to envelop much of the globe, a lab outside New York City is racing to find a antibody treatment that could temporarily protect from the illness — or even treat it.
The biotech company Regeneron is in early development of a treatment that could guard against catching the coronavirus for several months using antibodies from mice that have been genetically modified with immune systems to mimic those of humans.
Full coverage of the coronavirus outbreak
"We are optimistic, because we've done this approach to treat many human diseases," CEO Leonard Schleifer said.
The process involves exposing the mice to a "pseudo coronavirus" — the virus without its ability to replicate — which was created by Regeneron scientists who hope the mice will then develop the right transferable antibodies to fight the virus in humans.
"Over the course of the next several weeks, they will choose the best ones [antibodies], create this cocktail, put it in these cell lines that can be scaled up into these giant vats, and [it's] off to the races," Schleifer said.
Most vaccines, like the flu shot, introduce the virus into the body and allow the host to create antibodies, he said. They contain a small amount of the virus to cause your body to develop antibodies against it, but the process can take several weeks.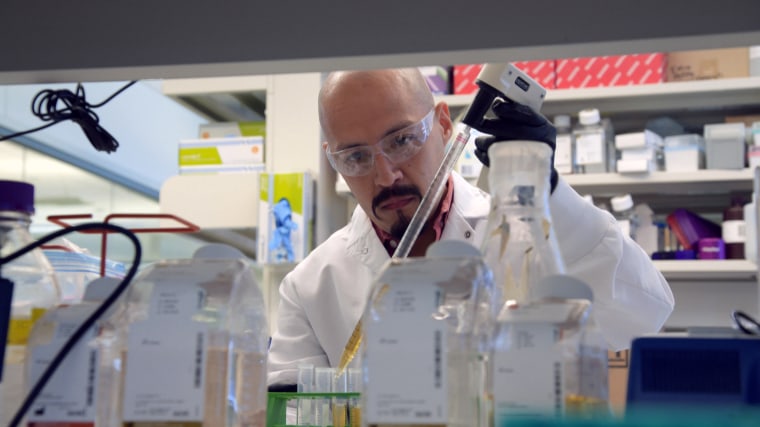 Using mice antibodies can provide immediate protection, he added.
If it is green-lighted by the Food and Drug Administration, the vaccine is expected to offer protection for only a few months, and it would likely be available only to health workers at first. But Schleifer said the vaccine could be used down the line as "something therapeutic" if administered in higher doses.
Regeneron is just one of many biotech companies around the world that are working tirelessly to find some remedy for the novel virus, which has spread to nearly 100 countries and infected more than 112,000 people.
More than 700 cases of infection have been confirmed in the U.S. So far, 27 people — 22 in Washington state, two in Florida, two in California and one in New Jersey — have died.
Less than 30 miles from Regeneron's labs, a growing cluster of coronavirus cases prompted New York Gov. Andrew Cuomo to implement aone-mile "containment area" around New Rochelle on Tuesday.
There is currently no treatment for the virus, and those who are infected are being treated only for symptoms, including medication to lower fevers and cough associated with COVID-19, the illness caused by the virus.
But Regeneron said it's hopeful that it will come up with a treatment, just as it did for several other viruses, including Ebola.
Download the NBC News app for full coverage of the coronavirus outbreak
The company used a similar technique to develop an antibody treatment that dramatically boosted Ebola survival rates in Africa. Ebola killed more than 13,000 people over the course of two mass outbreaks, one from 2013 to 2016 and the other from 2018 to 2020.
The last patient being treated for Ebola in the Democratic Republic of Congo was discharged last week, according to the World Health Organization.
Regeneron, which is aiming for human testing by late summer, is optimistic enough that it plans to begin producing 20,000 preventive doses per month. It said the vaccine would be affordable.
"I think this is probably the biggest moment for our industry in terms of everybody in the industry wanting to do the right thing," Schleifer said. "They want to make a difference. And they want to show the world."