There's some good news about obesity in the U.S. for a change. Rates of obesity fell in four states last year: Minnesota, Montana, New York and Ohio, according to a report released Thursday.
Colorado is the slimmest state, with just 20 percent of the population in the obese category, while Louisiana weighs in as the heaviest state with 36 percent of the population being obese.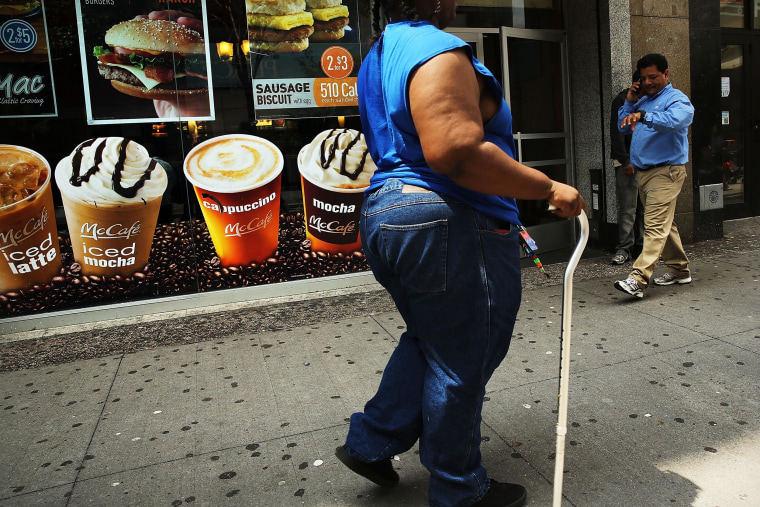 The report, from the Trust for America's Health and the Robert Wood Johnson Foundation, also found some evidence the obesity epidemic may be starting to slow.
"The 13th annual report found that rates of obesity now exceed 35 percent in four states, are at or above 30 percent in 25 states and are above 20 percent in all states. In 1991, no state had a rate above 20 percent," the groups said in a statement.
Related: America's Obesity Epidemic Hits New High
The survey uses data from the Centers for Disease Control and Prevention and it is one more reminder that most Americans are overweight or obese.
"Obesity remains one of the most significant epidemics our country has faced, contributing to millions of preventable illnesses and billions of dollars in avoidable health care costs," said Richard Hamburg, interim president of the Trust for America's Health.
"Obesity remains one of the most significant epidemics our country has faced."
"These new data suggest that we are making some progress but there's more yet to do."
Some initiatives may be starting to have an effect. The report found that 40 percent fewer high school students are drinking a soda every day, for instance.
But disparities by race and income are still startling. The survey finds 38 percent of African-Americans and 32 percent of Hispanics are obese, compared to 27.6 percent of whites.
Related: The Whole World's Getting Fatter
"There is some evidence that the rate of increase has been slowing over the past decade. For instance, in 2005, 49 states experienced an increase; in 2008, 37 states did; in 2010, 28 states did; in 2011, 16 states did; in 2012, only one state did; and in 2014, only two states did," the groups said.
"In addition, recent national data show that childhood obesity rates have stabilized at 17 percent over the past decade. Rates are declining among 2- to 5-year-olds, stable among 6- to 11-year-olds, and increasing among 12- to 19-year-olds."
People are considered overweight when their BMI hits 25, and they are obese when it gets to 30.
RELATED: Americans Are Getting Even Fatter
Someone who is 5-foot-5 and weighs 149 pounds has a body mass index of 24, considered a healthy weight. Add a pound and the same person has a BMI of 25 and is considered overweight. At 180 pounds this person has a BMI of 30 and is considered obese.
The National Institutes of Health has a BMI calculator online here.
People who are obese have higher rates of heart disease, diabetes, some cancers, arthritis and Alzheimer's disease.