Otto Warmbier, the University of Virginia student who died after being sent home from a North Korean prison in June, appeared to have had a breathing tube inserted at some point during his imprisonment, a post-mortem examination shows.
But a coroner disputed claims by Warmbier's parents that his teeth were damaged, and said her office's examination indicated he had been well tended in the year since something — they cannot say what — starved his brain of oxygen and eventually killed him.
The post-mortem report dated Sept. 11 was released after Warmbier's parents appeared on Fox News earlier this week and said the North Koreans had tortured their son, who was 22.
"Otto was on the stretcher … and was jerking violently, making these inhuman sounds," Fred Warmbier told Fox and Friends.
"He was blind. He was deaf," Fred Warmbier added. "It looked like someone had taken a pair of pliers and rearranged his bottom teeth."
The post-mortem report disputes this. "The teeth are natural and in good repair" and the young man's nose and ears showed "no remarkable alteration," the report said. There was some scarring around the mouth, the report noted.
The coroner for Hamilton County, Ohio, Dr. Lakshmi Kode Sammarco, confirmed that the team looked hard for any evidence of torture, but could find nothing definitive. They even called in a forensic dentist.
"There was no evidence of trauma to the teeth," Sammarco told reporters. "We were surprised at that statement."
The report also described Warmbier as having been "well-nourished."
"We believe that for somebody who had been bedridden for more than a year, that his body was in excellent condition, that his skin was in excellent condition," she said.
The post-mortem exam report, which is not a full autopsy, was performed by Dr. Gretel Stephens, deputy coroner for Hamilton County, Ohio. Cindy and Fred Warmbier had asked not to have an autopsy performed on their son's body.
"We don't know enough about what happened to Otto … to draw any concrete conclusions."
Sammarco said her office respected those wishes and had also determined that a full autopsy would tell them little they could not tell by other means. They performed a physical examination of the body and ran a CT scan from the top of the head to the thighs.
The examination notes scars on Warmbier's knees, ankle, feet and arms. "There is a round scar just above the sternal notch with mild retraction, consistent with a tracheostomy scar," it reads.
"We didn't see any evidence of healing fractures or healed fractures that would have been within that time frame," Sammarco added.
It's hard to say what else may have happened, including torture. "I think you need to define torture," Sammarco said.
"The fact that he has anoxic encephalitis or brain damage caused by the lack of oxygen to the brain, we don't know what the root cause of that is. There's a couple ways you can get that, so you either have to discontinue blood flow to the brain or stop breathing … Could that have been torture at the time? We don't know," she added.
"We don't know enough about what happened to Otto … to draw any concrete conclusions."
Related: What Killed Otto Warmbier?
There's no way to tell when or why a tracheostomy would have been performed. Tracheostomies are done to help patients recover from having been on a ventilator or to help patients breathe after neurological damage.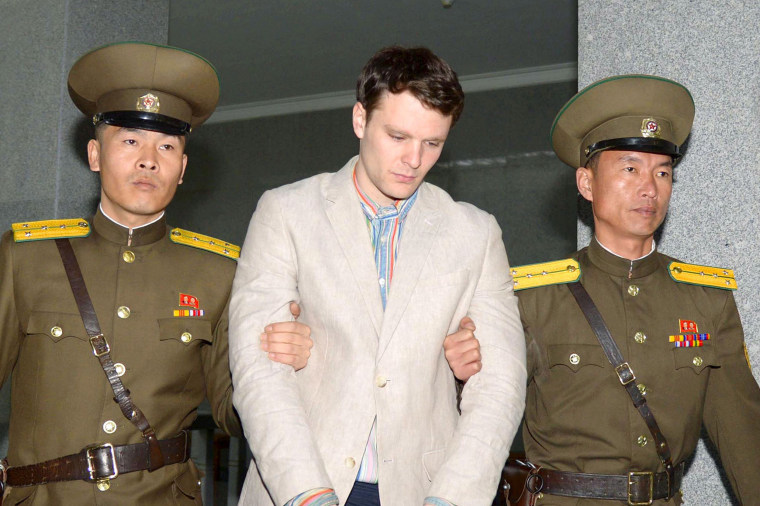 The fact that it had scarred showed Warmbier recovered his ability to breathe on his own at some point.
The University of Cincinnati doctors who cared for Warmbier in the few days before his death said he had clearly suffered neurological damage, apparently after an ischemic incident, meaning blood was blocked to his brain.
Related: Warmbier Has Extensive Brain Damage
The North Korean government has said little about what happened to Warmbier after he was arrested and imprisoned for taking a poster from a hotel he was staying in while on a tourist visit to Pyongyang.
Sammarco said she couldn't comment on what the Warmiers said about their son.
"They're grieving parents and I really can't make comments about what they said and their perceptions," she said.
"We are never going to know unless the people who were there at that time came forward and said 'this is what happened to Otto,'" she added.
"Going with hypotheses and conjecturing what happened, that doesn't help anybody."