Otto Warmbier, the 22-year-old college student released from North Korea this week, has extensive brain damage and is unaware of his surroundings, his doctors said Thursday.
There's no evidence of how Wambier was injured, but the brain damage looks like what happens when someone's heart stops for a long period of time, doctors at the University of Cincinnati Medical Center said.
"His neurological condition can be best described as a state of unresponsive wakefulness," Dr. Daniel Kanter, director of the hospital's neurocritical care program, told a news conference.
"Unresponsive wakefulness" is a term coined in the past decade to refer to what doctors once called a persistent vegetative state. Patients have reflexes but are not considered conscious.
"He shows no signs of understanding language, responding to verbal commands or awareness of his surroundings," Kanter said.
"We don't feel at this time that he is in conscious awareness."
It's been too long for Warmbier to be considered in a coma, doctors said. The medical team who has been treating Warmbier said they've agreed with his family to hold back any details about his prognosis.
But the brain injuries they describe are severe. They said a magnetic resonance imaging (MRI) scan showed much brain damage.
"This study showed extensive loss of brain tissue in all regions of the brain," Kanter said. While brain cells can regenerate to a small degree, extensive damage like this cannot be repaired.
"Pattern of this brain injury is usually seen as a result of cardiopulmonary arrest resulting in the death of brain tissue," Kanter added. Brain cells die quickly as fresh oxygen stops reaching the brain.
The medical team at Cincinnati got some medical records from the North Koreans and they said the records show Warmbier has been in this condition since April of last year. Warmbier was convicted in March 2016 for committing a hostile act against the country.
Doctors said he had no evidence of broken bones or other physical abuse, and scans of his head and neck looked normal, except for the damage to his brain.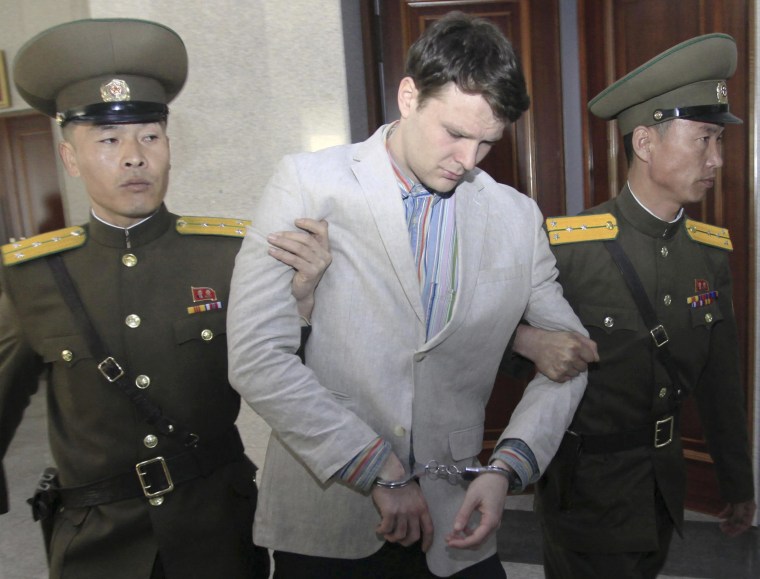 The North Korean government said Warmbier went into a coma after he suffered an attack of botulism — a type of food poisoning — and was given sleeping pills. Other doctors have expressed doubt about this explanation, but the Cincinnati team said they could not speculate about what caused Warmbier's injuries.
"We have very limited information about what happened to Otto," said Dr. Brandon Foreman, a neurointensive care specialist at the University of Cincinnati Medical Center.
"We don't feel at this time that he is in conscious awareness."
When patients spend weeks, months or years in persistent states like Warmbier's, it can be especially distressing for families. While doctors agree that the patient is not conscious, it can sometimes appear that he or she is.
Kanter said Warmbier needs no help breathing.
"He shows spontaneous eye opening and blinking," Kanter said. "He has not spoken. He has not engaged in any purposeful movement or behavior."
Warmbier's father, Fred Warmbier, told a news conference earlier Thursday that his son was brutalized in North Korea.
"There is no excuse for any civilized nation to have kept his condition secret and denied him top-notch medical care for so long," Fred Warmbier said.