To pediatricians, gun control is a public health issue, not a political one. But they're treading a fine line, and they know it.
The American Academy of Pediatrics has begun a renewed push to try to get Congress to pass gun control measures, sending more than 100 pediatricians to Capitol Hill earlier this month. But others who have taken on the issue over the past decade have a warning for them: they can run afoul of the National Rifle Association and other pro-gun groups that are quick to paint anyone who advocates for gun control as a political extremist.
What the doctors want is an assault weapon ban, mandatory background checks and waiting periods before all firearm purchases, a ban on high-capacity magazines, handgun regulations and requirements for safe firearm storage under federal law.
"I think we can be honest brokers," says Dr. Lolita McDavid, medical director for child advocacy and protection at University Hospitals, part of Case Western Reserve University's school of medicine in Cleveland.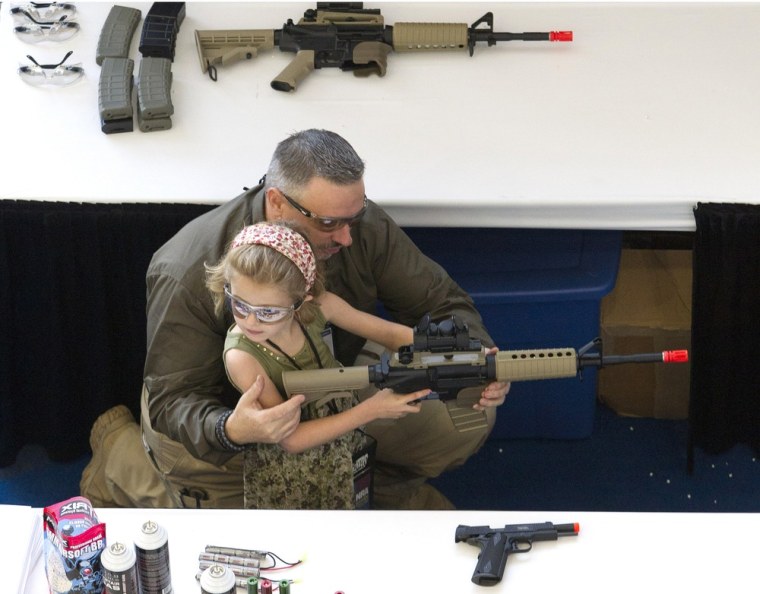 "We have to have a collectively louder voice," Dr. Danielle Laraque, who chairs the pediatrics department at Maimonides Infants and Children's Hospital in Brooklyn, told a meeting of the Pediatric Academic Societies in Washington, D.C., earlier this month. "What we need is a call to action, to really look at how we can change public policy that is not often affected by data."
They don't always get a friendly reception. Just two weeks before the doctors arrived, Congress had scuttled what gun-control advocates had considered a modest bill to expand background checks for gun sales.
Congress had already dropped a wider measure pushed by President Barack Obama and Vice President Joe Biden after the December shootings of 20 schoolchildren and six adults in Newtown, Conn.
Obama has been trying to roll back some of the restrictions placed on gun research by Congress. He's issued an executive order specifically directing the Centers for Disease Control and Prevention to conduct research into gun injuries. While the CDC was never banned from doing so, Congress had specifically cut precisely the amount CDC spent on firearms violence research, sending a clear message.
"If you think that Congress has sort of been asleep…you are wrong," said Dr. Daniel Webster of Johns Hopkins University, one of the few academic experts who has continued research on gun violence despite efforts to divert funding. "They have been doing a very good job of weakening the laws to make it easier for gun dealers to have the least amount of responsibility. They have made it harder to sue dealers and made it harder to access data on … which dealers are pumping out guns to criminals. They've made it almost impossible to prosecute a gun dealer."
Pediatricians are puzzled that the statistics aren't speaking for themselves.
"Where there are more guns in the United States, there are more people dying," Dr. Matthew Miller of the Harvard Injury Control Research Center told the meeting in Washington, D.C. "There are more women dying, there are more men dying, and there are more children dying. We are talking about a lot of people who are dying when they live in places with a lot of guns and homes with guns."
Miller's done research on gun deaths using what CDC data he could get -- dating from before Congress cut its funding.
He divided the U.S. population in half, classifying half as living in high-gun-ownership states and half in low-gun-ownership states. In the "high gun states," 21,148 people were murdered between 1988 and 1997, compared with 7,266 in the "low gun states". He found 369 kids up to 14 of age who were murdered using guns in states with high rates of gun ownership; 97 were killed deliberately with guns in low-ownership states.
And there were more murders overall, even using weapons other than guns in the high-gun-ownership states, Miller found. Other research finds kids and adults alike are more likely to commit suicide if they have access to a gun.
Miller hopes that pediatricians can change the tone of the argument, making it about safety.
"Here we are talking about children. We can't gun-proof a child. We have to childproof our homes," he said. "It is a leading argument that hopefully will change the way people think about guns generally."
"Can we reframe the conversation so that it is about data, not about political beliefs?" Dr. Barbara Stoll of Emory University asked the meeting.
That might not be easy.
"I am widely known as the 'widely discredited Dr. Arthur Kellermann'," Dr. Arthur Kellermann of the RAND Corporation, a think-tank, told the pediatrics meeting in D.C. Kellermann, who established the Emory Center for Injury Control, has spoken out about gun-injury and death rates that are almost 20 times higher in the U.S. than those in other high-income nations with populations of more than 1 million.
He's also done research showing that people are 2.7 times more likely to be murdered if they have firearms in their homes – research challenged by guns-rights advocates. Kellermann says he's not an advocate for gun control and cautioned the pediatricians to pursue changes that gun owners are comfortable with.
Gun advocacy groups have moved to discredit the AAP, which represents 60,000 doctors who have voted overwhelmingly to support some gun measures. One was set up specifically to do this – the Doctors for Responsible Gun Ownership (DRGO). "DRGO is a nationwide network of 1,400 medical doctors, other health care professionals, scientists, and others who support the safe and lawful use of firearms for any legitimate purpose," the group says on its website.
Founded by the pro-gun-ownership Second Amendment Foundation, DRGO says the the AAP and the American Medical Association are "motivated by deep-seated prejudice against gun owners." "DRGO's mission is to expose the poor medical scholarship -- and the anti-gun bias behind it -- held out as truth by organized medicine and medical journalism," the group says.
The NRA has sponsored legislation to stop pediatricians from asking parents about guns in the home -- something that really puzzles doctors who routinely ask about other safety issues, such as using car seats and wearing helmets while riding bikes.
A federal judge struck down Florida's 2011 law that forbade doctors to ask about guns in the home, but the NRA has sponsored similar legislation in Alabama, North Carolina, West Virginia, Minnesota, and Oklahoma.
"The chilling effect persists," Miller said.
Related: