An Eli Lilly drug helped obese patients with Type 2 diabetes lose 15% of their body weight, or about 34 pounds, on average, in a late-stage clinical trial, the drugmaker said in a news release Thursday.
The results add to evidence that the drug, tirzepatide — which is sold under the brand name Mounjaro for Type 2 diabetes — can be used as an effective weight loss aid.
Results from another trial released last year found that tirzepatide helped patients without Type 2 diabetes lose 22.5% of their body weight on average, or about 52 pounds. Patients in that trial had obesity or were overweight. 
Weight loss can be more difficult for people with diabetes.
That's because of the way their body responds to insulin, said Dr. Shauna Levy, a specialist in obesity medicine and the medical director of the Tulane Bariatric Center in New Orleans. She was not involved in the trial.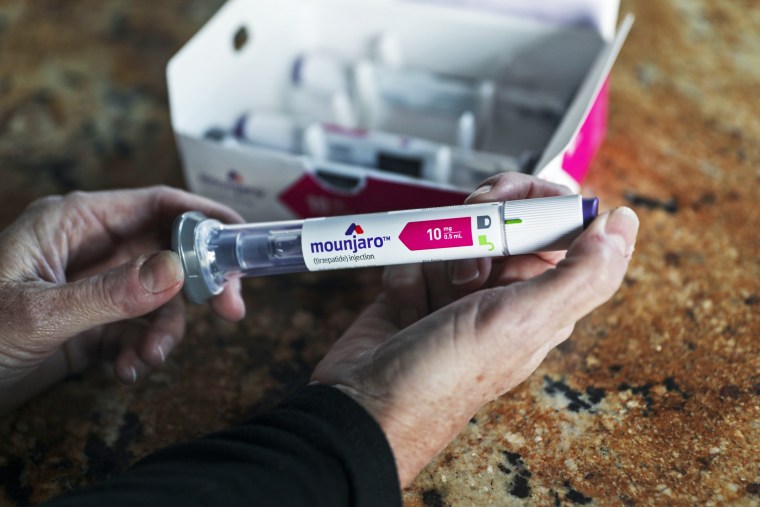 "The more progressed the diabetes, the worse the insulin resistance and the harder it is to lose weight," Levy said, adding that the medication could be "extremely helpful" for people with Type 2 diabetes who need help losing weight.
The trial results released Thursday looked at 938 adults with obesity or overweight and Type 2 diabetes. Study participants had an average body weight of 222 pounds.
The participants in the trial received a weekly injection of tirzepatide or a placebo for 72 weeks. Two doses of tirzepatide were studied: a 10-milligram dose and a 15 mg dose.
Participants who got the 10 mg dose lost, on average, 13.4% of their body weight, or 29.8 pounds, while people who got the 15 mg dose lost, on average, 15.7% of their body weight, or 34.4 pounds, according to the company. In comparison, people who got the placebo lost 3.3% of their body weight, or 7 pounds.
The drug was well tolerated, and side effects were similar to those in the trial with people without diabetes. Side effects in that trial included nausea, vomiting, diarrhea and constipation.
Thursday's results were announced in a news release and haven't been made available for peer review yet.
Losing weight can be effective for the prevention and treatment of Type 2 diabetes, said Dr. Susan Spratt, an endocrinologist and senior medical director for the Population Health Management Office at Duke Health in North Carolina. 
"If we want to reduce the morbidity and mortality of diabetes, we need to treat one of its underlying risk factors: obesity," Spratt said.
The Food and Drug Administration is reviewing tirzepatide over whether it can be used as a weight loss aid in people with obesity or who are overweight.
It's among a class of drugs called GLP-1 agonists, which mimic a hormone that helps reduce food intake and appetite. The drugs were initially developed for Type 2 diabetes but were later found to induce weight loss. Two other GLP-1 agonists, Ozempic and Wegovy, from Novo Nordisk, are in high demand in the U.S. because of their weight loss effects.
Tirzepatide also imitates a second hormone, called GIP, which along with reducing appetite may also improve how the body breaks down sugar and fat.
Mike Mason, the head of Eli Lilly's diabetes and obesity division, told NBC News that Thursday's results will complete the company's submission package to the FDA. The company expects the agency could reach a decision as early as late 2023. 
Follow NBC HEALTH on Twitter & Facebook.