Pricey, brand-name drugs are helping drive up spending on prescription medications, a giant health insurance company said Wednesday.
Even though more and more doctors are prescribing cheaper generic drugs to patients, the prices of brand-name drugs with no competitors outweigh the savings and are driving up overall spending, Blue Cross and Blue Shield said in a report.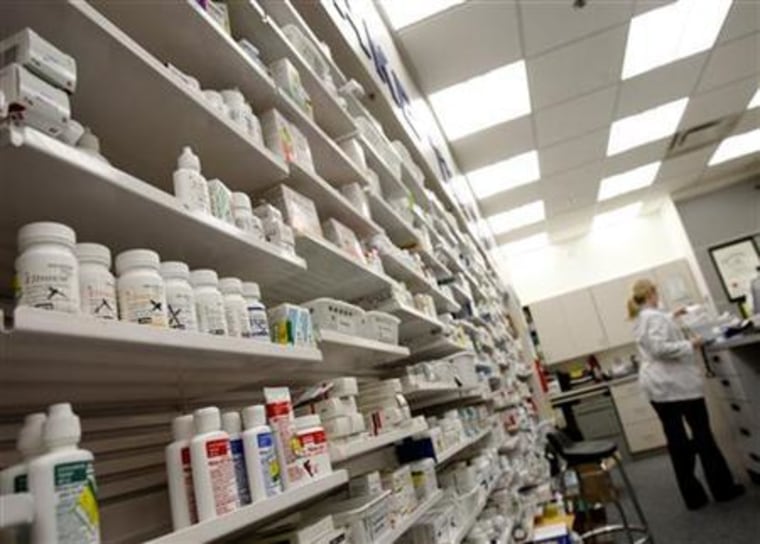 "Prescription drug spending has increased 10 percent annually for Blue Cross and Blue Shield (BCBS) members since 2010, an overall rise of 73 percent," the report reads.
"This upward trend is due to a small fraction of emerging, patented drugs with rapid uptake and large year-over-year price increases that are more than offsetting the continued growth in utilization of lower-cost generic drugs."
Drug prices are a hot-button political issue in the United States. Recent polls show Americans care more about rising drug prices than they do about other health care issues, even though prescription drugs make up less than 10 percent of all health spending in the U.S.
Related: Health Spending Grew Fast in the U.S.
But drug prices go up overall each year and as more and more people use prescription drugs, the costs to the country as a whole rise.
"These higher costs are being incurred by consumers and payers alike," the report reads.
"While consumer out-of-pocket costs have risen just three percent annually for prescription drugs in total, they have risen 18 percent annually for patented drugs. Current trends suggest that this rapid rise in drug trend costs is likely to continue in future years."
The findings jibe with a 2016 study published in the Journal of the American Medical Association that found while brand-name drugs account for only 10 percent of all dispensed prescriptions in the U.S., they make up 72 percent of drug spending.
Related: New Group Takes on Drug Prices
For the report, Blue Cross Blue Shield analyzed the medical claims of more than 30 million customers who spent a total of $208 billion on prescription drugs from January 2010 through September 2016.
Drug prices are higher in the U.S. than in most other countries because of the free-market system that lets manufacturers set the prices. The U.S. patent system gives drugmakers years of protection from competition and laws prevent Medicare, Medicaid and other health insurers from negotiating lower prices.
Drug companies often charge more in the U.S. to offset the cost of offering discounts in countries with different laws.
"This upward trend is due to a small fraction of emerging, patented drugs with rapid uptake and large year-over-year price increase."
The report finds that it is patent-protected drugs with little or no competition that are accelerating prices the most.
The cost of these so-called single-source products is rising at an average rate of 25 percent a year, the report found — more than double the 10 percent average annual rate of spending for all drugs.
Related: Congress May be to Blame for High Drug Prices
"These patent-protected single-source drugs now make up 63 percent of total drug spending, up from 29 percent of total spending in 2010, despite the fact that they comprise less than 10 percent of total prescriptions filled," the report reads.
Many are lifesavers — including some of the new cancer drugs and the relatively new cures for hepatitis C.
Hepatitis C affects about 3.2 million Americans, once killing more than 15,000 each year. Drugmaker Gilead makes two of the big-name, big-cost drugs: Sovaldi and Harvoni, a combination pill that includes Sovaldi. Sovaldi costs about $84,000 for a weeks-long regimen that can cure someone of hepatitis C. Harvoni costs more than $94,000 for similar treatment.
Gilead argues that the expensive cure costs less than treating a patient for a lifetime with less effective drugs.
Related: Drug Companies Boosted Their Prices, Analysis Finds
The report does not contradict that claim.
"Many of the new brand drugs that are contributing to the rapid rise in drug spending can have life-changing health benefits by treating or managing serious conditions," it says.
"However, the treatment benefits of these drugs can only be fully attained if they remain affordable over the long term."
"Current trends suggest that this rapid rise in drug trend costs is likely to continue in future years."
Competition does work, Blue Cross Blue Shield said.
"The introduction of generics into the marketplace lowers overall drug cost for the particular drug. For example, the total spending of Lipitor (atorvastatin) and its generic alternatives declined 78 percent between 2011 and 2016 following the loss of Lipitor's exclusivity and the release of generic alternatives," the report reads.
Related: Experts Demand Cheaper Cancer Drugs
Another way to bring spending down is to encourage doctors to prescribe generic drugs. A separate study funded by the National Institutes of Health found that when persuasive drug company representatives are kept away from physicians, the doctors become less likely to prescribe name-brand drugs.
The stricter the limits, the less likely doctors were to rely on the name-brand drugs, the report found.
"There has long been concern that drug marketing to physicians might influence their prescribing, including — and maybe especially — for psychiatric drugs," said Michael Schoenbaum of the National Institute of Mental Health, who worked on the study.
"Many medical schools have adopted policies to limit such marketing, and this study is one of the first to document what effect these policies actually have."