Nearly 2,000 Princeton University students lined up for shots Monday as the New Jersey school began offering an emergency vaccine aimed at halting an outbreak of potentially deadly meningitis that has sickened eight since March, health officials said.
That's about one-third of the estimated 6,000 students and others expected to get injections this week of an imported drug approved in Europe, Australia and Canada, but not in the U.S. It protects against the B strain of meningitis — the bug behind the illnesses — which isn't covered by the vaccines that most college students already receive.
Kate Dreyfuss, 21, a Princeton senior from Short Hills, N.J., was the first of 1,959 students to get the jab. 
"I just wanted to make sure I could get in and out as quickly as possible," said Dreyfuss, who was concerned about the recent increase in cases. "It felt just like a flu shot, not very painful at all."
Among those who got vaccinated later was Lesa Redmond, a 20-year-old freshman eager to be protected against the rare but serious infection. 
"There's not a reason not to get it," said Redmond. "I think we definitely know the consequences."
Her comments come amid an unrelated outbreak of meningitis B across the country, at the University of Californa, Santa Barbara, where at least four students have been infected in the past month, including an 18-year-old freshman lacrosse player whose feet had to be amputated after complications from the illness, according to family reports.
Aaron Loy is recovering slowly and has received a flood of support from friends and the community, family members said on the website CaringBridge. 
"Aaron is scheduled for surgery this afternoon to address/repair his various wounds," his family posted Monday. Family members didn't respond to NBC News requests for direct comment. 
Other students who were hospitalized are recovering, health officials at Princeton and UCSB said, without divulging details.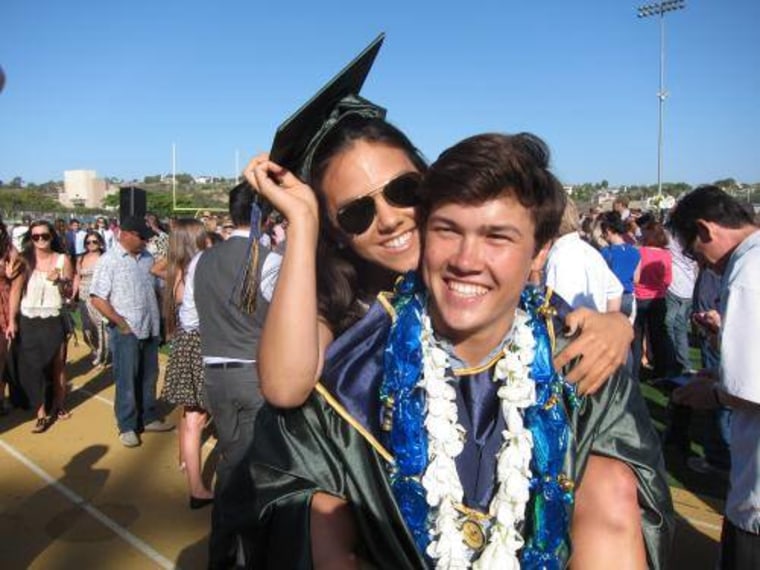 Loy's condition underscores the threat of meningitis infections, which are rare but very serious — especially among teens and young adults — killing 1 in 10 of those affected and leaving about 20 percent of those who survive with severe disabilities, including limb loss, deafness and mental retardation.
Princeton agreed to provide the shots after federal officials at the Centers for Disease Control and Prevention requested special permission to import the vaccine. Bexsero has been submitted for consideration in the U.S. by its maker, Novartis, but is far from any decision.
Students there will get initial doses at clinics held from noon to 8 p.m. Monday through Thursday, and then a second round of shots in February. Princeton is footing the bill for the vaccine and will administer it in the same way it gives flu shots, said Dr. Thomas Clark, the CDC meningitis expert who is overseeing the distribution.
"They can move hundreds of kids through in a day," said Clark, who added that Princeton seems well-prepared for the effort. The shots are regarded as safe, he said, with reports of only minor reactions, if any, such as soreness at the injection sites.
The clinics are running on first-come basis at the university's student center, Clark and university officials said. 
There are no imminent plans to seek permission to import the vaccine for use at UCSB, where more than 500 close contacts of those who got sick have received antibiotics to prevent infection, Clark said. That rankles parents like Gavin Brooks, 51, of Laguna Beach, Calif., who says her 20-year-old daughter was at a party with Aaron Loy just before he fell ill.
"I'm very concerned. There was a party and Aaron was at the party and the next day he was in a coma," said Brooks.
She wants school and government officials to make Bexsero available to her child and others before someone else is disabled — or worse — by the infection.
"You can't give it to one university community and not others," she said. "I think they're reacting too slow. I don't know how you can say, 'Wait and see.' The precedent has been set. What are they waiting for? I don't think it's any less of an outbreak than Princeton."
But Clark said every meningitis B outbreak is different and that most are not sustained beyond three or four cases that occur within a few weeks.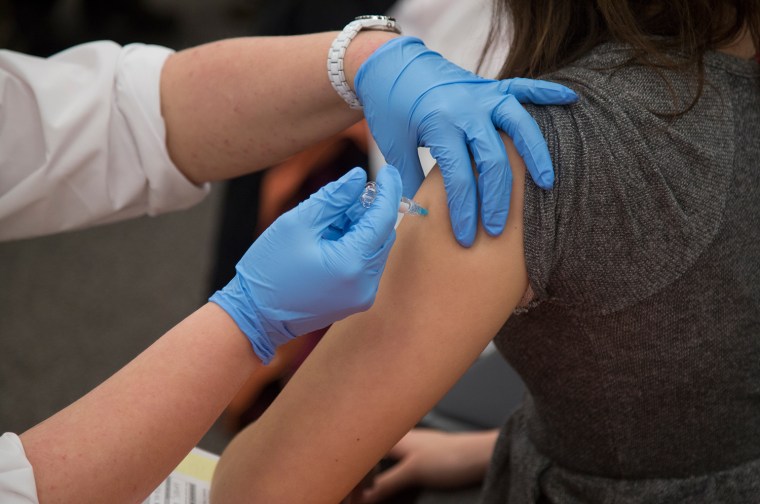 Health officials took the unusual step of requesting the unapproved vaccine because the Princeton outbreak started in March, but did not stop after the summer break, which should have interrupted the transmission of the disease.
Clark, who heads the CDC's meningitis and vaccine preventable diseases branch, acknowledged that that's small comfort for worried parents of Santa Barbara students and said a process is in place if the vaccine is determined to be warranted in the California outbreak.
He couldn't say whether a potential fifth case would be enough to trigger a request — or what the tipping factor might be.
"That's the point that has everyone on edge," he said, adding: "There's a lot going on behind the scenes."
Bacterial meningitis is a dangerous infection of the protective membranes that cover the brain and spinal cord, known as the meninges. It is spread through respiratory droplets or secretions exchanged through close personal contact such as coughing or kissing, which is why health officials in Santa Barbara have asked fraternities and sororities to shut down parties for now.
Meningitis cases have dropped sharply in the U.S. in recent years, with only about 500 reported last year, Clark said. Still, young adults are particularly vulnerable to the infection and 16 states require incoming students to get the U.S.-approved shot that covers the A, C, Y and W-135 strains — but not the B strain. Princeton, for instance, requires the vaccine; UCSB and other University of California schools do not.
The outbreaks at the two schools are caused by the same B strain, but by bacteria with different genetic fingerprints, Clark said, indicating that they're not related. Tests are still being conducted, but it appears that Bexsero would protect against the Santa Barbara infections, he added.
Still, the reports have sparked worries among parents from coast to coast, including Karen Lewis, the mother of Lesa Redmond. She didn't hear anything about the Princeton outbreak in March and was surprised to learn of the potentially devastating consequences only from news reports in November.
"I called my daughter immediately in a panic," said Lewis, 57, who lives in Atlanta. Like many students, Redmond knew about the outbreak and already was taking steps to avoid infection, such as not sharing cups and utensils and avoiding close quarters.
Lewis says she's relieved that the vaccinations are starting Monday and that her daughter will soon be protected. She praises Princeton's response to the crisis.
"I'm trusting that, whatever it is, they're on top of it and are doing everything they can possibly do."
People with questions about the meningitis B vaccination can contact the CDC at meningvaccine@cdc.gov.
JoNel Aleccia is a senior health reporter with NBC News. Follow her on Twitter at @JoNel_Aleccia or send her an email.