A Drexel University student who died from bacterial meningitis was killed by the same strain that infected eight students at Princeton University, federal health officials said Tuesday.
Stephanie Ross, 19, died earlier this month after being infected with meningitis B, a rare bacterial infection. The outbreak at Princeton prompted a vaccination campaign at the school using an unlicensed, imported vaccine because the usual meningitis vaccine doesn't protect against it.
"CDC's laboratory analysis shows that the strain in Princeton University's serogroup B meningococcal disease outbreak matches the strain in the Drexel University case by 'genetic fingerprinting'," the Centers for Disease Control and Prevention said in a statement.
"This information suggests that the outbreak strain may still be present in the Princeton University community and we need to be vigilant for additional cases."
CDC's Dr. Thomas Clark says the case doesn't represent a new outbreak at Drexel. Ross had been in contact with students from Princeton, which is about 45minutes away.
CDC and state health officials have been tracking everyone in close contact with Ross.
"That investigation did identify some Princeton students as close contacts and they were given antibiotics," Clark told NBC News.
"The fact that the strain matches means that they are most likely source (of infection)," he added.
CDC has vaccinated more than 5,000 Princeton students against meningitis B using a vaccine in wide use in Europe called Bexsero. Its maker, Novartis, plans to apply for a license to use Bexsero in the United States. Bexsero was used in an unrelated outbreak of meningitis B at the University of California Santa Barbara this year, also.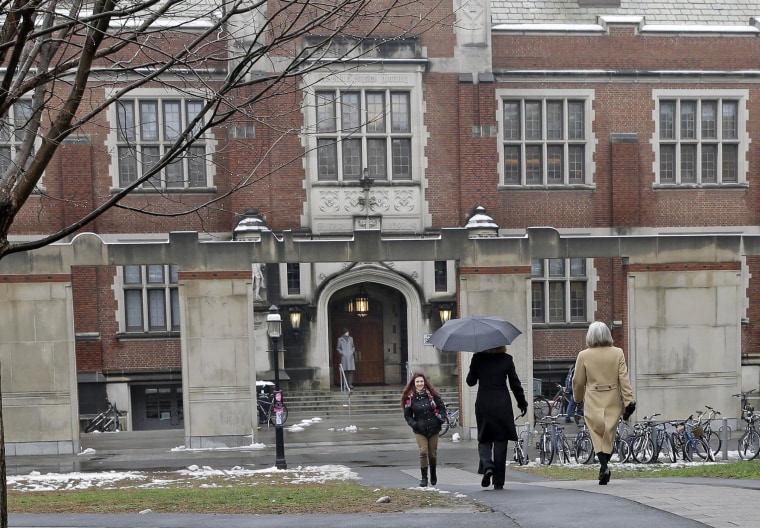 Most of the Princeton students Ross had been in contact with had been vaccinated against the meningitis b strain. Clark says it's possible people can be vaccinated and be protected themselves, while still able to spread the bacteria to others. "We just don't know," he said.
Clark said there are no plans for vaccinations at Drexel. "Right now it's one case and it doesn't tell us there is going to be an outbreak," Clark said.
But the case shows that college students in particular need to be careful. Meningitis isn't particularly easy to catch, but kissing and other close contact are good ways to spread it. Meningitis can kill very quickly and unexpectedly and students with symptoms such as high fever, stiff neck or a rash need to seek immediate medical attention.
About 500 cases of bacterial meningitis are reported in the U.S. each year, with more than a third caused by meningitis B. About one in 10 people who get sick die and 20 percent are permanently disabled