The vast majority of coronavirus tests are being processed by private clinical laboratories. But the industry continues to face challenges, says the trade group that represents the nation's private labs, leading to difficulty increasing capacity and delays in test results that can top a week — especially in hard-hit areas like New York and South Florida.
"The challenges facing labs today should not be underestimated," said a spokesperson for the American Clinical Laboratory Association, or ACLA. "There are widespread shortages of test kits, specimen collection materials, personal protective equipment and reagents. Currently, there is no established funding mechanism to support testing capacity now or in the future, and many labs are at risk of absorbing significant costs for uncompensated testing."
In the month since they began testing, private labs have conducted nearly 1.5 million tests — more than 85 percent of all U.S. tests. Some of the largest companies are now able to process more than 35,000 samples a day. While many testing companies estimate times for results within two to five days, in the past month, people around the country have found themselves waiting a week or sometimes nearly two to learn whether they have COVID-19, the disease caused by the virus. Testing speed is starting to catch up, but even at one of the top two private lab companies — Quest Diagnostics — there is still a backlog of about 80,000 tests.
Full coverage of the coronavirus outbreak
Since the first coronavirus cases appeared in the country, the U.S. has struggled to ramp up testing. Approval processes for both public and private labs to begin testing were drawn out, labs faced shortages of critical supplies like swabs and N95 masks, and there were not enough testing kits. Confusion about who will cover the cost of testing for millions of Americans — the government, insurance companies, the labs themselves or some combination — still remains.
But labs say that as more private labs began to test, a failure to prioritize truly urgent samples over lower-risk cases led to delays, with turnaround times that could be longer than a week.
"Typically, 24 hours would be considered a long time to get a test [result] for a viral infection," Ann Maxwell, assistant inspector general for the Department of Health and Human Services, told NBC News, discussing a new inspector general's report that found that hospitals are struggling with confusing federal guidance and shortages of gear and testing supplies. "The hospitals were telling us they were waiting up to seven days to get their test results."
Hospital chiefs said the delay in testing caused other problems. Patients stayed in hospital beds while waiting for results, reducing the availability for other patients; staff members used precious personal protective equipment in interactions with patients they may not have needed it for; and staff members were unable to determine whether they had contracted or been exposed to the virus in a timely manner.
"One hospital reported that these delays put patients at risk because physicians were unable to make effective treatment decisions without the test results," the report said.
Prioritization
Testing in the U.S. began in January at the Centers for Disease Control and Prevention and then expanded to state and local public health labs, although efforts to roll out nationwide testing quickly were bungled, characterized by bureaucratic delays and the CDC's sending flawed test kits to local labs.
The country's public labs are not designed to handle large volumes of tests, anyway — only commercial labs can do that. But the rollout of commercial testing was even slower. The federal government did not issue guidance allowing commercial laboratories to perform tests until Feb. 29, and companies began testing within a week.
Less than a week later, the ACLA met with Vice President Mike Pence and the White House coronavirus task force about the challenges labs were facing. It recommended that the federal government issue emergency authorizations for a wide range of testing platforms to increase capacity; update guidance for providers requesting tests, so those most in need of tests or are at high-risk for COVID-19 can get access them as quickly as possible; and provide funding for crucial testing resources.
Download the NBC News app for full coverage and alerts about the coronavirus outbreak
To date, the challenges for private labs remain the same, according to the ACLA. No designated funding for labs to support expanded COVID-19 testing was in any of the federal coronavirus stimulus packages.
While there are test kits available but not in use around the country, not all kits work with all testing platforms. The materials and components must match each platform, which has contributed to delays and backlogs. With low volumes of supplies like kits, reagents and swabs, labs may not always be able to match kits and platforms, the ACLA said.
One of the other biggest challenges for labs has been prioritization. The CDC has issued several versions of testing guidelines in recent weeks, but the ACLA said the guidance alone was not enough. "Many stakeholders are still unaware of the new guidelines," the organization told NBC News.
Concerned about delays in testing high-risk cases, the ACLA wrote a letter to the head of the CDC on Thursday, urging the agency to promote its guidance more widely to medical providers ordering tests and to the public.
"Testing capacity at this time remains insufficient to meet the needs of all Americans," Julie Khani, president of the ACLA, said in the letter. "Without immediate and aggressive education to physicians, hospitals and other providers, as a nation we will be unable to prioritize those most in need."
The CDC did not immediately respond to a request for comment about promoting its testing guidance.
Public vs. private
As demand for testing was rising and private labs began conducting tests in early March, NBC News asked every state health department about its testing recommendations for the public. Many directed patients who did not meet the state's definition of high-risk cases qualifying for public testing to ask their doctors about testing at private labs. Few had clear criteria for what kind of samples should be sent to private labs or knowledge about how long private lab testing might take.
State public health labs have had clear requirements for who can get tested since they began conducting COVID-19 tests. Early on, most required approval from the state health department for a sample to be sent to the lab. Some still do, but almost all have now placed the decision to order tests in the hands of doctors, along with criteria that prioritize patients who are hospitalized or at high risk or for health care workers and first responders.
Public health labs have very limited capacity compared to private labs. According to the health departments in Pennsylvania and Alabama, the public labs in both states can test slightly more than 300 specimens a day. New York state's public lab can process more than 1,000 samples a day. By the end of March, the state was testing more than 15,000 people a day.
Colorado's can process 800 samples a day, but it has a "surge capacity" of 2,000 samples a day if 24/7 testing is needed. It is receiving only 200 to 300 samples a day.
At their peak in mid-March, the nation's public health labs conducted just over 11,000 tests in a day. Many of the state labs NBC News reached out to said they were nowhere near capacity, because only a few dozen to a few hundred samples meet their criteria for prioritization each day.
"The state's public health lab is not intended to be a high-throughput clinical diagnostic lab," said a government spokesperson in Virginia, where the public health lab can process about 200 samples a day. "Our role is to implement tests early on to help identify an emerging disease and then to support public health efforts, including surveillance and outbreak investigations."
'Unprecedented demand'
Quest Diagnostics, one of the country's largest lab companies, has run and reported the results of nearly 550,000 coronavirus tests since the company began testing March 9 — a little more than a third of all reported tests. While it has thousands of patient service centers around the country, only 12 labs are equipped to process coronavirus tests.
Those 12 labs can now perform more than 35,000 COVID-19 tests daily. But getting the samples from thousands of doctors' offices to the labs is a complex operation involving 3,700 couriers and more than 20 planes, according to the company.
Quest still has a backlog of 80,000 tests, although it has cut that backlog in half in just the last two weeks.
The company says it has been working to prioritize higher-risk cases, and its average turnaround time for specimens that health care providers flag is one day. For most other patients, the company estimates two to three days' turnaround time from when a specimen is picked up. However, "patients in certain hot spot areas, including the NY-NJ metropolitan area, Chicago and Miami, may experience turnaround times of 3 or more days due to significant demand for services," Quest announced Monday.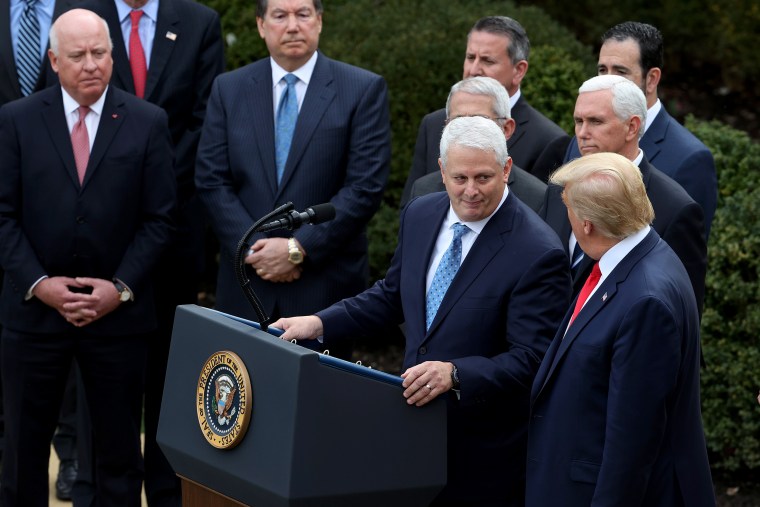 LabCorp, which has a slightly larger testing capacity of 40,000 tests a day and began testing March 5, recently worked its way through its backlog; it told NBC News that its capacity "is now meeting the average current daily volume of tests we are receiving at our labs." The company has tested more than 500,000 samples since it began running tests and estimates that its average turnaround time has dropped from four to five days to two to four days.
"We understand how disconcerting it is to not receive test results in a reasonable time frame, and unfortunately, due to the unprecedented demand we had when we started testing, this has been the experience for some people," said Mike Geller, a spokesman for the company.