John Cortinas knows exactly how many calories he's getting.
The 54-year-old government meteorologist is munching a salad at a Chipotle in Silver Spring, Maryland, where he says he carefully reads the calorie counts on the menu options.
"I am looking to make healthy choices," he said. "I watch my weight," Cortinas said, nodding to the diet soda he bought to go with his salad.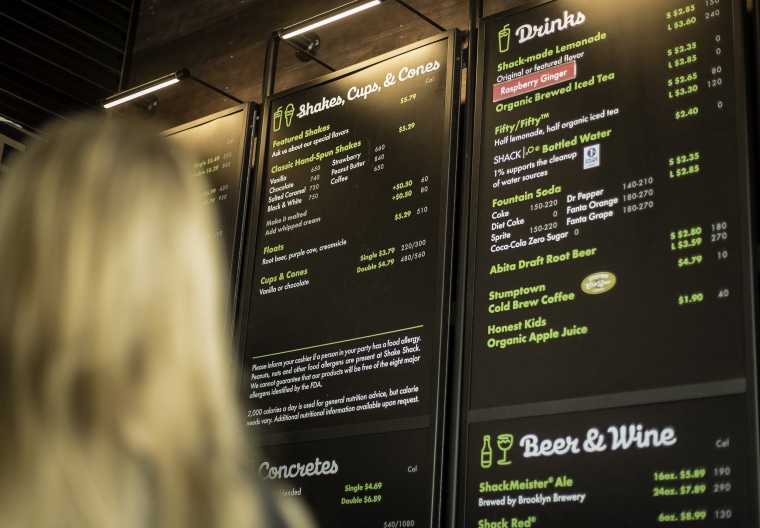 Cortinas said he is aware of and grateful for the Food and Drug Administration restaurant labeling requirements that went into final effect Monday. "I pay more attention to the low-calorie options," he said.
It's taken a long time to get here, but all restaurants with 20 or more outlets must post the calorie counts and other nutritional information on their menus. That includes movie theater popcorn and drinks in bars.
The 2010 Affordable Care Act required the labels, but the FDA has been negotiating with industry and Congress since then.
Many restaurant chains have been posting these calorie counts for years. Others have battled hard against them, and one year ago the FDA delayed the labeling requirements for a year.
As of Monday, there's no more delaying.
"By having information about the calories in food, you can make more informed decisions about the food you eat — decisions that can help improve your overall health and that of your family," the FDA said.
"And it's just as important that you and your family have access to this information when eating out, as you do at home when you are able to look at calorie counts on food packages."
Chipotle, which specializes in build-your-own burritos, tacos and salad bowls, provides a breakdown by ingredient. So the menu tells patrons that a burrito can supply anywhere from 740 to 1,210 calories, depending on the rice (210 calories), beans (130 calories), salsa (15 to 80 calories) or cheese (110 calories) you put in.
"What's good is to understand not just the overall calories, but the calorie count of the components of what you are having," Cortinas said.
Celis De La Cruz also appreciates the calorie counts. "I don't do any of the carbs," she said, as she dashed out of the same Chipotle in Silver Spring, Maryland. "Pretty much all I get are salads — lettuce and chicken," added the 40-year-old analyst. "I am one of those people who can eat the same thing for lunch every day."
The menu labels aren't anything new in Silver Spring. The Washington suburb is in Montgomery County, which passed its own menu labeling requirements in 2010.
The idea behind the laws, both federal and local, is to help Americans control their weight. With 40 percent of the American population obese, and more than 70 percent either obese or overweight, the need is dire.
"For consumers who want to consume fewer calories, having calorie and other nutrition information available has the potential to save and improve lives," said Susan Mayne, director of FDA's Center for Food Safety and Applied Nutrition.
Some studies have shown that menu labels don't affect consumer behavior. Most of the customers at a Panera bread, around the corner form the Chipotle, said they did not pay attention.
"I just eat what I want to eat," said one 30-something man, who declined to give his name, as he ate a bagel (300 or so calories) with peanut butter spread (250 calories).
But Allen, a 48-year-old IT security specialist who did not want to give his full name, said he had memorized the calorie counts at fast-food chains.
"I look at it to make sure it's not overly high," he said as he finished a sandwich in a Panera. "I like to keep it at around 500 calories, usually. You've got three meals a day and you get 1,500 to 2,000 calories for a day."
He estimates his own sandwich provided 400 calories. "The chips are around 80," he said. "It's not that bad."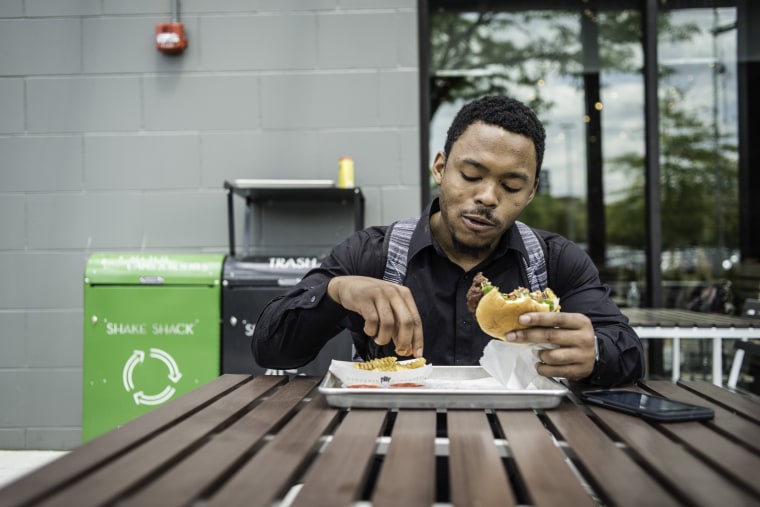 A Panera Mediterranean veggie sandwich is the restaurant chain's lowest-calorie option, with 440 calories, although the flatbread sandwiches come in at less than 400 calories. A steak and white cheddar panini racks up 940 calories.
It's that kind of information that people really need to make choices, argues the Center for Science in the Public Interest. The CSPI has for decades published eye-popping annual reports on the calorie, fat and salt content of meals at popular restaurant chains and filed a lawsuit to try to force the federal government to enact the menu labeling law.
"Without it, it would be hard to tell that the Louisiana Chicken Pasta (2,330 calories) is much tougher on your waistline than the Four Cheese Pasta (1,190 calories) at The Cheesecake Factory," the CSPI said in a statement released Monday.
"The numbers tell you that it's about 1,000-calories more. At Starbucks, a grande Caffè Mocha with whole milk and whipped cream (400 calories) has five times as many calories as a grande nonfat Cappuccino (80 calories)."
Cleveland Clinic nutritionist Kristin Kirkpatrick thinks the menu labels are a good first step.
"There's a lot more things I think we need to do because consumers are demanding more and more information from their food and their drink," she said.
"But it definitely is going to reveal a little bit more and we'll see — time will tell if it will change behavior."
Even when it's a special treat, the menu calorie counts catch the eye, said Aaron Kimbrough, manager of a Ben & Jerry's ice cream parlor in Silver Spring.
"It's funny. Some people make jokes about it," he said. "I had a woman this past weekend, she wanted one scoop of the lowest-calorie ice cream we have," he added.
But Kimbrough said he doubted that calorie listing changed most customers' behavior. "You know if you come in here, you are not looking to save calories," he said, laughing.