DENVER — One hundred takeout containers were lined up in front of Kyle Mendenhall as he and two other chefs pushed the dining room tables together at Zolo Grill in Boulder, Colorado, to create a sort of assembly line.
The Mexican restaurant has been closed since March 16 when Gov. Jared Polis temporarily stopped dine-in eating in restaurants and bars in response to the spreading coronavirus. Yet on a recent afternoon, Mendenhall layered tortillas, meat and cheese into row after row of plates — slowly building Zolo's "famous" chicken enchiladas, one of the restaurant's bestsellers.
The meals will be packed up and delivered a mile down the road to Boulder Community Health, where they will move from Mendenhall's car to the loading dock and into the hands of health care workers on the frontlines of the battle against COVID-19, the disease caused by the coronavirus.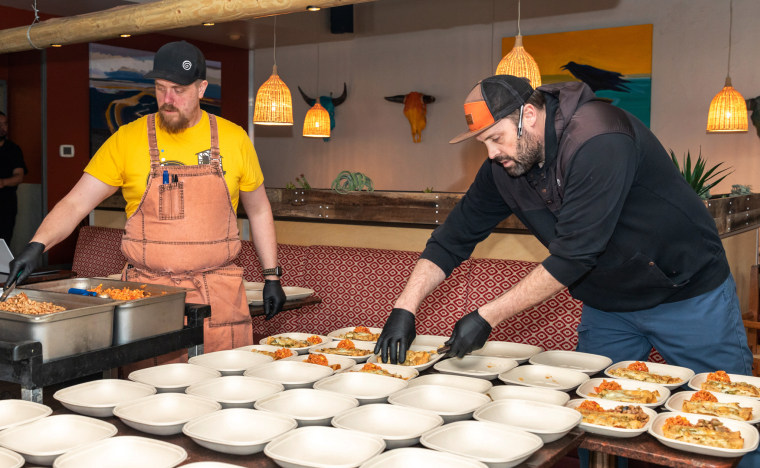 Across the country, communities are coming together to support two industries hit hardest by the pandemic: health care professionals and restaurants. A National Restaurant Association survey from late March found that 11 percent of restaurant operators expected to permanently close their doors within 30 days.
Efforts by nonprofits and grassroots groups are raising tens of thousands of dollars to pay restaurants to cook meals that are then funneled to hospitals, firehouses and paramedics.
"This is one small way we can show [our support] other than staying home and not spreading the virus further," said Vikas Reddy, co-founder of Occipital, a software company, and an organizer of Feed the Frontlines Boulder.
Since its March 30 launch, Feed the Frontlines has delivered over 2,500 meals made by nine local, independent restaurants, including Zolo Grill. The initiative conceived by Kyle Judah, executive director of entrepreneurship at the University of Colorado Boulder College of Engineering, began with $200,000 in seed funding and has since raised another $214,000.
"The whole reason we do what we do is to serve people, to make them happy, to comfort them, even when we're not in times of crisis," Mendenhall, culinary director of the Big Red F Restaurant Group, said. "That's all any chef can ask for — to feel valuable, to feel like you're contributing."
The neighborhood eateries are paid for the food they make, allowing them to keep some employees on the payroll to help. Participating restaurants agree to put any profit toward their staffs, although they say the money is not enough on its own to keep them in business.
"It's a really awesome way for us to get a little bit of revenue coming in," Mendenhall said. "It's also a really good opportunity for us to utilize the product that was left in our restaurants that was not going to have a home anywhere. It's a double blessing in that we didn't take a huge loss on product either."
At least a half-dozen similar efforts have popped up in the Denver metropolitan area since the coronavirus crisis began, including Lunches for Clinicians, Feed the Frontline and Feeding Colorado Heroes.
Programs can be found all over the country, most notably Frontline Foods, which has partnered with chef Jose Andres' World Central Kitchen nonprofit. The initiative has raised $2 million and delivered more than 70,000 meals in 42 cities, including Denver.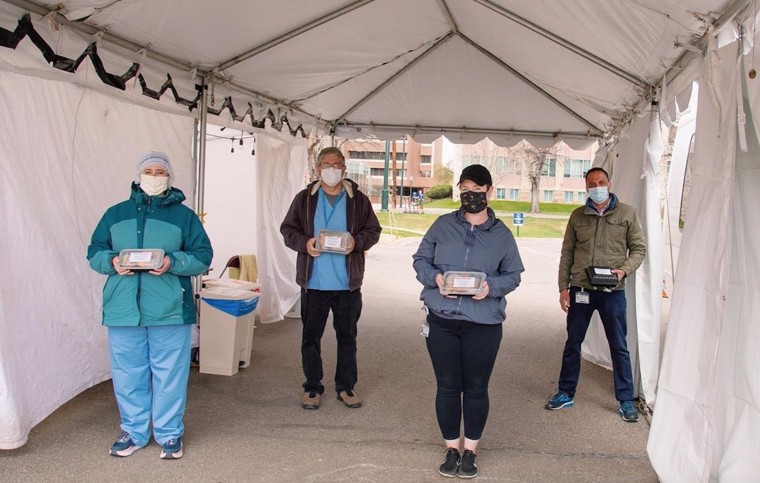 Alex Seidel, a James Beard-winning chef with four restaurants in the Denver area, has turned the kitchen at his fast-casual Chook Charcoal Chicken into a Frontline Foods enterprise. With so many restaurants involved, the orders are inconsistent, but the neighborhood eatery sent 300 fully composed meals to three hospitals in one week recently.
"It's really brave of them [health care workers] to put themselves out there like that and to continue to do it. If we can take care of them or give them some kind of comfort every day, that's what we're trying to do," Seidel said. "Part of being a cook and a chef, that's where I get all of my energy from: making people happy through food."
Separately, Seidel's Mercantile Dining & Provision is part of the Colorado Restaurant Response with three other local eateries. Each restaurant cooks 400 meals a day for those facing food insecurity, 100 for unemployed industry workers and 25 for health care workers. It launched with $100,000. Funds from both initiatives have allowed him to continue paying managers' salaries and health insurance.
"We'll see $500 donations come in, $1,000 donations. These are from complete strangers," said Gretchen TeBockhorst, founder of Feeding Colorado Heroes, which has delivered meals to eight medical centers in the Denver area since launching March 21.
"It just shows that people want to help — people want to help these health care workers and they want to help the restaurants," she continued. "It's not like we can tell all the hospital workers themselves, but in the form of a meal we can say thank you."
As hospital cafeterias reduce their hours and limit offerings to grab-and-go, fewer options are available to health care workers and their support staff. Those working in COVID-19 or intensive care units often don't have time to pick up meals or to go grocery shopping in their off-hours.
The packaged meals help fill the gap and serve as a reminder that their community is rooting for them.
"It's been the most generous thing I've ever seen," said Mikalle Bardorf, interim director of the emergency department at Rose Medical Center in Denver. "Knowing there are people out there that care…"
Though she's used to 12-hour shifts, they've been more taxing than usual because the patients are "really sick" and getting all the personal protective gear on and off is time-consuming. Knowing she'll have two solid meals a day while at work is a relief, she said, because by the time she gets home, she's wiped out.
She is living alone in an apartment to limit contact with her husband, a pediatric ophthalmologist.
In Eagle County, a mountain district encompassing Vail and Beaver Creek that was an early COVID-19 hot spot in Colorado, Eagle County Paramedic Services reached out to a local restaurant more than a month ago, paying it to feed the crew a hot meal every evening.
They have since expanded to other dining establishments, and some private citizens have also offered to pay for the paramedics' meals.
"It just lets people know that when they come to work, they're going to be taken care of," said Chris Montera, CEO of the paramedic company. He takes a long pause before collecting himself and adding, "They're out there on the frontlines and they're doing such heroic things that it's a small thing that I feel like we can do for our staff."
Kristan Denning, a child life specialist at Rocky Mountain Hospital for Children, has helped coordinate meal deliveries at the Denver facility three to four days a week. When her colleagues see her rolling a cart down the hall, the food still warm, "their faces instantly light up," she said.
"Food is a universal comfort," she said. "It's something so simple like tacos, but it makes a world of difference."