Richard III, whose skeleton was discovered only last year buried under a parking lot, really was twisted, a new analysis shows.
Researchers could tell from the skeletal remains that that king vilified by Shakespeare had scoliosis, a curvature of the spine. It wasn't nearly as bad as Shakespeare portrayed it, though. Richard III was far from being a hunchback.
But a new analysis shows that his spine was not only curved, but twisted into a spiral shape, a team at the University of Leicester reports in the Lancet medical journal.
That said, it wouldn't have been very obvious and certainly didn't slow the troubled monarch, they said.
"Although the scoliosis looks dramatic, it probably did not cause a major physical deformity," says the university's Dr. Jo Appleby, who led the study.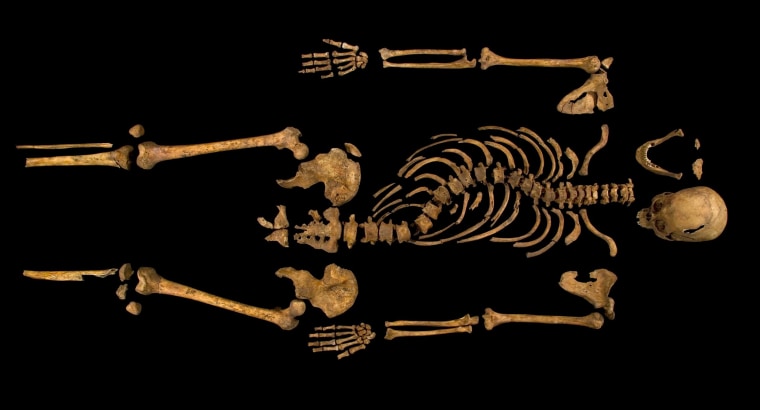 "This is because he had a well-balanced curve. The condition would have meant that his trunk was short in comparison to the length of his limbs, and his right shoulder would have been slightly higher than the left, but this could have been disguised by custom-made armor and by having a good tailor."
Appleby's team used computed tomography (CT) scans to analyze the spine of the king, who died in battle in 1485 and whose remains were lost to history, if not to lore, until February 2013.
Medical and history buffs alike can take their own look at the 3-D images generated by the project.
"Obviously, the skeleton was flattened out when it was in the ground. We had a good idea of the sideways aspect of the curve, but we didn't know the precise nature of the spiral aspect of the condition," Appleby said in a statement.
"The arthritis in the spine meant it could only be reconstructed in a specific way, meaning that we can get a very accurate idea of the shape of the curve. It's really good to be able to produce this 3D reconstruction rather than a 2D picture, as you get a good sense of how the spine would have actually appeared."
Historians have hung on to every report from the University of Leicester team. "Examination of Richard III's remains shows that he had a scoliosis, thus confirming that the Shakespearean description of a 'bunch-back'd toad' is a complete fabrication — yet more proof that, while the plays are splendid dramas, they are also most certainly fiction not fact," said Phil Stone, chairman of the Richard III Society.
"History tells us that Richard III was a great warrior. Clearly, he was little inconvenienced by his spinal problem," Stone added.