Most American parents think they are great role models for their kids, but they admit they're glued to their smart phones, tablets and TVs for more than nine hours a day, a new survey finds.
And most of that time — seven hours or more — is on top of whatever time they're using devices for work, the survey by Common Sense media found.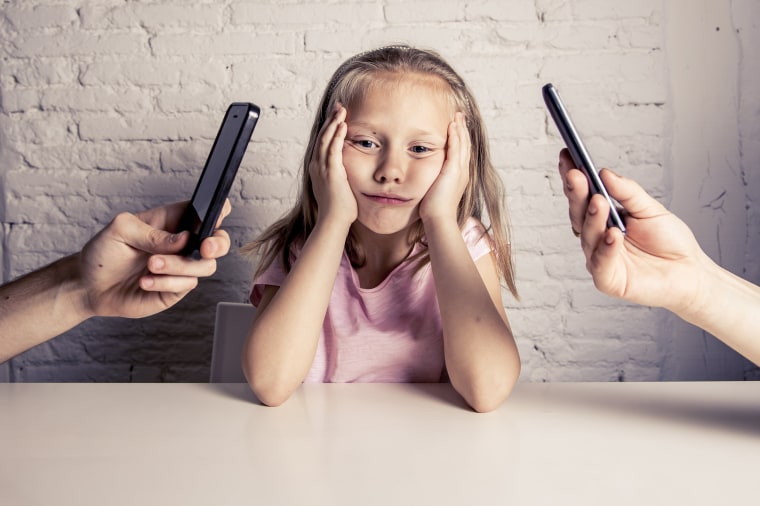 The group, which focuses on kids' use of media, surveyed more than 1,700 parents for its report.
They found parents of kids aged eight to 18 admit to spending nine hours, 22 minutes a day with screen media. Most — seven hours, 43 minutes — is with entertainment media.
"This is just a shocking study, in my opinion," James Steyer, founder of Common Sense Media, told NBC News.
"How can you be a good role model for your kids if you yourself don't find the appropriate balance in terms of media and tech use in your own life?"
"I think it shows us that, just like our kids, American parents live in a 24/7 world of media and technology."
Yet, the survey found, 78 percent of those same parents claimed to be good role models when it comes to media use. The more educated the parent, the more likely they were to believe they were modeling good use of screen time.
Related: Toddlers Are Already Smartphone Pros
"So there's a pretty big disconnect there. You could even say it's a little hypocritical," Steyer said.
"How can you be a good role model for your kids if you yourself don't find the appropriate balance in terms of media and tech use in your own life?"
Black parents admitted to spending 14 hours a day with screen media. Hispanic parents spent 12 hours a day, while white parents were closer to the average at 9 hours a day.
Related: A 5-Step Digital Detox Plan That Could Save Your Family's Sanity
"The sheer volume of media and technology time is pretty shocking to me personally, even though I run the biggest kids' media organization in the United States," Steyer said.
"It's a wake-up call to every parent out there about how to role model this kind of behavior for our kids - how to set healthy balances."
"Media and tech are here to stay in our kids' lives. We're not saying they're terrible things."
How to wean yourself off your phone, tablet, TV? Start with dinner, Steyer advises.
"Studies make it clear that families that have good mealtime conversations and take the time to unwind at the end of the day or to have breakfast and lunch on the weekends together. It's incredibly important, not just family time and bonding time but for educational achievement and other really positive indicators of family success," he said.
Related: Do Educational Apps keep Kids Sharp or Just Plugged in?
Last year, Steyer's group found that teenagers also spend an average of nine hours a day of screen time.
Another report found that even babies are adept at using digital devices.
Doctors' groups once said kids should have as little screen time as possible. In recent years, they've adjusted this advice, saying digital devices are not inherently harmful, even as they advise that the smallest children be kept to around an hour a day with these devices.
The American Academy of Pediatrics now notes there's a difference between using a device to learn or to communicate and using it as idle entertainment.
Related: Kids Spend 9 Hours a Day on Media
And parents need to make it clear to kids that they are going to police use of media, Steyer said. "This is about your kid's life. This is about your family's life. This is about you as a good role model," Steyer said.
"Media and tech are here to stay in our kids' lives. We're not saying they're terrible things. We're saying use them wisely, appropriately, have a healthy media diet for yourself just as you want to have a healthy media diet for your kids."