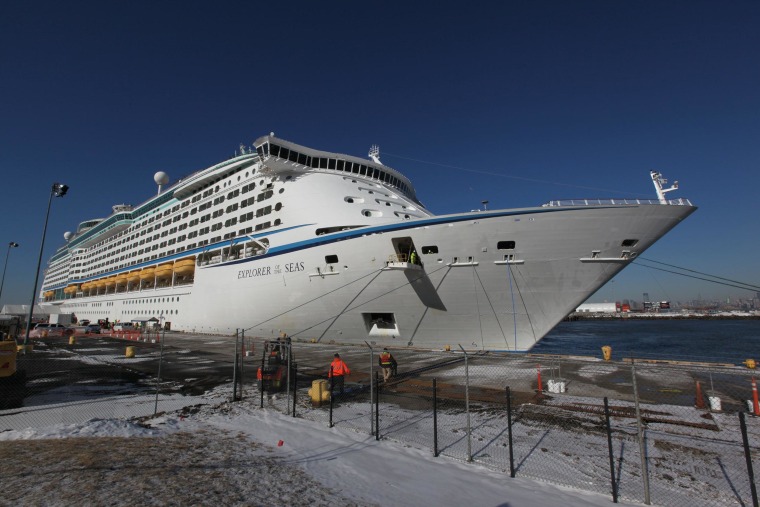 The gut bug that cut short a Royal Caribbean cruise last week and sickened nearly 700 passengers and crew is a new strain of norovirus that has become something of a scourge of the seas — and everywhere else.
Federal health officials on Thursday confirmed that the norovirus that infected passengers and crew on the Explorer of the Seas is the GII.4 Sydney strain, a notorious germ first detected less than two years ago.
"This particular strain emerged in late 2012 and quickly became the predominant strain causing outbreaks not only on cruise ships but also in land-based outbreaks," said Bernadette Burden, a spokeswoman for the Centers for Disease Control and Prevention.
That may help explain the illness that swept rapidly through the 1,000-foot cruise ship that left New Jersey for a tour of the eastern Caribbean on Jan. 21 — and had to return two days early. When it was over, 634 of the 3,071 passengers and 55 of the ship's 1,116 crew reported being ill, typically with classic norovirus symptoms of vomiting and diarrhea, according to a CDC report.
The new strain was first discovered in Australia in March 2012 and has quickly circled the globe, said Dr. Jan Vinje, the head of the CDC lab that tests for norovirus. It emerged because, like the virus that causes the flu, norovirus mutates quickly, resulting in new strains every few years. When that happens, people who've already had previous versions of the bug can get sick again.
"Three years before that, we had a strain we dubbed New Orleans because that's where it started," he said.
The GII.4 Sydney strain was blamed for an outbreak last year on the Queen Mary 2. During a voyage that ended in early January 2013, 220 passengers and crew were sickened by the germ.
The bug doesn't just affect cruise ships, of course. Last year, CDC officials said that the GII.4 Sydney bug had quickly become the leading cause of all norovirus cases in the U.S., including outbreaks in other close quarters such as nursing homes.
Norovirus is the leading cause of gastroenteritis in the U.S., causing about 21 million infections each year and 800 deaths.
The virus spreads very easily, often carried in the air after vomiting, or lingering on surfaces to infect the next victim. The best defense is frequent handwashing and thorough sanitation after people have been ill, CDC officals say.