They are searching for a port in the coronavirus storm.
Some 550 students taking part in the venerable Semester at Sea program have been trapped on a ship for about two weeks while the deadly disease has been lapping the globe and spreading fear along with contagion.
"We feel completely confined, there's nothing around us," student Kylie Menish, said in a phone call from somewhere in the middle of the Indian Ocean. "It's kind of an awful feeling not knowing exactly what the plan is."
Menish said they took off from San Diego aboard the MV World Odyssey on Jan. 4, and the plan was to make about a dozen stops on four different continents before reaching their final destination, Amsterdam, on April 20.
"Our voyage has looked nothing like this," Menish said in an email she sent earlier this week. "We are essentially a group of college kids stuck in the Indian Ocean and bouncing between countries hoping one lets us in."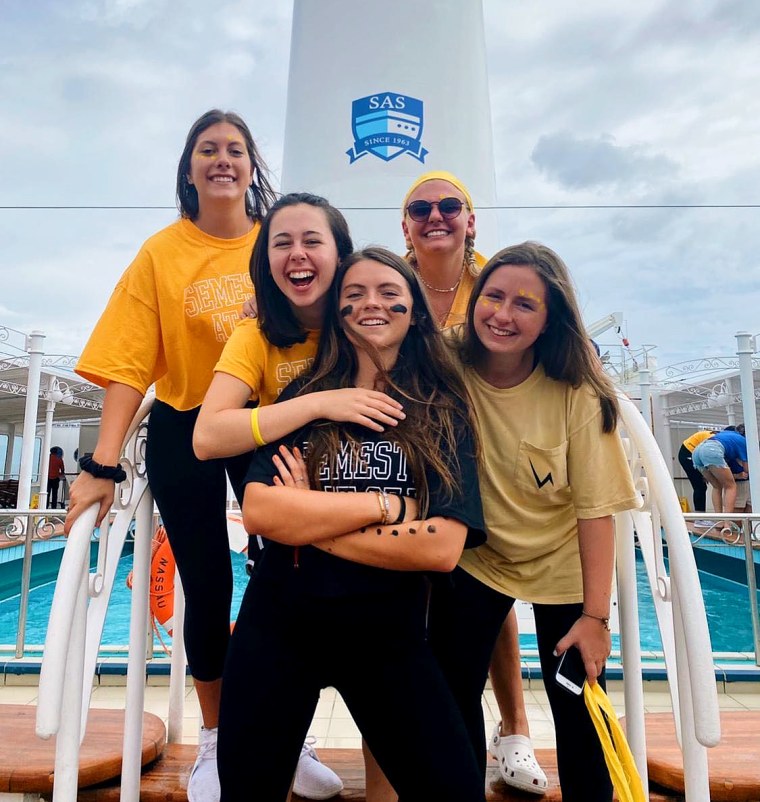 Jordan Lang, who is also aboard the floating campus, said that so far "everyone has a positive attitude."
"We realize there's nothing we could do or could have done to prevent this, so we're just making the best of every day and trying to stay positive," she said. "Obviously there's some disappointment, but everyone is just really glad to be safe and healthy."
Still, they are concerned, Lang admitted.
"Ports are starting to turn away ships, so I'm worried that getting home will be a really hard, extensive process," she said.
Lang's father shares her concern.
"It's getting more and more frustrating," said Drew Lang, of Littleton, Colorado. "We're living through this on a day to day basis."
Full coverage of the coronavirus outbreak
He said he's heard that some parents are wondering whether the company will refund the $30,000 cost for the trip, but he's not faulting the Semester at Sea folks yet.
"They're doing the best that they can given the situation that they've been thrown into," he said. "I thought it was brilliant they decided not to go to China."
A spokeswoman for Semester at Sea said officials made the decision to divert from countries on the ship's itinerary "because of decisions out of our control or to give us the best possibility of entry into any future port on our itinerary."
"In our 55-year history, Semester at Sea has weathered similar world events and critical incidents," said Layne Hanson, vice president of public affairs for the Institute of Shipboard Education, which runs Semester at Sea. "Our voyagers have still had amazing and life-changing experiences despite itinerary changes, weather delays, political unrest or natural disasters."
The ship Menish and Lang are on docked in Japan and Vietnam, but with the virus spreading, Semester at Sea did not allow it to stop in China, Malaysia or India, the company said.
Two weeks after leaving Vietnam, the ship was supposed to pull into port Thursday in the Seychelles, an archipelago in the Indian Ocean.
Again, they were not allowed to dock.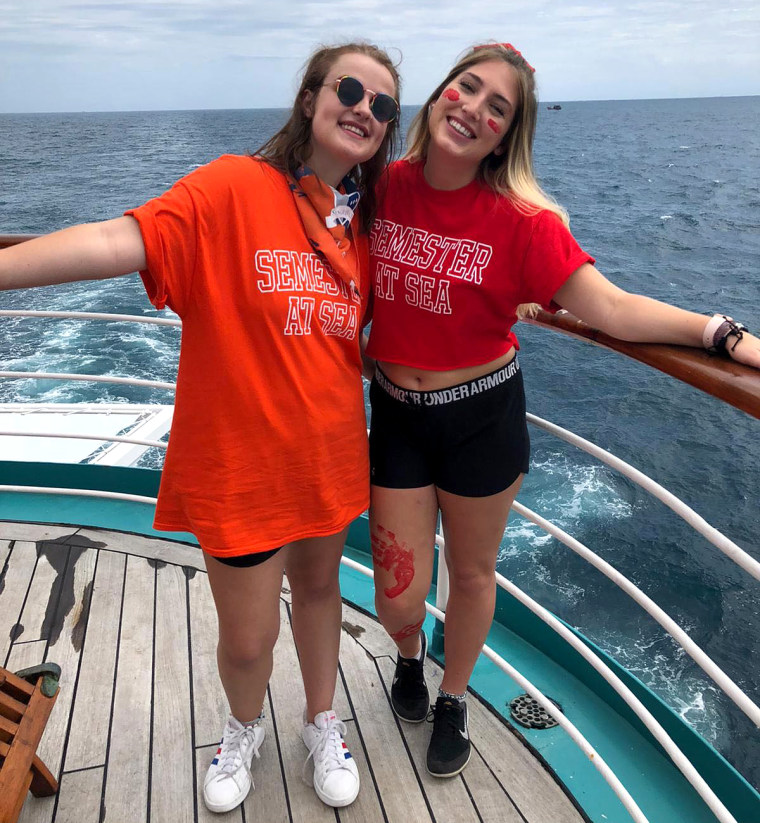 "We have just learned that the Seychelles Ministry of Health and the Seychelles Port Authority has denied the MV World Odyssey entry to the Seychelles," the program stated on its website. "Despite multiple appeals and no evidence of health concerns on the ship, the decision was upheld."
The vessel initially was barred from docking at its next scheduled stop, the island nation of Mauritius. But on Thursday, the program announced on its website that the ship may be allowed to dock there Saturday and the students permitted to go on shore for 11 hours.
Download the NBC News app for full coverage of the coronavirus outbreak
The official itinerary has the ship arriving in Mozambique in another week, and from there on to Cape Town, South Africa. That would roughly be the trip's halfway point, where the parents of some students were expected to rendezvous with their kids.
But it remains to be seen if the ship will be allowed to stop at either port, said Menish's dad, Bill, who lives in Kentucky.
"My biggest fear along the way is if someone contracts coronavirus on the ship," Bill Menish said.
He said he and his wife planned to meet their daughter in Amsterdam and go on to Italy afterward. Now those plans are up in the air.
"Coronavirus is spreading in Italy, and the trip might be canceled," he said. "We wonder if the ship will be allowed into Amsterdam or not. Everything is up in the air."