A Food and Drug Administration advisory panel has recommended banning devices that deliver electric shocks to kids and adults with autism and other developmental disorders, taking aim at a school where the shocks are given to students with special needs.
Such "electrical stimulation devices" were used at the Judge Rotenberg Education Center, a special needs school in Canton, Massachusetts, which came under criticism after 2002 video surfaced showing a student being shocked 31 times.
A hearing on the devices turned emotional on Thursday, as some recounted experiences with the devices akin to "torture," while others begged health officials to keep what they say is a life-saving treatment.
The device is designed to administer a current that immediately stops people from behaviors ranging from eye-gouging to sexual assault, but some former JRC students told the FDA they were shocked for minor disruptive behavior — and occasionally by accident.
"I was never shocked for aggressive behavior. It was for saying no, messing around with a boy," Ian Cook, a 26-year-old former student at the school, told NBC News.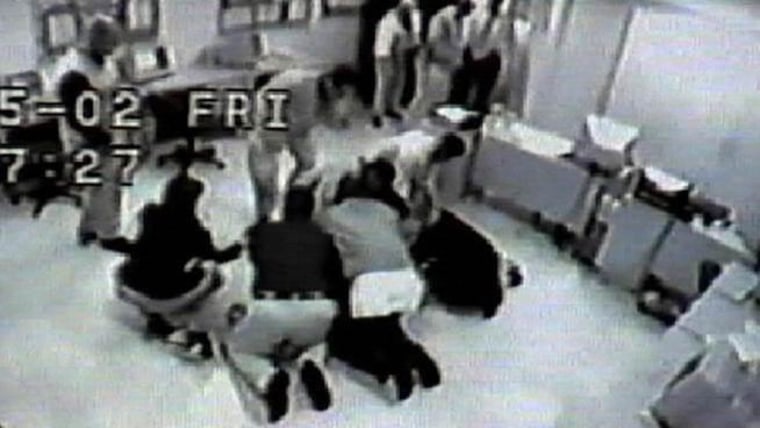 Cook, who now lives as a man, arrived at the school as a girl named Hillary just before turning 18. For several months Cook received "behavioral rehearsal lessons" and was restrained in a device day and night, given shocks that were so painful they were "almost like giving birth." Cook never knew when the shock would come and was in constant fear of it.
"I now suffer from a fear of authority, a fear of being controlled and panic when presented with either," Cook, of Gardner, Massachusetts, told the panel.
Former teacher Gregory Miller testified that he left the school because his students were in pain. Another former student testified that she has recurring nightmares and flashbacks about the devices.
"If I hear certain noises, like the Velcro that used to keep them closed, I freeze," said Jennifer Msumba. "I feel like it's about to happen to me."
The school says its aversive therapy is delivered in two-second shocks to the skin that feels like a hard pinch but is otherwise harmless, and is reserved for extreme cases with the consent of a parent and a court.
"Without the treatment program at JRC, these children and adults would be condemned to lives of pain by self-inflicted mutilation, psychotropic drugs, isolation, restraint and institutionalization — or even death," the school said in a statement.
Aversive shock therapy is completely different from electroshock therapy, in which doctors jolt the unconscious patient's brain with an electrical charge to stop unhealthy activity in the brain. The FDA says the JRC's skin-shocking electrical stimulation devices are only known to be used at this school.
"I now suffer from a fear of authority, a fear of being controlled and panic when presented with either."
According to the agency, the center has been using illegally modified devices that can shock three times greater than the FDA-approved limit. The FDA previously cleared milder versions of the device for use on patients with behavioral problems, but the school says they received an exemption from the FDA in 2000 to use a higher current on their students. The FDA now says that exemption was a mistake, and the panel recommended banning the devices altogether.
The FDA isn't required to carry out the recommendations of its advisory panels. But the agency is looking into whether all versions of the devices cause more harm than good for students whose conditions include mental retardation, autism and severe behavioral disorders.
Some parents defended the treatment as a last resort for severely disabled students. Sharon Wood of Charlottesville, Virginia, testified that the treatment saved her profoundly autistic son's life.
"Before this he was covered in bruises and constantly bleeding from open wounds," said Wood, describing how Joshua, 21, would constantly bang his head and jaw against concrete as medications failed and he grew too big to restrain. Another parent testified in a written statement that the shocks were the only treatment that worked for her daughter who had previously gone blind from a self-inflicted attack.
At the hearing, expert panelists pointed out that conflicting anecdotal evidence and outdated research complicate the discussion of a ban. For example, while a former patient testified that the shocks he received felt "like a bee sting," the 2002 surveillance video showed another student collapsing to the ground, screaming in pain.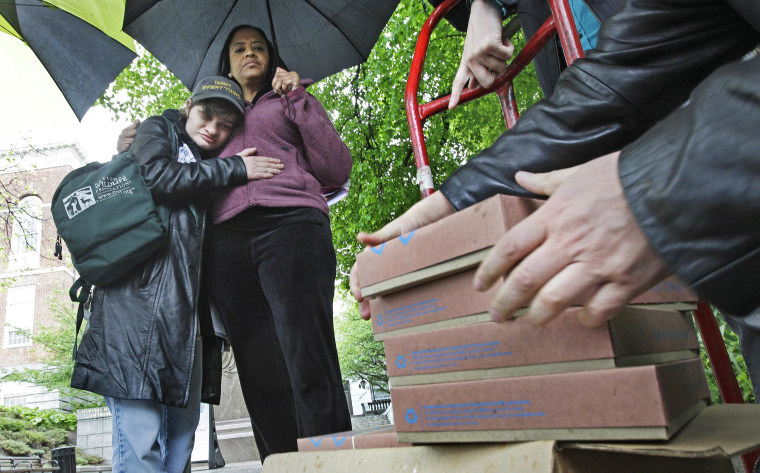 That video was the subject of a lawsuit brought against the center by the mother of student Andre McCollins and settled out of court in 2012. Cheryl McCollins told the FDA her son suffered from burns, catatonia, and PTSD after receiving 31 shocks in one day.
"His torture all began because he refused to take off his coat," said McCollins. "This is not about therapy. This about control, abuse and torture." A United Nations liaison has investigated whether possible international human rights violations occurred at the school.
When asked about the video by the panel, Judge Rotenberg Center Executive Director Glenda Crookes said the McCollins case is not reflective of a typical shock treatment that's intended to prevent self-harm.
"That was a very rare incidence. Andre had done very well at JRC," said Crookes, noting that up until then he had received a total of 26 shocks over his two year stay. "That day, his treatment did not work for whatever reason."
Panelists noted that despite the lack of concrete evidence available on the devices, the FDA may be unable to conduct extensive tests given all of the ethical concerns. The Judge Rotenberg school said Friday that it would work with the FDA to address its concerns.
"There is no more important issue in the world to the students and families who rely on this treatment to maintain their safety," the school said.
NBC News Investigative Producer Anna Schecter contributed to this report.