Researchers have found mutations in six genes that affect whether a woman is likely to have a preterm baby.
The findings could lead to ways to test women and perhaps intervene to help keep the developing baby safe in the mother's womb for as long as possible, the researchers reported in the New England Journal of Medicine.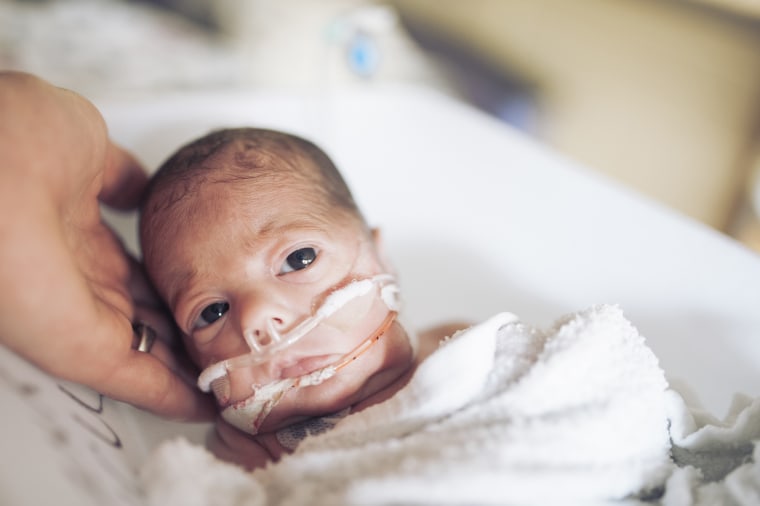 "This is a very exciting discovery that can be expected to lead to the development of new treatments to prevent pregnant women from going into labor too soon and to give more babies a healthy start in life," said Stacey Stewart, president of the March of Dimes, which helped pay for the study.
The researchers only tested women of European descent, so the findings cannot be extrapolated to women of other ethnic origins. But they provide strong clues about where to look for explanations of how and why so many babies are born too early.
Related: U.S. Preterm Birth Rates Increase
One of the genes identified is involved in how the body uses selenium — a common mineral provided in food or supplements.
"Not only did the study reveal several genes linked to preterm birth, it also identified a simple, low-cost solution — selenium supplements for expectant mothers — that, if confirmed, could save thousands of lives," said Trevor Mundel of the Bill & Melinda Gates Foundation, which helped pay for the study.
Supplements including folic acid have been shown to greatly reduce birth defects and work so well that foods are fortified with it in many countries.
The United States has much worse rates of infant mortality, preterm birth and low birth weight babies than other industrialized countries.
Just under 10 percent of babies born in the U.S. are born prematurely, defined as born at 37 weeks of gestation or less. A healthy pregnancy should last 39 weeks, or just under 10 months.
"When babies are born preterm, they can face lifelong challenges," said Stewart. "There may be developmental delays, there may be cerebral palsy." Even babies lucky enough to go into a neonatal intensive care unit are not guaranteed an easy time and their parents may have to pay exorbitant bills, as well as deal with the stress.
Preterm birth is the leading cause of death among babies in the United States and the leading cause of death among children under age 5 worldwide.
Related: Artificial Womb May Help Littlest Babies
Research has shown that 30 percent to 40 percent of preterm births may be caused by genetics, so the researchers did what's called a genome-wide association study, looking at the entire DNA maps of their volunteers.
"This is more genomic data than ever had before. These are the most solid findings that we've ever had."
The large international team used data from 43,500 women of European descent who gave samples to gene testing company 23andMe.
Nearly 87 percent delivered full-term babies and 8 percent delivered preterm babies. Just under 6 percent delivered late, after 42 weeks of gestation.
The researchers, led by Dr. Louis Muglia at Cincinnati Children's Medical Center, compared their findings to data from 8,600 women and 4,000 newborns tested as part of three different studies in Finland, Denmark and Norway.
Mutations in genes called EBF1, EEFSEC, AGTR2, ADCY5, RAP2C and WNT4 could often point to gestational time. Variations of three genes especially – EBF1, EEFSEC and AGTR2 – were associated with preterm birth, they found.
Related: U.S. Infant Mortality Rate Outpaces Rest of World
EBF1 is important for the development of immune cells, known as B- cells, and is also involved in blood pressure control and metabolism. EEFSEC is involved in cell functions involving selenium, which is why the researchers believe selenium might be an important nutrient in pregnancy.
Other genes are important to the function of cells lining the uterus. "It could be possible to collect endometrial cells and analyze them in a lab to determine preterm birth risk," Stewart said.
"There's not any immediate application for the findings, but they can guide researchers," said Stewart.
"The fact that we even known the direction in which to look is revealing. We have never had an opportunity like this," she said,
"This is more genomic data than ever had before. These are the most solid findings that we've ever had."